SEO is a powerful tool for building your online presence. In today's era of digitalization, it is pertinent that businesses expand their digital footprint and build brand awareness about their product and services. 61% of marketers have stated that SEO and organic marketing generate more leads than most marketing initiatives. 
If you are a business owner who finds keeping up with the latest SEO practices and trends a hard task and finds building an optimum SEO strategy a daunting affair, worry not; we have you covered. Infidigit, as your Atlanta SEO partner, helps to meet your SEO needs while keeping in mind your digital marketing goals, organizational needs, and desired outcomes.




Organic Sessions
1.8 Billion+

#1 Ranking Keyword
40,000+


Organic Sessions
1.8 Billion+

#1 Ranking Keyword
40,000+

Your search for result oriented Atlanta SEO Company ends here
With the influx of consumers online, businesses need to gain greater visibility on search engines and rank higher on SERPs. SEO can be the most viable tool that can help you attain visibility and reach within your target audience. 
SEO involves several components as a part of your digital marketing services in the United States. An SEO strategy that offers a 360-degree view of website optimization to rank your business higher on search engines must include the following:
Keyword research and planning

Competitive analysis

Website structure

SEO/Website audit

Content Marketing, etc.
An optimum mix in your Atlanta SEO strategy can build your online brand awareness, increase the flow of organic traffic, and generate revenue. 
However, the task of planning, implementing, and managing an SEO strategy can get daunting at times. Business owners in Atlanta can opt for a good Atlanta SEO Company to meet all their SEO requirements. 
If you are a business owner looking to build and optimize your online presence and increase your reach, Atlanta SEO agencies like Infidigit can help your business to attain greater online visibility, get discovered, and improve your credibility. SEO strategies tend to bring sustained results for your business and can help in building long-lasting relationships and increasing ROI over time.

Vipul Oberoi
Director - Marketing, CSR & Learning at Dun & Bradstreet
"The efforts of our partner, Infidigit, on SEO have made turned our website into lean, mean ROI-generator. It has now become a pure evidence of how a coherent SEO strategy and creation of relevant content can work wonders for a brand in the digital space."
+156% Organic Sessions     +188% Organic Revenue      +186% Organic Clicks
+156% Organic Sessions
+188% Organic Revenue
+186% Organic Clicks
How we can help you as Atlanta SEO Expert
Infidigit delivers the best-in-class Atlanta SEO services to help you reach your target audience, as well as generate leads and increase your business revenue. We are a globally recognized SEO agency providing SEO services in the United States. We have years of experience and expertise in delivering result-driven SEO strategies for our customers, who are some of the leading names in their respective domains.
1. Keyword Research and Strategy
People who browse the Internet to research products and services they desire use keywords relevant to their search. These keywords help to filter out the results and display more targeted search results to the users. 
Infidigit Atlanta SEO agency helps you to discover relevant keywords used by people based on search volumes, trending searches, and other parameters. These keywords, when embedded correctly in the content on your website, can land customers on your website whenever they search for that particular product or service. 
When fully optimized for appropriate keywords based on monthly volumes and user queries, your website ranks higher on search engines which builds brand awareness, better reach, and more organic traffic flow to your website.
2. Competitive Analysis
SEO strategies, when implemented effectively, can help you surpass your competitors and push you higher up the rankings on search engines. Our SEO strategy building involves deep inspection and analysis of what the competitors in your sectors do to rank better. The analysis includes keywords, content, and strategies they might be using and the overall community outreach their efforts are bringing. 
Once we, as your Atlanta SEO expert, identify the gaps in your website, we look for ways we can better your Atlanta SEO strategy. We develop the perfect SEO strategy that will meet all your needs for digital marketing in the United States.
3. White Hat SEO
SEO includes several techniques and tools, of which White Hat plays a prominent role in building your website's outreach and credibility on search engines. Infidigit's White Hat SEO strategies help to align your content and website structure with the search engine's rules, regulations, and terms. 
Our White Hat SEO Atlanta services include improving the user experience on your website, enhancing the page loading times, and the navigation speed of your website. By doing so, we help to deliver an optimized and fast loading website that becomes a favorite of search engines and helps deliver value to the visitors. 
We employ SEO strategies that can help to identify loopholes and recommend solutions to fix them instead of going for the Black Hat SEO way, which uses shortcuts to give a higher ranking to your website. Our Atlanta SEO services include keyword research, link building, smart website structure, descriptive URLs, and smart keywords to increase the influx of organic visitors to your website and help convert them into potential clients.
4. Business Analysis
To build an SEO strategy that would meet all your requirements for SEO, Infidigit conducts a deep business analysis of your organization's needs. Business analysis is a crucial part of developing an SEO Atlanta strategy; SEO helps to analyze what will work for your business, what relevant changes need to be made, and what professional SEO services in the United States your firm requires. 
We order your website to identify which aspects of your business's online presence and digital marketing require work. We conduct SEO and website audits based on 270+ checkpoints to make changes to your website and help it rank higher.
5. Content Gap Analysis
There may be times when every Atlanta SEO strategy you put to use for building content doesn't deliver the desired results. As your Atlanta SEO consultant, we conduct a content gap analysis for your website to improve the quality of content and attract prospective customers to your website.
The content gap analysis involves analyzing the gaps between what is delivered on the website and what the users are searching for online. Based on our research, we identify content that is trending, and relevant and can help you rank higher for a specific search result. Infidigit, an award-winning SEO company in the US, compares your content with that of the competitors and the top-ranking results to optimize your content while closing the gaps in your content strategy.
6. SEO Planning
Search engines like Google and Bing use multiple metrics and parameters to decide the ranking of your website. If you are a business owner in Atlanta seeking professional SEO Services in the United States, your search for the right SEO agency ends with Infidigit. 
We help you plan your SEO strategy by creating relevant content embedding keywords, optimizing your website, and conducting a deep audit of your website while you focus on the core issues of your business.
By doing so, we help to optimize the user experience of your website and help it rank higher on search engines, thereby increasing the traffic flow and revenue from your website.
The first impression a website makes on a user is the time it takes to load. When a website takes more time to load, the users are dissuaded from continuing to navigate the website.  
On the other hand, a well-structured website that offers seamless navigation and great user experience has greater chances of converting incoming traffic into lead conversions. 
A website optimized for navigation also helps search engines like Google understand the relationship between different pages within the website. As your Atlanta SEO expert, we help you with website optimization to ensure users are able to seamlessly navigate and control their journey throughout your website.
8. Improve Site Speed
According to the Google PageSpeed site, speed is crucial in determining the ranking of a website. The site speed for your website is the time taken by a website to respond to a user clicking on its URL. A website with improved site speed offers a great user experience and is one of the reasons your users may be hooked onto your website. 
Our Atlanta SEO Services make sure that the footfall on your website is organically increased and that you get  repeat visitors. If your website lags behind in speed, we help identify the core issues and suggest solutions to help your website rank higher and attract more traffic.
9. Link Building
Google Core algorithms are developed to rank websites that have a higher number of links. A website with hyperlinks from authoritative websites commands greater credibility and trustworthiness of the users and search engines. 
Besides giving credibility to your website content, hyperlinks help users easily crawl through the web with a single click. By crawling, we mean that the users can navigate easily between pages or websites smoothly. 
Hyperlinks also allow search engines to identify new web pages in order to determine their rankings. We, as your Atlanta SEO company, build links on your website. We take care that the links are relevant and specific to your industry and lend credibility and greater SERP rankings to your website.
10. Content Marketing
Content marketing is one of the essential tools of your digital marketing kit. If you are looking for a content marketing agency in Atlanta, Infidigit can be your Atlanta SEO agency solving your content-related worries. Beyond rankings and reach, content marketing can help build long-lasting relationships with customers by providing relevant content to the visitors on your website and improving your brand's awareness among your target audience and inevitably your revenue. 
Content marketing includes blogs, articles, social media marketing, video content, etc. It can directly impact the incoming traffic to your website, and you become the go-to option for your customers when they search for information or look to buy products and services online.
11. Targeting the Right Audience
As a business operating in Atlanta, you might wonder why you need to specifically target a particular audience. This is because when we funnel down our SEO optimization efforts, you can be found by users actually seeking the products and services you offer. And by increasing your visibility, your business can build brand awareness and loyalty in the subconscious of your customers. 
You must remember that every visitor on your website can be a possible conversion and is a direct means to more reach and brand awareness. You cannot attain the targeted reach to your audience without an effective SEO strategy. 
If you are looking for an Atlanta SEO agency that delivers what it says, Infidigit is your right partner. We help you target your potential audience by surpassing competitors and gaining better visibility on search engines.

Carla Rabe
Product Lead: Growth at Superbalist
"The most notable outcome is holding the #1 ranking position in South Africa for "Black Friday" related keywords for 3 consecutive years and winning an international SMX award for the best retail search marketing initiative. "
+415% Organic Sessions     +236% Organic Revenue      +240% Return on Investment
+415%  Organic Sessions   
+236% Organic Revenue    
+240% Return on Investment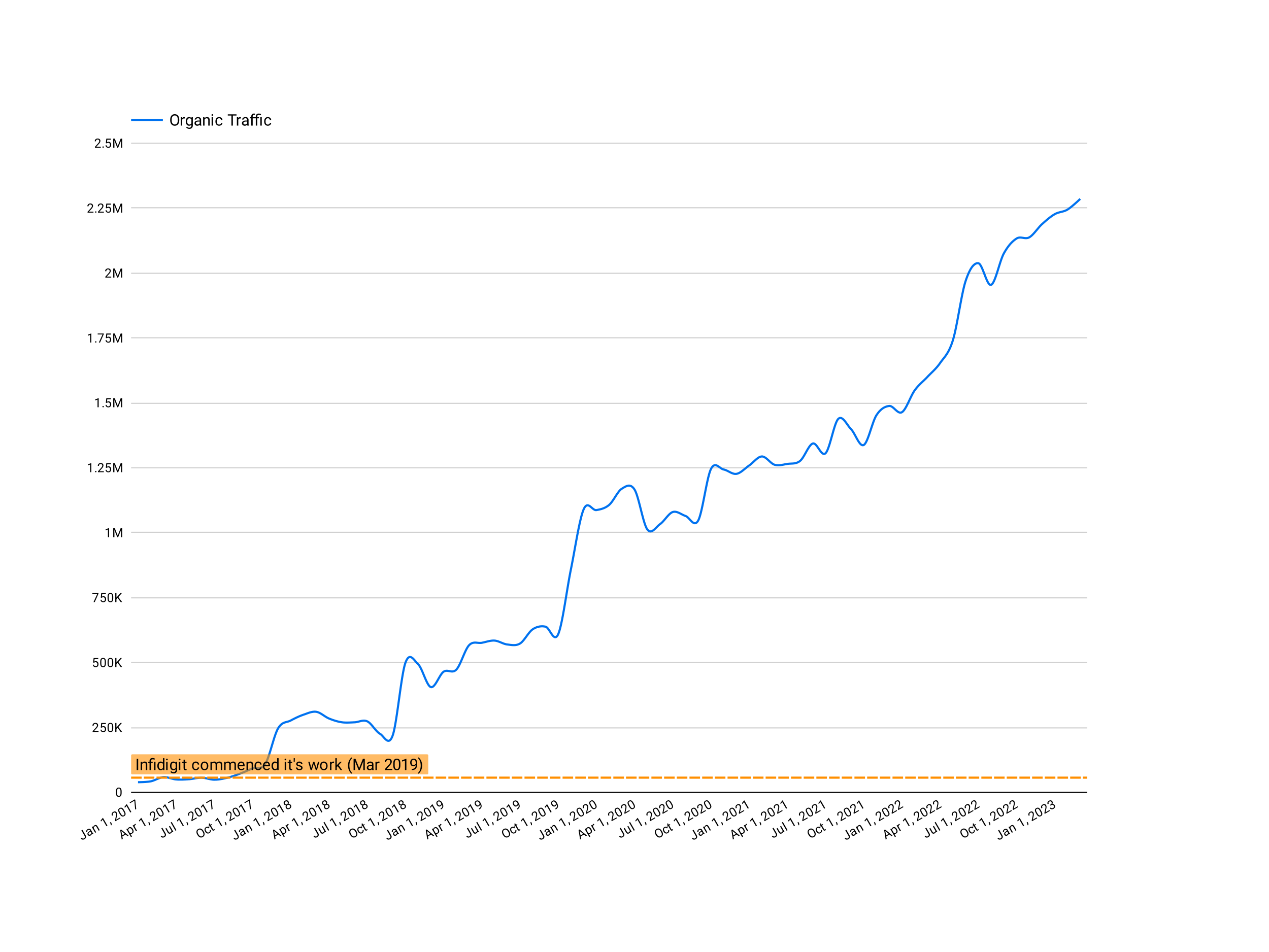 What makes us different from other Atlanta SEO agencies?
1. Award-winning agency
Whenever you choose your SEO agency, make sure that the company delivers quality services and is cost-effective. Infidigit is an award-winning agency reputed for its premium and customizable SEO services. It delivers on the promise of higher reach and ranking and ensures a greater return on investment in the long run.
At Infidigit, we believe that our dedication to our work should show through theresult-driven strategies we frame for our clients. We have won several awards throughout our years of service; some of those recent awards are listed below:
Indian Agency Awards 2020- Rising Star of the Year 

Engine Land Award 2020 Category- Best Retail Search Marketing Initiative-SEO

2020 ANA International ECHO Awards Category- Best Use of Search

Digital Dragon 2021 Category- Best Content in a Search Marketing Campaign

Drivers of Digital Awards 2021- Best Search Marketing Campaign
2. Expertise across Industries
Infidigit is your Atlanta SEO agency with a global presence across continents and geography. We have catered to leading brand names from different industries, including e-commerce, insurance, blockchain, media, banking, etc.
We understand that every business possesses a character of its own and needs a unique SEO strategy to optimize its online presence. We understand what a brand does and to which relevant industry it belongs before we customize and tailor-make SEO strategies for our clients. We execute the most suitable SEO planning for the business to ensure they complete their SEO goals in time.
3. Featured snippet and # 1Rank
A featured snippet is an excerpt from a website's content that features in the top Google results. It is an additional useful feature that Google provides for its users who are look for quick answers to their queries. Businesses, by getting featured in these snippets, can gain greater visibility and boost their brand awareness.
We provide SEO Services in the United States that help you rank on featured snippets. We do this by understanding user intent, conducting competitive analysis, and optimizing your content to be snippet-worthy.
4. Brand Awareness
Brand awareness is a significant aspect of digital marketing every business owner needs to look after. SEO can be a great tool in digital marketing for your brand to gain greater visibility online and reach its target audience. 
As your Atlanta SEO consultant, we conduct website audits, keyword research, link building, etc., to help optimize your website for greater visibility. When your website is recognized by search engines and found by users, it helps to create brand awareness for your company. 
Increased brand awareness allows brands to rank in top search engine results, improve their brand recognition, and acquire higher returns on investment in the long term.
5. Innovative Ideas
SEO is an ever-evolving technique. We say this because as more and more businesses move online and find new ways and techniques to attract audiences, the competition becomes tougher. Businesses can't do without innovation and new ideas to create a distinct image for themselves. In order to stay relevant and ahead of their competitors, businesses need to employ innovative SEO approaches backed by relevant expertise and experience.
Being an Atlanta SEO company, Infidigit helps you in your SEO planning. SEO planning involves seeking innovative ideas to improve content quality, optimize on-page and off-page SEO factors, and conduct timely audits for your website to improve the overall structure and feel of your website and attract more organic traffic.
6. Services Offered Across the Globe
We are a global SEO agency serving across countries, continents, and industries, including Atlanta. We are a globally recognized team of SEO experts that have worked with a number of leading brand names. We offer our clients customizable digital marketing solutions led by our expertise for every type of business. We ensure that the SEO strategies we design for you deliver what they claim and help you gain greater market share on SERPs.
7. Increased ROI
Businesses may find the idea of an SEO-optimized website and increased ROI being correlated as absurd. However, as your Atlanta SEO expert, we need to tell you that a well-built SEO strategy, when implemented effectively, can help you grow your business and increase your rate of returns on investment over time.
By increasing the traffic on your website, converting them into potential leads and clients, and bringing in more business through your website using strategies, we help to increase your revenue and ROI gradually.

Rubi Gupta
AVP Marketing & Growth at Spinny
"Since SEO was an unexplored area for us till Jan 2021, we trusted Infidigit's SEO team to fulfil our requirements and formulate an action plan. Within 11 months, we observed an improvement in non-brand clicks by 169% and organic users by 131% with more than 800 keywords ranking in the top 10 positions. As a result, our overall organic numbers improved. With that said, we hope to achieve similar milestones in the future."
+169% Non-Brand Clicks      +111%  Organic New Users      800+  Keyword rank in top 8 pos
+169%  Non-Brand Clicks
 +111%  Organic New Users
 800+  Keyword rank in top 8 pos
Our Atlanta SEO services include the following services:
1. Local SEO
People often search for products or services or shops like restaurants, hospitals, pizza shops, etc., in their locality in nearby places. Google customizes the feed results based on the localized Search results.  
If you are a business owner in Atlanta and you want to rank among the local search results, you need to optimize your website for local SEO, which helps your business get discovered when people search for local products and services. 
Infidigit's local SEO in the United States involves link building, on-page SEO, technical SEO, content marketing, web page creation, etc. We work towards strengthening your local online presence on search engines to enhance your own sales and performance. For that, we perform a competitive analysis and find on-page solutions, embed quality links, and optimize your web pages so that you rank higher on local search engines. Local SEO is the best way for businesses to be found by customers organically.
2. E-commerce SEO
If you are an e-commerce business, you need to optimize your website for e-commerce SEO. SEO helps your website appear in the search results whenever a prospective buyer searches for a product or service. 
E-commerce SEO in the United States helps your e-commerce website to rank higher on search engines and gain greater visibility as an SEO company in the United States. We intend to improve the overall user experience of the users visiting your website by optimizing your website content and allowing seamless navigation across different devices. By implementing an effective SEO strategy for your e-commerce website, we ensure your brand gets the right online presence and expands its revenue.
3. Website Audit
Websites should undergo a regular examination to check how they are performing with regard to ranking on search engines and optimization for better user experience. A website audit does this task for you.
If you are looking for a website audit SEO company in the United States, your search ends with Infidigit. We provide website audit services that include examining your website structure and code, checking load times, and other factors related to the performance of your website. We ensure that your website is updated and optimized in real time to always rank higher on SERPs.
4. App Store Optimization
Besides website optimization, business owners also need to optimize their mobile applications to reach a larger audience and ensure regular downloads of their mobile apps. As mobile users prefer to use a mobile application to search for a product or service or connect with their favorite brand, it becomes necessary for businesses to opt for App Store Optimization or ASO. 
Infidigit offers professional SEO Services in the United States for your mobile app marketing needs. We optimize your mobile application to increase its visibility on Google Play Store or Apple Store. We also hold relevant expertise in app marketing or ASO services designed to make your app user-friendly and visible to gain more views and downloads.
5. Conversion Rate Optimization
An efficient SEO strategy doesn't just end with getting your website a higher rank on search results or bringing more organic traffic to your website. SEO planning also involves converting the traffic or clicks into desirable revenue for your business.
Infidigit's SEO Services in the United States also include conversion rate optimization or CRO, which is the process of examination and optimization of website components so that visitors are persuaded to complete a desired action.
While measuring CRO with purchases may be the most popular way to measure the performance of your CRO goals, CRO also includes social media shares, CTA button clicks, and ad form submissions. At Infidigit, we make sure that our Atlanta SEO Services are tailored to meet your specific business requirements not only to increase website traffic but also improve your conversion rate.
6. Penalty Recovery
If your website is seeing a dramatic fall in its rankings as well as the number of visitors, there might be a Google penalty imposed on your website. Google imposes penalties if a website violates its quality guidelines.
If your website is suffering from a loss of organic traffic, it is first prudent to identify the cause behind the fall in ranking before you can recover from it. Infidigit, as your Atlanta SEO expert, provides penalty recovery services to help you determine the core issues with your website and recommend solutions to reposition it and gain credibility once again.
Penalty recovery is a lengthy process and requires relevant expertise and planning. We possess what it takes to help you align your website optimization with Google's best practices and enjoy the reach and incoming traffic.
7. Enterprise SEO services
Enterprise SEO Services are markedly different from small SEO in the United States. This is because a small business may only have a few pages within its website, but an enterprise or large organization may have thousands of pages on its website.  
It can become a daunting task for business owners to manage and optimize all these pages on their websites. In such a case, hiring an Atlanta SEO company that provides services for enterprise SEO in the United States becomes necessary.
Infidigit helps to improve the web presence and revenue generation of such enterprises and organizations. Suppose your company has a global presence, and we, as an enterprise SEO company, make sure your website gathers local as well as global visibility and a robust organic online presence to acquire an exponential increase in website traffic and higher profits.
8. Link Building
Ling building can be a crucial tool to improve your credibility and online presence on search engines. Link building involves using hyperlinks that help navigate between pages and websites. This does not only hold the potential of bringing direct organic traffic to a website, but they also help you increase your website rankings on Google search. Our Atlanta SEO Services are built to deliver link building services specific to your industry to help reach your target audience and increase traffic to your website.
9. Content Marketing
Any business owner who is seeking to build an SEO strategy for their business must understand the importance of content marketing as a digital marketing tool and components of SEO strategy. 
Content marketing involves providing relevant content for your website blogs, articles, press releases, video content, social media, etc. By using the right content, we make sure that you engage the right audience and build robust relationships with them.  
If you are seeking an Atlanta SEO expert that can help you build content that is in line with Google standards, we must tell you that we build the most trending and accurate content for your website to drive organic traffic to your website continually.
10. SEO Audit
SEO Audit is essential for your website to examine its web presence in relation to best practices on search engines like Google, Bing, Microsoft, Yahoo!, etc. An SEO audit can be considered as the first step in building a strong SEO strategy.
As your Atlanta SEO Services agency, we help you identify the core issues affecting your website, including technical SEO, on-page SEO, user experience, content gaps, website structure, etc. Once the raging issues impacting your website health are identified based on 270+ checkpoints, Infidigit Atlanta SEO services help you fix those using recommended suitable actions to make your website rank higher and build its reach.
11. On-Page SEO
On-page SEO is also called on-site SEO. On-page SEO is the process of optimizing web pages to improve ranking on search engines and attract organic traffic. A good strategy for on-page SEO in the United States involves publishing good quality content and optimizing headlines, images, and HTML tags within the content. 
On-page SEO services also include embedding hyperlinks to make your website trustworthy and a top authority in that specific industry, niche, or domain. When a website ranks higher and ahead of competitors by using the right on-page SEO services, you attract increased organic traffic and better conversion rates.
At Infidigit, your Atlanta SEO agency for on-page SEO in the United States, we ensure that your website is examined and maintained for on-page SEO regularly without you having to worry about it.
12. Off- Page SEO
SEO planning and implementation also include off-page SEO. Off-page SEO refers to the tactics and techniques outside the realm of your website. Off-page SEO techniques help your website rank higher on search results and increase traffic to the website by building hyperlinks. 
Off-page SEO involves building high-quality backlinks that can help you rank higher on search results. It is a well-known fact that a website with more high-value backlinks will be ranked higher than those with lesser backlinks. SEO involves using hyperlinks and your brand name on other trustworthy and popular websites to increase brand awareness and visibility. The end goal of SEO Services is to enhance your brand awareness and reach by surpassing your competitors and improving the relevance of your website while boosting rankings on search engines.
frequently asked questions
How is Infidigit SEO different from Other Atlanta SEO companies?
Infidigit is a leading SEO agency serving global business partners by building customized plans after analyzing their website on 270 plus data points. We used automation and industry benchmarking tools to keep your website optimized for the latest best practices to make organic your best-performing channel. Unlike other Atlanta SEO Companies, Infidigit preserves and builds your brands holistically from top to bottom across all devices and mediums so that you rank higher, gain visibility, and earn profits without worrying about your website performance and maintenance.
How should I select the top Atlanta SEO agency for my business?
Before you begin searching for the top Atlanta agency, make sure you decide your marketing goals, DYOR, and know who you are working with. Seek transparency and choose the right fit that will suit your budget and organizational needs. Check whether the company is ranking on Google search engines and has plans that can meet all your SEO requirements and yield desired outcomes. Also, make sure the company uses organic channels to improve the traffic and reach of your website instead of just paid advertisements.
How SEO would help me in increasing ROI for my business?
SEO can help your website expand its online presence and reach your target audience. SEO is the most powerful tool for bringing organic traffic to your website. The organic traffic can be converted into potential clients and leads that may result in conversions and profits over time, providing an increasing ROI for your business.
How much time does SEO take to generate organic traffic and rank better on SERP?
The time taken for an SEO strategy to yield results will depend largely on the factors underlying the strategy. For instance, if you already have a running SEO strategy, you may require to revamp and rework some aspects of your SEO to rank higher. At other times, a business may require building its SEO strategy from scratch or ranking for keywords that are extremely competitive. In the former case, your website will start ranking sooner than in the latter case. In general, an SEO strategy may take 4 to 12 months to show effect.
Are Atlanta SEO packages cost-effective?
SEO is one of the most economical digital marketing tools to enhance your online presence and brand awareness. SEO packages can be customized to suit your organization's marketing goals and desired outcomes. SEO packages are cost-effective, and since their impact builds over time, the ROI from the strategy increases over time. SEO is more economical than pay-per-click ads that are paid advertisements on Google, are costlier, and can bring only short-term impact.
How will Atlanta SEO help my business?
Atlanta SEO will help your business gain visibility and reach among its target audience by ranking higher on search engines. We do this by optimizing your website content, SEO, and structure for a user-friendly and smoother navigable experience. We use a mix of SEO strategies to lend credibility to your website and increase the inflow of organic traffic to your website.