Infidigit is a leading Austin SEO company that offers cutting-edge services to businesses and helps them build their brand online. As experts in search engine optimization (SEO), we give your business the individual attention it requires by crafting a customized approach to SEO that is closely aligned to the goals and objectives of your business. 
You might know what you want, but may not know how to achieve it. As we build the bridge between you and your target audience, we make it easier for them to not only find you online but also  convert into leads. Our SEO specialists ensure that your website is optimized and visible to your customers. We are currently servicing hundreds of SEO clients by providing pivotal solutions to help them rank higher on Google search engine result pages (SERPs).




Organic Sessions
1.8 Billion+

#1 Ranking Keyword
40,000+


Organic Sessions
1.8 Billion+

#1 Ranking Keyword
40,000+

Are you trying to ensure that your website ranks on the first page of the SERPs? Is your website not getting many visitors? Have you started a new business and do you want to ramp it up quickly? 
If you are struggling with any of these issues, Infidigit is the company you should approach. As a trusted SEO company in Austin, we can help you expand your business online, increase leads, and grow revenue exponentially.
Austin is, in many ways, an ideal place to launch your new business. The friendly tax structure, talented labor force, high quality of life, and collaborative culture attract many small businesses. However, the business environment is competitive and it can be difficult for you to get noticed. But, if you use the right SEO techniques, you can stand apart from the crowd and build brand recognition. Infidigit is your partner! Our Austin SEO experts have the experience, expertise, and advanced tools to devise solutions that can give your business a strong online presence. 
We have the SEO solutions you have been searching for. We develop result-driven SEO strategies based on industry best practices, in-depth research, and your specific business objectives. Our SEO campaigns are data-driven and therefore deliver true business impact. Whether your business goal is establishing an online presence, driving more qualified leads to your website, or growing your return on investment, our team can assist in achieving it all.  
Our SEO services help you increase your visibility on Google. Our services include keyword research, site audit, link building, content marketing, improving page speed, optimizing website navigation, competitive analysis, content gap analysis, and business analysis. 
We work with businesses of all sizes across industries. From sole proprietorships and multinational firms to family-owned businesses and large corporations, we are here to provide Austin SEO solutions. So, without wasting another moment, get in touch. Get the edge over your competitors.

Vipul Oberoi
Director - Marketing, CSR & Learning at Dun & Bradstreet
"The efforts of our partner, Infidigit, on SEO have made turned our website into lean, mean ROI-generator. It has now become a pure evidence of how a coherent SEO strategy and creation of relevant content can work wonders for a brand in the digital space."
+156% Organic Sessions     +188% Organic Revenue      +186% Organic Clicks
+156% Organic Sessions
+188% Organic Revenue
+186% Organic Clicks
As SEO experts, we know that an impressive first page, massive traffic, and excellent leads translate into great return on investment (ROI). Today's Google algorithms value websites that give their visitors not only relevant content but also an exceptional experience. We have a proven track record of providing SEO services that help our clients achieve a robust online presence and generate revenue. 
Our tried-and-tested techniques for SEO in Austin, TX, have resulted in many success stories. We customize our SEO services to suit the nature of your business and your requirements so that you get the best results.
1. Keyword Research and Strategy
Keyword research is the foundation of any successful Austin SEO strategy. An effective keyword strategy helps to connect your brand with your target audience and amplify your market reach. At Infidigit, expert SEO professionals use advanced keyword research tools to identify top-performing, brand-related keywords. We categorize search phrases as per user intent and shorten your keyword list. 
Our team of skilled professionals knows that keyword research affects your SEO content strategy and various elements of your Web optimization efforts. Therefore, we are committed to devising an SEO keyword strategy based on research and reliable SEO site audit results.
2. Competitive Analysis
Our SEO competitive analysis gives insight into why competitors are performing better and what you can do about it. It identifies the strengths and weaknesses of not only your own SEO strategy but also the strengths and weaknesses of your competitors' SEO strategy. The purpose of this analysis is to uncover the gaps and come up with a strategy that will work.
Our team of Austin SEO experts uses the results of the analysis to find areas of improvement in the SEO strategy and discover your competitors' winning strategies. We understand how the current search landscape works for important keywords and how you can stay ahead of the curve.
3. White Hat SEO
SEO helps to bring potential customers to your website. However, if you want to protect your website from penalties or even a ban from search results, you must use only white hat SEO practices. Many SEO agencies use black hat SEO practices because they want instant results. Infidigit does not believe in such tactics because ethics are as important to us as results and revenue. 
Our highly skilled and qualified team is trained only in the approved best practices for increasing a website's ranking in SERPs. As for our clients, we work hard to ensure that they reap the long-term benefits of online visibility, brand reputation, and sales.
4. Business Analysis
It is not possible to formulate an effective Austin SEO strategy without understanding the business. Infidigit analyzes your business, understands your vision and goals, and identifies the right target audience before even beginning to plan SEO techniques. Learning where your business stands today is crucial to paving the road ahead to success. 
Our dedicated SEO expert sits with your representatives to get more information about your expected ROI and the metrics on which you wish to focus. An SEO plan is then formulated with strategies that help boost organic traffic to your website, increase conversions, and generate more revenue.
5. Content Gap Analysis
Infidigit's content gap analysis zeroes in on the missed opportunities in your SEO strategy. We use SEO keyword research to identify the topics you must highlight on your website. Through the analysis, our team comes up with strategic content ideas that will drive more traffic, convert more customers, and deliver even more value to your target audience.
We help you learn where you might be missing valuable assets that can take visitors to the point of purchase. Our team also helps find new keyword opportunities you're currently not using to your advantage and what could align with the different phases of your buyer's journey.
6. SEO Planning
An SEO strategy isn't complete without a plan of execution. You need to formulate the steps to improve organic search engine rankings. We discuss with your team your requirements and goals from an SEO perspective and develop a thorough SEO plan that encompasses the process to be followed to achieve the desired goals. 
Our comprehensive plan will typically focus on various aspects that will help you drive more organic traffic to your website, such as creating a keyword list, analyzing Google's first page, creating unique content, optimizing the website for on-page SEO, focusing on content design, building links to your page, and improving and updating your content.
Website navigation helps search engine crawlers find your content and crawl through it. If your website has well-structured navigation, it is easier for search engines to identify which pages are important and determine page authority. On the other hand, overly crowded or incomplete website navigation can make it tougher for crawlers to find the most important pages. 
We understand your site structure and help you create not only user-friendly but also SEO-friendly navigation so that search engine crawlers can crawl your website faster and rank your website's important pages on top of the search results.
8. Improve Site Speed
If your page loads quickly, it will rank higher in Google search results. Page speed or site speed is a vital metric that plays a significant role in the performance of your website. A long waiting time can turn visitors away, thus hurting your SEO ranking. We can help fix these concerns and ensure that your website loads instantly and does not ruin the user experience. 
Our team of SEO experts ensures that your website competes with the loading time of the top 10 organic page results. As a standard practice, we thoroughly study the website and implement site speed recommendations so that visitors to your website have a great experience!
9. Focus on Link Building
The most essential part of the Google search algorithm is backlinks. Do not take them lightly; they can have a serious impact on your rankings. Our SEO services include link building as well. We use strategic link-building approaches based on white hat SEO practices to help you rank for competitive keywords. Utmost care is taken to ensure that these links are quality links. 
At Infidigit, we have a dedicated link-building team that uses tried-and-tested strategies to generate high-authority backlinks. Our focus is to maximize your SEO potential. We build an inbound link strategy from start to end and keep your target audience engaged in using these links.
10. Content Marketing
Content is a crucial part of SEO if not its very backbone. It is at the heart of every marketing campaign. Our team of dedicated writers produces SEO-friendly content for your website. The content marketing service also includes blog posts, press releases, newsletters, landing pages, and white papers. Every piece of content is crafted with care to incorporate relevant keywords and links directed at relevant pages on your website. 
Search engines prefer websites that add new content regularly. Our Austin SEO consultants are experts at content writing and support your content needs to amplify your search marketing.
11. Targeting the Right Audience
In SEO, the target audience refers to your existing and potential customers who use search engines to search for keywords relevant to your brand. These are the users you need to reach out to. SEO experts at Infidigit identify your target audience and drive them to your website. We develop strategies to engage with them and highlight your brand to them. 
With an in-depth understanding of your target audience, we structure your landing pages and present content accordingly. Our SEO strategies are rooted in understanding the needs and preferences of the target audience. We treat SEO as a tool to market your business to people and not to search engines. 

Carla Rabe
Product Lead: Growth at Superbalist
"The most notable outcome is holding the #1 ranking position in South Africa for "Black Friday" related keywords for 3 consecutive years and winning an international SMX award for the best retail search marketing initiative. "
+415% Organic Sessions     +236% Organic Revenue      +240% Return on Investment
+415%  Organic Sessions   
+236% Organic Revenue    
+240% Return on Investment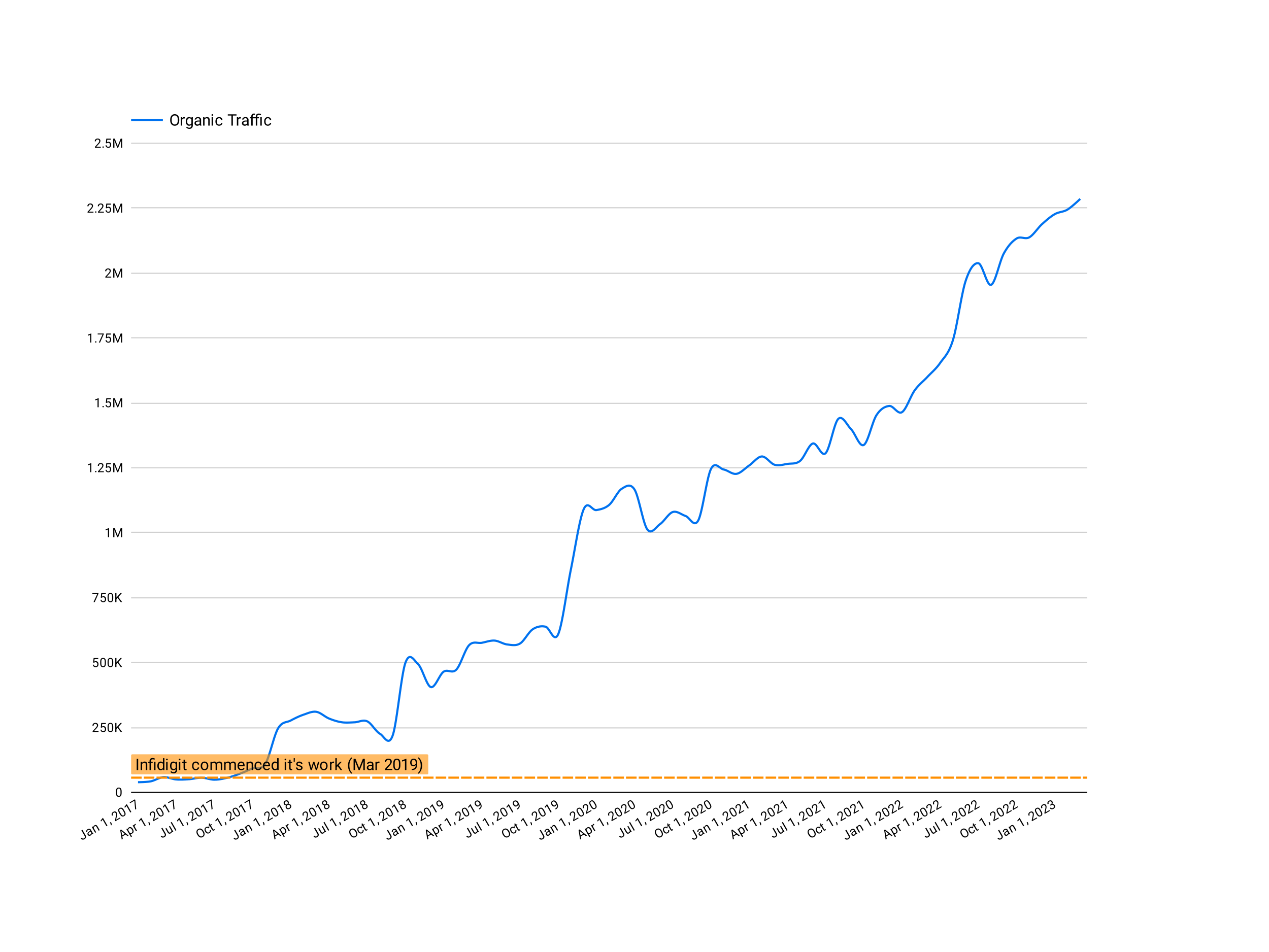 What We Provide as An Austin SEO Agency
Infidigit is an ROI-oriented agency that offers professional SEO services. We work with businesses of all sizes and dedicate ourselves to growing with them. We track every penny spent on the service so that you know your ROI. As your partner in growth, we focus on your long-term goals, whether it is driving qualified leads, building an online presence, or increasing conversions. 
One size doesn't fit all. Our team recognizes this and customizes everything—from campaigns to reporting—as per your business goals. Through our Austin SEO services, we focus on generating leads and increasing visibility for your business.

Rubi Gupta
AVP Marketing & Growth at Spinny
"Since SEO was an unexplored area for us till Jan 2021, we trusted Infidigit's SEO team to fulfil our requirements and formulate an action plan. Within 11 months, we observed an improvement in non-brand clicks by 169% and organic users by 131% with more than 800 keywords ranking in the top 10 positions. As a result, our overall organic numbers improved. With that said, we hope to achieve similar milestones in the future."
+169% Non-Brand Clicks      +111%  Organic New Users      800+  Keyword rank in top 8 pos
+169%  Non-Brand Clicks
 +111%  Organic New Users
 800+  Keyword rank in top 8 pos
Why Choose Infidigit as your Austin SEO Company?
When you hire Infidigit as your Austin SEO company, your business vision becomes our business goal. We work with you and your team to devise a customized SEO strategy that focuses on driving customers to your website, maximizing your ROI, creating new business for you, and lowering acquisition costs. 
We do everything you dream to achieve for your business. Our team strategically builds links to your website and ensures that your site follows the best and most up-to-date SEO practices. We have professional SEO experts to track your SEO campaigns using clear reporting, keyword ranking tools, conversion tracking, and industry-leading software.
1. Award-winning agency
Credibility is key to starting a business relationship. We are an award-winning agency, and our accolades speak volumes about the positive results we bring about for our clients. We have a strong company culture, solid leadership, and a pleasant work environment. Our professionals learn from past successes and failures to devise result-oriented campaigns and generate results. 
We are proud to share that our superior SEO services have won more than 20 accolades in the last few years. By hiring an award-winning agency, you can rest assured that we will put in an all-rounded effort to tackle all your SEO goals.
2. Expertise Across Industries
For decades, Infidigit has helped businesses in various industries grow their online presence and drive website traffic to generate more revenue. Our team is well-versed with industry trends and possesses unparalleled knowledge and expertise. We have the experience to support businesses of any size and from any industry, whether it is food, healthcare, fashion, technology, or e-commerce. 
Most of our SEO consultants in Austin have been industry leaders for over a decade. They know what it takes to increase online traffic and generate more leads. Our talented pool of professionals collaborates with the client's team, and if there's ever an issue, all of us provid our skills and expertise to resolve the concerns.
3. Featured snippet and #1 Rank
Earning a featured snippet means your business ranks for position zero, which is the highest possible ranking spot without any advertising. Featured snippets and a #1 rank offers greater visibility to searchers and can boost brand recognition. As an experienced Austin SEO company, we can help you achieve a featured snippet and #1 rank success. 
We are one of the leading SEO agencies in Austin. We believe in quality and transparency. Our team works beside you to learn more about how to make your business successful. You get a dedicated SEO expert who communicates with you frequently to stay on top of everything and boost your SERP rankings.
4. Brand Awareness
SEO focuses on increasing a website's organic traffic through search engines. It comprises several key aspects – keyword and content, technical SEO, on-site SEO, off-site SEO, and brand awareness. Most agencies focus on the first four areas. However, an SEO strategy isn't complete if it ignores brand awareness. 
We support you in growing brand awareness and interest by increasing your brand's visibility to its potential customers, developing authority, and garnering trust for the brand. Our team focuses on content marketing strategies and the growth of non-branded search traffic to increase brand awareness.
5. Innovative Ideas
SEO is never stagnant. As Google algorithms change, strategies need to change. We are always striving for better through innovation. We ensure that Google algorithm updates do not impact your website's ranking factors. Our team remains on top of the latest news and trends and develops innovative ideas to deliver result-oriented campaigns. 
Infidigit is a SEO company that is constantly learning new techniques and remaining up-to-date to stay ahead of the curve. Our company does not rely on standard approaches and proactively understands your business and its goals to optimize your SEO campaigns for better results.
6. Services Offered Globally
Taking your website to the international arena opens wide opportunities and possibilities. Our services are spread across the globe. Our professionals understand the different world markets and can help you build an international  brand. 
International SEO isn't limited to launching a site in a different language. It is about catering to diverse audiences. We know how to tackle language barriers, cultural differences, and local search engine algorithms. Our professionals optimize your website so that it performs well in search engines outside the origin country. With our services, you can rank highly in foreign markets with customers from around the world engaging with your website.
7. Increased ROI
Businesses investing in SEO services want attractive ROI. In SEO, the metrics for ROI include increased traffic, enhanced user experience, visibility to the target audience, increased conversion rates, reduced bounce rate, increased ad performance, and so on. Infidigit helps its clients achieve each of these metrics with customized strategies and powerful tools. 
We have the experience and expertise to help clients' businesses achieve higher rankings on SERPs. Moreover, we focus our efforts on areas that can generate more leads and traffic from organic searches. Our team has an eye on SEO ROI and develops a comprehensive strategy by targeting the right keywords and reaching the right audience.
8. Extensive Understanding of SEO
At Infidigit, SEO is one of the core areas of expertise. We have a team of Austin SEO consultants who are fully skilled and trained in the best SEO practices. Our professionals constantly read about the latest algorithm updates to remain updated with the industry trends. We conceptualize, develop, and implement the best marketing approach for your SEO campaigns through our extensive knowledge of the field. 
We use real-time data and detailed analysis to come up with a solution for your unique business needs. Based on our learnings and the latest industry trends, we redevelop strategies in our client's favor.
9. Proven Results in SEO
Hiring an Austin SEO company without a relevant portfolio or credentials is a waste of time and resources. Over the years, Infidigit has grown to become a reliable and influential SEO agency by delivering results that matter. We derive solutions from solid methodologies that drive valuable traffic. 
The case studies on our website are proof of the results we have delivered to our clients. We always keep our clients informed about what we are doing and how the campaign is performing. We send monthly reports to focus on results.
How is Infidigit SEO different from other Austin SEO companies?
SEO services are essential for your business if you want to make a mark online. Many companies offer SEO and digital marketing services. At Infidigit, we have a skilled team of Austin SEO experts who are experienced and technically equipped. Our consultants first analyze your website and then develop an SEO strategy suitable to your business goals. We do not believe in a one-size-fits-all approach. Our professionals provide all kinds of technical assistance to meet the functional needs of your business. We have decades of collective SEO experience ranking our clients for very competitive terms in local and international markets. Our team also comes up with a unique approach to resolving your technical concerns. 
Our dedication and commitment towards our clients differentiate us from other Austin SEO companies. All the reviews on our website are real and verifiable. We have many case studies along with a portfolio of SEO-driven businesses running locally in Austin.
How should I select a top Austin SEO agency for my business?
Most business owners find it difficult to pick an Austin SEO company out of the many agencies that offer varied services. If you want to hire an SEO agency for your business, there are several factors that you need to consider. The first thing to assess in an SEO agency is its experience. The more the experience, the higher the quality of services it will offer. 
Take the time to read the case studies of different SEO agencies. Case studies are a good indicator of the company's performance and efficiency. They will help you understand the agency's work, conversion rate, traffic rate, and overall expertise in the field. Infidigit doesn't use outdated templates to rank your business in top search results. We evaluate your budget, competition, business objectives, and existing efforts to add maximum value and deliver the best SEO results possible.
How will SEO help me increase ROI for my business?
The "returns" depend on the goals and objectives of a business. These goals and objectives may be unique to every business, platform, brand, industry, digital asset, and so on. To calculate ROI, every revenue-driving action must be identified, assigned a value, and tracked. The most common revenue drivers that SEO strategies impact to increase ROI include increasing traffic, driving qualified traffic, enhancing UX, improving ad performance, generating higher consumer touch points, and increasing conversions. 
Implementing the best SEO strategies can help you generate a higher ROI. They can increase quality website traffic, increase brand awareness and credibility, enhance user experience, improve digital marketing return on investment, and boost your business's long-term success. While some strategies may already be a part of your marketing plan, others can help you expand your business to new market niches. We are a reliable SEO consultant in Austin, offering a range of services to increase ROI for your business. 
How much time will SEO take to generate organic traffic and rank better on SERPs?
One of the most common questions that SEOs ask is, "how long does SEO take to show results?" Business owners are curious to know when they will be able to see the impact of their investment. SEO isn't paid media where results are visible as soon as ads are turned on. SEO success takes time. 
Once a website is developed, we analyze its contents for optimization. Optimization is crucial to index the content of the website by the search engine crawler. A recently developed website with the right keyword placement and effective on-page and off-page SEO can generate results on SERP very soon. Conversely, if your website's SEO is not strategized professionally, you cannot rank on the SERP soon. With our professional services for SEO in Austin, you can see results within a few weeks of operations.
Are Austin SEO packages cost-effective?
SEO is one of the most cost-effective marketing strategies. It requires the right background research work to target customers interested in your product or service. But to benefit from the cost-effectiveness of this marketing strategy, you need to outsource your SEO services to the right partner. 
You will encounter many agencies that offer cheap services for SEO in Austin. While it would be tempting to partner with them, do remember that cheap SEO is too good to be true. SEO is labor-intensive and time-consuming, so an agency that offers low-priced packages may be cutting corners. 
We make cost-effective SEO packages by understanding your business objectives and revenue metrics. Our team of professionals has extensive experience and focuses on increasing online visibility, improving interactions, driving new leads, and maintaining a massive advantage over competitors. We are committed to delivering higher returns on your investment.
How will Austin SEO help my business?
A robust marketing plan is critical to growing your business online. More and more companies are realizing that SEO has the tools to set them apart from the competition. Additionally, as website traffic is the main source of driving customers to your business, it is imperative to utilize organic search to the fullest. At Infidigit, we have the essential Austin SEO solutions to help you sustain online success for your business in the long term. We design custom strategies to bring your business and website into search results of potential customers searching for keywords related to your company.
Our professional Austin SEO experts understand how a business can gain crucial credibility amongst Google and other major search engines with the right SEO strategies. A comprehensive SEO plan results in increased engagement, traffic, and conversions for your business. SEO gives your business the all-around exposure and growth it needs to stay ahead of the competition when it comes to search results.