Recent data show that 76% of consumers consider a business's online presence before physically visiting them. Therefore, it has become increasingly important for businesses to optimize their digital footprint to reach potential customers.SEO is a crucial tool for businesses to manage their digital assets. By optimizing website content with SEO, companies can rank higher in search results, gain brand visibility, and boost their revenue and sales. When 68% of online experiences begin with a search engine and 53.3% of all website traffic comes from organic search, it is prudent that business owners determine an effective SEO strategy to reach potential clients and target audiences. However, building an SEO strategy from scratch can overwhelm business owners. In such cases, choosing the right Baltimore SEO company will help you gather the right tools and efforts for an effective online marketing strategy.




Organic Sessions
1.8 Billion+

#1 Ranking Keyword
40,000+


Organic Sessions
1.8 Billion+

#1 Ranking Keyword
40,000+

Your Search for Result-Oriented Baltimore SEO Company Ends Here
SEO is known to drive up to 1000% more traffic to your website than social media, and 60% of marketers confirm that inbound leads from SEO-optimized strategy bring in high-quality leads. With consumers increasingly shifting to online channels for their wants, businesses need to reevaluate and redesign their digital marketing strategies. 
But with so many websites showcasing their products and services, it is a herculean task for business owners to stand out. The contest to rank higher on search engines is getting even tougher by the day, and only a sound, comprehensive Baltimore SEO strategy can land your business a top-ranking spot in search engine result pages (SERPs).
SEO is much more than a bunch of keywords strung together in a blog or webpage. It is an umbrella term comprising several techniques and strategies, including off- and on-page SEO, technical SEO, backlinking, SEO audit, penalty recovery, white hat SEO, local SEO, and more. These SEO optimizations come together to impact your website's ranking on search engines like Google, Microsoft, Bing, and others. 
A high-ranking website on Google witnesses high organic reach, website traffic, and inbound leads. Also, a website that appears in the top search results gains greater credibility and trust in the respective field, which secures new clients for your business and strengthen your relationship with current clients. 
If you are a business owner in Baltimore and looking for an SEO agency—Baltimore-style—catering to all your needs for digital marketing in the United States, your search ends with Infidigit. Infidigit is your one-stop Baltimore SEO services agency that brings the required expertise, experience, and skills to your digital marketing efforts.

Vipul Oberoi
Director - Marketing, CSR & Learning at Dun & Bradstreet
"The efforts of our partner, Infidigit, on SEO have made turned our website into lean, mean ROI-generator. It has now become a pure evidence of how a coherent SEO strategy and creation of relevant content can work wonders for a brand in the digital space."
+156% Organic Sessions     +188% Organic Revenue      +186% Organic Clicks
+156% Organic Sessions
+188% Organic Revenue
+186% Organic Clicks
How We Can Help You as Baltimore SEO Expert
Infidigit, a Baltimore SEO company, provides crucial SEO services like competitive analysis, backlinking, keyword research, optimization, and more, to help you reach your target audience and outshine your competitors. 
As your Baltimore SEO expert, we deliver result-oriented and research-driven Baltimore SEO strategies that increase your local and global online presence. 
Below are some of the services we provide as your Baltimore SEO company to meet your digital marketing needs in the United States:
1. Keyword Research and Strategy
Keywords research and planning are fundamental SEO tools that help you to rank your website higher on search engines. People use keywords to search for products, services, and companies online, and search engines like Google find relevant results based on those keywords. 
When the right keywords are identified and embedded in the website in the proper way, your website ranks higher in Google searches. A high-ranking website witnesses more organic traffic than its peers, leading to greater brand awareness and conversions. 
Infidigit provides the best professional SEO services in the United States by designing a Baltimore SEO strategy based on monthly keyword search volumes and optimizing them for the website's landing pages.
2. Competitive Analysis
A good Baltimore SEO company will always do a competitor analysis to understand which keywords to prioritize and which aspects of the Baltimore SEO strategy need more attention to grow your organic reach as a Baltimore-based company. 
Infidigit conducts a thorough analysis of your competitors at the local, industry, and global level and develops a specific strategy that counters competitor's efforts at all levels to help you implement the strategy effectively and extend your community outreach. 
As your Baltimore SEO company, we know what works best for you to rank higher against your competitors and provide you with proper insights into appropriate Baltimore SEO strategies to give you an edge.
3. White Hat SEO
White Hat SEO is a popular SEO strategy that Baltimore SEO companies use to increase their website's rank on search engines. This strategy focuses on adding to the user experience and value of your website by improving the page load time and navigation speed. 
Unlike Black Hat SEO, which uses shortcuts and loopholes to rank your website higher on search engines, White Hat SEO adheres to the rules and regulations of the search engines to ensure sustained growth. 
Infidigit's Baltimore SEO services employ the best of White Hat SEO tools, including keyword research, link building, descriptive URLs, and smart website structure to drive more organic traffic to your website.
4. Business Analysis
Business analysis is essential to understand the core competencies and workings of your business and use them to your advantage in developing your Baltimore SEO strategy. Our SEO agency in Baltimore will be performing comprehensive business analysis to help you make changes to your SEO strategy and increase your reach. 
Business analysis requires a website audit to check which aspects of your digital marketing efforts are churning out results. It helps you understand the requirements and best possible solutions for improving your digital marketing efforts. We use a checklist of 270 plus audit pointers to measure the health of your website and optimize it for reach.
5. Content Gap Analysis
While competitor analysis tells you what works best against others, content gap analysis helps you recognize the strengths, challenges, and gaps between your current content and the requirements. 
Sometimes your website may not rank well despite using keywords that your competitors are also using to rank. In that case, gap analysis helps to reveal the disparity between the user intent and what your website delivers. 
Infidigit's professional SEO services in the United States help to identify trending content, select what works best for your company, and close the gaps in your SEO strategy. Once the perfect SEO strategy takes shape, your website will gain better reach and awareness.
6. SEO Planning
With over 200 metrics and parameters employed by Google to rank websites on its search engines, keeping track of all the variables is no easy task. If you are a business owner operating in Baltimore, working alone to create content for your website, using relevant keywords, and optimizing your website can take most of your valuable time. 
Infidigit's Baltimore SEO services saves you time and effort by handling SEO planning and strategy to increase your website's visibility and traffic flow. When a website is optimized for SEO and digital marketing in the United States, it also delivers a better user experience and adds credibility to your business.
If a website takes more time to load or lags in between, the consumers may abandon their search on your website and choose the website that offers a smooth and better user experience over you. Thus poor navigation is detrimental to your website, despite employing the best Baltimore SEO services. 
A good Baltimore SEO company like Infidigit will find you the optimum website structure for seamless navigation and user experience. This is because a user-friendly website is more appealing to customers, as it makes their navigation easy and gives them control over their journey on your site. This user-friendliness leads to better impressions and increased lead conversions. 
Aditionally, seamless website navigation is essential for search engines understand the interlinking between different pages on the website and is crucial in growing your online presence.
8. Improve Site Speed
An optimum SEO strategy gives you control over your website's workings, such as your website's speed and responsiveness to clicks on the URL. This is an important metric that determines user experience and whether a user will perform an action relevant to you. 
Infidigit's Baltimore SEO services focuses on improving your website's customer experience, speed, and load times, which Google PageSpeed considers important factors when determining the health of a website and ranking them higher on search engines.
9. Link Building
Link building is a crucial part of SEO strategy, as it is an important parameter search engines use to rank your website. Link building involves the use of hyperlinks users click on to navigate smoothly between pages and websites. Embedded hyperlinks help users crawl through the web. 
Since Google's core algorithm uses link building to test website authoritativeness, it is crucial to improve your website's visibility as well. Google and other search engines also use hyperlinks to identify and rank new web pages. 
Our Baltimore SEO services are tailored to find links relevant to your industry and products to increase your online credibility and make you the go-to source of information, thereby leading to better brand and product awareness.
10. Content Marketing
Cramming keywords into your content will not make you rank higher. Therefore, a good content strategy is as significant and effective as optimizing your content. Original content that solves the user queries rank higher on Google. 
Content marketing also helps you build long-lasting relationships with your target audience. Content marketing includes social media marketing, blogs, articles, video content, etc., to drive traffic to your website and convert leads into revenue streams. 
Infidigit–one of the best SEO Company in the US–discovers relevant topics, then designs and optimizes content around them  for better reach.
11. Targeting the Right Audience
When your content and website are optimized for better reach, there are greater chances of your website receiving more organic traffic. However, conversions will depend on whether your Baltimore SEO strategy targets the right audience and gives them a great user experience. 
We at Infidigit use targeted SEO planning and implementation to help you surpass your competitors and create a distinct brand image that gets noticed and acknowledged. We do not limit our Baltimore SEO services to solely improve your rankings, but we also ensure that the right audience discovers you and becomes your clients.

Carla Rabe
Product Lead: Growth at Superbalist
"The most notable outcome is holding the #1 ranking position in South Africa for "Black Friday" related keywords for 3 consecutive years and winning an international SMX award for the best retail search marketing initiative. "
+415% Organic Sessions     +236% Organic Revenue      +240% Return on Investment
+415%  Organic Sessions   
+236% Organic Revenue    
+240% Return on Investment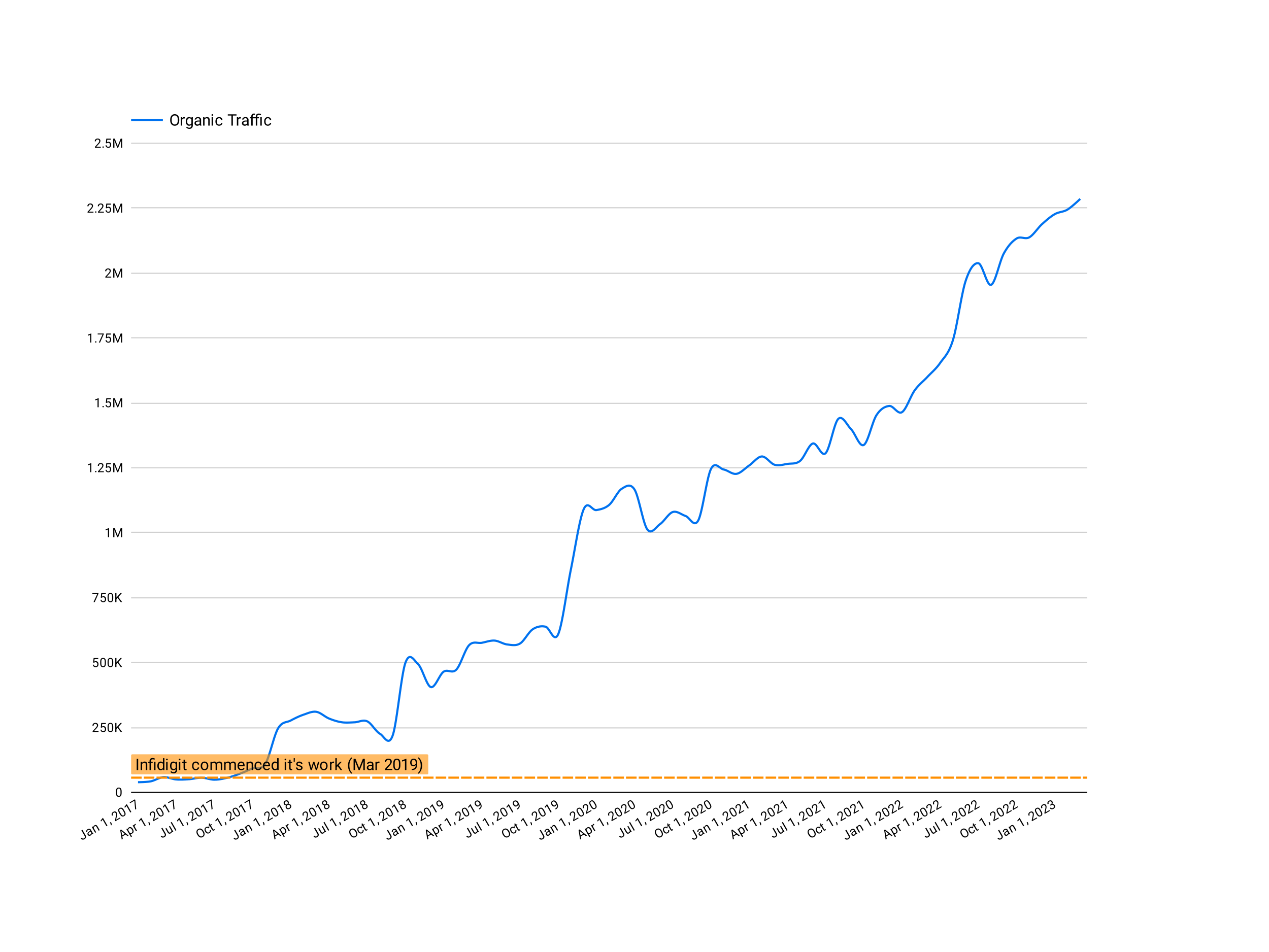 What Makes Us Different from Other Baltimore SEO Agencies
SEO is a significant aspect of a business's digital marketing strategy. It not only ranks your website higher and targets potential clients, but it also creates a distinct brand image and helps you stand out from the crowd. 
As a Baltimore SEO company, we are committed to achieving the unachievable and bringing out the best through our efforts. Our expert team of copywriters, SEO specialists, developers, designers, and other professionals work toward building a robust, sustained, and rewarding online presence for our clients. 
We operate in a great working environment and prioritize ethics and work culture. Before designing a Baltimore SEO service strategy for our clients, we consider the client's pain points, regardless of their scale. 
Our client testimonies and feedback provide evidence that we are different from other Baltimore SEO agencies. A few of these reasons are cited below.
1. Award-winning agency
Infidigit is an award-winning SEO agency with a proven track record of providing quality services to its clients while expanding their reach and return on investment. As a Baltimore SEO company, we are dedicated to bringing the best to our client's businesses.  
We have worked with a variety of clients across products, industries, and horizontals among other areas. Some of the awards that are a testimony of our excellence and hard work include: 
Indian Agency Awards

2020 –

Rising Star of the Year 

Engine Land Award 2020 – Best Retail Search Marketing Initiative-SEO

2020 ANA International ECHO Awards – Best Use of Search

Digital Dragon 2021 – Best Content in a Search Marketing Campaign

Drivers of Digital Awards 2021- Best Search Marketing Campaign
2. Expertise across Industries
We have expertise and experience in developing content and SEO strategy across major industries and verticals, including insurance, media, e-commerce, banking, and more. We operate globally and cater to companies with different SEO service requirements in the US.  
Our US SEO services do not just focus on localized search results. Instead, we first understand the intricacies of the brand story, relevant industries, and what appeals to their audience. Then, after proper SEO planning, we at Infidigit tailor-make SEO strategies and execute them to yield optimum results on time.
3. Featured Snippets and #1 Rank
A featured snippet is an additional feature search engines offer to the readers. Featured snippets are excerpts from websites that offer original content and answer user queries in the simplest of ways. Content that is optimized, has backlinks, and offers valuable information to the readers has more chances of breaking into Google's top spot or ranking as a featured snippet. 
As an SEO company in the US, Infidigit analyzes user intent, performs competitive analysis, and optimizes your content accordingly to help you reach greater visibility via featured snippets. This increased visibility leads to enhanced brand awareness and greater trustworthiness among the audience.
4. Brand Awareness
Brand awareness refers to the level of familiarity your target audience has with your brand, products, and services. Brand awareness is crucial for the success of any business, as awareness is the first step toward promotion, advertising, and ultimate sales. 
SEO is one of the most significant tools to increase your brand awareness. As an SEO company in the US, we make sure your brand gains local and targeted global visibility. Our Baltimore SEO services, which include website audits, keyword research, competitor analysis, and link building, help you rank in the search engines and gain brand recognition. With time, this increased awareness around your brand will lead to conversions, increased revenue, and better ROI on your digital marketing investment.
5. Innovative Ideas
As more and more brands go online, the task to make your presence felt becomes more complex and challenging. SEO is itself ever-evolving and needs a constant flow of innovative ideas and upgrades to make your website stand out and rank higher in search results. 
We at Infidigit offer unique Baltimore SEO services based on our relevant industry experience and expertise in varied SEO disciplines. Through extensive SEO planning and audit tools we find the gaps and shortcomings in your current strategy and focus on optimizing on-page content, conducting keyword research, and producing quality content for your website.
6. Services Offered Across Globe
We are recognized globally for our SEO services. Our team of copywriters, writers, developers, SEO experts, and others have served some of the leading global brands and offered them customized solutions for their digital marketing needs. 
We consider our Baltimore SEO services to be equally holistic, and we offer a 360-degree purview and implementation of your SEO stratergy. We cater to vast strata of businesses and ensure your website gets the maximum visibility and higher market share on SERPs.
7. Increased ROI
As your Baltimore SEO services company, Infidigit will increase your business's outreach and attract the right audience. Infidigit uses targeted SEO strategies to yield higher search rankings for better organic reach. 
We are committed to improving your online presence to lead to better conversions and high-ticket clients for improved ROI in the long run.

Rubi Gupta
AVP Marketing & Growth at Spinny
"Since SEO was an unexplored area for us till Jan 2021, we trusted Infidigit's SEO team to fulfil our requirements and formulate an action plan. Within 11 months, we observed an improvement in non-brand clicks by 169% and organic users by 131% with more than 800 keywords ranking in the top 10 positions. As a result, our overall organic numbers improved. With that said, we hope to achieve similar milestones in the future."
+169% Non-Brand Clicks      +111%  Organic New Users      800+  Keyword rank in top 8 pos
+169%  Non-Brand Clicks
 +111%  Organic New Users
 800+  Keyword rank in top 8 pos
Our Baltimore SEO Services
Here are the Baltimore SEO services we offer:
1. Local SEO
The local search refers to users looking for shops, restaurants, hospitals, bakeries, and other services in their locality. If you are a business operating in Baltimore, it is pertinent that you have an SEO partner assisting you in local SEO in the United States. 
Partnering with Infidigit, a Baltimore SEO company, will help you increase your visibility in local search results, drive more traffic to your website, and attract more customers to your physical or online store. Our local SEO services uses a mix of on- and off-page optimization, technical SEO, keyword research, interlinking, and competitor analysis to gather crucial insights for your Baltimore SEO strategy to target the local population. 
Our Baltimore SEO services, enhances your overall sales and performance by improving your local online presence.
2. E-commerce SEO
As your Baltimore SEO services partner, we also provide e-commerce SEO services in the United States. E-commerce SEO helps your e-commerce website grab eyeballs by ranking higher on search engines. 
For an optimized e-commerce website, you must improve the user experience and ensure seamless navigation on multiple devices. Infidigit's Baltimore SEO services are tailored to increase the efficiency of your e-commerce SEO strategy. 
We improve the technical setup of your website and its overall structure for a better user experience. E-commerce SEO is a powerful tool that can transform the way you approach digital marketing.
3. Website Audit
Our Baltimore SEO strategies are not just restricted to keywords and website optimization. We conduct in-depth website audits to check its health on several parameters, such as website structure, code, page load times, etc. 
A website audit is essential to assess a website's performance and determine if the functional SEO strategy is performing well. Our website audit not only analyzes the gaps and issues of your website but also fixes them to optimize your website structure and technical setup. If you are a business looking for a website audit company, your search ends with Infidigit, your Baltimore SEO services partner.
4. App Store Optimization
Smartphones are a necessity today, and most people use them to browsing for information, products, and services. This means brands seeking to expand their online footprint also need to work on their app store optimization strategy. 
App store optimization (ASO) is necessary for directing traffic to your app and increasing the number of downloads on Google PlayStore and Apple Store. ASO is crucial for mobile app marketing and increasing app visibility on online app marketplaces. 
We at Infidigit use our app marketing expertise to provide ASO services that increase app visibility, user-friendliness, and views.
5. Conversion Rate Optimization
Ranking your website higher is a crucial outcome of a good Baltimore SEO strategy, but it is not an end in itself. A higher-ranking website that does not generate conversions for its owner is useless. 
It is essential to implement a good conversion rate optimization (CRO) strategy to convert incoming traffic and leads into revenue for your business. 
CRO is not just measured using the number of purchases, but it also includes the number of social media shares, form submissions, and CTA button clicks. 
At Infidigit, we take care of your CRO goals and tailor strategies to increase your traffic and ultimately convert leads into revenue churning clients.
6. Penalty Recovery
Google imposes penalties on websites that violate its quality guidelines, resulting in a dramatic fall in ranking and a loss of organic traffic. 
If you suspect that the cause behind the fall in your rankings is a violation of Google's quality guidelines, it is best to approach a penalty recovery services firm. The recovery process is be lengthy and requires relevant expertise and experience. 
Infidigit, your Baltimore SEO services partner, takes care of the entire recovery process by identifying the reasons behind the drop in rankings and the lags in quality guidelines on your website. We reposition your website and increase its credibility on search engines for renewed traffic flow and profits.
7. Enterprise SEO Services
A well-planned small business SEO in the US may not work for a big enterprise. While a small business can get by with a few pages on its website, an enterprise business needs to have hundreds of pages. 
Infidigit provides services related to enterprise SEO in the United States to design strategies that work for an organization's web presence and revenue generation. Enterprise SEO in the United States is essential for a company that wants to be in the top results when people search for a particular industry, product, or service.
8. Link Building
Link building, using hyperlinks or internal linking, increases a website's search engine rankings and improves its visibility. Hyperlinks facilitates seamless navigation between pages and websites on the internet and are an important part of the user experience.  
At Infidigit, we formulate a Baltimore SEO strategy to identify the niches and the associated links that, when hyperlinked, will add to the online credibility and SERP ranking.
9. Content Marketing
In addition to keyword optimization and on- and off-page SEO, content marketing is an essential part of any Baltimore SEO strategy. Content marketing is an effective digital marketing strategy that drives well-targeted traffic to your website. This traffic is sorted by considering the content they read, and thus they are more easily convertible into clients. 
Infidigit focuses on increasing your website's traffic and reach by using a mix of video marketing, social media, and blog marketing. It aligns the SEO strategy for a business to Google standards to create the most searched and trending topics to drive customers to your website organically.
10. SEO Audit
An SEO audit examines your website against the best practices for SEO. Infidigit conducts an in-depth SEO audit for your existing website before we plan and build your Baltimore SEO strategy. 
An SEO audit  helps you identify the issues that are restricting your website's ranking on SERPs. Some of these issues might include technical SEO, user experience issues, on- and off-page SEO, or content gaps. 
Infidigit's audit services check your website at 270 plus checkpoints, identify the issues, and recommend a suitable course of action for optimizing your website's health. So, if you are looking for the best Baltimore SEO company, your search ends with Infidigit.
11. On-Page SEO
While many SEO agencies offer on-page SEO in the United States, Infidigit stands out by becoming your Baltimore SEO partner and assisting you in on-page optimization for better ranking on SERPs. 
On-page SEO involves quality content publishing, headline optimization, image optimization, and HTML tags. It ensures your website is authoritative and displays a high level of expertise. Infidigit maintains and manages your on-page SEO in the United States based on the best SEO practices because the right on-page SEO strategy ranks your business ahead of your competitors.
12. Off- Page SEO
Off-page SEO is different from on-page SEO and requires efforts that go beyond regular website optimization to rank your website higher. Building backlinks is one of the core tactics in off-page SEO to improve a website's ranking on SERPs. 
Google ranks websites based on the number of relevant and quality backlinks, while considering the quality of the linked websites at the same time. Thus, a website having high-value backlinks will automatically rank higher on search engines. At Infidigit, we help you with your backlinking efforts by getting hyperlinks and your brand names on trustworthy websites to surpass your competitors and create relevance among your audience.
Frequently Asked Questions
How is Infidigit SEO different from other Baltimore SEO companies?
Infidigit is a globally recognized SEO agency operating in several countries worldwide. It provides services to some of the top names and boasts a team of dedicated professionals, including copywriters, writers, SEO strategists, digital marketers, developers, and more, to manage every facet of your SEO strategy. Unlike competitors that offer standardized packages and limited services, Infidigit,  an award-winning agency, understands the relevance of your brand and customizes an SEO strategy accordingly.
How should I select the top Baltimore SEO agency for my business?
A good Baltimore SEO agency will always offer a comprehensive website check before seeking to plan, design, and implement an SEO strategy. A Baltimore SEO strategy would be functional only if the agency successfully identifies the right keywords to compete on search engines and optimizes the website accordingly with other SEO techniques.
When choosing the best Baltimore SEO agency, look for the one that provides a suite of tailor-made products to serve the specific needs of your business.
How would SEO help me in increasing ROI for my business?
SEO is an important tool for lead generation as it drives organic traffic to your website and increases your credibility by ranking your website higher. This lead generation, when followed by a decent conversion rate, significantly  increases the sales and revenue of your business.
SEO is cost-effective and leads to sustained results; it has an increasing rate of return on your investments, resulting in improved ROI overtime.
How much time does it take for SEO to generate organic traffic and rank better on SERP?
If you are employing a Baltimore SEO services company to build your SEO strategy, you may be keen on knowing when the SEO strategy will start taking effect and your website will start ranking. The time it takes for an SEO strategy to work differs from organization to organization, but experts suggest that it may take six to twelve months for a website to see the impact of an SEO strategy.
Are Baltimore SEO packages cost-effective?
Baltimore SEO packages are cost-effective, and their results last longer than pay-per-click packages. When used judicially, SEO is an affordable marketing tool that increases website traffic and conversions exponentially. Although Baltimore SEO packages may be more expensive for businesses seeking to build their website from scratch, the plans become less costly once the website is established on SERPs.
How will Baltimore SEO help my business?
Baltimore SEO increases and establishes your online presence by making you reach billions of people at once. Besides ranking your website higher, Baltimore SEO will also convert the inbound leads into high-ticket clients for better revenue generation and ROI.