Organic Sessions
1.8 Billion+

#1 Ranking Keyword
40,000+


Organic Sessions
1.8 Billion+

#1 Ranking Keyword
40,000+

Grow your business with Denver SEO
Whether your business is located in a business hub or in smaller places, SEO remains crucial to the success of a business  In big cities, including Denver, the competition for online visibility is fierce. Denver SEO is crucial for any business looking to increase their online visibility and attract more customers. It helps businesses establish their brand, reach their target audience, and establish their business. It is cost-effective and long-lasting too.
Without SEO, businesses tend to miss out on a lot of potential customers and revenue. To ensure growth in business and revenue, they will require the assistance of a leading Denver SEO service provider. 
The best Denver SEO company is one with a proven track record of delivering results for their clients. They also need to have a strong portfolio of successful projects and a large base of satisfied customers who have seen an increase in website traffic, leads and revenue. This is where the experienced team at Infidigit comes in with its knowledge base and experience in SEO and digital marketing.

Vipul Oberoi
Director - Marketing, CSR & Learning at Dun & Bradstreet
"The efforts of our partner, Infidigit, on SEO have made turned our website into lean, mean ROI-generator. It has now become a pure evidence of how a coherent SEO strategy and creation of relevant content can work wonders for a brand in the digital space."
+156% Organic Sessions     +188% Organic Revenue      +186% Organic Clicks
+156% Organic Sessions
+188% Organic Revenue
+186% Organic Clicks
As a leading Denver SEO service provider, we provide a wide range of services to help drive more traffic to the website of a particular business and increase its visibility online. These services are designed to optimize all aspects of a website, both on-page and off-page, to ensure that search engines can crawl it easily and that it ranks well on search engine result pages (SERPs). 
As a leading Denver SEO agency, we provide these services:
1. Local SEO
The aim of local SEO is to make your business more visible in local search results on Google. Any business with a physical location or which serves a specific geographical area, can benefit from local SEO. In searches like "Denver salons," results local to Denver appear as the default view over organic results, as Google detects your local need.
Infidigit, as a leading Denver SEO company, can help take your business to the next level with its curated local SEO services. With us, you will receive comprehensive and customized local SEO services that will meet your specific needs and help you rank better on Google Maps.
2. E-commerce SEO
E-commerce SEO is the practice of improving organic rankings for online stores. E-commerce SEO ensures your product pages appear among the ten organic search results. It generates 300% more traffic for websites than social media which eventually leads to more sales.
As a success-driven Denver SEO company, we provide you with a team that has extensive experience in optimizing e-commerce websites. Our team also ensures that more traffic is driven to your website organically to help increase conversions and boost revenue.
3. Website Audit
A website audit is an examination of overall website performance. An audit uncovers tactics and technical elements to prioritize improving SEO positioning. That is, it works to locate issues that can prevent a website from appearing on SERPs. 
A study has shown that 75% of customers judge a company's credibility based on its website.  Our team of SEO experts start by auditing the website and identifying the problems. Based on the issues, our team provides an actionable solution to improve the website to make content more visible on search engines.
4. App Store Optimization
App store optimization is the process of optimizing mobile apps so that they appear higher up in the search results of an app store. ASO is fundamentally concerned with increasing the visibility of your apps within the search engine of an app store, such as Google Play or Apple App Store. You can support other goals, such as traffic to your online app and downloads, by increasing impressions.
5. Conversion Rate Optimization (CRO)
Conversion rate optimization (CRO) is the process of enhancing the percentage of conversions from a website or mobile app. CRO is achieved through content enhancements, split testing, and workflow improvements. CRO is important as it helps you save money on customer acquisition by extracting more value from existing visitors and users.
6. Penalty Recovery
A Google penalty is a monetary punishment imposed by Google on websites that violate Webmaster Guidelines. SEO penalty recovery is a time-consuming process that necessitates meticulous planning and a high level of insight. Some penalties result from Google algorithm updates, such as the Panda and Penguin updates. The only way to quickly recover your site is to increase its trustworthiness and value for the end user, and our webmasters are well-equipped to handle this task for you.
7. Enterprise SEO Services
The process of planning SEO strategies that enhance revenue and improve organic presence in larger organizations is known as enterprise SEO. It is typically defined by the number of pages on the website, rather than the number of employees. Scaling content, managing technical SEO on an , and leveraging automation are all common enterprise-level SEO approaches. While SEO benefits all organizations, enterprise SEO applies the practice to large organizations with many moving parts. Enterprise SEO requires a higher level of orchestration, which, in turn, needs better project management.
8. Link Building
The process of interlinking hyperlinks from other websites to your own is known as link building. Its goal is to make the content on your website "authoritative" enough so that your website ranks higher in Google SERPs and your website receives more search traffic. Simply put, a link, or hyperlink, is a connection between two Internet pages. You can use a link to direct people to a page, post, image, or other online object. Backlinks from other websites are regarded as "votes of confidence" by Google and other major search engines. Every vote indicates that your content is valuable, credible, and useful.
9. Content Marketing
Content marketing is a long-term SEO strategy that focuses on developing a strong relationship with your target audience by consistently providing them with high-quality, relevant content. A content marketing strategy helps in establishing your brand as a thought leader by creating and distributing content in a variety of ways. This increases trust among your audience. Content marketing is a type of inbound marketing that attracts customers and fosters loyalty, making it an effective customer retention strategy. Unlike one-time advertising, content marketing demonstrates that you genuinely care about your customers. Whatever marketing tactics you employ, content marketing should be a part of your strategy.
10. SEO Audit
An SEO audit evaluates how well your website is optimized for search engines. An SEO audit is important because it identifies issues with any website's SEO so that you can address those issues and begin ranking where you belong. An effective SEO website audit is done by acquiring hard data about your website's technical health, traffic, and backlink profile. The same is done for the websites of your competitors as well. A thorough SEO audit includes action plans for increasing search engine rankings in order to attract more visitors, leads, and revenue. For a website's long-term success, an SEO audit should be performed on a regular basis.
11. On-Page SEO
On-page SEO (also known as on-site SEO) is the practice of optimizing Web pages in order to boost a website's rankings and generate organic traffic. Among the on-page SEO practices commonly used are optimizing title tags, content, internal links, and URLs. It also entails ensuring that your website has a high level of expertise, authority, and trustworthiness (EAT). 
Keywords and other on-page SEO cues are used by search engines like Google to determine whether a page matches a user's search intent. Google does not send organic search traffic to 90.63% of pages. One of the reasons for this is a lack of proper on-page SEO. It is important to remember that when ranking pages, Google considers on-page SEO signals.
12. Off-Page SEO
The term "off-page SEO" (also known as "off-site SEO") refers to any action taken outside of your own website to influence your rankings in SERPs. Link building, guest posting, social media marketing, and other strategies are frequently used. 
Despite constant changes in search algorithms and ranking factors, the SEO community generally agrees that effective off-page SEO continues to have a significant impact on a page's ranking. Off-page SEO simply informs Google what other people think about your website. For example, if you have a lot of valuable links directed towards your pages, search engines will assume you have great content that users will value.
13. Technical SEO
The process of augmenting your website to help search engines like Google find and index your pages is known as technical SEO. The pillars of technical optimization are making a website faster, easier to crawl, and more understandable to search engines. A technically sound website is fast for users and easy for search engine robots to crawl. A proper technical setup aids search engines to determine the purpose of a site. It also avoids confusion caused by, say, duplicate content. If a Web page does not load within three seconds, the majority of visitors will leave. This is where technical SEO can help.

Carla Rabe
Product Lead: Growth at Superbalist
"The most notable outcome is holding the #1 ranking position in South Africa for "Black Friday" related keywords for 3 consecutive years and winning an international SMX award for the best retail search marketing initiative. "
+415% Organic Sessions     +236% Organic Revenue      +240% Return on Investment
+415%  Organic Sessions   
+236% Organic Revenue    
+240% Return on Investment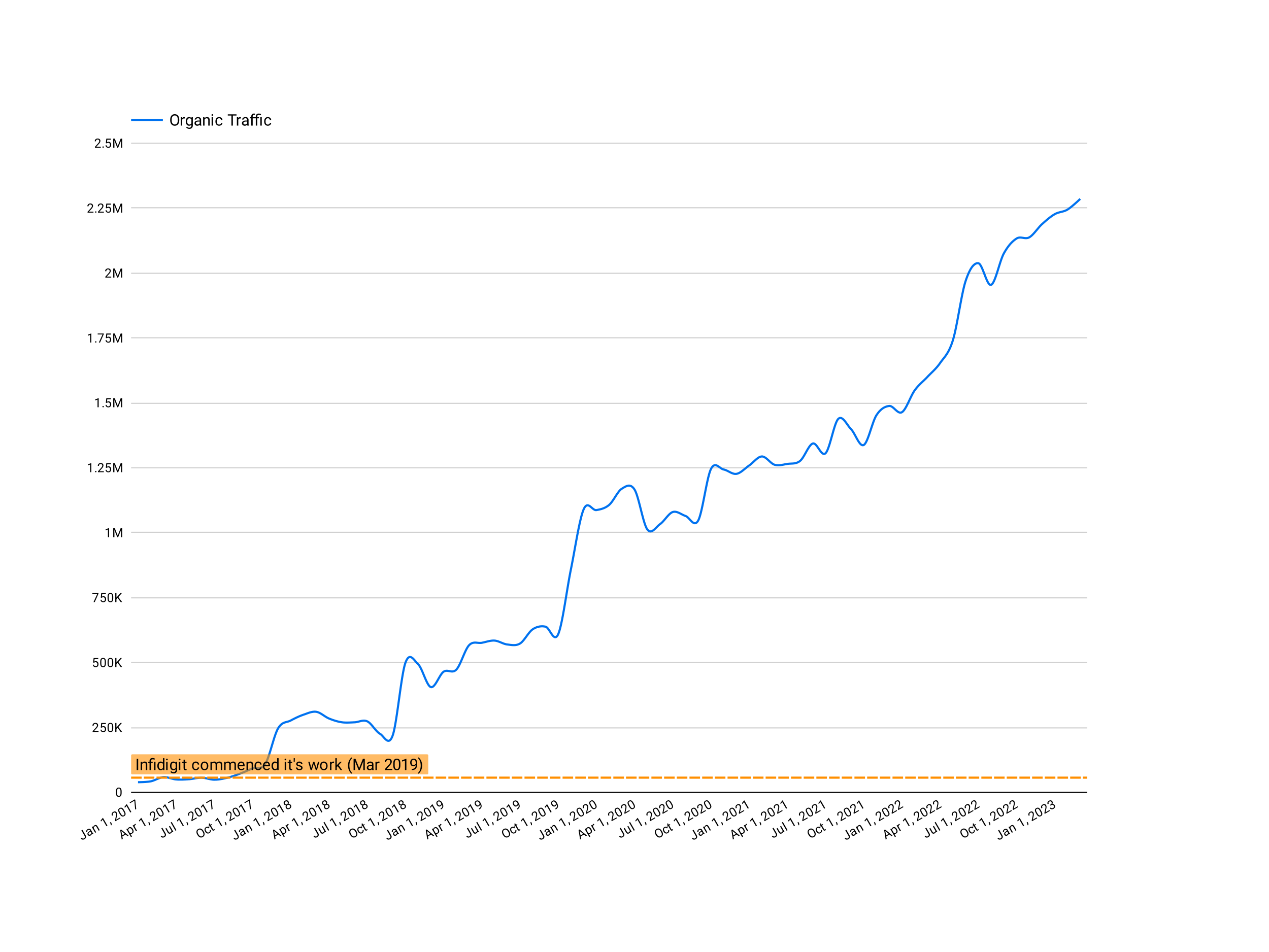 1. Keyword Research and Strategy
The process of finding keywords and terms and analyzing them forms a part of research and strategy. To do this, businesses need experts in the field who understand how to strategize based on the findings of the research. 

Our team of experts understands that every business is unique. Hence it becomes imperative to understand what a business stands for and what its specific needs are. This allows us to create a strategy that is tailored to your business goals. As a leading Denver SEO agency, we use advanced tools and techniques to identify the most relevant and valuable keywords for your business so that you will never settle for less.
Denver SEO companies need to use various tools and techniques to conduct a thorough competitive analysis. It starts with identifying your top competitors and analyzing their online presence, including their website, social media channels, and advertising campaigns. Providing the best Denver SEO services, Infidigit uses this information to understand competitors' strengths and weaknesses, as well as their target audience and marketing strategies. 

Our experts work closely with you to arrive at your unique selling points (USPs) and develop a strategy that leverages your strengths and addresses your competitors' weaknesses. 

Further, with us as your Denver SEO agency, you will get continuous monitoring reports on your competitors so that you can make adjustments as needed to ensure that you are always ahead of the competition.
Our team of SEO experts has= years of experience in the industry and stays up-to-date with the latest trends and algorithms to stand out as the best Denver SEO agency. As a leading Denver SEO service provider, we know what works and what doesn't. Our team uses the available knowledge base to help you achieve your goals. 

With our expertise, customized approach, white hat techniques, data-driven approach, continuous monitoring, and transparent and collaborative methods, you can be sure that your website will perform much better in search engines, attract more qualified visitors and achieve a positive ROI.
With a proven track record of helping businesses reach new heights of success, we not only identify problems but also provide strategic solutions that align with your business goals, which will help you achieve your desired outcome. You get solutions that are proactive. This will help you to stay ahead of the competition.
When it comes to content gap analysis, you want a Denver SEO service that will give you the information you need to stand out in your industry. 

Understanding specific needs of the client allows a Denver SEO company to create and carry out a content gap analysis customized to your business and goals. The content gap analysis report created by Infidigit is not just a generic report but a unique and personalized analysis that addresses your specific needs.
When it comes to SEO analysis, you want a Denver SEO company that's going to give you a comprehensive and actionable plan to improve your website's visibility and drive more traffic to it. 

SEO analysis is not just limited to on-page optimization but also includes off-page optimization, technical SEO, and competitor analysis so that you have a complete picture of your online presence.
Optimizing website navigation is important for any company to grow. And as a leading Denver SEO services provider, we understand that relying on best practices is not enough. That is why we bring fresh perspectives and new ideas to the table.

For example, our website navigation optimization process is not limited to the main menu; it includes sub-menus, footer links, and other navigation elements to give you a complete picture of the user experience. 

The ultimate goal of website navigation optimization is to help you achieve a positive return on investment and drive more business to your website.
At Infidigit, we understand the importance of a fast and responsive website in today's digital landscape. Businesses need to know that site speed not only impacts user experience, but it also plays a crucial role in search engine rankings. 

Using the latest techniques and technologies to optimize your website's performance, our team will conduct a thorough analysis of your website and identify areas for improvement, such as reducing image sizes, minifying code, and implementing a content delivery network (CDN).
Link building is integral to SEO and is one of the many Denver SEO services that Infidigit offers. We use a variety of white hat link-building techniques, such as creating high-quality, shareable content, guest blogging, and outreach to relevant websites and influencers. 

You can expect to have natural and organic links that align with your business objectives and target audience. We also ensure that the links are from high-authority, relevant websites, which are more likely to drive traffic and improve your search engine rankings.
Infidigit offers content marketing services as a part of its comprehensive Denver SEO services. With us, you get a team of experts that understands the importance of creating high-quality and engaging content that not only resonates with your target audience but also helps to improve your search engine rankings. Our team will work closely with you to understand your business goals and target audience. Further, you will get a thorough analysis of your website and industry to identify opportunities for creating high-quality, shareable content that aligns with your business objectives. We will also help you to develop and execute a content distribution strategy that will help you reach your target audience across multiple platforms and channels.
11. Targeting the Right Audience
As one of the best Denver SEO companies, we use multiple methods to identify and target our clients' niche audiences. The first step is to conduct a thorough analysis of the client's businesses and industries to understand their products or services, target audience, and competitive landscape. 

Further, our dedicated team conducts research on the existing customer base to understand their demographics, interests, and behaviors. In addition to identifying and targeting the audience, our team also works closely with you to track, measure, and analyze the performance of the campaigns and plan accordingly for better results.

Rubi Gupta
AVP Marketing & Growth at Spinny
"Since SEO was an unexplored area for us till Jan 2021, we trusted Infidigit's SEO team to fulfil our requirements and formulate an action plan. Within 11 months, we observed an improvement in non-brand clicks by 169% and organic users by 131% with more than 800 keywords ranking in the top 10 positions. As a result, our overall organic numbers improved. With that said, we hope to achieve similar milestones in the future."
+169% Non-Brand Clicks      +111%  Organic New Users      800+  Keyword rank in top 8 pos
+169%  Non-Brand Clicks
 +111%  Organic New Users
 800+  Keyword rank in top 8 pos
Reasons to Choose Infidigit as your SEO Agency
Choosing us as your

Denver SEO agency

means partnering with a team of experts with a proven track record of delivering results. 

As the winner for the highly coveted 'Best Retail Search Marketing Initiative – SEO' award bestowed by the USA-based news portal Search Engine Land, we have also won prestigious awards like India Content Leadership Awards, ANA International ECHO Awards, Gold DMA Asia ECHO Awards, and so on.          

Our real success lies within the success of clients like Myntra, Flipkart, and ICIC. These all together make a testament to Infidigit's skill, expertise, and dedication to delivering results for its clients.
2. Expertise across Industries
We owe our expertise across industries to a combination of factors. This is done by hiring a team of experts with a diverse set of skills and experience. 

We work with a variety of clients across different industries. This allows us to deeply understand the unique challenges and opportunities that each industry presents and to develop custom solutions that are designed to meet the specific needs of our clients. 

Further, as a leading Denver SEO company, we have a team dedicated to researching and staying up-to-date on the latest developments in digital marketing, technology, and data analytics.
3. Featured Snippets and # 1Rank
Infidigit is one of the top Denver SEO agencies, as we successfully achieved featured snippets and #1 rankings for our past clients. Our team does it using a combination of strategies and tactics. 

As a Denver SEO agency, our services include conducting thorough keyword research, optimizing on-page elements, creating high-quality content, building backlinks, monitoring and analyzing data, and optimizing for featured snippets.
We achieve brand awareness in unique ways. We provide you with a team to work closely with you and develop a strong brand identity that accurately represents your business and sets you apart from your competitors. Further, with us as your Denver SEO company, you can develop a strong social media presence, use influencer marketing and content marketing, and measure and analyze the data to improve your brand presence. We create and promote high-quality, informative content designed to educate, inform and entertain the target audience. This helps build trust and credibility for the brand and drive more traffic to the website.
As a leading Denver SEO company, we use a variety of methods to generate innovative ideas that help you stand out from the crowd. Our team takes the time to understand what your competitors are doing and identify areas where you can improve upon or differentiate your brand. This allows us to develop a unique strategy that sets clients apart from the competition. With Infidigit, you can expect a continuous learning process. Our team is always testing and experimenting with new strategies and tactics to discover what works best. By constantly gathering data and analyzing results, we are able to make innovative yet data-driven decisions.
6. Global Services Offered
Infidigit's

Denver SEO services

are curated to help businesses improve their search engine rankings and visibility, and drive more traffic to their website. As a leading Denver SEO agency, we work closely with a business to provide analytics and reporting to help businesses understand the impact of their SEO efforts and make data-driven decisions for future campaigns.
As a leading Denver SEO company, Infidigit achieves increased ROI for your company by implementing a number of different strategies and tactics. We create a comprehensive SEO strategy that covers all aspects of SEO, including on-page optimization, off-page optimization, and technical SEO. This approach helps ensure that all areas of the website are optimized for search engines and that clients' websites are able to rank higher in search engine results. Further, by regularly analyzing and optimizing clients' campaigns, we are able to identify areas for improvement and make data-driven decisions to improve results.
Frequently Asked Questions (FAQs)
Are SEO packages cost-effective?
SEO packages can be cost-effective, but it depends on the specific package and the company offering it. Many SEO companies offer packages at different price points to cater to different budgets and business needs. Additionally, it's also important to consider the level of service and the experience of the Denver SEO company you are considering. A good SEO package will provide ongoing services such as monitoring and analyzing the performance of the website, making necessary adjustments and optimizations, and creating new content. An experienced and reputable company like Infidigit will deliver better results that justify the cost.
Will SEO help me improve my website ranking?
Yes, SEO can help improve your website's ranking in search engine results. SEO is the critical process of optimizing your website and its content to make it more visible and relevant to search engines. By making sure your website is optimized for relevant keywords, search engines will be more likely to display it in search results when users search for those keywords. It takes time and consistent effort. And it's not the only thing that matters, it's just one piece of the puzzle. But with the right approach, you can give your website the edge it needs to climb to the top of search results.
How does SEO help generate leads?
SEO can be a lead-generation powerhouse for your business. When your website ranks well in search results, it's more likely to be seen by potential customers. And when potential customers can easily find your website, they are more likely to become leads. It's like going to a party where everyone is looking for a date, and you are the best-dressed, most interesting person in the room. SEO can be a powerful tool for generating leads for your business by connecting your website with potential customers who are actively searching for products or services like yours and by providing a great user experience to engage them and convert them into leads.
How much time would it take to show results via SEO
The time needed to see results from your Denver SEO services can vary depending on a number of factors, including the current state of your website, the competitiveness of your industry, and the resources you have available for your SEO efforts. In general, it's safe to say that it can take several months to see significant results from SEO. If your website is new or has never been optimized for search engines, it will likely take longer to see results than if your website is already established and has some existing visibility in search results. Additionally, if your industry is highly competitive, it will likely take more time to see results than if you are in a less competitive field.