Jacksonville SEO Services
Jacksonville, located in northeast Florida, is home to a wide range of industries, including finance, healthcare, logistics, manufacturing, and technology. The city's thriving port and transportation infrastructure make it an ideal location for businesses engaged in trade and commerce. The Jacksonville International Airport and the Jacksonville Port Authority are primary drivers of the local economy, facilitating the movement of goods and people in and out of the city.




Organic Sessions
1.8 Billion+

#1 Ranking Keyword
40,000+


Organic Sessions
1.8 Billion+

#1 Ranking Keyword
40,000+

Award-winning Jacksonville SEO marketing company
With Jacksonville's thriving business ecosystem, the number of SEO agencies has increased significantly. Among them is Infidigit, a leading digital marketing agency that helps businesses unlock their true potential through innovative and cutting-edge SEO strategies. Our team of experts specializes in providing tailored solutions that deliver exceptional results and drive business growth. With a unique blend of creativity, technical expertise, and data-driven insights, we have become the go-to partner for businesses of all sizes looking to succeed online.
At Infidigit, our approach is simple: we work closely with clients to understand their unique needs and challenges and then develop custom strategies tailored to their specific goals. Our team is passionate about SEO and always stays on top of the latest trends and best practices to ensure our clients stay ahead of the competition. Whether you are looking to improve your website's search engine rankings, drive more traffic, or increase conversions, our team has the skills and expertise to help you achieve your goals. So why wait? Contact us today and discover the power of Infidigit!

Vipul Oberoi
Director - Marketing, CSR & Learning at Dun & Bradstreet
"The efforts of our partner, Infidigit, on SEO have made turned our website into lean, mean ROI-generator. It has now become a pure evidence of how a coherent SEO strategy and creation of relevant content can work wonders for a brand in the digital space."
+156% Organic Sessions     +188% Organic Revenue      +186% Organic Clicks
+156% Organic Sessions
+188% Organic Revenue
+186% Organic Clicks
Top SEO company in Jacksonville
Choosing the right SEO company in Jacksonville is crucial for the success of your online business. A top SEO company can help you improve your website's search engine ranking, increase traffic, and boost sales. Look for a company with a proven track record of success, ethical SEO practices, and transparent reporting. They should use the latest techniques and tools to optimize your website and have experience in your industry. A good SEO company will communicate effectively and provide regular updates on your website's progress.

Carla Rabe
Product Lead: Growth at Superbalist
"The most notable outcome is holding the #1 ranking position in South Africa for "Black Friday" related keywords for 3 consecutive years and winning an international SMX award for the best retail search marketing initiative. "
+415% Organic Sessions     +236% Organic Revenue      +240% Return on Investment
+415%  Organic Sessions   
+236% Organic Revenue    
+240% Return on Investment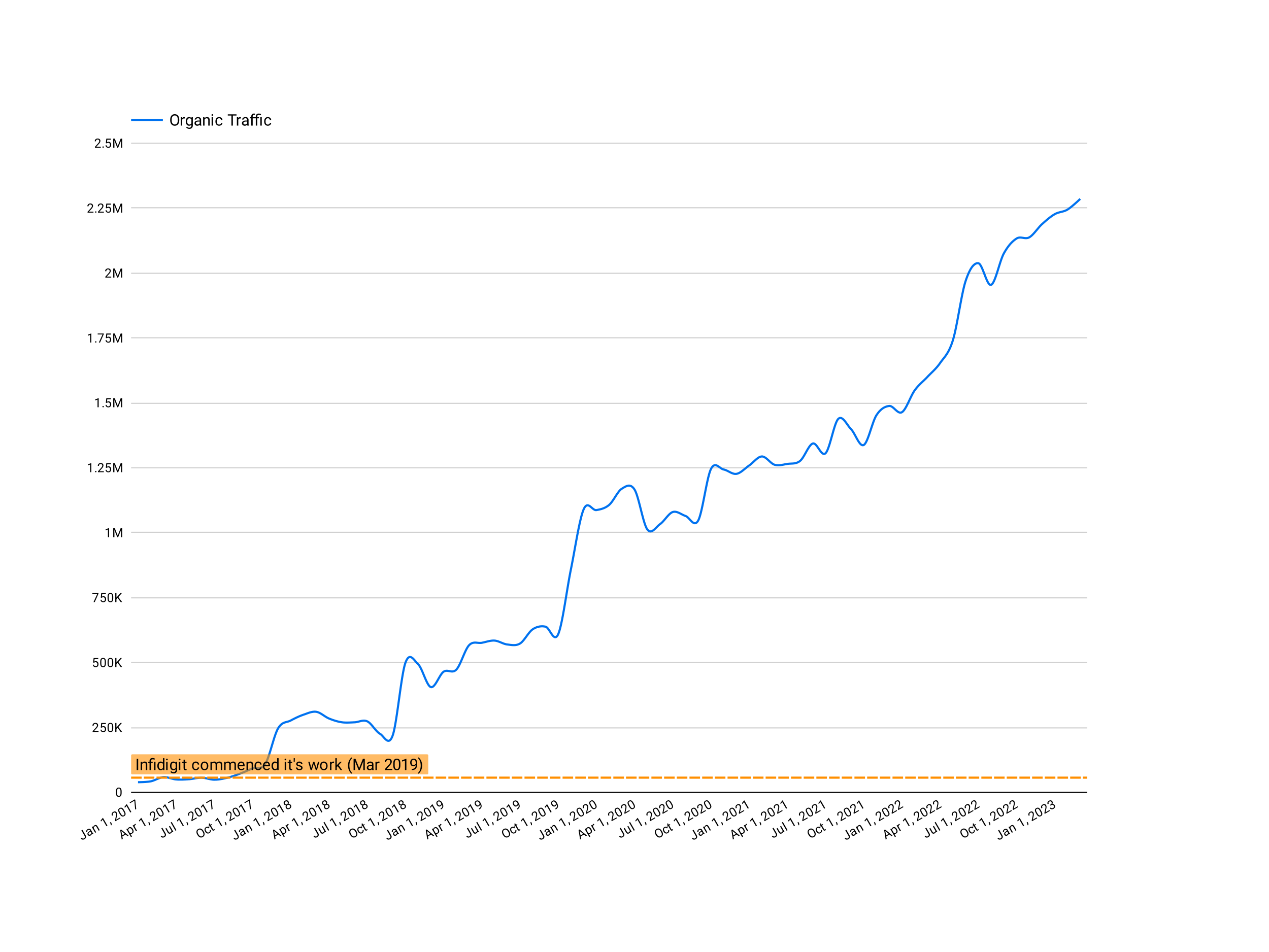 What do we offer as Jacksonville SEO Agency?
At our Jacksonville SEO company, we offer comprehensive and personalized SEO solutions that are tailored to meet the unique needs and objectives of each of our clients. Our services include in-depth website analysis, keyword research, on-page and off-page optimization, content creation and marketing, link building, social media marketing, and more.
1. SEO Services
SEO services are a set of techniques and strategies aimed at improving the visibility and ranking of a website or web page on search engine results pages (SERPs). Our Jacksonville SEO services help businesses and individuals increase their online presence, attract more organic traffic to their websites, and ultimately improve their online business performance.
SEO is constantly evolving, and its services include a wide range of activities such as keyword research and optimization, on-page and off-page optimization, content creation and marketing, link building, social media marketing, and more. At Infidigit, we use a combination of technical expertise and analytical skills to develop customized strategies.
2. E-commerce SEO
E-commerce SEO in the United States is a set of techniques and strategies designed to improve the visibility and ranking of online stores in SERP. This process involves optimizing various elements of your e-commerce website, including product pages, category pages, and other key pages, to make it easier for search engines to crawl and index your site. The ultimate goal of our e-commerce SEO service is to help you compete successfully against a brand like Amazon and turn site visitors into customers.
3. Conversion rate Optimization
Conversion Rate Optimization (CRO) is the process of optimizing a website or landing page so that more visitors complete a desired action, like buying a product or service, filling out forms, or subscribing to a newsletter. Our CRO services further entail analyzing user behavior and determining the areas for improvement of a website or landing page. Improving the overall design, layout, and functionality of a page, as well as optimizing the content and call-to-action, can increase engagement and drive conversions. Businesses can identify the most effective strategies for improving conversion rates by using data-driven insights and testing different page variations.
4. On-Page SEO
On-page SEO in the United States refers to the process of optimizing web pages individually in search engines to rank higher and receive more relevant traffic. This service involves optimizing the content and page's HTML source code to make it more search-engine friendly.
On-page SEO involves several factors, including keyword research, title tags, meta descriptions, header tags, internal linking, and content optimization. Keyword research helps to identify the most relevant and profitable keywords for a particular page, while title tags and meta descriptions provide brief, descriptive summaries of the page's content.
5. Keyword Research and Strategy
We specialize in helping businesses identify the most relevant and valuable keywords to target and develop a comprehensive strategy for incorporating them into their online content, metadata, and other elements. Our team will conduct thorough research to determine the best keywords for your business, considering factors such as search volume, competition, and relevance to your target audience. We will also help you identify long-tail keywords and other variations that can help you capture more specific searches and improve your overall search engine visibility.
6. Technical SEO
Technical SEO ensures that the website remains user-friendly. At Infidigit, we specialize in identifying and resolving technical issues impacting your website's visibility and performance in search engine rankings. Our team of experts will conduct an in-depth analysis of your website's technical structure, including its code, page speed, mobile responsiveness, and more. We will identify any issues hindering your website's performance, such as broken links, duplicate content, or poor site architecture, and develop a plan to address them. We will also work with you to optimize your website's metadata, schema markup, and other technical elements to ensure that search engines can easily crawl and index your site. 
7. Content Strategy
Content strategy services are a critical aspect of any successful digital marketing campaign. At our agency, we help businesses develop a comprehensive content strategy that aligns with their goals, target audience, and brand message.
Our team of experts will conduct thorough research to identify the best content topics and keywords to target and create a content calendar outlining the type and frequency of content to be produced. We will also help you optimize your content for search engines and social media platforms and monitor its performance to make adjustments as needed.
8. Website Audit
A website audit is a crucial component of any successful SEO strategy. A website audit is, at its core, a comprehensive analysis of your website designed to identify any issues affecting its performance. This includes technical problems, such as broken links or slow page loading times, as well as on-page optimization issues, like poor video quality or irrelevant keyword targeting.
We assist you in gaining a clear understanding of your website's strengths and weaknesses and developing a plan to address any issues by conducting a thorough website audit.
9. Local SEO
Our local SEO services aim to help businesses improve their visibility and rankings in local search results. These services include optimizing the business's Google My Business profile, building local citations, and generating reviews from satisfied customers. We also maintain consistency of your business details across different platforms, like social media accounts, YouTube, and the official website. We further optimize on-page aspects that are best suited for the Jacksonville area. Our professional SEO services in the United States' objective is to increase local visibility, drive more foot traffic to the business's physical location, and generate more leads and conversions. Companies can establish themselves as local authorities in their industry by utilizing this service.
10. Enterprise SEO Services
Our Enterprise SEO in the United States is designed to help larger, more complex organizations optimize their online presence and improve their search engine rankings. These services involve a more in-depth analysis of the website's structure, content, and overall performance to identify opportunities for improvement. Enterprise SEO services include technical optimization, content strategy development, and link-building campaigns as well. The goal is to achieve higher rankings for high-volume, competitive keywords and increase organic traffic to the website. With this service, larger organizations can establish their authority in their industry and ultimately drive more conversions and revenue.
11. App Store Optimization
At our SEO company in the US, we offer an App Store Optimization (ASO) service that helps businesses optimize their mobile apps to achieve higher rankings and greater visibility in app stores, such as Google PlayStore. This service involves the app's metadata analysis, including the app title, description, keywords, and screenshots, to ensure they are optimized for the target audience and relevant search terms. We also assist in improving the app's user experience, engagement, and reviews, all of which can impact its rankings in the app stores. By utilizing our ASO services, businesses can increase their app downloads, boost their revenue, and achieve their mobile marketing goals.
12. Penalty recovery
Our penalty recovery service is there to help businesses recover from the negative impact of search engine penalties. These penalties are the result of algorithm updates or violations of search engine guidelines. Penalty recovery services include analysis of a website's backlink profile, on-page optimization, and content quality. Once we are familiar with the issues, we will provide recommendations for fixing them and work to remove harmful backlinks. The goal is to regain lost search engine rankings and improve the complete visibility of the website.

Rubi Gupta
AVP Marketing & Growth at Spinny
"Since SEO was an unexplored area for us till Jan 2021, we trusted Infidigit's SEO team to fulfil our requirements and formulate an action plan. Within 11 months, we observed an improvement in non-brand clicks by 169% and organic users by 131% with more than 800 keywords ranking in the top 10 positions. As a result, our overall organic numbers improved. With that said, we hope to achieve similar milestones in the future."
+169% Non-Brand Clicks      +111%  Organic New Users      800+  Keyword rank in top 8 pos
+169%  Non-Brand Clicks
 +111%  Organic New Users
 800+  Keyword rank in top 8 pos
Why choose us as your Jacksonville SEO marketing agency?
As a Jacksonville SEO marketing firm, we are committed to assisting our clients in achieving their business objectives through effective SEO strategies. Our expert team has years of industry experience and a proven track record of success. When you choose us as your SEO partner, you will receive the following advantages:
1. Higher rankings
At our Jacksonville SEO agency, we take a comprehensive approach to help our clients gain higher rankings on search engine result pages. One key aspect of our approach is conducting thorough keyword research to identify the most relevant and valuable search terms for your business. By understanding what your potential customers are searching for, we can create content and optimize your website to match their intent, increasing your chances of ranking higher in search results. We conduct in-depth research on your industry and competitors to identify untapped opportunities.
2. Boost in organic traffic
Boosting organic traffic can be achieved by creating valuable and shareable content, optimizing for voice search, leveraging social media, collaborating with influencers, optimizing for featured snippets, using long-tail keywords, and improving website speed. Other creative ways to boost organic traffic include creating infographics, using video content, optimizing for local SEO, utilizing email marketing, participating in online communities, and conducting original research. Remember to track your progress and adjust your strategy accordingly for optimal results.
3. Enhance user experience
Our Jacksonville SEO marketing firm believes that improving user experience is critical to the success of any website. That is why we focus on optimizing your website's design, content, and navigation to create a seamless and intuitive user experience that engages visitors and encourages them to take action. We help to increase your website's dwell time and reduce bounce rates by improving its usability and accessibility, which leads to better search engine rankings and more conversions.
4. Increase leads and sales
At Infidigit, we try to increase leads and sales online by developing a solid online presence targeting your ideal audience. We start by optimizing high-quality content that resonates with your target market. Use social media platforms to engage with your audience and share valuable content that drives traffic back to your website. Implement email marketing campaigns that provide value and encourage action. Use paid advertising channels to target your ideal audience and promote your products or services. By creating a comprehensive online marketing strategy that focuses on building relationships and providing value, you can increase leads and sales while building a loyal customer base that supports your business for years to come.
5. Improved web and calls leads
Our Jacksonville SEO marketing agency can help improve your web and call leads through a combination of SEO strategies and local marketing techniques. By optimizing your website for local search, we can help you reach more customers in your target geographic area, increasing the likelihood of them contacting you for your services or products. We also focus on optimizing your website for mobile devices. The reason for this is the evolution of mobile traffic, which is increasing as more people use their phones to search for local and global businesses.
6. Better Conversions
We help you improve conversion by using persuasive language and compelling visuals to capture visitors' attention and encourage them to take action. We personalize your messaging and offers based on visitors' behavior and preferences. We then simplify your checkout process and offer multiple payment options to make it easy for customers to complete their purchases. Our team also utilizes social proof, such as customer reviews and testimonials, to build brand trust and credibility among your audience.
7. Dedicated SEO team
Choosing a dedicated SEO team for your online marketing can offer several benefits. First, a dedicated team can provide a higher expertise level and specialization in SEO than a generalist marketing team. They can stay up-to-date with the latest trends and best practices in SEO and use that knowledge to optimize your website and content for search engines. Additionally, a dedicated team can provide a more customized and personalized approach to your SEO strategy. They can tailor their efforts to your concrete business goals, target audience, and industry. A dedicated team can provide more consistent and ongoing support for your SEO efforts rather than sporadic or one-off optimizations.
8. Extensive expertise In SEO
We have extensive expertise in SEO with a deep understanding and mastery of the various techniques and strategies used to improve the ranking and visibility of a website or web page on search engine results pages (SERPs). Our SEO experts possess in-depth knowledge of how search engines work, as well as the latest trends and best practices in the field of SEO.
9. Detailed reporting
Detailed reporting is essential for digital marketing in the United States because it helps you track your progress, identify areas for improvement, and demonstrate the value of our SEO efforts. By analyzing data such as traffic, rankings, and backlinks, you can gain insights into what's working and what's not. This information can help you make data-driven decisions and refine the SEO strategy to achieve better results. Detailed reporting also allows you to communicate the value of our SEO efforts to stakeholders, such as clients or executives. By demonstrating the impact of our SEO efforts through data and metrics, you can build trust and credibility and secure buy-in for future SEO initiatives.
What is SEO?
SEO is the practice of optimizing a website to improve its visibility and ranking in search engine results pages (SERPs). The core goal of SEO is to increase the quantity and quality of organic traffic to a website, which can ultimately lead to higher revenue and brand awareness.
SEO involves diverse techniques, including keyword research, on-page optimization, link building, and content creation. It requires a deep understanding of search engine algorithms, user behavior and ongoing analysis and adjustment to stay ahead of the competition.
Effective SEO strategies can improve a website's relevance and authority in the eyes of search engines, making it more likely to appear at the top of search results for relevant queries.
Why is SEO essential for my business?
SEO is essential for any business that wants to succeed in the digital landscape. The reason for this is simple: consumers today rely heavily on search engines to find products and services they need. And if your business does not appear high in search engine rankings, you risk losing out on valuable traffic and potential customers. Investing in SEO ensures that your brand is visible to potential customers when they search for relevant keywords or phrases. This improved visibility can help drive more organic traffic to your website, resulting in more conversions and revenue for your company.
How can I get listed on Google's and Bing's first pages?
To get listed on Google's and Bing's first page, you must conduct keyword research, optimize your website's on-page elements, build quality backlinks, create high-quality content, and use social media. Start by identifying relevant keywords and incorporating them into your content. Then, optimize your website's structure and design to improve its relevance and quality. Building quality backlinks from reputable sources is crucial, as is creating high-quality content optimized for your target keywords. Finally, use social media to promote your content and engage with your audience. With a comprehensive SEO strategy and a commitment to staying up-to-date with the latest trends, you can increase your chances of success and drive more traffic and revenue to your website.
Is Local SEO needed for your business?
Yes! local SEO is essential for any business with a physical location or a local target audience. Optimizing your website for local search increases your visibility to potential customers in your area. This includes optimizing your website's content for local keywords, building local citations and backlinks, and claiming and optimizing your Google My Business listing. Local SEO can help you appear in the "local pack" of search results, which is displayed prominently above organic search results. It can also improve your chances of appearing in Google Maps and other local directories.
How does SEO help in generating leads and sales?
SEO can help generate leads and sales by increasing your website's visibility and driving targeted traffic. Optimizing your website's content for relevant keywords can attract potential customers actively searching for products or services like yours. This targeted traffic is more likely to convert into leads or sales. Additionally, by building quality backlinks and promoting your content through social media, you can increase your website's authority and credibility, which can further improve your chances of generating leads and sales.