SEO or Search Engine Optimization is  one of the most effective and viable ways for businesses to set up their online presence and brand visibility. SEO serves the dual purpose of helping businesses understand customers and increase reach by ranking higher on search engines. 
Even the most traditional businesses these days are accelerating their shift to the world of online e-commerce, and SEO is a crucial part of their digital marketing strategy. 
If you are a business owner or an enterprise looking to amp up your SEO game but find the task daunting in your busy schedule, we have got you covered. Infidigit can be your SEO partner delivering top-quality San Antonio SEO services to give you the reach and revenue you deserve.




Organic Sessions
1.8 Billion+

#1 Ranking Keyword
40,000+


Organic Sessions
1.8 Billion+

#1 Ranking Keyword
40,000+

Why we are the Best San Antonio SEO Company
SEO involves a variety of components such as link building, content strategy, keyword research and planning, on- and off-page SEO, SEO audits, etc., to help your website reach greater visibility in Google SERPs (Search Engine Results Pages). 
With higher rank and visibility, businesses can direct more organic traffic to their website, convert them into customers, and build a better brand image. Also, websites that rank higher on Google grant more credibility and can be useful in building better relationships with potential clients.
Infidigit understands SEO like no other San Antonio SEO Company in the US. By performing crucial SEO functions on behalf of our clients, we help our clients reach their target customers, build their network, and convert leads into potential revenue streams. 
Our rich business climate, work ethics, and commitment to the work  makes us one of the best professional SEO services in the US. We conduct a thorough competitor analysis and provide top-quality SEO services, including SEO planning, strategy, implementation, maintenance, audits, and upscaling to assist our clients in digital marketing and provide them with a greater return on investment. 
We are the trusted San Antonio SEO expert you have been looking for to lend you the online presence you deserve.

Vipul Oberoi
Director - Marketing, CSR & Learning at Dun & Bradstreet
"The efforts of our partner, Infidigit, on SEO have made turned our website into lean, mean ROI-generator. It has now become a pure evidence of how a coherent SEO strategy and creation of relevant content can work wonders for a brand in the digital space."
+156% Organic Sessions     +188% Organic Revenue      +186% Organic Clicks
+156% Organic Sessions
+188% Organic Revenue
+186% Organic Clicks
Award-Winning San Antonio SEO Marketing Company
Whenever businesses outsource their functions or requirements, they need to ensure that the SEO agency has the required expertise, experience, and track record. The businesses also need to check whether the agency provides quality services, suitability of their industry, and a greater rate of investment with their services. 
Infidigit is an award-winning SEO agency San Antonio businesses look forward to working with. We are a reputed San Antonio SEO expert dedicated to transforming our client's online presence and building it up from scratch up to heights if required. With our team of experts and extensive know-how, we deliver quality services related to professional digital marketing in the United States.
Some of the awards and recognition Infidigit won in recent years are as follows: 
Indian Agency Awards

2020-

Rising Star of the Year 

Engine Land Award 2020 Category- Best Retail Search Marketing Initiative-SEO

2020 ANA International ECHO Awards Category- Best Use of Search

Digital Dragon 2021 Category- Best Content in a Search Marketing Campaign

Drivers of Digital Awards 2021- Best Search Marketing Campaign
Our achievements showcase the kind of work and commitment we believe in, and it is through years of hard work recognized through several accolades that we find ourselves a valuable partner for all your San Antonio SEO services needs.
What do we provide as San Antonio SEO services?
SEO is an umbrella strategy involving a plethora of optimization techniques that can help your website rank higher and reach its target audience. Infidigit, as a San Antonio SEO Company, offers end-to-end SEO solutions for your website, covering all aspects ranging from on- and off-page SEO to keyword research, content marketing, and even SEO audits and penalty recovery services. 
Our expert team of professionals handle every facet of your online presence while you build your business's core functions. Here are a few San Antonio SEO services we offer for increasing your reach, conversions, and ROI.
1. SEO Services
SEO becomes a top priority for any business looking to build its online presence. It is a daunting task to research, analyze, and implement what SEO practices work best for your company and other optimization strategies, given business owners have a world of things to handle. 
We at Infidigit know what it takes to be the San Antonio SEO Company and make an online presence for your brand. We provide the best-in-class San Antonio SEO services to help your website rank higher in the SERP and garner more organic traffic and reach. 
By using a mix of competitive analysis and gap analysis, we plan what SEO strategies work best for your company, conduct the keyword research, link building, off- and on-page SEO, technical SEO, SEO audits, and other related services for your website to enhance its online visibility and generate more traffic and sales.
2. E-commerce SEO
If your business operates online, you must have an e-commerce website that people may visit for information or to make purchases. In this case, it is crucial to build an e-commerce SEO strategy that helps your website rank higher on Google and other search engines. 
It is also necessary that the website is optimized for user experience and seamless navigation across devices like desktops, mobiles, laptops, or tablets. By hiring an Antonio SEO services agency for your business, you can outsource your SEO requirements and, in return, get assured results led by extensive planning and implementation of e-commerce SEO in the United States. 
Infidigit delivers one of the best services for e-commerce SEO in the United States. Infidigit's Antonio SEO services can help you build an effective e-commerce SEO strategy for your website by improving the technical as well as on-page setup of your website or web store. 
We seek to employ our SEO services to build optimum user experience and brand awareness for your website and help it reach the right audience and increase revenue.
3. Local SEO
Whenever a person searches for a store, restaurant, or service nearby, Google presents them with localized search results based on their current location. For business owners seeking to build their local presence, it is essential they rank higher in the local search results. 
Business owners own businesses spread across locations. If you are a business owner in San Antonio, you need to build your local SEO San Antonio style to rank higher and ]reach local circles. 
Infidigit helps you to optimize your website content using SEO techniques like link building, on-page and off-page SEO, technical SEO, web page optimization, etc., to improve your online visibility and let more people know about your product and services. 
For building your strategy around local SEO in the United States, we conduct competitive analysis, build quality links, and find on-page SEO solutions for your website to be fully SEO-optimized and rank higher in SERPs.
4. Conversion Rate Optimization
SEO fundamentals begin with optimizing your content and website and helping it rank higher in search engine results. But SEO does much more than bring in organic traffic to your website or increase user clicks. 
We, as a firm specializing in small business SEO in the US as well as enterprise SEO in the United States, help businesses in converting their traffic into high-ticket clients. A good SEO strategy should involve conversion rate optimization or CRO to convert inbound leads and converts into revenue-churning clients.  
CRO isn't just measured by the number of purchases; it involves form submissions, social media shares, CTA button clicks, etc. We take care of your CRO SEO goals and deliver tailor-made SEO strategies that cater to your business needs.
5. On-Page SEO
On-page SEO involves webpage optimization via multiple techniques like publishing quality content, optimizing headlines and subheadings, images, HTML tags, etc. By optimizing your content quality and authoritativeness, agencies providing on-page SEO in the United States ensure your website is considered a trusted source of information and reaches its desired audience by ranking high on Google SERPs. 
If you are looking for an SEO services agency for on-page SEO in the United States, your search ends with us. At Infidigit, we constantly examine and maintain your on-page SEO to keep your website optimized without you worrying about it. We make sure every page on the website is optimized for on-page SEO using best SEO practices.
6. Content Strategy
Content strategy is a crucial part of SEO and one of the most effective digital marketing techniques today. Content strategy involves planning the content that will go on and off the website, including blog posts, video content, social media posts, guest posts, press releases, etc.
For any business that seeks to build an extensive strategy for digital marketing in the United States, Infidigit San Antonio SEO services agency can be the right choice for them. At Infidigt, we create content that's relevant and meets Google's standards and best practices. We believe in designing and creating content that is trending and engaging and helps inform and drive the customers towards your website and products organically.
7. Penalty recovery
Google imposes penalties on websites that breach its guidelines. Due to the enforced penalty, your website may see a sudden dip in its rankings and a loss in incoming traffic. 
Penalty recovery is the least marketed SEO service that most professional SEO services in the United States don't consider as crucial. However, at Infidgit, your go-to San Antonio SEO services Company, we make it our priority to keep you rising and pull you out of tough spots and help you reclaim lost glory when needed. 
Once we ensure that the reason for the dip in rankings is a penalty, we take it upon ourselves to help you recover from it. Penalty recovery is a stretched-out process requiring well-thought-out planning and expertise. Our penalty recovery services help you reposition your website, enhance its credibility on search engines, and align it with Google's best practices by working on the core shortcomings.
8. App Store Optimization
As mobiles become an integral part of our lives, an increasing number of consumers are choosing the app version of the website over its desktop version. Consequently, business owners need to have their apps optimized for more downloads and increased traffic on their apps. 
Infidigit's ASO services, i.e., App Store Optimization services, help to increase the visibility of your application on the Google Play Store or Apple Store. ASO should be an important part of your San Antonio SEO strategy. 
Infidigit SEO services in the United States include app marketing optimization as well to help make your app user-friendly, get more views, and acquire more downloads in the app store.
9. Keyword Research and Strategy
Keywords are one of the central elements of an SEO strategy aimed at improving the visibility and ranking of a website. Every product and service that businesses want to market can be marketed using a set of keywords derived from multiple sources, such as Google Trends, queries, SEO tools, and others. 
Infidigit is an SEO company in the US that helps you optimize your keyword research and strategy to ensure organic traffic and increased brand awareness for your website. We conduct keyword research based on monthly search volume to keep the content up-to-date and optimized. The relevant keywords are then embedded in the right places on the landing pages such that they rank higher. The search volume of each keyword also gives us an idea of how much a keyword needs to be prioritized to reach the desired effect.
10. Technical SEO
Besides on- and off-page SEO, an optimized website has to undergo technical SEO as well. Technical SEO is the process whereby a San Antonio SEO services Company ensures that the website meets the requirements of a modern search engine. 
The requirements may include indexing, crawling, rendering, and website architecture crucial for maintaining the technical SEO health of a website. 
Infidigit's San Antonio SEO services bring technical SEO into play to ensure better page ranking, increased traffic flow to the most important pages on the website.
11. Website Audit
Website audit helps to analyze the performance of a website in terms of SERP rankings and SEO optimization. Infidigit's San Antonio SEO services can immensely help you in ensuring the health of your e-commerce website and lend it the visibility it deserves. 
As a leading website audit and SEO company in the US, we extensively examine your website structure and code for several factors, such as page load times, internal linking, image optimization, etc. By doing this, we ensure Google ranks your website higher, leading to more traffic, better conversion rates, and increased revenue flow.
12. Enterprise SEO Services
Infidigt provides small business SEO not only in the US but also services for enterprise SEO. If your company is established globally and wants to make its online presence more diverse and expansive across geographies, your search ends with Infidigit.  
We understand that large enterprises having hundreds of pages on their website can feel the heat while managing their website optimization and health. We understand that an SEO strategy that works for a small firm having a few pages on its website may not work for an enterprise with a larger website.  
And that's why Infidigit's San Antonio SEO services are specifically catered for larger enterprises to help them improve their online presence and revenue generation. We help enterprises with their San Antonio SEO strategy to help them witness exponential growth and profits.

Carla Rabe
Product Lead: Growth at Superbalist
"The most notable outcome is holding the #1 ranking position in South Africa for "Black Friday" related keywords for 3 consecutive years and winning an international SMX award for the best retail search marketing initiative. "
+415% Organic Sessions     +236% Organic Revenue      +240% Return on Investment
+415%  Organic Sessions   
+236% Organic Revenue    
+240% Return on Investment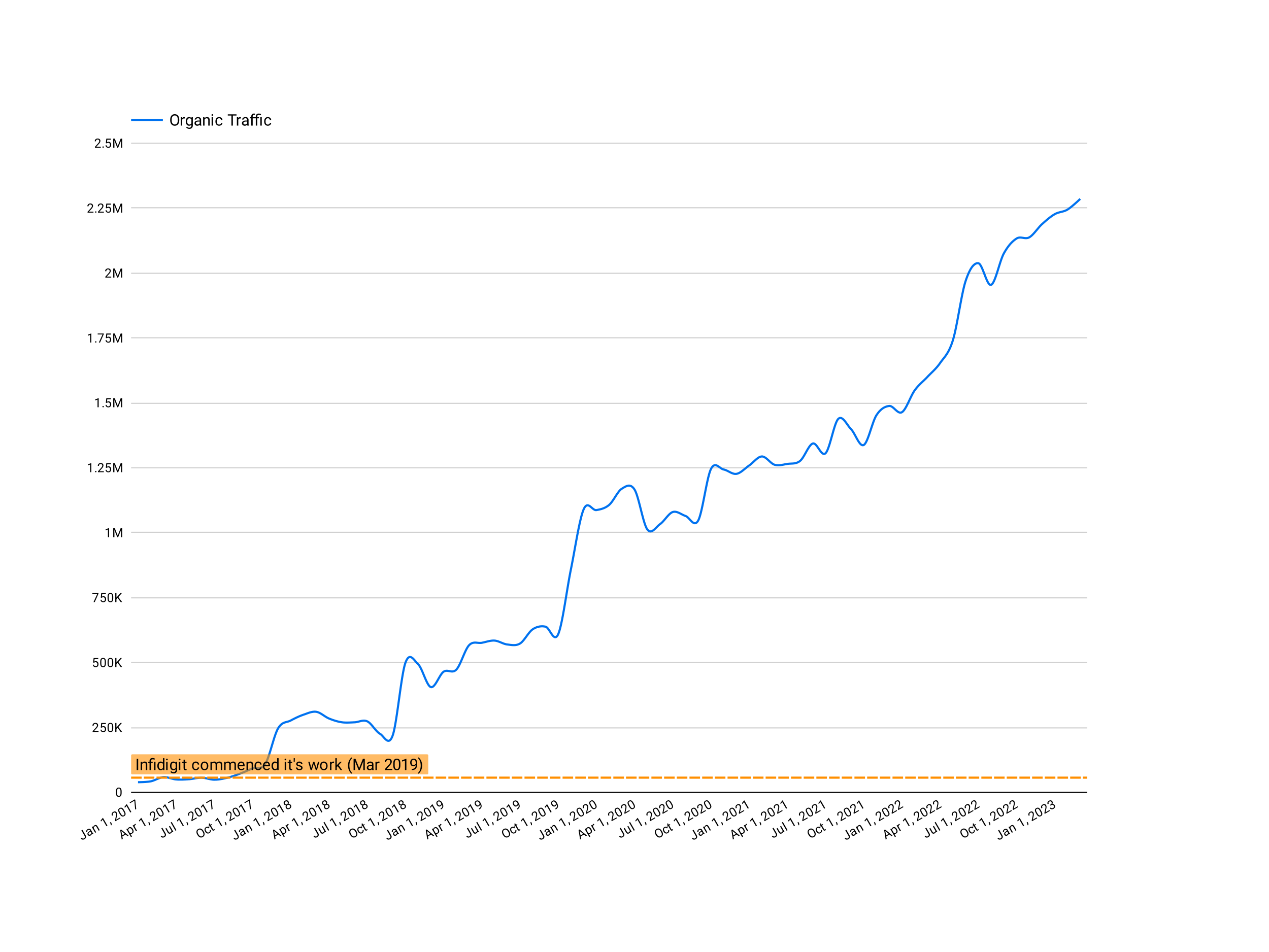 Infidigit: Top SEO Marketing Company in San Antonio
If you are a business owner in San Antonio seeking an exponential rise in the organic reach, clicks, and ad traffic for your website, your search ends with us – Infidigit – the top SEO marketing company in San Antonio. 
We have expertise across a range of industries, including e-commerce, OTT platform, insurance, and so on. We help our clients obtain the Featured Snippet and #1 Rank on Google and other relevant search engines. 
Our San Antonio SEO services company is a global SEO company serving clients across the globe, including India, Australia, South Africa, and UAE.  We help our clients by providing many benefits.
1. Brand Awareness
Customers will only buy your product or service when they come to discover it. With billions of users online, digital media gives the largest scope to use the search engine discovery mechanism to the benefit of our clients. 
Google uses over 200 parameters to rank a website. We bring in the might of SEO and our expertise and experience to enrich a website with content that's powerful, reaches the target audience, and creates brand awareness among the online masses.
2. Improve Organic Traffic
Organic traffic is the best source for inbound leads and their subsequent conversion. Our dedicated team of experts builds an extensive SEO strategy for your business to reach your target audience, engage them, and ultimately convert them into purchases, shares, and clicks on CTAs. 
We focus on localized search results and multiple search engine optimization to lead traffic to your website through all mediums and create a greater inflow of web and call traffic.
3. Long-Term Value
Infidigit, as your San Antonio SEO services partner, helps you attract a larger audience using higher rankings on SERPs. We focus on the quality of content and optimize it to generate leads and improve conversion rates.
We not only help convert leads into potential clients but also help our clients establish long-term relationships with them. The sustained efforts to rank the website and optimize for SEO yield results that lead to a higher rate of investment over time.
4. Staying Ahead of Competition
As businesses get online, the need to stay relevant and distinct from your competitors has become more intense. At Infidigit, we conduct a thorough competitor analysis to reveal the gaps and possible improvements in your SEO strategy. 
By doing so, we help the in-house marketing team to sell their USP and create a strong brand voice based on the analysis for better results. We, on the other hand, focus our efforts on optimizing all aspects of your website and help it attain the top spots in the search results.

Rubi Gupta
AVP Marketing & Growth at Spinny
"Since SEO was an unexplored area for us till Jan 2021, we trusted Infidigit's SEO team to fulfil our requirements and formulate an action plan. Within 11 months, we observed an improvement in non-brand clicks by 169% and organic users by 131% with more than 800 keywords ranking in the top 10 positions. As a result, our overall organic numbers improved. With that said, we hope to achieve similar milestones in the future."
+169% Non-Brand Clicks      +111%  Organic New Users      800+  Keyword rank in top 8 pos
+169%  Non-Brand Clicks
 +111%  Organic New Users
 800+  Keyword rank in top 8 pos
Why us as your San Antonio SEO Agency?
Infidigit's San Antonio SEO services are expansive and exhaustive enough to cater to all your SEO and digital marketing needs. We are an award-winning SEO and digital marketing agency with a proven track record. We are proud of the work that we do for our clients, led by sheer dedication and passion to help our clients achieve their goals. 
We adapt across industries and respond to market changes to fix and optimize the San Antonio SEO for your business needs while impacting your business with improved ROI.  We are a team of dedicated copywriters, SEOs, developers, designers, and professionals that help you remove the roadblocks in SEO strategy-building and move you faster through the SEO funnel. We also provide tailor-made SEO packages for maximum utility on offer to all our clients. 
Here are a few ways we bring a difference to our client's SEO strategy and website visibility:
1. Higher Rankings
SEO's main job is to get your website visibility by ranking it higher in SERPs. Data shows that the top 5 websites in SERPs generate more than 67% of all clicks. A higher-ranked website is still one of the best ways to boost visibility and increase organic traffic to any website. 
Infidigit's professional SEO services in the United States yield the best results for our clients by helping them reach higher on the search engine tower. We use a combination of SEO techniques and strategies tailor-made to meet our client's specific needs. We help our clients to create a sustained online buzz to help promote brand recall and have a brand voice clear among the noise from the competitors.
2. Boost in Organic Traffic
SEO is the largest source of organic traffic for any website. PPC clicks have a limited lifetime, and it is with SEO only that brands can create a sustained impact to attract and bring the audience to the website. The number 1 organic result receives 32% clicks, while the top three receive 75% of the traffic! 
A good SEO strategy helps bring in inbound leads and greater conversion rates. Our San Antonio SEO services can help you target a specific niche, domain, product, or industry or attract a particular group, geography or age, or demographic to bring in quality organic traffic without the cacophony or chaos of ads or telemarketing.
3. Enhance User Experience
When a website is optimized for loading time per page and other UX metrics using SEO techniques, this improves its usability and experience. Using images and videos, CTA, clear headers, easily readable text, etc., can be some of the tips and tricks to achieve enhanced user experience. 
We use San Antonio SEO to make the content on the website easy to digest by making it reader-friendly, trustworthy, and relatable. We help our clients to build their technical SEO, site's user experience, and engagement so that users navigate through the website easily and page transition runs smoothly for a user-friendly experience.
4. Increase leads & Sales
We have said this multiple times, and we will say it again – SEO can make or break your sales game. SEO can help target a specific audience, answer its queries, and lead it to discover new insights and products on your website.
By engaging the user, our San Antonio SEO can help you place your content strategically, make CTAs, use better alt text for images and videos, and use the right keywords in the content for your inbound marketing strategy. 
Good traffic and optimized content can lead to greater conversions and sales by targeting potential customers and sustaining relationships with them.
5. Improved Web & Call Leads
By improving the organic traffic over time, our San Antonio services can render greater chances of web and call leads being converted into potential clients. SEO is a direct motivator for lead generation. It leads your audience by making you visible in Google's top results and cultivating their interest in your website. 
96% of the visitors on any website won't get converted. However, with consistent SEO support, a few among them can be engaged to generate better-qualified leads. Around 50-60% of marketers trust lead generation by SEO, and we, as a professional SEO services company in the United States, swear by that.
6. Better Conversions
At Infidigit, we conduct detailed keyword research focusing on the business's needs and user intent. Most of the San Antonio SEO services fail here. Most of the time, there's a clear disconnect between the website's content and what users are looking for. 
We build a San Antonio SEO strategy that increases conversions on your website by targeting commercially relevant keywords more frequently and matching the same with user intent and search engine requirements. 
We create a structure for every piece that's optimized for SEO and helps to capture the reader's attention better.
7. Dedicated SEO Team
While an in-house team can do a decent job at SEO and digital marketing, they may not be the best people to build your SEO-led website. SEO requires an outsider's perspective first to judge the website and then plan out an SEO strategy that's commercially viable and rewarding for the firm. 
We have a dedicated team of professionals, copywriters, developers, and SEO passionate about the work they deliver. The team of experts synergizes their efforts to bring you content and a website that holds the key to your ROI and revenue.
8. Extensive Expertise In SEO
SEO is a complex and ever-evolving skill, and in order to be an expert, one needs to have a 360-degree approach and extensive knowledge of SEO. Despite its learning curve and role in broader digital marketing in the United States, we believe we cracked the code and mastered SEO.
Based on our understanding of how search engines work, audience research, and targeted content needs, we deliver the perfect San Antonio SEO strategy for the specific business goals of our clients. We have an extensive list of reputed names and brands across industries and verticals as our happy and satisfied customers.
9. Detailed Reporting
While managing SEO for our clients, we realize that our clients rely on relevant reports and information on the website performance on us. We know that our SEO reports will lay the roadmap for future digital marketing initiatives and efforts that the in-house marketing teams need to take. 
We use a mix of metrics like Google Analytics, conversion rates, top-performing pages, page speed insights, bounce rates, rankings and backlinks, and many others to present regular detailed reports on how their website is performing.
Frequently Asked Questions
What is SEO?
SEO is short for Search Engine Optimization. SEO is the process of improving the website to increase its reach and ranking on Google, Microsoft, Bing, and other search engines.  A good SEO strategy helps you increase your brand visibility, reach your target audience, and sell the products and services you provide.
What are the benefits of SEO?
SEO is the best tool to manage your digital assets and give them the right visibility and reach. A good SEO strategy can be several times better than a regular pay-per-click (PPC) strategy, which can be expensive and short-lived. SEO can give your brand the 24/7 promotion it deserves, improve the user experience of your site, increase brand visibility and generate quality leads, etc. SEO is all-pervasive and can lend its prowess to amplify the success of your PPC strategy.
What are the San Antonio SEO packages?
Every San Antonio SEO package may be customized or pre-built to help your website rank higher and witness more organic traffic and resulting revenue from the same. While the deliverables can vary for various San Antonio SEO packages, a regular San Antonio SEO package will include off- and on-page SEO, technical SEO, keyword research, content marketing, link building, etc.
How Can I Get Listed On Google's & Bing's First Page?
A good way to get listed on Google and Bing is to consider user engagement while you research and plan. Select relevant keywords while deciding the queries you want to be answered via your website.. If all this looks like a herculean task, you may also hire a San Antonio SEO services company like Infidigit to manage all your SEO requirements.
How does SEO help in generating leads & Sales?
SEO helps you increase web traffic to your website. The initial discovery and the inflow of traffic increase the chances of getting these leads converted into potential clients for your business. SEO also helps to enhance user experience and credibility, which can help build long-term relationships with your customers and clients. SEO can also complement PPC to drive brand awareness and engagement, and organic reach for your website.