The gaming industry is booming like before. With new generation interactive games making their mark on the players, gaming sites have become one of the primary sources of entertainment worldwide. With expansion of the gaming industry, SEO for gaming sites has seen a surge in demand. 
The Leading Gaming SEO Company
Gaming sites are one of the most competitive sites in the world. The gaming industry is massive, and with improper implementation of SEO for gaming sites, they are bound to fail. That's where Infidigit comes in, offering comprehensive services focused on SEO for gaming websites. Let's understand some of the key aspects of what makes a gaming site successful:
1. Knowing what kind of Gaming Site you would want to be
With so many different genre of games, different system requirements, and many more elements, it is imperative that you determine which niche of gaming site you want to be. Different niches of gaming require different approaches to SEO for gaming sites. For instance, you can be a card gaming site or an online casino gaming site.

Determining the type of gaming site you want to be is the first step. As gaming sites majorly consist of gaming-related content like portals, gaming blogs, rulebooks, etc., it sets up the stage for SEO for gaming sites seamlessly. The online gaming community is very particular about the gaming content they want to access, and this process helps in capturing the right target audience for your gaming site.
2. Conducting Thorough Keyword Research
Keyword research is an imperative process in SEO services. It is a key determining factor as to how well your gaming site is ranked on search engine results. SEO for gaming domain requires expertise in conducting precise and targeted keyword research and Infidigit excels in exploring every corner on the web during this process.

The leaderboard of any gaming website are SERPs, and boosting your SEO stats through healthy and effective keywords will help in driving organic traffic on your site. It will also give you an edge over your competitors in the chase for the best SEO for gaming sites to attract more players.
3. Administering SEO Audits and Optimising your Website
Technical SEO audit services are the next step in making an immaculate gaming website. Conducting a thorough technical audit of your gaming website helps in finding the areas where your gaming site is lagging in. There can be many elements during the audit process through SEO for gaming sites that can prove detrimental in determining the ranking of your website. For instance; outdated keywords, broken links, and other elements that might be blocking your website's visibility for search engines. These can be detected and optimised during the audit process. Moreover, to increase organic traffic to your gaming website, periodic optimisation of your website is a must.
4. Competitor Analysis for Getting Ahead
The main purpose of SEO for gaming sites is to get ahead of your competition. A thorough and meticulous competitor analysis can take you a long way in gaining an edge over them. Through proper competitor analysis, you can find which areas your competitors are excelling at and how exactly they're doing it to reciprocate their strategies. Additionally, you can gain valuable insights about their functioning which can help you in developing better strategies for your SEO for gaming sites.

Another key element in a competitor analysis is finding their weak spots and leveraging them to gain substantial momentum in the areas where your competitors are lagging. This not only helps in creating demand for your gaming website, but also gives you a substantial head start over your competitors.
5. Creating Engaging Video and Blog Content
SEO for gaming sites also delves into leveraging different types of content to generate engagement for the target audience. Streaming has taken the world by a storm and has established itself as the most popular format of gaming content consumption. This has made video content a critical element of SEO for gaming sites. Creating original video content related to game tutorials, tricks, reviews, reaction videos, etc., can substantially increase traffic on your gaming website.

To take this a step further, gaming blogs are also very popular amongst the gaming community. Various gaming forums and portals always have a gamer community waiting for engaging gaming content to be published where conversations can be started. SEO for gaming sites goes quite deep into exploring the opportunities in different types of content. By far,  videos and blogs are the top-most consumed form of media and also a medium to attract organic traffic on your website.
6. Administering Link Building on Gaming Forums
As discussed before, gaming forums are the best target area pertaining to SEO for gaming sites. Link building services play a major role in these forums. Gaming forums are the perfect place to increase the social interaction of gamers and attracting attention towards your gaming website. These gaming forums are the perfect platform to administer and build backlinks to your website to elevate the traffic organically. Providing the gamer community with relevant links which has the content they are looking for, will not only generate their interest, but also help you in elevating your efforts in SEO for gaming sites.
No matter which industry you are from, social media is the best place to advertise your venture or products. When it comes to SEO for gaming sites, posting relevant content on social media platforms and engaging the target audience into commenting, liking, and sharing the posts can generate more interest amongst your target audience than the generic SEO activities. You can build your own online community of gamers and fan base by creating your presence on social media platforms. Furthermore, generating viral content through SEO for gaming sites, you can attract high volume of audience on your website through the intricate use of social media tools like hashtags.

Organic Sessions
1.8 Billion+

#1 Ranking Keyword
40,000+


Organic Sessions
1.8 Billion+

#1 Ranking Keyword
40,000+


Vipul Oberoi
Director - Marketing, CSR & Learning at Dun & Bradstreet
"The efforts of our partner, Infidigit, on SEO have made turned our website into lean, mean ROI-generator. It has now become a pure evidence of how a coherent SEO strategy and creation of relevant content can work wonders for a brand in the digital space."
+156% Organic Sessions     +188% Organic Revenue      +186% Organic Clicks
+156% Organic Sessions
+188% Organic Revenue
+186% Organic Clicks

Carla Rabe
Product Lead: Growth at Superbalist
"The most notable outcome is holding the #1 ranking position in South Africa for "Black Friday" related keywords for 3 consecutive years and winning an international SMX award for the best retail search marketing initiative. "
+415% Organic Sessions     +236% Organic Revenue      +240% Return on Investment
+415%  Organic Sessions   
+236% Organic Revenue    
+240% Return on Investment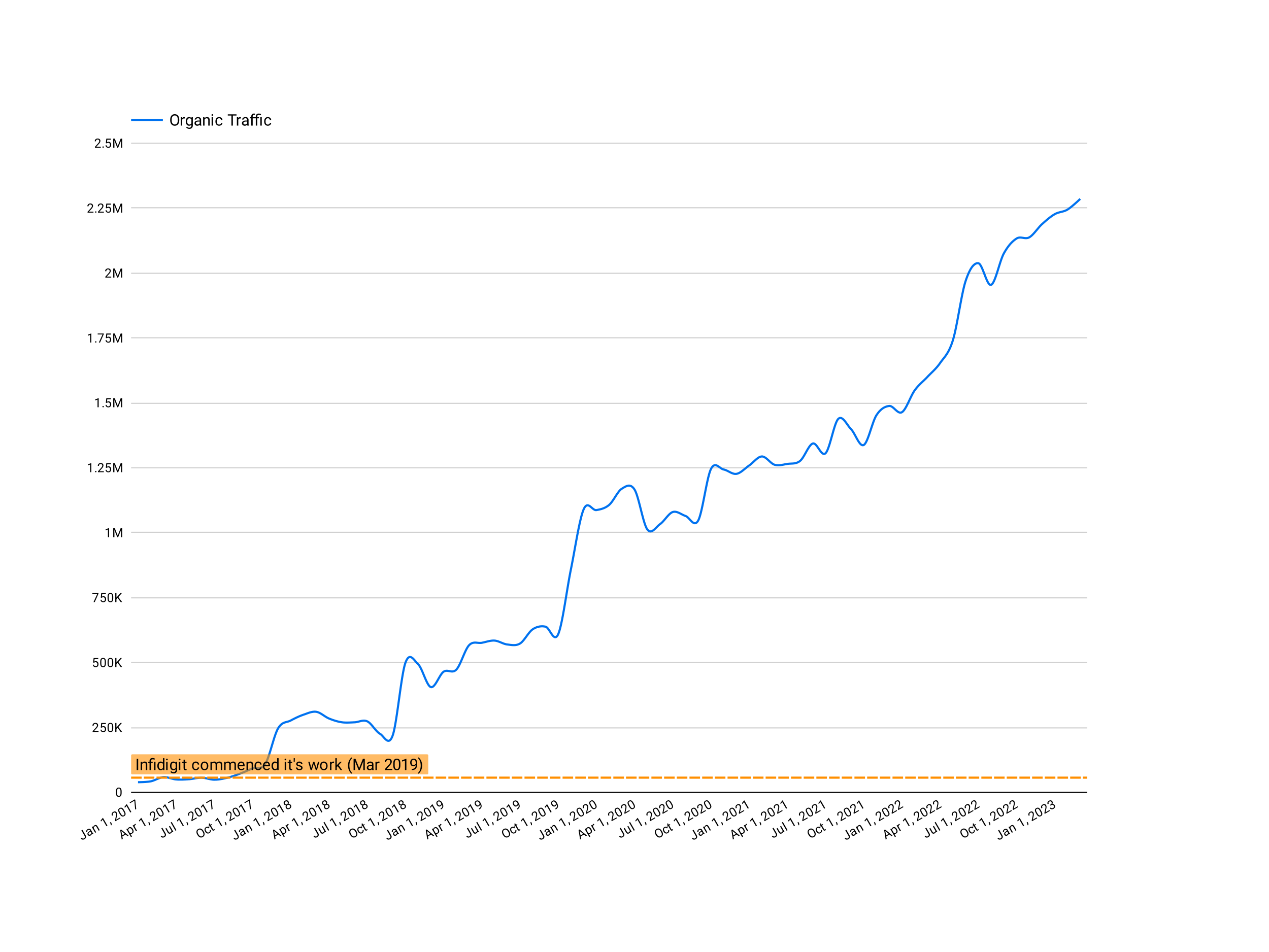 Rubi Gupta
AVP Marketing & Growth at Spinny
"Since SEO was an unexplored area for us till Jan 2021, we trusted Infidigit's SEO team to fulfil our requirements and formulate an action plan. Within 11 months, we observed an improvement in non-brand clicks by 169% and organic users by 131% with more than 800 keywords ranking in the top 10 positions. As a result, our overall organic numbers improved. With that said, we hope to achieve similar milestones in the future."
+169% Non-Brand Clicks      +111%  Organic New Users      800+  Keyword rank in top 8 pos
+169%  Non-Brand Clicks
 +111%  Organic New Users
 800+  Keyword rank in top 8 pos
SEO for gaming sites has become an integral part of the gaming industry. Availing SEO services in India for gaming websites is no longer about the generic definition of rankings, but much more than that. The rules of search engine rankings have changed significantly. Infidigit , an SEO company in India that can take up the job of navigating through the hurdles of the internet and offer immaculate services pertaining to SEO for gaming. 
Infidigit excels in diving deep into your competition, and drafting smart and targeted SEO strategies to help you in getting ahead of your competition. Moreover, with an established and highly experienced team of SEO experts, you don't have to worry about any SEO efforts going in vain. Contact Infidigit today, and enter the world of SEO for gaming sites with confidence.