Organic Sessions
1.8 Billion+

#1 Ranking Keyword
40,000+


Organic Sessions
1.8 Billion+

#1 Ranking Keyword
40,000+

IMPROVE YOUR LEADS WITH ENTERPRISE SEO SERVICES
Search engines provide immense opportunities for businesses to increase their sales and revenue. When someone decides to buy a product, they first use a search engine to gather product information and read customer reviews.
Assume you own a company with a global digital presence. But what if someone searches for a product in your line, but the search results do not show your name on the first few pages? Since there is no visibility on the first page of search results, there will be no sale of the product as well. This is where you will feel the need to have an enterprise search engine optimization company.
There are over hundreds of algorithms that search engines consider when ranking any website. You are mistaken if you believe that simply adding some content and incorporating two to three keywords will help you dominate the search results.
An enterprise-level SEO process begins with researching the industry and your peers, followed by a site audit to detect flaws and identify areas where you are not adhering to search engine policies. It then conducts keyword research and incorporates it into new and existing content before optimizing. The agency will then begin the link-building strategy to make your site authoritative.
All of these factors work together to improve your site's visibility, which leads to more clicks and quality leads.
A Customised Plan For Uncommon Enterprise SEO Services Challenges
The fundamentals of SEO don't vary much. Still, when an enterprise is large or manages extensive data on their website, it requires a strategic approach to create an online presence organically. The services by an Enterprise SEO Company can tackle and handle that aspect efficiently.
However, while partnering with an Enterprise SEO Company or Enterprise SEO Consultant, ensure that the team handling Enterprise SEO Services are in line with the company's policies and product range. With a great strategy in place, the Enterprise SEO Agency can increase the quantity of traffic organically. And, they will improve the quality with compelling content, and many other aspects factored into the SEO process.
Enterprise SEO Service providers face many challenges in their spectrum. Firstly, the task at hand is huge as they will have to manage thousands of webpages of the company's website and monitor them consistently while working on many URLs in the process. 
Furthermore, a company's corporate politics can impede the enterprise search engine optimization process due to lack of communication. Since the Enterprise SEO services do not reflect directly in the ROI, sanctioning funds for the project and Enterprise SEO Company can be challenging too. 
Large datasets require skilled personnel. Finding and retaining them is tough. And if the attrition is high in the Enterprise SEO Agency or the company, it adds on to the Enterprise SEO service providers challenges altogether.

Achint Setia
Vice President - Marketing at Myntra
"Myntra and Infidigit team have a good association with over the past years. The overall value creation has been wonderful. The SEO team has adopted a refreshingly innovative approach that has resulted in Myntra's improved performance. The team has recently won several awards for this improved performance. We look forward to more such breakthroughs in the future"
+499% Organic Sessions     +490% Organic Users      +240% Organic Revenue
+499% Organic Sessions   
+490% Organic Users    
+240% Organic Revenue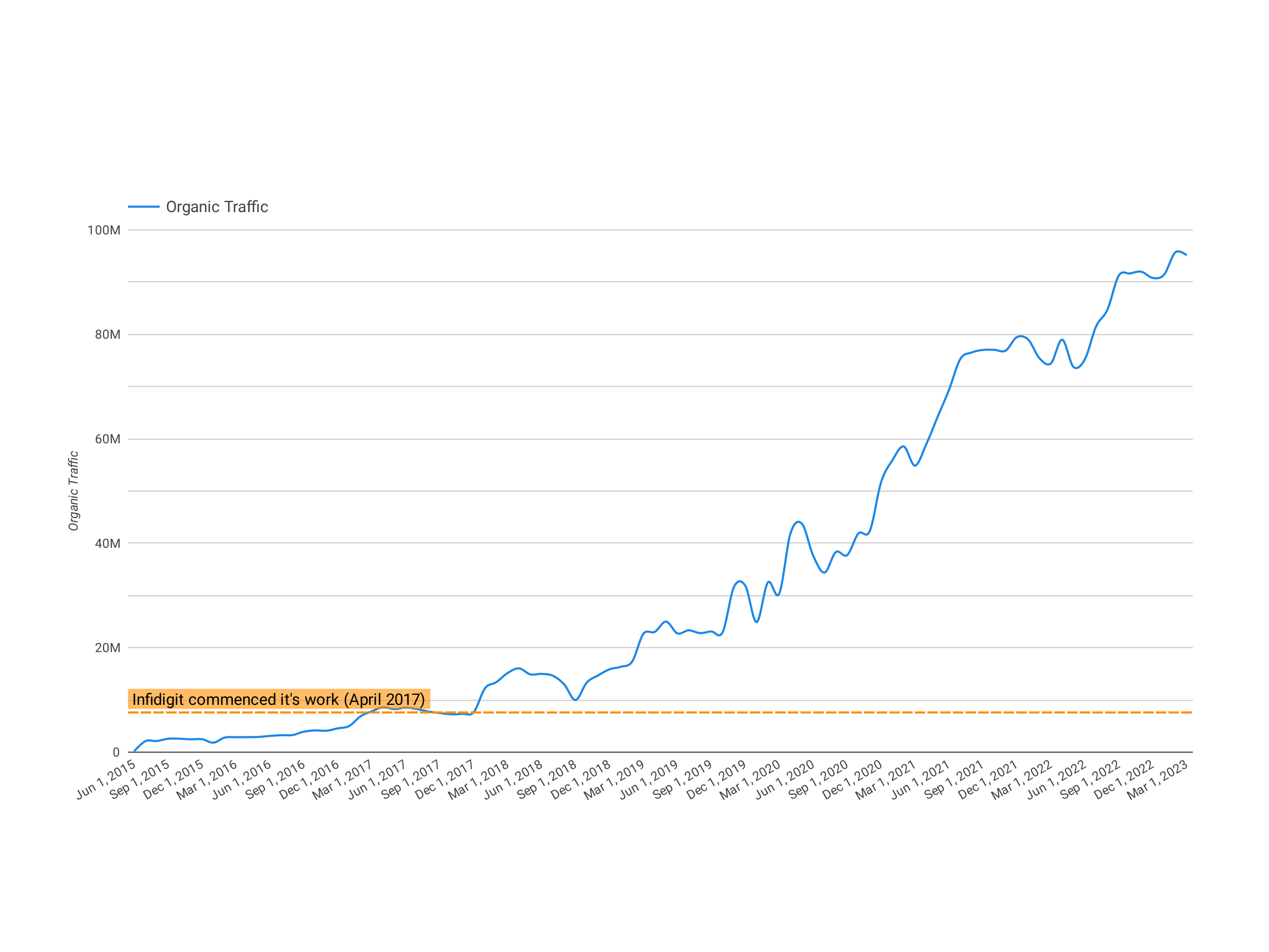 When to Switch to Enterprise SEO Services?
Assume you are a fintech start-up that only serves two states in the United States. Your SEO strategy is focused on targeting locals in a small geographic area. However, after three years of running your business, you got significant funding and are now ready to expand the business in the entire United States and various other nations. In this case, do you believe focusing on local or traditional SEO can help you in driving sales? Not at all. Shifting from traditional to enterprise-level SEO reflects your growth over the years. The common reasons to switch to enterprise-level SEO are :
Your website is successfully ranking for hundreds of low-competitive long-tail keywords, which are typically three to four words long.
Your marketing campaign relies heavily on paid mediums such as PPC, paid promotions, and influencer marketing. However, you are having difficulty organically ranking on the internet for highly competitive keywords.
When it comes to short-tail keywords, your website is nowhere to be found on the internet, and people cannot find your website by typing single or two-digit keywords.
Your website contains thousands of web pages. Among them, the majority are evergreen content that has been buried beneath the volume over time.
However, before you decide to switch to this SEO, you must first determine whether your current agency has experience with enterprise SEO. Remember that this type of SEO necessitates a unique approach. Enterprise SEO websites typically compete against some of the biggest names in their industry.

Vipul Oberoi
Director - Marketing, CSR & Learning at Dun & Bradstreet
"The efforts of our partner, Infidigit, on SEO have made turned our website into lean, mean ROI-generator. It has now become a pure evidence of how a coherent SEO strategy and creation of relevant content can work wonders for a brand in the digital space."
+156% Organic Sessions     +188% Organic Revenue      +186% Organic Clicks
+156% Organic Sessions
+188% Organic Revenue
+186% Organic Clicks
Manoeuvre Through Well-Organised Enterprise SEO Ploy
A sophisticated strategy crafted by the right set of partners from a trustworthy Enterprise SEO Agency can battle high-level challenges and provide cutting-edge solutions for your websites. A tactical approach to manage high volumes of data efficiently leaves no scope for errors in a highly guarded network.  Hence, driving extensive traffic effortlessly for a successful conversion rate to the enterprise website is made possible and generates a great result that bumps the client company's ROI. Here are a few pointers that feature in an effective enterprise SEO strategy:
1. Keep A Tab On The Competition
Competitor Analysis helps us to understand SEO practices of your competitor.
One of the best practices is to keep a check on a client's business contenders' SEO approaches. This measure provides a deeper understanding of the competitor's Enterprise SEO practices and how the home company's website is placed in terms of ranking.
Also, this data-driven analysis formulates an effective line of attack to counter the competition and advance ahead, eventually driving more traffic and gaining rankings to put the client's enterprise website at the top of all searches!
2. Take Stock Of The Enterprise Website
We regularly keep a check on your website if their are any discrepancies.
An Enterprise SEO Company needs to be aware of each page of their client's enterprise website like the back-of-their-hand! For large-scale enterprises with an equally large volume of data and content, regular technical audits covering more than 250 pointers are imperative to thrust the webpage ranking. 
By optimizing every aspect of the SEO website, the discrepancies are neutralized, allowing focusing on areas of improvement as the ranking algorithms under frequent changes. This way, the Enterprise SEO Service providers can provide efficient enterprise SEO audit services as well.
3. A Keyword Is A Map Of Relevance And Success
Keyword Research helps us to finalize the keywords we need to rank for.
Without keywords, there are no Enterprise SEO Services. For example, a restaurant would rely on food as one of its primary keywords. It is the keyword that deciphers the code and makes your website more relevant to generate organic traffic.
A well-researched keyword summarises the content of your website during the search for your site in-a-click. Here, mapping the keyword is a trust factor that certifies your web page's credibility and optimizes the search speed.
4. Land on the right page
A right landing page with ranges of products helps to drive traffic.
After relevant keywords are finalized, a whole SEO landing webpage is created to guide the traffic and manage the targets by ensuring that they are landing on the right page. The landing page can be created by keeping in mind the client's line of business and the range of products on offer.
It can be personalized as per their needs by enhancing the quality of the content with an able team of Local Enterprise SEO Consultants. This is important for eCommerce SEO service providers as the data and pages for eCommerce platforms are many, and landing on the right page is important.
5. Content At The Heart of Enterprise SEO
We create engaging content for your target audience to generate traffic.
Engaging content crafted for the target audience can create meaningful connections and generate organic traffic, making the webpage relevant. Appealing content with keywords for a featured snippet is essential. And, keeping a tab on the keywords from your competition's featured snippets won't permit them to steal your keywords, and you can beat them at their own game.
Target featured snippets decide page ranking amidst complicated algorithm set up. Hence, it is essential to partner with the right Enterprise SEO Service providers who can comprehend your line of business and create relevant conversations.
6. On-page SEO and Technical SEO
With on page SEO, we also cover more than 250 points for technical SEO.
When the quality of web pages is enhanced, the chances of ranking higher are more on search engines. By factoring in the Meta tags, URLs, header tags, sitemap and more, the webpages are optimized individually to make it SEO-friendly. 
Technical SEO is implemented to optimize aspects that a webpage does not contain. The risk of falling behind is less this way and it also boosts the content to augment the quality of the pages. If the client's company increases its product range, more relevant pages will be created and managed periodically.
7. Convert To Grow
To convert visitors into leads we help in improving the website and content in quality.
A website's visitors can only get converted into leads when they derive the desired value from your website. Hence, optimize the conversion rate of the website visitors to make the most of the already generated traffic and leads. Increase the number of visitors by improving the website and content in quality. 
This way, you can derive greater value and enhance the revenue for the company as well. Eventually, the website visitors will be advocating your brand and convert into loyal and paying customers!
8. Influencer Marketing For Engaging Conversations
Influencer activities are implemented to enhance business and boost ranking.
Influencer marketing is all about creating relevant and meaningful connections that enhance businesses. With Enterprise Search Engine Optimisation, the generated traffic can be filtered to pick out the relevant leads and target the right set of visitors to the website for relevant engagements. 
This, in return, will help enhance the conversion rate of the visitors and earn links from high-authority domains for your website for better ROI. And, it helps the Enterprise SEO services providers to offer their best while on payroll.
9. Listing SEO Accountabilities Is Healthy Practice
Regular reports with actionable insights help us to track our performance.
A good quality weekly report shows the efficiency of the Enterprise SEO Consultant that your company has partnered with. The files must not comprise meaningless downloaded data. 
A weekly report should notify the changes in the SEO activity for the week. It should contain actionable insights and summaries of the most significant data in focus. Hence, a good Enterprise SEO Services provider plays a critical role in maintaining a healthy practice.

Carla Rabe
Product Lead: Growth at Superbalist
"The most notable outcome is holding the #1 ranking position in South Africa for "Black Friday" related keywords for 3 consecutive years and winning an international SMX award for the best retail search marketing initiative. "
+415% Organic Sessions     +236% Organic Revenue      +240% Return on Investment
+415%  Organic Sessions   
+236% Organic Revenue    
+240% Return on Investment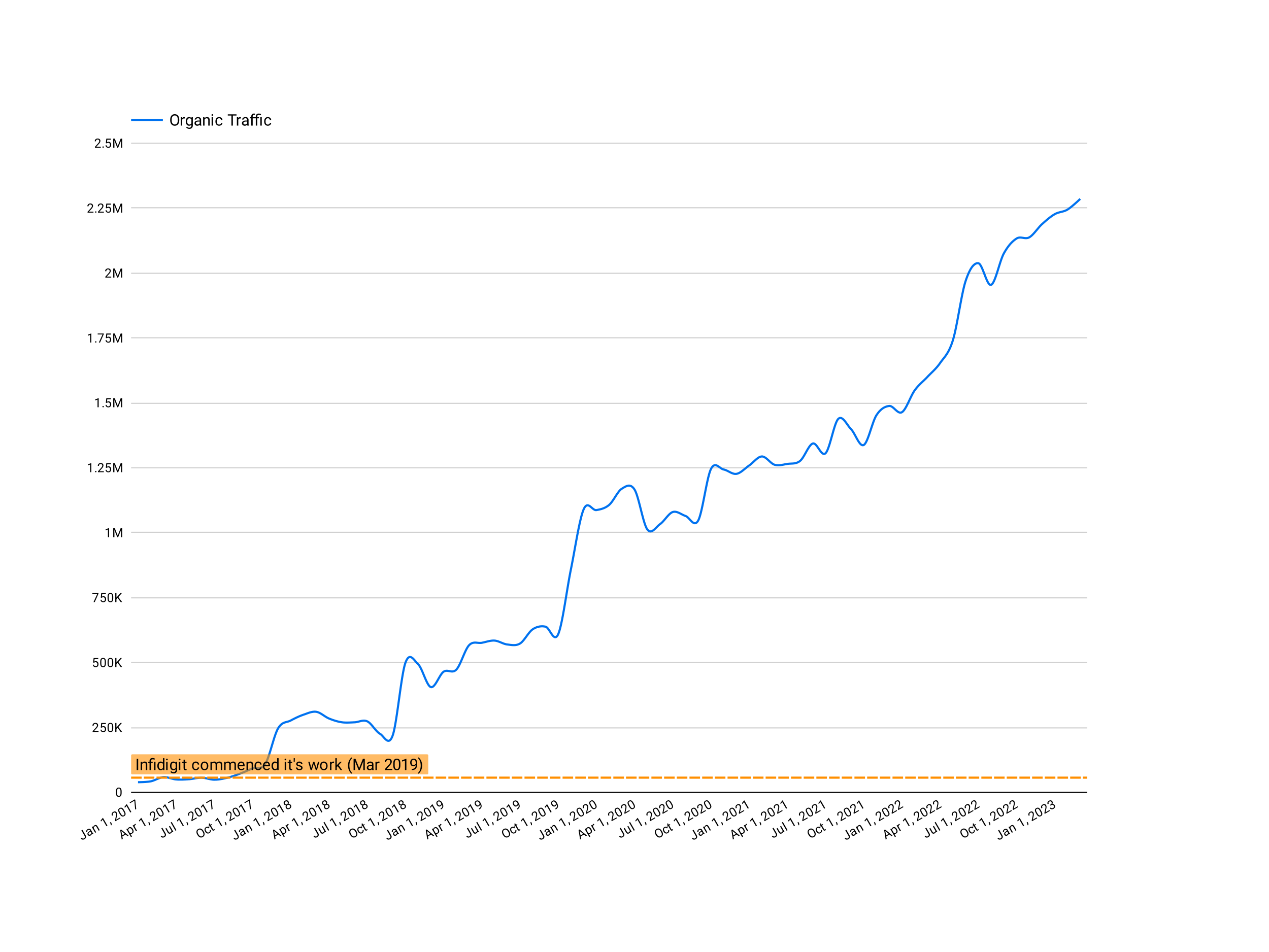 Why should you choose Infidigit as your Enterprise SEO Agency?
When the operations are large-scale Enterprise SEO Consultants or Enterprise SEO Agency needs to stay in line with the company's policies and products. They should be efficient and reliable.  At Infidigit, we build meaningful connections with our clients and customize the strategies to cater to their SEO needs.  If you require ecommerce SEO services, SEO audit services, local SEO services and efficient Enterprise SEO Services, we are right here. And, here's what you should consider about us: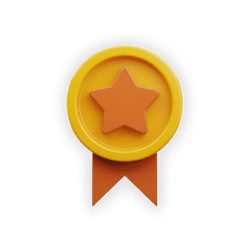 Our Reputation as an
Enterprise SEO Company
Infidigit is one of the top Enterprise SEO Services providers. The faculty comprises professionals with 10-15 years of industry experience. Right from top search engine rankings to exceeding marketing goals, Infidigit has a proven track record of driving excellent results through top-notch SEO services.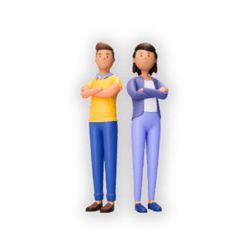 Dedicated Personnel Makes
Your SEO Dreams Come
At Infidigit, one project manager is assigned to a brand. This way, we are always present to provide dedicated services to the brand, irrespective of how large or small the enterprise or the enterprise website is. We now have over 50 SEO Experts providing customized Enterprise SEO services to our clients.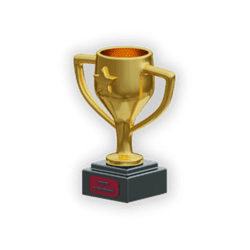 Award-Winning Strategy –
Our Prized Possession
With over 16 awards to our account for curating SEO strategies in the last three years, we continue to offer effective strategies and follow the best of industry practices to provide quality Enterprise SEO Services.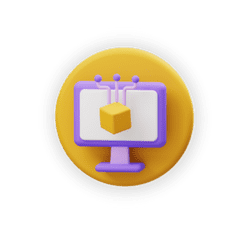 Our Technical SEO Experts are
Technically Sound
Our Technical SEO Experts are experienced professionals who rely on a data-driven approach. Apart from the content and UX aspects, they keep a tab on everything on your website to provide the best Enterprise SEO services.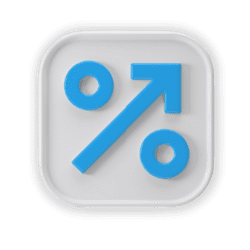 Our Focus Is On Enhancing Your ROI
Partner with us at Infidigit, and we ensure an increase in the organic traffic on your website and create brand visibility for enhanced sales and faster growth. As your Enterprise SEO Services providers, we will improve your ROI in a defined period.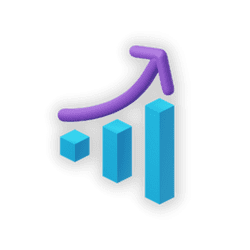 Aim To Increase Your Organic Revenue
We aim to increase your revenue through organic channels with effective strategies in Enterprise SEO services that include a blend of tools and mediums for execution. With valuable content, the quality of the website will be enhanced for better results.
Our Enterprise SEO Approach
1. Research
The preparation of a solid SEO strategy begins with research. Infidigit conducts extensive research on industry trends and top competitors. We study your competitors' profiles to know more about their sites and which pages are getting a lot of traffic. Next, we conduct a thorough investigation of your website and server. We then analyze which pages have received a lot of traffic in the past and create a list of non-performing content and supporting pages.
2. Audit
You will never be able to beat your peers if you do not work on identifying the flaws in your site. At Infidigit, we conduct an in-depth audit of all web pages and review all content to understand optimization issues. This stage goes over meta titles, image, and video optimization, content relevancy, etc. Furthermore, we conduct technical audits to review your site's compatibility with various devices, speed test, and track ROI to better understand CRO efforts.
3. Keyword Research
Keywords are crucial in SEO and are one of the several factors that determine your search engine rankings. As an enterprise SEO firm, we begin by researching trending keywords, then analyze search volume, integrate those keywords into content, products, and landing pages, and track their rankings to further decide our strategy.
4. Content
The volume of traffic you gain depends on the content you are publishing. The content should address the audience's concerns and provide them with the information they are looking for on the internet. Our enterprise SEO services assist you in locating trending and evergreen content ideas in your industry. Then, our content team will conduct extensive research on the topic and review what your peers have written about it. Based on that, create compelling, unique, and keyword-optimized content.
5. Optimization
To make your SEO campaign successful, focus on the optimization aspect. Consider a website or web page with a poor slug, irrelevant meta description, title tags lacking keywords, images lacking alt tags, and video in an incompatible format. Such types of content do not rank. 
Our search engine optimization company will aid in the creation of catchy title tags and optimize your overall site architecture to make it more user-friendly and compatible with smartphones.
6. Link Building
The link-building strategy assists search engines in determining whether or not your content is relevant. It improves your website's domain score by receiving backlinks from other websites pointing to your site/content. We prepare a link-building strategy for our enterprise SEO services by working on guest posts, affiliate and influencer marketing, and other methods. We also look for links from spam sites and remove them as soon as possible to keep your site from being penalized.

Rubi Gupta
AVP Marketing & Growth at Spinny
"Since SEO was an unexplored area for us till Jan 2021, we trusted Infidigit's SEO team to fulfil our requirements and formulate an action plan. Within 11 months, we observed an improvement in non-brand clicks by 169% and organic users by 131% with more than 800 keywords ranking in the top 10 positions. As a result, our overall organic numbers improved. With that said, we hope to achieve similar milestones in the future."
+169% Non-Brand Clicks      +111%  Organic New Users      800+  Keyword rank in top 8 pos
+169%  Non-Brand Clicks
 +111%  Organic New Users
 800+  Keyword rank in top 8 pos
Lite

Get Proposal

Standard

Get Proposal

Pro

Get Proposal

Pre-Requisites

Keywords Optimized

Improve your website's search engine rankings and visibility by strategically optimizing keywords.

300

520

680

Pages Optimized

Optimize your web pages to enhance search engine visibility, improve user experience, and attract more organic traffic.

100
130
170

Initial Setup & Analysis

Search Console - Setup & Review

Google Search Console setup and review ensures accurate data, optimizing insights and performance.

Google Analytics - Setup & Review

Google Analytics setup and review maximizes website performance by optimizing insights.

Keyword To URL Mapping

Precise keyword-to-URL mapping enhances SEO strategy, improving relevancy and visibility.

Baseline Ranking Setup

Establish a baseline ranking setup to track SEO progress effectively and measure improvements.

Baseline Organic Search Report Setup

Gain valuable insights into organic search performance with a baseline organic search report.

Competitor Analysis

Comprehensive competitor analysis helps stay ahead, uncovering growth opportunities.

Google Penalty Check

Regular Google penalty checks safeguard SEO health, ensuring compliance and visibility.

Bing Webmaster - Setup & Review

Ensuring accurate data with Bing Webmaster Tools setup and review for enhanced insights and performance.

Technical SEO

Technical Audit Tracker Creation & Periodic Review

A tracker is created and reviewed to monitor ongoing website health and technical audit tasks.

Support For SEO Audit Implementation

Infidigit assists in implementing recommendations from the SEO audit for improved website performance.

Robots.txt Creation & Optimization

The robots.txt file is optimized to guide search engine crawlers and control content access.

XML Sitemap Creation & Submission

XML sitemap helps search engines index and crawl website pages for better visibility.

Structured Data Markup Recommendation & Review

Structured data markup recommendations are provided for improved search engine understanding.

Suggestions to improve Page Speed & Core Web Vitals Scores

Suggestions are given to enhance page speed and Core Web Vitals scores for better user experience and rankings.

Custom 404 Page Review & Recommendation

The custom 404 error page is optimized for improved user experience and search engine crawling.

Mobile Friendly Test Review & Recommendation

Mobile friendliness is reviewed with recommendations for optimal performance on mobile devices.

SSL Check

SSL certificate installation and HTTPS security are checked for secure website access.

Pagination Audit & Recommendations

Optimize website structure and pagination for improved navigation.

Site Architecture Audit

Site architecture is audited to enhance navigation and user experience.

Recommendations for improving Crawling, Indexing & Rendering

Suggestions are given to improve crawling, indexing, and rendering of website content by search engines.

Ongoing detailed SEO Audit & Recommendations

Regular comprehensive SEO audits provide ongoing recommendations for continuous improvement.

International SEO

Optimize your website for international audiences and improve visibility in global search results.

On-page SEO

Title Tags Optimization

Title tags optimized for improved search visibility and click-through rates.

Meta Description Optimization

Compelling meta descriptions crafted to engage users in search results.

Header Tags Optimization

Keyword-rich headings structured for better search engine understanding.

URL Structure Recommendation & Review

URL structure reviewed and optimized for user-friendly navigation and search engine crawling.

Duplicate Content Analysis

Duplicate content issues identified and addressed to improve search rankings and avoid penalties.

Canonical Recommendations

Canonical tags implemented to consolidate similar content and prevent duplicate content issues.

Image Optimization

Images optimized for faster loading, enhanced user experience, and improved search engine indexing.

Video Optimization

Videos optimized with relevant metadata and schema markup for increased search visibility.

Content Gap Analysis

Optimize content strategy to fill gaps and boost search engine visibility.

HTML Sitemap Review & Recommendation

HTML sitemap reviewed and optimized for improved user navigation and search engine crawling.

External Links Review & Recommendation (If Any)

Analyze external links and provide actionable recommendations for SEO improvement.

Footer Links Review & Recommendation (If Any)

Footer links, if applicable, audited and optimized for better navigation and search engine crawling.

Internal Links Recommendation

Internal linking improved to enhance website structure and distribute link equity.

Internal Linking Strategy

Develop a strategic internal linking plan to improve user experience, website structure, and search engine visibility.

Content Recommendation - Service/Blogs

Drive organic traffic with tailored content recommendations for your services and blog.

30
40
55

Links Optimization

Link Redirect Checks

Performing redirects checks to ensure optimal user experience and search engine crawling.

Disavow File Review & Recommendation (If Required)

Reviewing and providing recommendations for creating or updating a disavow file to disavow low-quality or spammy backlinks, if necessary.

Video, PPT & Infographic submissions

Sharing videos, presentations, and infographics on relevant platforms for enhanced visibility and backlink potential.

Backlink Audit

Conducting a backlink profile audit to evaluate the quality, relevance, and risks of existing links.

Half Yearly
Quarterly
Monthly

Article Submission

Submitting articles to reputable directories for increased exposure, backlinks, and industry authority.

150
200
250

Q&A Posting

Engaging in Q&A platforms to establish authority and include relevant backlinks.

15
20
30

Reporting

Keywords Ranking Report (Upto)

Monitor and report keyword rankings to track SEO performance and progress.

300
520
680

Competitors' Rank Tracking (Upto)

Analyze competitor rankings to identify growth opportunities and maintain a competitive edge.

8
10
12

Organic Search Market Share Report

Evaluate website visibility and market share in organic search results.

Search Console Impressions And Clicks Reporting

Measure impressions and clicks in Google Search Console for valuable performance insights.

Google Analytics Sessions Report

Utilizing Google Analytics to analyze website sessions and understand user engagement and behavior.

User Experience Report (Page Load Time, Bounce Rate, Etc.)

Optimize user experience metrics like page load time and bounce rate for improved performance.

Backlink Report

Assess backlink quality and quantity to enhance authority and credibility.

Core Web Vitals Report

Optimize core web vital metrics for better user experience and search engine rankings.

SEO Scorecard

Create a comprehensive scorecard to evaluate overall website SEO performance.

Customized KPIs Reporting

Track SEO success with tailored reports focusing on specific KPIs for your strategy.

Analysis via SEMrush, Ahrefs & Moz

Utilize industry-leading tools for deep analysis and actionable insights.

Report Frequency

Determining reporting frequency for timely monitoring and optimization of SEO activities.

Fortnightly
Weekly
Weekly

Project Management

Dedicated SEO Team

Our team of experts is dedicated to implementing and managing your website's SEO strategies for improved visibility.

250 hours per month
300 hours per month
400 hours per month

Dedicated Manager

Optimize your website's performance with a dedicated SEO manager who will strategize and monitor your progress.

15 hours per month
20 hours per month
30 hours per month

Consultation with Senior Marketers

Tap into the wisdom of senior marketers for expert SEO guidance, empowering your strategies with insightful consultations.

2 hours per month
4 hours per month
Pre-Requisites
Keywords Optimized
Pages Optimized
Initial Setup & Analysis
Search Console - Setup & Review
Google Analytics - Setup & Review
Keyword To URL Mapping
Baseline Ranking Setup
Baseline Organic Search Report Setup
Competitor Analysis
Google Penalty Check
Bing Webmaster - Setup & Review
Technical SEO
Technical Audit Tracker Creation & Periodic Review
Support For SEO Audit Implementation
Robots.txt Creation & Optimization
XML Sitemap Creation & Submission
Structured Data Markup Recommendation & Review
Suggestions to improve Page Speed & Core Web Vitals Scores
Custom 404 Page Review & Recommendation
Mobile Friendly Test Review & Recommendation
SSL Check
Pagination Audit & Recommendations
Site Architecture Audit
Recommendations for improving Crawling, Indexing & Rendering
Ongoing detailed SEO Audit & Recommendations
International SEO
On-page SEO
Title Tags Optimization
Meta Description Optimization
Header Tags Optimization
URL Structure Recommendation & Review
Duplicate Content Analysis
Canonical Recommendations
Image Optimization
Video Optimization
Content Gap Analysis
HTML Sitemap Review & Recommendation
External Links Review & Recommendation (If Any)
Footer Links Review & Recommendation (If Any)
Internal Links Recommendation
Internal Linking Strategy
Content Recommendation - Service/Blogs
Links Optimization
Link Redirect Checks
Disavow File Review & Recommendation (If Required)
Video, PPT & Infographic submissions
Backlink Audit
Article Submission
Q&A Posting
Reporting
Keywords Ranking Report (Upto)
Competitors' Rank Tracking (Upto)
Organic Search Market Share Report
Search Console Impressions And Clicks Reporting
Google Analytics Sessions Report
User Experience Report (Page Load Time, Bounce Rate, Etc.)
Backlink Report
Core Web Vitals Report
SEO Scorecard
Customized KPIs Reporting
Analysis via SEMrush, Ahrefs & Moz
Report Frequency
Project Management
Dedicated SEO Team
Dedicated Manager
Consultation with Senior Marketers
Improve your website's search engine rankings and visibility by strategically optimizing keywords.

Optimize your web pages to enhance search engine visibility, improve user experience, and attract more organic traffic.

Google Search Console setup and review ensures accurate data, optimizing insights and performance.

Google Analytics setup and review maximizes website performance by optimizing insights.

Precise keyword-to-URL mapping enhances SEO strategy, improving relevancy and visibility.

Establish a baseline ranking setup to track SEO progress effectively and measure improvements.

Gain valuable insights into organic search performance with a baseline organic search report.

Comprehensive competitor analysis helps stay ahead, uncovering growth opportunities.

Regular Google penalty checks safeguard SEO health, ensuring compliance and visibility.

Ensuring accurate data with Bing Webmaster Tools setup and review for enhanced insights and performance.

A tracker is created and reviewed to monitor ongoing website health and technical audit tasks.

Infidigit assists in implementing recommendations from the SEO audit for improved website performance.

The robots.txt file is optimized to guide search engine crawlers and control content access.

XML sitemap helps search engines index and crawl website pages for better visibility.

Structured data markup recommendations are provided for improved search engine understanding.

Suggestions are given to enhance page speed and Core Web Vitals scores for better user experience and rankings.

The custom 404 error page is optimized for improved user experience and search engine crawling.

Mobile friendliness is reviewed with recommendations for optimal performance on mobile devices.

SSL certificate installation and HTTPS security are checked for secure website access.

Optimize website structure and pagination for improved navigation.

Site architecture is audited to enhance navigation and user experience.

Suggestions are given to improve crawling, indexing, and rendering of website content by search engines.

Regular comprehensive SEO audits provide ongoing recommendations for continuous improvement.

Optimize your website for international audiences and improve visibility in global search results.

Title tags optimized for improved search visibility and click-through rates.

Compelling meta descriptions crafted to engage users in search results.

Keyword-rich headings structured for better search engine understanding.

URL structure reviewed and optimized for user-friendly navigation and search engine crawling.

Duplicate content issues identified and addressed to improve search rankings and avoid penalties.

Canonical tags implemented to consolidate similar content and prevent duplicate content issues.

Images optimized for faster loading, enhanced user experience, and improved search engine indexing.

Videos optimized with relevant metadata and schema markup for increased search visibility.

Optimize content strategy to fill gaps and boost search engine visibility.

HTML sitemap reviewed and optimized for improved user navigation and search engine crawling.

Analyze external links and provide actionable recommendations for SEO improvement.

Footer links, if applicable, audited and optimized for better navigation and search engine crawling.

Internal linking improved to enhance website structure and distribute link equity.

Develop a strategic internal linking plan to improve user experience, website structure, and search engine visibility.

Drive organic traffic with tailored content recommendations for your services and blog.

Performing redirects checks to ensure optimal user experience and search engine crawling.

Reviewing and providing recommendations for creating or updating a disavow file to disavow low-quality or spammy backlinks, if necessary.

Sharing videos, presentations, and infographics on relevant platforms for enhanced visibility and backlink potential.

Conducting a backlink profile audit to evaluate the quality, relevance, and risks of existing links.

Submitting articles to reputable directories for increased exposure, backlinks, and industry authority.

Engaging in Q&A platforms to establish authority and include relevant backlinks.

Monitor and report keyword rankings to track SEO performance and progress.

Analyze competitor rankings to identify growth opportunities and maintain a competitive edge.

Evaluate website visibility and market share in organic search results.

Measure impressions and clicks in Google Search Console for valuable performance insights.

Utilizing Google Analytics to analyze website sessions and understand user engagement and behavior.

Optimize user experience metrics like page load time and bounce rate for improved performance.

Assess backlink quality and quantity to enhance authority and credibility.

Optimize core web vital metrics for better user experience and search engine rankings.

Create a comprehensive scorecard to evaluate overall website SEO performance.

Track SEO success with tailored reports focusing on spec