Users of the Search Analytics API have finally had their prayers answered. The API now provides support for Google Discover, News, and Regex. 
Site owners can already see data related to Search, Discover, and Google News in the 'Performance' reports in Google Search Console. These functionalities have finally arrived to the Search Analytics API. The API has also been updated to include the ability to use Regex for data filtering.
Here are the new functionalities added to the Search Analytics API:
Google News & Discover Data
The 'searchType' parameter will be renamed to 'type' and the API requests can be filtered by web, picture, video and news. 
Google has also provided support for two additional parameters which are 'discover' and 'googleNews'. Both of these can be used to fetch data from Google Discover and Google News respectively. Google will still provide support for the 'searchType' parameter.
It is important to note that some metrics and dimensions in the Search Console's 'Performance' reports are only compatible with certain data types.
Google's statement is as follows:
"In the Search Console Performance reports, some metrics and dimensions are compatible only with some data types; for example, queries and positions are not supported by the Google Discover report. In the same way, if an unsupported dimension is requested, the API will return an error message."
Regex support
Regex support was added to Google Search Console recently and has received an overwhelming response. Users of the Search Analytics API can finally reap the benefits of Regex to perform advanced data filtering.
Two new search operators have been added to the API:
includingRegex

excludingRegex
Here's a snapshot of the new Search Analytics API's features in action: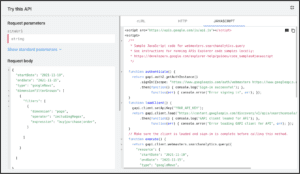 Source: developers.google.com
Popular Searches
SEO Company | SEO Services in USA | SEO Agency in USA | Ecommerce SEO services | SEO Audit Company | Google Penalty Recovery Services | Local SEO Service | App Store Optimization Services | Conversion Rate Optimization Agency | Professional SEO Company | Pay Per Click Services | Enterprise SEO Service | On page SEO Services  |   What is Off Page SEO  |  SEO Competitor Analysis  |  Types of SEO  |  Website Structure  |  Importance of Digital Marketing  |  What is Cloaking  |   What are Backlinks  |  What is Keyword Density  |  What is PPC  |  What is Black Hat SEO  |  PPC vs SEO  |  What is Schema Markup  |  List of Search Engines  |  Types of Digital Marketing  |  Website Navigation  |  History of Google  |  Increase YouTube Views