In a groundbreaking development, Google has announced the introduction of its AI technology to enhance the search experience for users in India and Japan. This strategic move is set to revolutionize the way people search and discover information online, further cementing Google's commitment to delivering personalized and relevant results to users across the globe.
The deployment of Generative AI in these Japan and India makes it a significant step forward in Google's ongoing efforts to make search more intuitive, efficient, and tailored to individual preferences. By harnessing the immense potential of artificial intelligence, Google aims to provide users in two dianamic markets with best search experience that is not only more efficient but also more relevant to their unique needs and interests.
Key Highlights of this Generative AI reformation: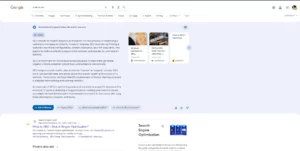 One of the key highlights of this initiative is the ability of Generative AI to understand natural language queries and generate more context-aware and relevant search results. This means that users in India and Japan can now ask Google questions in a more conversational (humanised) manner and receive answers that are not just accurate but also personalized to their specific requirements.
"We are excited to introduce Generative AI to users in India and Japan. This technology represents a significant leap forward in the world of search, allowing us to better understand user intent and provide more relevant information," said Hema Budaraja (Senior Director, Project Management Search), a spokesperson for Google.
Generative AI also promises to enhance the overall search experience by offering richer and more interactive search results like visually engaging content, such as videos, images, and infographics, directly within the search results page, making it easier than ever to find the information they need.

Google's commitment to user privacy remains unwavering. The introduction of Generative AI in India and Japan comes with robust privacy measures in place to ensure that user data is protected and handled with the utmost care.
This innovative development is part of Google's ongoing mission to make information accessible and useful to people around the world. By bringing Generative AI to India and Japan, Google is not only enhancing the search experience but also contributing to the growth and development of these vibrant and tech-savvy markets.
Users in India and Japan can look forward to a smarter, more personalized, and more interactive search experience as Google's Generative AI begins to roll out in the coming weeks. This exciting development is poised to transform the way people search and discover information, making it easier and more enjoyable than ever before.
For more information about this transformative initiative and to stay updated on the latest developments, visit Google's official blog.
Popular Searches
Universal Analytics 360 deadline Extended to 2024 | Google Search Console Update | W3C Announces Major Change | YouTube launches new Live Redirect feature | Google Tests New Featured Snippets | Google to End Support for Universal Analytics in 2023 | Google Introduces Favicons, Sitename, and Sponsored Labels on Desktop | Google March Broad core update 2023 | Keyword Stuffing | Google Discontinues Mobile-Friendly, Page Speed, Secure Sites, and Page Experience Ranking Systems | Google Releases The March 2023 Broad Core Update | 15MB Googlebot Limit Now For Each Individual Subresource | Google Introduces Favicons, Sitename, and Sponsored Labels on Desktop | Google Search Status Dashboard To Provide a History Of Ranking Updates | Blue Highlights in Google's Featured Snippets Go Live | Link Best Practices For Google: The Expanded Guide