SEO for Insurance Companies
A powerful internet presence is really crucial for any insurance company. This is where SEO can help. SEO for insurance companies is an organized formation to optimize websites so that they can achieve top ranking for various keywords on search engine results. 
SEO for Insurance Companies: Services & Guides
In a large competitive market like the insurance industry, SEO plays a pivotal role to tap into the internet's potential to execute higher sales. As one of the best agencies in the niche, Infidigit provides top of the line services when it comes to SEO for insurance companies.
Having received major accolades across the globe, we have established ourselves as a primary frontrunner in providing comprehensive and best in class SEO services for insurance companies. 
The necessity of SEO services in Insurance Company
Splendid support can be given by SEO for insurance companies, as it helps identify the potential customers of the company and provide insights into their buying habits. Insurance companies perfectly understand the customers and follow how they search and buy insurance. As an insurance service provider, one might be familiar with the customers but there is a lot to explore when it comes to understanding how they avail services online. Hence, many practices such as Keyword research, become an imperative element of a comprehensive strategy when it comes to SEO for insurance companies. 
Important SEO Strategies for an Insurance Domain
In tasks pertaining to SEO for insurance companies, optimizing websites based on the target demographic and industry type is a formidable task. Most strategies in SEO for insurance companies start with finding out the most searched keywords and phrases and incorporating them in the website via content and page optimisation. Apart from that, here are some of key services in SEO for insurance companies that Infidigit provides for its esteemed clientele –
1. Keyword Research
The ultimate aim of SEO for insurance companies to optimize the website in a way that if anyone searches for any insurance related keywords like 'car insurance services', then the brand's URL appears at the top in the search result. An insurance company's primary focus is always to appear amongst the top five results on search engines. visibility.

Infidigit conducts comprehensive keyword research targeted towards SEO for insurance companies to optimize websites with a data driven approach. This activity in SEO for insurance companies is executed through using high-end tools which detect the most commonly used words and phrases used by the target demographic. A wide number of keyword combinations for SEO for insurance companies are then applied for the website's optimization.

Infidigit's SEO services encapsulate all the aforementioned points and more to provide insurance companies with the analysis and targeting of high search volume keywords that improves the website's
2. Site Audit
Conducting a complete site audit is the most crucial step in determining the scope of work that has to be done on any insurance website. SEO audit services offered by Infidigit detect all the areas of improvement on websites, including the architecture, URL structures, backlinks, broken links, etc.

To elevate SEO for insurance companies, a site audit accumulates all the issues which need to be optimized and addressed. The insights then help develop a SEO strategy that resolves the aforementioned issues and avoids a recurrence in future. Infidigit facilitates various SEO auditing services, like:


Content SEO audit
On-page SEO audit
Off-Page SEO audit
Technical SEO audit
Code and Architecture Review
3. Competitor Analysis
Infidigit uses several tools to figure out the high-ranking keywords that the competitors are using and generating traffic from. After that, our experts figure out where to purchase those keywords or how they can be incorporated organically on the website through original content.

Competitor analysis performed in SEO for insurance companies is a meticulous process, within which Infidigit conducts a thorough analysis of the competitors' strategies, marketing efforts, tools, and the areas they are lagging in to give the company an upper hand at shooting their way to the top. This is an integral part of the process to streamline SEO for insurance companies.
4. Quality Content
When pursuing SEO for an insurance company, it is really important to develop high quality and well-optimized content. After finishing the keyword research, it is time to develop the content accordingly. Infidigit reviews the website and ensures that the content is SEO friendly and has all the necessary information in detail. Quality content is not just about being keyword heavy. We also make sure relevant back linking and internal linking is also performed thoroughly to boost the health of web pages and make them rank higher. Refining the process of SEO for insurance companies, the content development service offered by Infidigit also targets interests of the demographic, and captures their attention through quality and educational content that they can rely on.
5. Reviews
Reviews are an integral part of SEO for insurance companies. Through verified reviews, a website can generate much better traffic and bring in more consumers. To promote the brand image of an insurance company, it is important that the executives only refer to the experts in the industry for getting certified reviews that can make an impact on the webpage traffic. This process allows them to endorse their services among the targeted consumer population and increases their popularity in the market.
6. Generate Backlinks
Generation of backlinks through guest posts and infographics are also systematic processes that are incorporated by Infidigit. SEO for insurance companies is developed in such a way that they are able to engagingly present their products, services, and policies to the consumers visiting their websites. This process is elevated through backlinking, as it provides the content with proper sourcing, fixed structure, and authoritativeness. Other forms of backlinks like guest posts, promotion of contents and Media or Press Releases are also considered to be important aspects in SEO for Insurance company websites.
7. Local Listings
A local listing in SEO marketing indicates online permission to register a business name and DBA (Doing Business As), which is a valid physical address of the company. In this aspect, the company mentions all the necessary details of the insurance company. Through these details, search engines can present webpages to the local audience, which elevates the traffic from the targeted regions.  As an insurance service provider, local SEO services help a lot in generating organic traffic for the website. Local listing through SEO for insurance companies also helps in introducing the social profile and website URLs to a potentially untapped audience.

Organic Sessions
1.8 Billion+

#1 Ranking Keyword
40,000+


Organic Sessions
1.8 Billion+

#1 Ranking Keyword
40,000+


Carla Rabe
Product Lead: Growth at Superbalist
"The most notable outcome is holding the #1 ranking position in South Africa for "Black Friday" related keywords for 3 consecutive years and winning an international SMX award for the best retail search marketing initiative. "
+415% Organic Sessions     +236% Organic Revenue      +240% Return on Investment
+415%  Organic Sessions   
+236% Organic Revenue    
+240% Return on Investment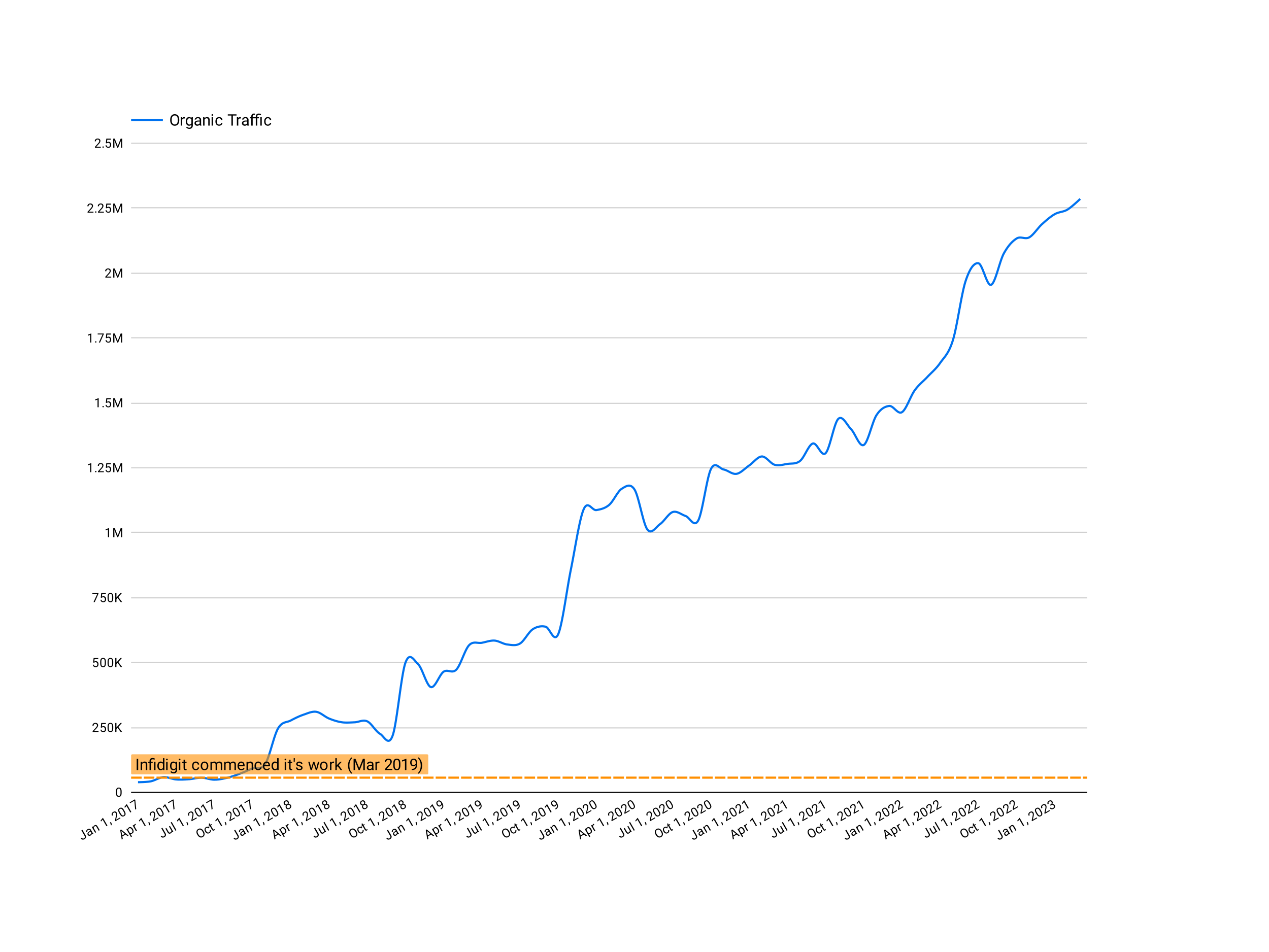 Rubi Gupta
AVP Marketing & Growth at Spinny
"Since SEO was an unexplored area for us till Jan 2021, we trusted Infidigit's SEO team to fulfil our requirements and formulate an action plan. Within 11 months, we observed an improvement in non-brand clicks by 169% and organic users by 131% with more than 800 keywords ranking in the top 10 positions. As a result, our overall organic numbers improved. With that said, we hope to achieve similar milestones in the future."
+169% Non-Brand Clicks      +111%  Organic New Users      800+  Keyword rank in top 8 pos
+169%  Non-Brand Clicks
 +111%  Organic New Users
 800+  Keyword rank in top 8 pos
Overall, SEO for insurance companies is a very competitive domain, and being at the top in search engines is no easy feat to pull off. As a data-driven SEO company, Infidigit optimizes websites in a way that ensures the targeted SEO strategies are successful.