cult.fit (formerly known as cure.fit) is a health and fitness brand that provides a holistic fitness experience to consumers through online and offline channels. This includes workouts, mental wellness, healthcare, nutrition and medical care. It was one of the first in the country to offer e-fitness or tele-fitness services that took the internet world by storm amidst the COVID-19 pandemic. Furthermore, it operates the cult.fit chain of gyms in 130+ locations. As of today, cult.fit holds a prominent position in the fitness industry. In FY22, the brand managed to grow its revenue by more than 34% to Rs 216 crore.
With the above-mentioned challenges, a clear-cut SEO strategy was formulated, consisting of the following objectives:

Increase Organic Clicks

Improvement Ranking

Increase Keyword Coverage

Improve Sessions

Improve New Users
Cult.fit was observing very little website traffic. This became a potential SEO challenge that needed to be addressed. And along with that, listed-below are the set of other roadblocks:
Low visibility and Ranking

: Cult.fit website had low visibility and ranking compared to its competitors. 

Growing Traffic in a Competitive Niche

: The fitness industry is highly competitive, and growing traffic in such a niche can be challenging. This indicated the need for a targeted SEO strategy to drive traffic to the website.

Low Website Traffic

: The website's monthly traffic was less than 2,000, which was relatively low. This suggested the need for SEO tactics to improve the website's visibility, attract more visitors, and increase the website's overall traffic.



Keeping the SEO challenges and final results in mind, here are the steps Infidigit took to resolve the roadblocks towards greater visibility on SERPs:

Creating New Blog Pages: After doing competitor research and discovering what was missing, Infidigit came to the conclusion of targeting all those topics on the blog website. Eventually, the team started inculcating keyword-rich content for around 450 new topics and made sure that most of the content was evergreen, which led us to gain more traffic and visibility on SERP

 

Checking Indexability: After creating new pages, having them indexed on Google was another task. The Infidigit team then created an HTML sitemap page called 'Fitness Glossary' where all the internal links with anchor texts so the process of indexing could take place faster. Giving an internal link to the already indexed page helped index many new pages on the SERP
Checking Broken Links: The broken link checker was run on-site to remove all of them
301 Redirection: A 301 redirect is a way of sending website visitors to a live URL; no matter which CMS one uses. To prevent users from landing on a broken page, Infidigit set up 301 redirects appropriately. This helped pass link equity from the redirected page


 

Self-Canonicalization: Infidigit made sure that every post on the site contains canonical links to the URLs

 

Optimising Title & Meta Description: Infidigit team created unique title and meta descriptions for approximately 450 pages with proper target keywords and optimizations. This helped in achieving a better ranking for cult.fit pages

 

Contextual Links: The Infidigit team did the internal linking in the content itself with proper primary keywords to get valuable internal links from the content. Adding contextual links helped improve the crawl rate, making it easier for bots to crawl the pages. Furthermore, efforts were made to reach out to the various pages, thereby improving page rankings and passing page authority


 

Other Internal Links:

To create more internal links for the keywords that are giving us more clicks and impressions, the Infidigit team created a 'Top searches' section for essential categories. We targeted all these money keywords to improve ranking and page authority
With our continuous efforts in a strategic manner, the fruitful results observed were as follows:

cult.fit managed to accelerate its Organic Clicks by 213%. This led to increase in the visibility on SERPs, improving clicks proportionally.

Infidigit helped cult.fit improve impressions by 255%.

Organic Sessions increased by 177%.

New Users increased by 213%.

Organic Keywords improved from 5228 to 10,263. This was effectively an increase of 96.31%.

Keyword Coverage increased by 154%.

By re-optimising existing targeting pages, adding effective keywords and structured content to the pages further helped the website achieve a significant improvement in keyword coverage, which enabled us to garner traffic for our website.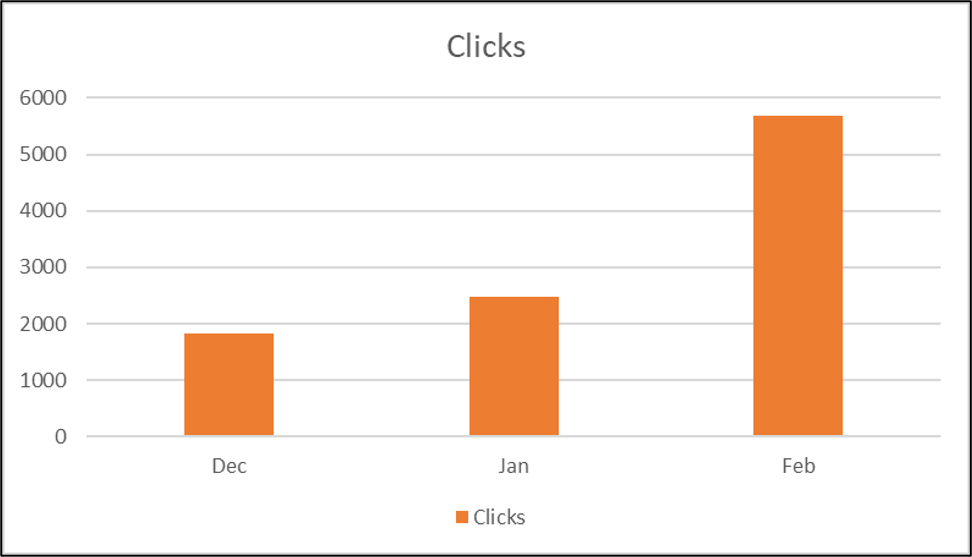 GSC Data for organic Clicks