Libas is an Indian Ethnic Fashion brand that aims to relate to a modern Indian woman who is free-spirited and independent. Libas provides everything from stylish ethnic wear to comfortable fusion styles for women, carefully curated in line with fashion trends.
Libas was already present on popular e-commerce marketplaces like Myntra and Flipkart which were ranking first for their targetted keywords. Later, the brand recognized the importance of boosting its own website organically and selling its products directly to the customers via Search. This is where Infidigit, a B2B SaaS Organization, came into the picture.
We had the following objectives for the period September 2021 to March 2022:
To improve the ranking of non-brand keywords
To increase the Organic Sessions via Collections Pages and Blogs
To increase the transactions and revenue via the Organic Search Channel
Ethnic Wear is a very competitive niche in the Indian Market. There are several niche-specific brands like Biba, WforWomen, Globaldesi etc. which were already ranking on the SERP for our targetted keywords and had a high DA as compared to our brand.
Popular marketplaces like Amazon, Flipkart, and Myntra are ranking in the first three positions for most of our targetted keywords.
There was a larger opportunity to be captured in terms of Keyword Research and on-page and Off-Page Optimization.
At the Page Level for collection pages, enhanced optimization had to be looked into.
Team Infidigit had the following plan and strategy –  
Understand the Business and current offerings of Libas
Find out opportunities for Libas from the SEO Perspective keeping in mind the trends and user interests
Analyze the Competition and identify the gaps
Understanding the language of our target customers
The team conducted extensive keyword research for the existing Collections so that we could create more pages on the website. We analyzed competitors to figure out the keywords that they were ranking for so the brand could target them as well – depending on the inventories. 
We segmented the keywords on the basis of their Category and did Keyword-to-URL Mapping for a proper optimization plan.
For high-potential keywords and after Competitive analysis, we recommended several new collection pages that Libas could create on their website. 
This ensured that we targeted proper keywords (short tail and long tail) to proper URLs that matched the User Intent and the products.
Some of these new pages helped us improve targets. We saw a good number of transactions and revenue in the month of March.
Collection Content Strategy
Team Infidigit created a Content Plan for collection pages with high search volume keywords as high-quality content helps in improving the ranking on the SERP.
As we had already conducted keyword research with proper URL mapping, we had the set of keywords that we wanted to target via Content. We also conducted a Keyword Gap analysis to figure out what other keywords we could target via Content.
The team worked on building a Content Structure with proper headers and paragraphs while also analyzing the competitors' content structure.
Blog Strategy and Optimization
Team Infidigit created a Blog Optimisation Strategy for different topics related to various collection pages on the website as blogs help improve the search engine rankings and increase traffic on the website.
We did a thorough Competitor Blog Analysis using different tools which helped us identify the various blog topics that the brand could capitalize on.
Based on the seed topics, we did in-depth Keyword Research, keeping in mind, the search intent for the keywords and built a Blog Content Strategy.
As Libas is an Ethnic Wear Brand, we ensured that we covered all the festival topics such as Independence Day, Raksha Bandhan, Teacher's Day, etc. as, during these festivals, people usually wear traditional.
Encouraging users to click on our links
Team Infidigit optimized the Meta Titles and Descriptions of Collection Pages and Blog Posts by targeting important Primary and Secondary keywords. We analyzed the CTAs and ranking positions constantly and re-worked the meta content wherever required.
Internal Links: Guide Visitors to Useful Pages
Internal Linking to important pages is a good SEO practice. So, in order to increase the Internal Links on the website, we implemented the following:
Customization of Footer Links: We implemented Collection-wise and Blog-wise Contextual Footer Links. These Contextual Footer Links were customized depending on the context of the page. The keywords that were targeted for this activity were aimed at improving their ranking.
Via Content: As we had executed Keyword to URL Mapping, we also linked the proper anchors present in the content to the collection pages and blog posts to improve the ranking of those anchors.
Via Footer: We also recommended adding Trending Collection Pages such as Sale Pages to the Footer of the website for faster crawling and indexing of those pages.
Acquiring high-quality backlinks
Team Infidigit worked on building external links via Social Bookmarking, Image Submissions, and Document/PDF Submissions. 
We worked on creating backlinks via Blogger Outreach that had an average DA of 20 – occasionally getting backlinks from websites over 50 DA. 
We also created backlinks via Q&A sites such as Quora as it is a popular forum website and widely used by the Indian audience.
The team focused on targeting those keywords that needed a boost in ranking and were trending during the month.
Top Navigation and Filter Menu Recommendation
Team Infidigit had identified an opportunity to create a Mega Menu/Drop Down Menu in the navigation to build internal links, as well as for a better UI/UX. 
Team Infidigit also recommended changing the Filter Menu on the side to include the main collection pages instead of filters.
The Top Navigation Mega Menu was implemented in the last week of February and the filter menu was implemented in the first week of March, after which we saw an increase in the sessions which in turn helped us increase our revenue and transactions.
Appropriate Placement of FAQ Schema Code
In order to boost the clicks and positions of our top category pages and enhance our search results, we implemented FAQ Schema on our top collection pages. 
Via FAQs, we saw a good number of Impressions and Clicks for our top collection pages.
Compared to September 2021, in March 2022, our Organic Sessions have increased by 197.38%

Compared to September 2021, in March 2022, our Organic Revenue and Organic Transactions have increased by 341.02% and 474.35% respectively.

Compared to September 2021, in March 2022, our overall clicks have increased by 174.28%

Compared to September 2021, in March 2022, our Cost Per Session has decreased by 66.34%
Non-Brand Keywords Ranking Improvement:
We have seen an improvement in our Non-brand keywords ranking on the first page. Compared to September 2021, in March 2022, our Rankings have improved by 319.25%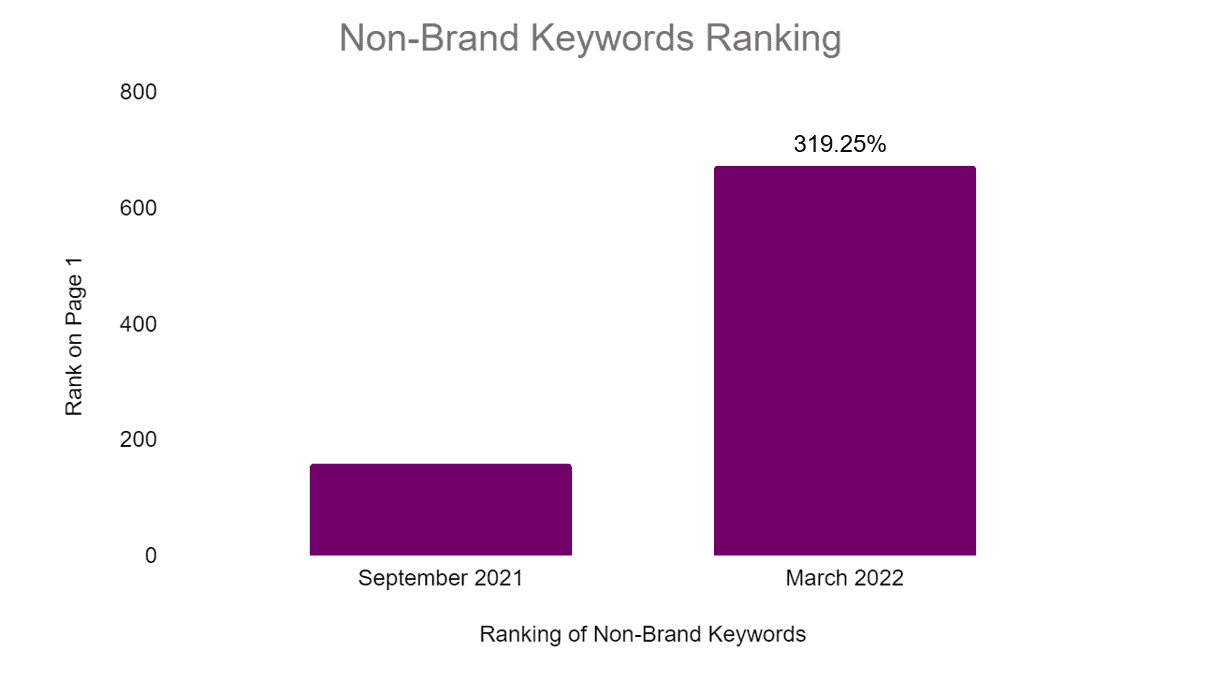 Team Infidigit invested time and effort in building valuable content, proper SEO implementations and building high-quality backlinks. With our consistent efforts at improving the SEO of the brand, we were able to improve our targetted KPIs.
Our vision for the future involves more focus on the technical aspects of SEO, building sessions via Blog with quality content that is useful to the users and scaling up our current strategy.