Organic Sessions
1.8 Billion+

#1 Ranking Keyword
40,000+


Organic Sessions
1.8 Billion+

#1 Ranking Keyword
40,000+

Local SEO Services in India - Best Local SEO Company for Local Business
Local SEO is a type of search engine optimization (SEO) that assists small, large, and franchise businesses in becoming visible on search engine result pages (SERPs) when a search is conducted with local intent. Any brand with a brick-and-mortar location serving a specific area can turn to local SEO services in India for assistance.
According to data, approximately 71% of people who are looking for a business in their local area turn to the internet for assistance. Around 46% of total Google searches are for local intent. Regardless of how solid your business model is and how strong your service network is, your target customers won't be aware of your brands if your website is not optimized for local search results. 
For example, if a resident of Delhi wishes to visit the best eateries or order food from a restaurant in the Connaught Place area, they will search for "best restaurant in Connaught Place" or "best restaurant with online food delivery in Connaught Place" on the Google search bar. If you are a restaurant owner in the same area, your website is optimized with these keywords, and you have garnered various positive feedback online, you might get this order. But, if your SEO strategy does not include local SEO, you will miss out on this opportunity.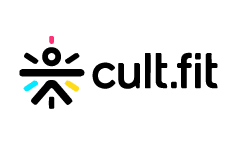 Cult.fit has gyms in various locations around the nation. They make group workouts fun, daily food healthy & tasty, mental fitness easy with yoga & meditation, and medical & lifestyle care hassle-free.
Infidigit helped cult.fit improve their Google Business Profile traffic by
+551% Increase in Website Visit     +208% Increase in Search Impressions
+551% Increase in Website Visit     
+208% Increase in Search Impressions
How does Local SEO in India Help Businesses?
You can succeed in business even if you don't have a website but only have a Google My Business (GMB) account and are listed in various online directories. This is the kind of potential that local SEO has. Local SEO makes your brand visible for location-specific searches. For example, if you own a clothing store in Mumbai and sell a bridal collection, your brand will appear when someone searches for the "best bridal clothing store in Mumbai." Local SEO raises the visibility of your brand and assists you in gaining customers both online and in person through your store. Local SEO is critical for increasing your company's conversion rate.
Why Infidigit as Local SEO Services in India?
1. Experience
Infidigit, known for providing the best local SEO services in India, has a team of experts with many years of experience working in various industries.
Infidigit, known for providing the best local SEO services in India, has a team of experts with many years of experience working in various industries. When you meet our team, you will notice that they come from various industries such as fintech, real estate, education, and so on. The knowledge they bring to the table from their SEO experience is what allows us to provide the best service to our clients.
2. Increase Visibility
Our SEO efforts go beyond simply making your company visible on search engines. We also strive to increase your visibility on various online platforms.
Our SEO efforts go beyond simply making your company visible on search engines. We also strive to increase your visibility on various online platforms. Our citation-building strategy ensures that you are not missing from any local directories. Infidigit's local SEO service goal is to make your business easily searchable regardless of the platform your prospects are using to look for the product you have in your portfolio.
3. Local Lead Generation
The entire goal of running an SEO campaign is to improve the company's ROI and increase sales.
The entire goal of running an SEO campaign is to improve the company's ROI and increase sales.
At Infidigit, we optimize your website and various local directories so that when a search is performed with local intent, your business appears at the top. This ensures that you get numerous local leads who all can be converted into buyers. 
4. Dedicated Team
SEO focuses on thousands of algorithms and hundreds of factors to improve the SERP ranking of any website.
As a site owner, you would like to know how your website is performing in terms of interaction. You would also like to know if the prospects are taking the actions you want them to take. Audit assists you in this by providing reports on each stage of your sales funnel.
5. Result Oriented
At Infidigit, we take a results-driven approach. Many local SEOs in India are solely concerned with improving the site's ranking.
At Infidigit, we take a results-driven approach. Many local SEOs in India are solely concerned with improving the site's ranking. But what if, despite ranking first, your website does not receive any clicks? What if you receive the click, but your prospects do not progress through your sales funnel and leave in the first few steps? In such cases, your company's ROI will suffer, and sales will remain stagnant. At Infidigit, our focus is on improving your sales through online mediums.
6. Regular Reporting
It is critical to monitor the performance of your website and the success of your SEO campaign.
It is critical to monitor the performance of your website and the success of your SEO campaign. At Infidigit, we provide weekly and monthly reports to help you track your ROI. These reports are also very crucial to us; they inform us of the aspects in which we are falling behind and the SEO elements in which we should reconsider our strategy. We deliver the best results by tracking what works best for your site and what does not.
1. Business Goals
Different clients have various goals. Some people want a quick result, while others prefer a gradual but long-term impact. Before beginning any project, our team spends time learning about your company's goals and expectations via an SEO campaign. We also try to understand your competitors and the market you are targeting. Infidigit then reviews your budget and presents you with various customized options. Following that, our team will move on to the planning stage.
2. Strategy Creation
We begin by analyzing your competitors who are currently dominating the Google search results. We review the type of content they publish, the appearance of their product and pillar pages, and various technical aspects of their website. We also examine their backlink profile to determine which sources are most frequently linking back to their site. Next, we analyze your website to determine the various types of issues. Once we have all of the information, our SEO expert will create a strategy based on it.
3. Keyword Research
Keyword research is the foundation of our local SEO campaign. You can win half of the SEO battle by simply placing the right search phrases in the right places. We create a list of low to high-level search volume keywords with local search intent at this stage. Following that, we sort the results based on highly competitive search terms, long-tail keywords, and common queries in your industry.
4. Content Optimization
If your company is limited to a single location, it is critical that your existing content is well optimized with keywords that have local search intent. Furthermore, the new content must revolve around the local search terms. We optimize your existing content, product pages, the home page, and the contact page with local search terms at this stage. We also provide you with a long list of topic ideas that, if the content is created on them, have the potential to drive a significant amount of traffic.
5. Local Based Pages Analysis
We review your web pages designed for local search intent. We also analyze your competitors' pages optimized for local search. This helps us determine where you lag behind your peers and where you outperform them. We examine whether the titles, meta descriptions, and content subheads of local-based web pages are optimized with keywords, including the name of your location. We also look at the kinds of comments and mentions you have on these pages.
6. Citations Audit & Building
At this stage, we compile a list of all local online directories and check to see if your information is correctly listed. Any inconsistency in your information across directories makes your site untrustworthy, and Google may downgrade your position. We also look out for directories where you are not yet listed. As one of the best local SEO company in India, our goal with citation building is to make your site easily searchable.
7. Local Backlinks
Link building is essential whether you are running a local SEO campaign or a campaign targeting a larger area. At this point, we attempt to obtain links from local resources. We also work with local media websites for link acquisition because they can help your business grow quickly. We further connect you with local influencers who will promote your brand on their website and social media platforms. Our guest post publishing strategy in this step focuses on local sites.
8. NAP Check
NAP is an abbreviation used for name, address, and phone number. It is essential in local SEO because it informs your prospects of where your business is located, what name you can be searched for, and what phone number they can call to reach you. Your business will suffer if the NAP is inconsistent across different web pages on your site or if there is a discrepancy in NAP across local directories. 
9. Reviews & Ratings
Customer reviews influence the majority of online purchase decisions. If your company has received positive feedback, both search engines and prospects will regard your brand as trustworthy. Positive reviews persuade search engines to rank your company higher in search results, assisting you in increasing sales. As such, we recommend that satisfied customers leave a comment on your website or directly review your GMB account. We also ask that they add reviews based on the keywords, as this will increase your visibility.
Local SEO Ranking Factors
Competing with global brands in your region can be difficult if you do not prioritize local SEO. If you are not sure why local SEO should be a part of your marketing strategy, here are the top reasons:
Since nearly 50% of all Google searches have a local intent, local SEO can help your site get more links by improving its SERP position.
The more clicks your site receives, the more quality leads you will get, which will ultimately improve your conversion rates.
It saves you money on advertising mediums such as hoardings, banners, local TV commercials, and so on.
Local SEO assists in increasing foot traffic to your offline store.
It has a long-term effect. With the right SEO strategy and execution, you can maintain your top position on the search results for a longer period.
Local SEO can help you gain positive reviews if you provide excellent service to your customers. As reviews influence many people's purchasing decisions, local SEO ultimately improves your sales.
Proper content backed up by data with local intent can help you gain links from nearby businesses.
FAQ's on Local SEO Services
Why is Local SEO important?
If you want to thrive in your business in a specific location, local SEO can help you. The key aspects of this kind of SEO include GMB listing, listing in local directories, NAP consistency across pages, and gaining links from local media and influencers. When a search is performed with local intent, it is a local SEO that places your brand at the top of the search results. It also helps to increase foot traffic at your physical location.
Why do I need a Google My Business account?
Google My Business (GMB) is essential for any local business that wants to succeed online. It tells your prospects where your company is located, how many branches you have, what hours you are open, and your phone number. You can improve your GMB profile's online visibility by adding more information. For example, you can post information about changes in working hours during special occasions, as well as information about your offerings.
Why choose Infidigit over other agencies?
Infidigit has a team of experts with prior experience working in various niches. Before beginning any project, our team thoroughly investigates the client's specifications. We then collaborate with the client's marketing team to develop a well-researched strategy that is supported by data and in-depth research on competitors. Our workflow includes keyword research, content optimization, web page optimization, content marketing, and link acquisition. We employ different strategies depending on the size of the company and the industry in which it operates.
Does your service include local SEO for small businesses?
Yes, Infidigit offers local SEO services to enable small and franchise businesses in gaining visibility in search results for geographically specific search intent. Our workflow for local SEO services includes nine critical steps.
Understanding business objectives and developing appropriate strategies
Creating a Google My Business account
Keyword research
Creation of new content and optimization of existing ones
Analysis of local competitors' websites
Local link building
Checking the consistency of your company's name, address, and phone number across multiple web pages
Listing your business in local directories
Promoting your business through local influencers
How long does it take to see results?
It typically takes three to six months for a new website to appear in search results. However, if your website has hundreds of web pages, it may take a little longer because larger websites require optimization of all pages, which requires more effort. Furthermore, the time it takes to dominate the search results is determined by the industry you belong to and the brands you compete with.