As the world has gone fully digital, search engines have become an essential part of our daily lives. Today, we use search engines to learn about everything — from looking up how long a commute is going to take and which latest movies to stream to even what to eat for lunch.
They help us learn, unlearn, and keep our finger on the world's pulse. In the professional world, search engines determine whether your business will be a sustainable one in the long run. Search engine optimization, or SEO, is undoubtedly the most important aspect of digital marketing.
The most common search engine, one that everyone is aware of and probably uses on a daily basis, is, of course, Google. Other than that, there are other common engines like Bing and Yahoo. But there are tons of other search engines out there, and the quick list of search engines below will help you learn about 26 of the best ones out there.
| Sr No. | Search Engines |
| --- | --- |
| 1 | Google |
| 2 | YouTube |
| 3 | Yahoo |
| 4 | Bing |
| 5 | Baidu |
| 6 | Yandex |
| 7 | DuckDuckGo |
| 8 | Ask.com |
| 9 | AOL |
| 10 | Amazon |
| 11 | Naver |
| 12 | CC Search |
| 13 | Twitter |
| 14 | Facebook Search |
| 15 | Search Encrypt |
| 16 | Swisscows |
| 17 | Wiki.com |
| 18 | Ecosia |
| 19 | Internet Archive |
| 20 | Wolfram Alpha |
| 21 | Startpage |
| 22 | Qwant |
| 23 | Gibiru |
| 24 | Boardreader |
| 25 | Givewater |
| 26 | Infinity Search |
List of Search Engines
There are tons of search engines currently vying for the internet's attention today. Everyone wants to be the next Google. Some want to be better than Google, while others want to offer up a completely new experience. So, without further ado, here's a list of search engines that are powered by great algorithms and snazzy features and offer their users the best experiences out there:
Let's start with the usual suspect here. Google may come with a variety of apps as part of its GSuite, but it is its search engine that gained it worldwide popularity. With an algorithm that's hard to beat when it comes to determining and putting emphasis on user needs, the Google search engine is hands down the best one in the virtual world. It comes as no surprise, therefore, that it dominates the entire search engine market. The lion's share of the user base visits the platform daily to look up everything from the status of the market shares to where to buy the best cat bed from.
Google also places a lot of emphasis on constantly upgrading its algorithm to provide users with the best possible experience. This is probably why it boasts of the most loyal user base, which has allowed it to annihilate all possible competition with ease. Today, digital marketers relate search engine optimization with optimizing for Google. Every business, blogger, and influencer bases their entire marketing strategy in a way that gains them more exposure on Google. So, it's perhaps safe to say that if any platform deserves the number one spot on a list of search engines, it is definitely Google.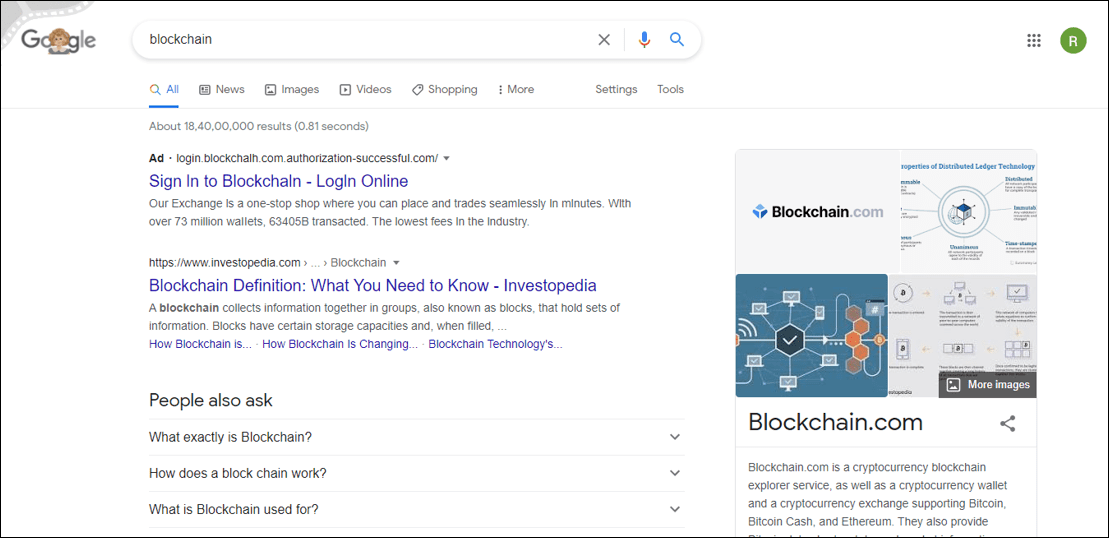 Also Read: Top Google Searches
Tailing closely behind the Google search engine is YouTube. It holds the title of the second biggest search engine in the world. Interestingly, it too is owned by Google so being the holder of second place does make sense in retrospect. This is, of course, only if you consider the integrated search option on this platform a usual search engine. YouTube's algorithm is designed to spider crawl through a whopping 500 hours of content that's uploaded on the platform each minute to give users the most relevant answers to their queries. Its algorithm focuses on three main things while coming up with these results. These are relevance, quality, and engagement.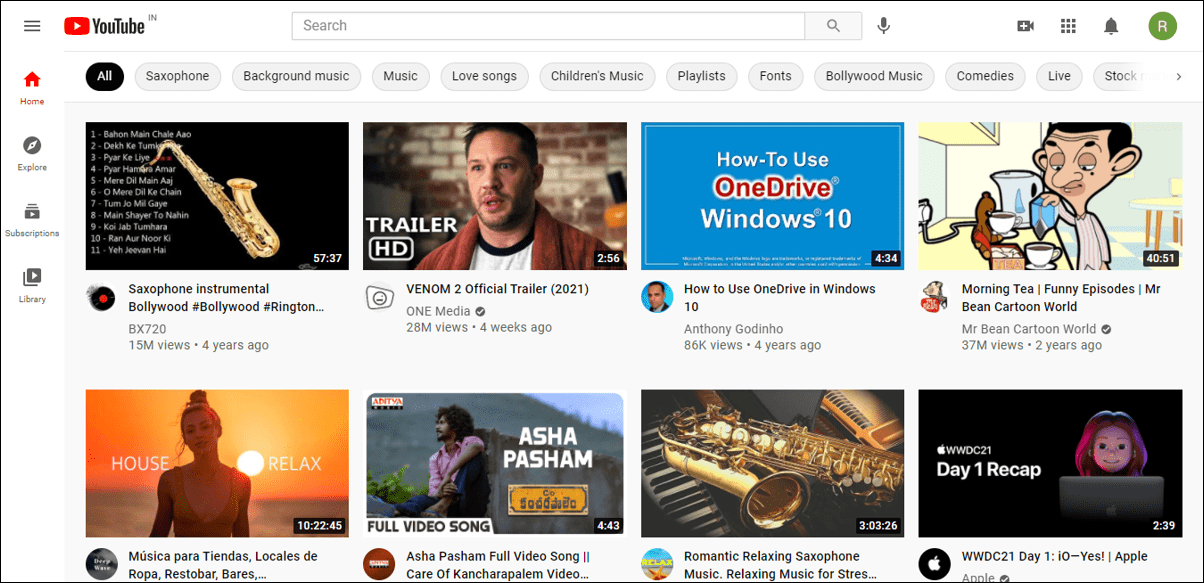 Also Read: Top Youtube Searches
Launched almost 30 years ago, Yahoo! Search is an engine that depends on Bing (of Microsoft origin) to come up with results. A massively popular Google alternative in the past, Yahoo also provided its users with a mail client (Yahoo mail), Yahoo Dictionary, Yahoo News, and Yahoo Maps. While Yahoo's popularity has taken a major nosedive since Google's search engine entered the market, it still stands strong as a popular option and sees a fair amount of search activity every day. Yahoo's charms lie in its user-friendly and easily navigable interface. Its search engine also boasts a powerful algorithm that allows users to compose emails right from the search bar.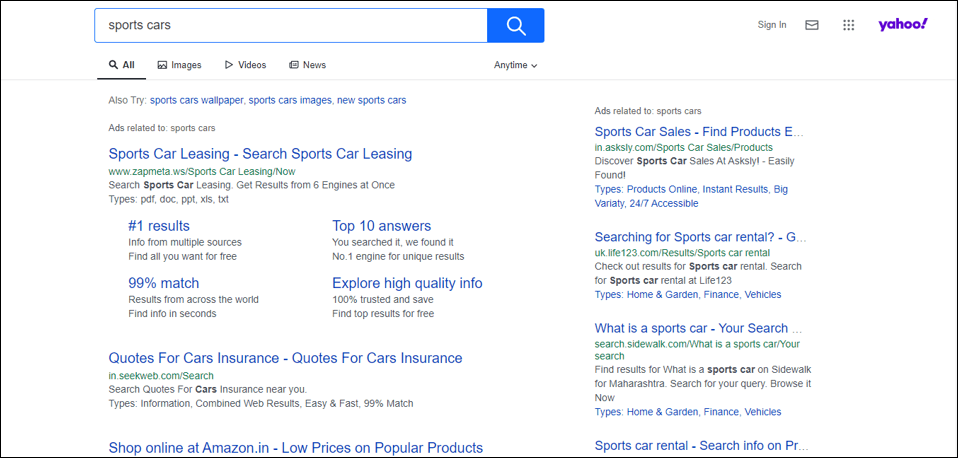 Launched in 2009, Bing is a Google search engine alternative designed and powered by Microsoft. While it still has quite a long way to go before it can rival Google's popularity, it still offers a fairly powerful search engine. Microsoft's own web browser uses it as its search engine by default. It lets you conduct video and image searches along with normal web searches. Bing also offers a Google My Business alternative in the form of Places. Since Bing sees a decent amount of traffic still, businesses can profit and gain a lot of exposure from optimizing their sites for Bing.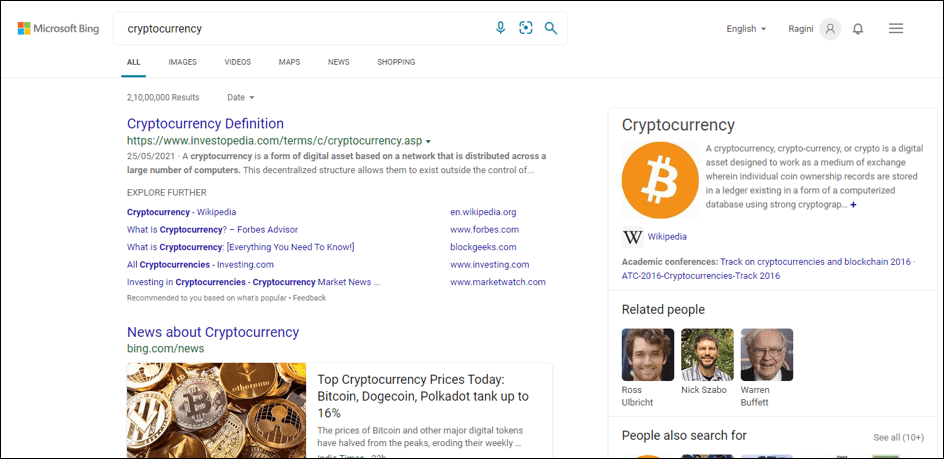 Launched in early 2000 by entrepreneur Eric Xu, Baidu is the most popular search engine in China. It has a powerful algorithm that offers its users relevant images, audio files, and website links in answer to their queries. Baidu also offers a host of other services like cloud storage, news, maps, etc.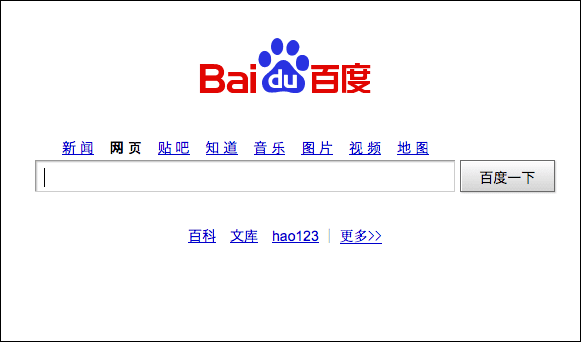 Another powerful search engine, Yandex was launched in 1997. It is currently the most popular search engine in Russia. But its influence actually stretches beyond the country too. Interestingly, Yandex is a popular search engine in countries like Belarus, Ukraine, Turkey, and Kazakhstan. Other than normal web search options, Yandex offers a bunch of other services like Yandex Music, Yandex Money, Yandex Maps, online translator, etc.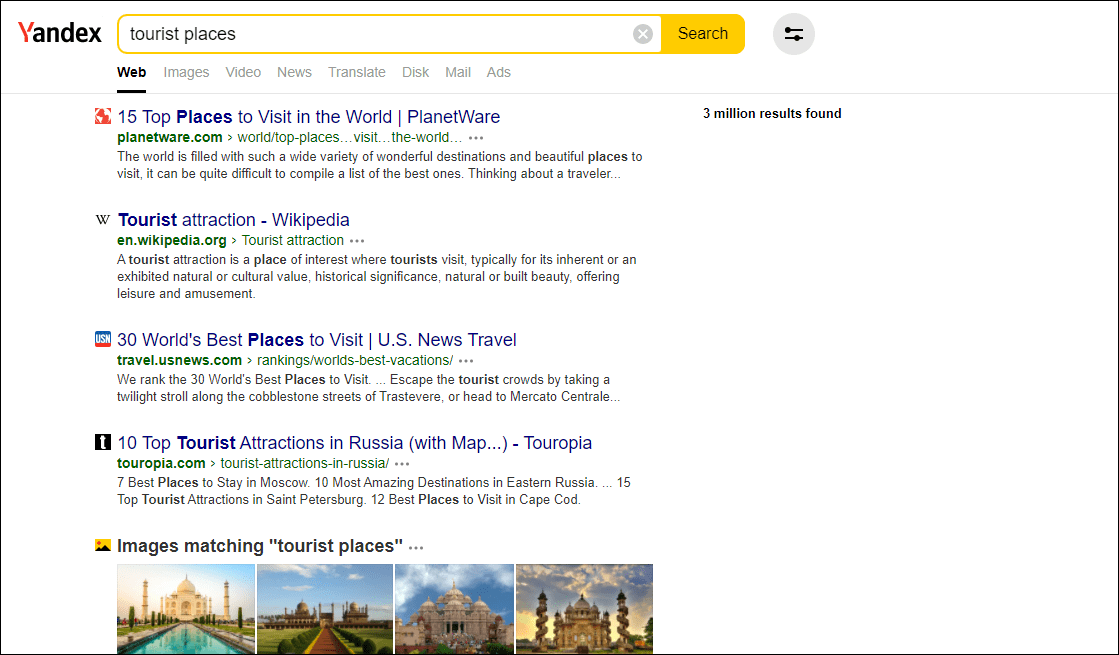 Launched in 2008, DuckDuckGo is a popular option not just for providing great results to its users. The search engine is actually known for how much importance it places on protecting user privacy and data. DuckDuckGo was founded by Californian entrepreneur Gabriel Weinberg. Today, it provides users with relevant answers to queries by leveraging their partnership with Yummly, Yahoo, and Bing. Most of its revenue and all the search results it generates are, thus, powered by the Yahoo-Bing partnership and its affiliates. And almost 3% of market share duckduckgo acquire in united states.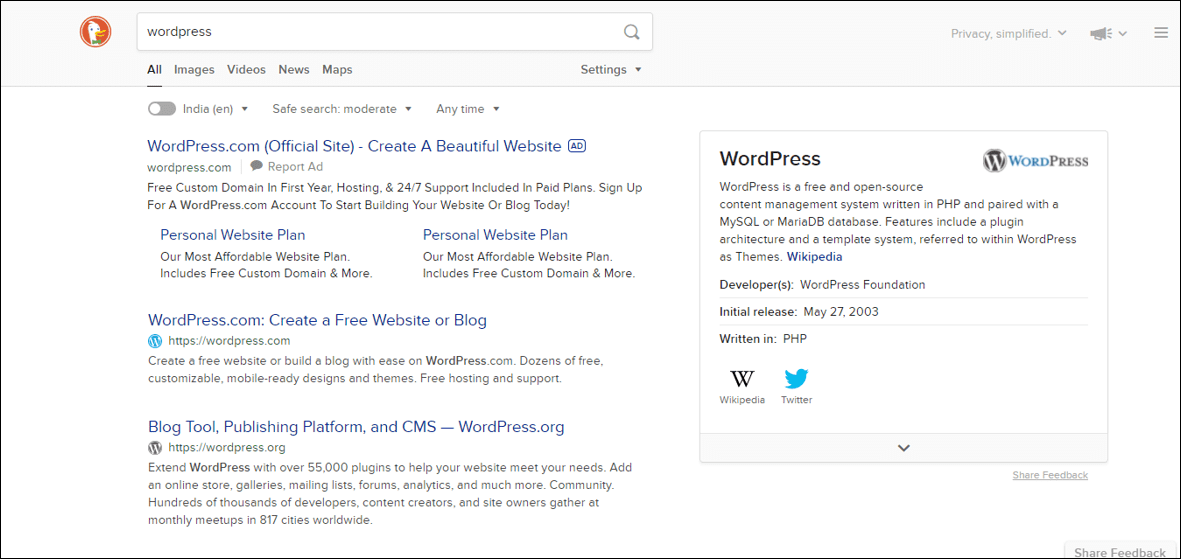 Once known as Ask Jeeves, Ask.com was originally launched in the year 1995. It works differently from other search engines in the way that its answers are powered by a simple question-and-answer format. Basically, when you input your query, the community-driven platform will go through a large amount of archival data to give you the most relevant answers. Also, active users can pitch in to answer queries. Problem is, the entire process of going through archived data to provide results can severely date the answers you receive. To counter this, Ask.com has partnered with a different search engine to provide more up-to-date results. But, unlike DuckDuckGo, they don't want to reveal who that mysterious search engine benefactor of a partner is.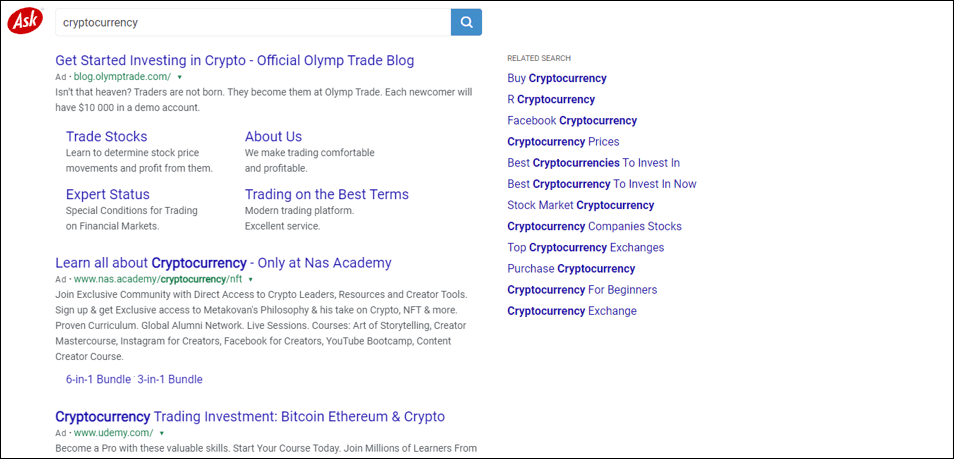 Originally founded in 1983 and named the Control Video Corporation, AOL is one of the original contenders in this game. Still a popular search engine option now, it used to once work by mailing CDs to its users so they could install the engine on their computers. In the year 1991, Control Video Corporation was renamed America Online. In 2009, it finally got its current name, i.e., AOL Inc. Once acquired by Verizon Communication for a whopping 4.4 billion dollars, AOL today offers plenty of services, like AOL mail, AOL advertising, and AOL platform, other than a search engine.
Also Read: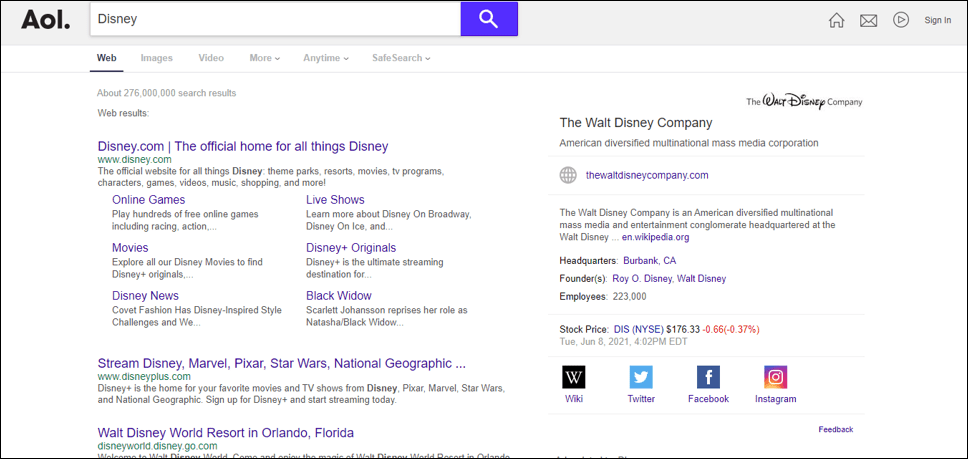 Most people tend not to be aware of this, but Amazon has a search engine of its own. Known as A9, it powers Amazon's shopping website and other platforms. If you are among the millions of users who have used the Amazon shopping app search bar or Prime Video, you have used A9. Currently, Amazon's search engine, A9, is the most powerful e-commerce search tool in the world. This means that it is extremely important for businesses and marketers to optimize their domains for A9's powerful algorithm.

A South Korean search engine, Naver falls under the Naver Corporation. First launched in 1999, it was actually the first South Korean platform to use its very own search engine. Other than the search engine feature, Naver also offers a mailing platform and Knowledge iN, an online Q&A platform. Interestingly, Naver was the first operator in the world to offer a comprehensive search feature. To simplify, it collects results across different categories and presents them all on a single page.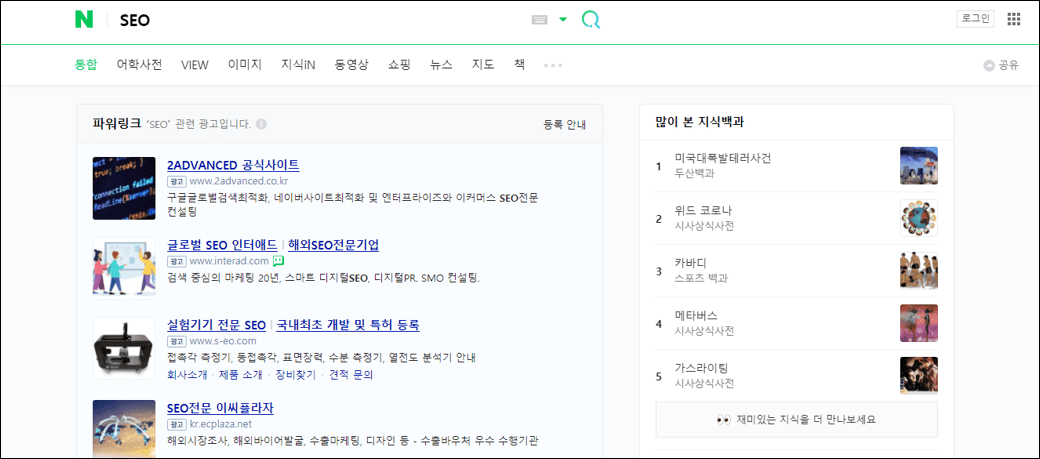 CC Search is meant for one thing and one thing only — to provide their users with copyright-free, i.e., Creative Commons media. As the hub of copyright-free content, CC Search is where you go when you want free images for your site or copyright-free audio files to add to your video. CC Search works by leveraging the content on Wikimedia, Flickr, and Soundcloud only to give you results that are marked as Creative Commons and are, thus, copyright-free.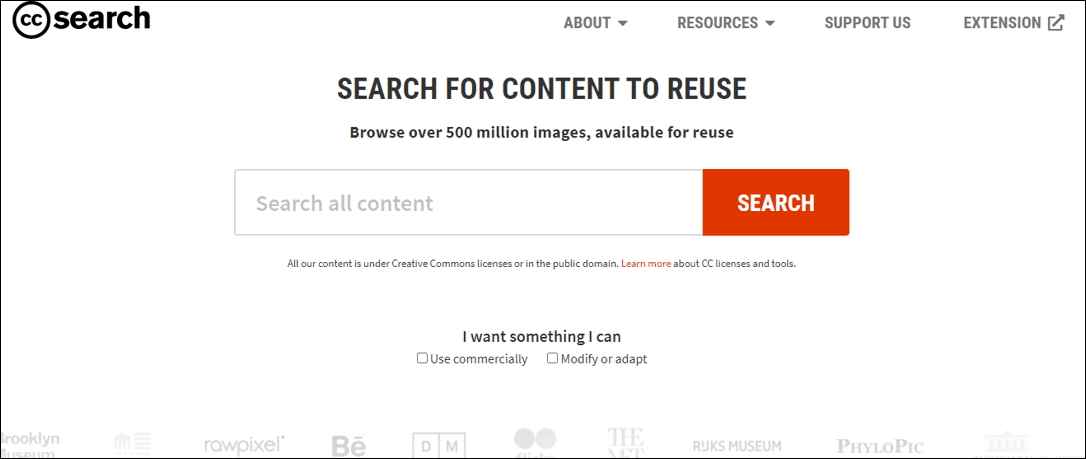 Twitter uses an open-source search engine known as Lucene. Lucene uses a powerful algorithm and JavaScript to crawl over a billion queries a day and offer users the most relevant and accurate answers to their queries.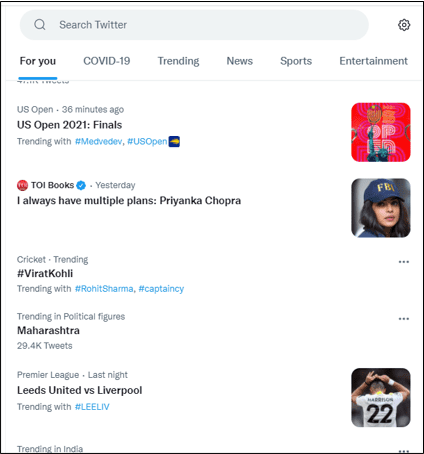 Facebook has a powerful search engine that is used by its millions of users on a daily basis. With just a few keystrokes, one can find out everything that has ever been posted about by a business or an individual online.
Search Encrypt is another great search engine platform that focuses a lot on protecting user privacy and data. It is a private search engine that makes sure that your search queries remain private by leveraging local encryption. It uses methods like AES-256 encryption and Secure Sockets Layer encryption to achieve these results. It works with a host of partners to provide relevant information to users when they input a query. The best part? All the information that you plug in expires eventually so there is no need to worry about your search history being seen by others even if you share your computer with someone else.


Unlike others on this list of search engines, Swisscows make use of artificial intelligence to provide relevant answers to its users. They are great at protecting user privacy and never store or track your data. While it is still an evolving platform, using it enough can help it provide users with relevant and accurate answers to their queries.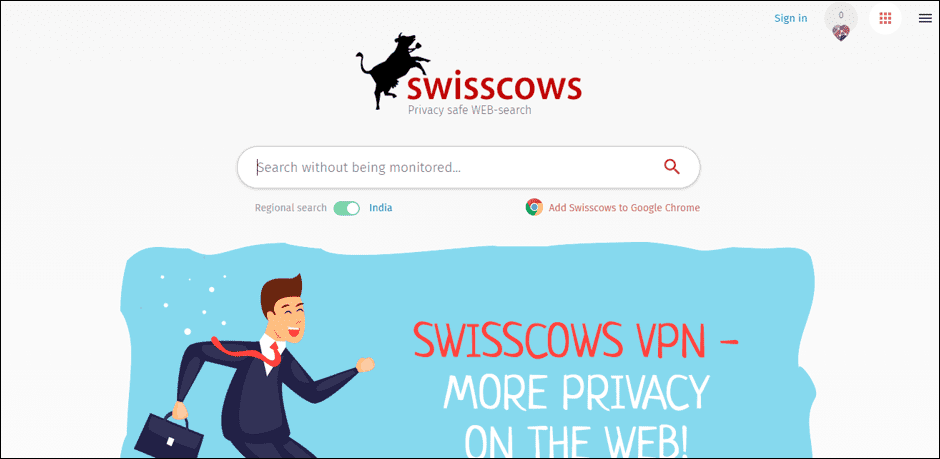 Wiki.com is a community-first platform. This means that it leverages the power of its online community to come up with answers to your query. It works by having its algorithm analyze the keywords in your query and accordingly pull the answers from the host of wiki media pieces on the internet.

Do you take pride in caring about the planet and being a sustainability enthusiast? Then Ecosia is definitely the answer to all your search engine needs! Being an eco-friendly search engine, Ecosia plants a tree for every 45 searches done on the platform. This makes it a great alternative to Google, whose search engine actually contributes to a large amount of carbon dioxide emission and, consequently, climate change.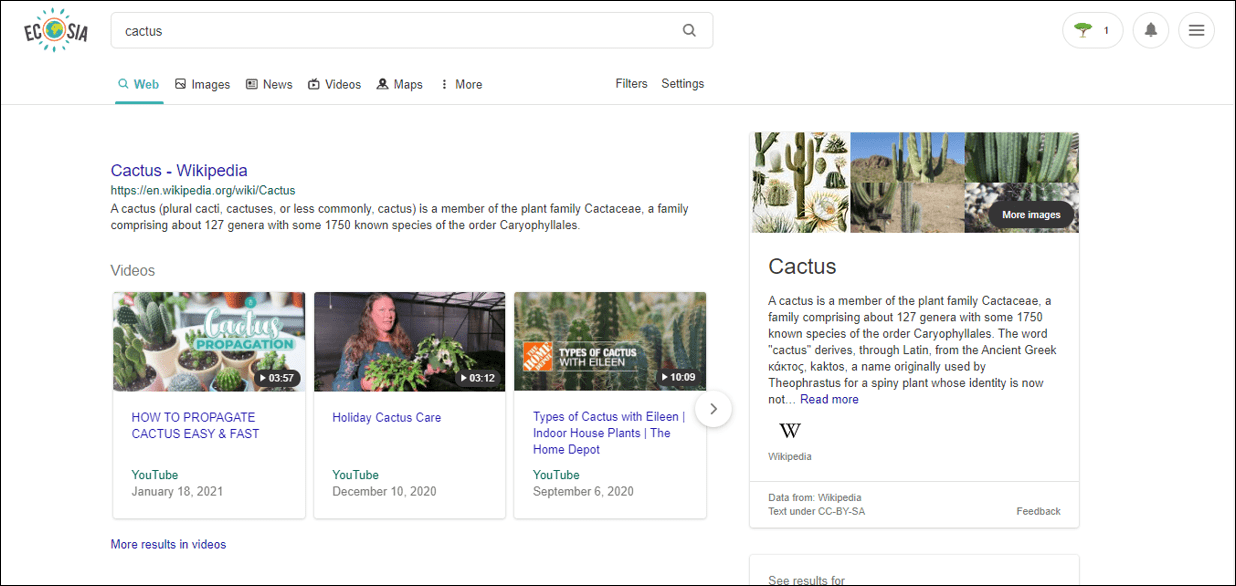 The Internet Archive is another search engine designed to offer up only one kind of result. You can use it to track how any site on the internet has looked since the year 1996. This is an archive that indexes and stores relevant domain data so researchers, marketers, and simple enthusiasts can trace how any website has changed since the moment of its creation.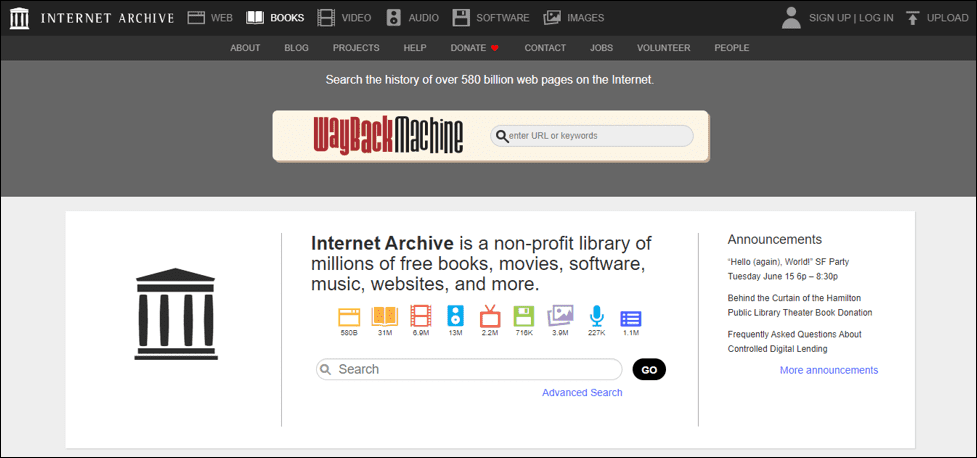 Created in 2009, Wolfram Alpha is a search engine that is powered by computational knowledge. It does not offer up web links or media results as answers to user queries. Instead, all the results come from data and facts available about the search query. Wolfram Alpha, thus, takes an interesting approach to the entire process and aims to make systematic data widely accessible and computable. Of course, the search engine is not for everyone but has a lot of potential when paired with the right audience. Wolfram Alpha also comes with a Pro version that targets Educators and Students.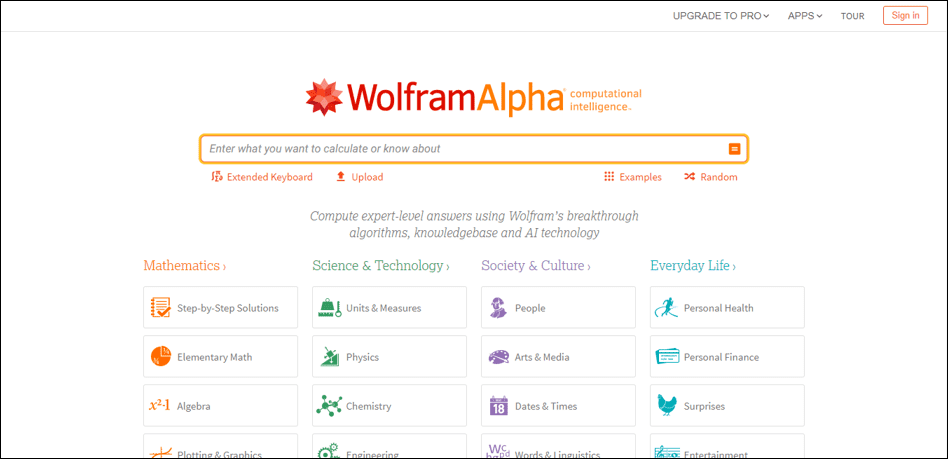 Love Google's search engine but don't quite want to have all your data tracked? Startpage may have the solution. This search engine works by offering users answers to queries directly taken from Google. Keen on protecting user data, it comes with HTTPS support, a URL generator, and a proxy service. The URL generator can come especially handy because it lets you avoid collecting cookies and, thus, having your data collected by multiple websites on the internet.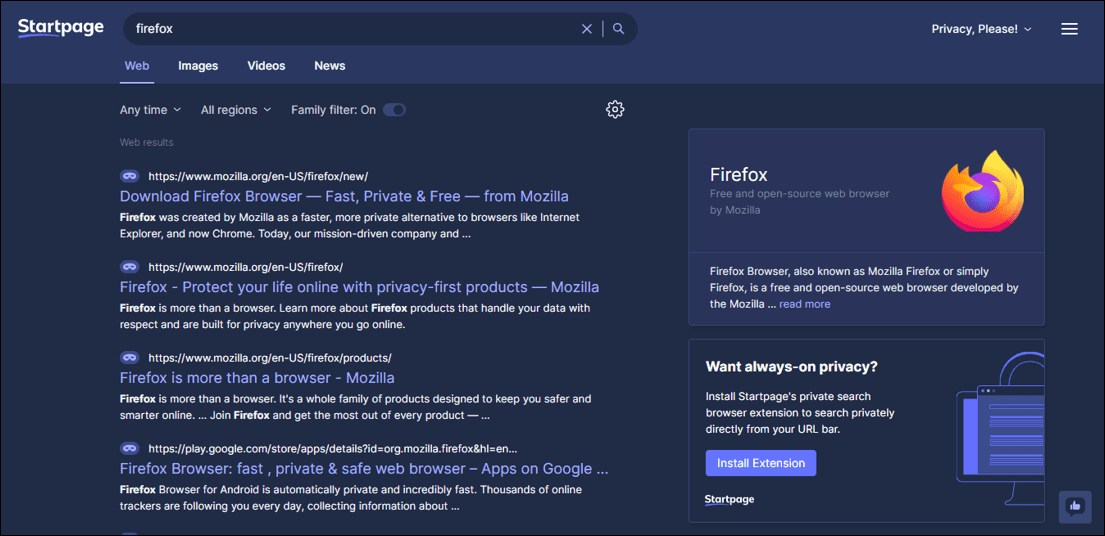 Available in 26 different languages, Qwant was originally founded in the year 2013. It is actually one of the very few EU-based search tools that use an original indexing engine. It also emphasizes the protection of user data and privacy. Consequently, it does not offer a customizable experience to its users. The 86th most popular domain in France in 2019, Qwant's algorithm tackles over a whopping ten million queries each day.
23. Gibiru
Gibiru offers another search engine that provides users apparent protection over Google's tracking. Users can, thus, put in queries without worrying about being tracked. Gibiru promotes itself as "…the preferred Search Engine for Patriots" and refuses to force users to collect cookies just so they can find relevant answers to their queries. According to their claim, it does this by offering up a modified version of Google's algorithm that allows one to sail through the web without leaving a trace or having their data tracked. It also claims to be faster than "NSA Search Engines" because of this very thing. Since they don't use cookies, there is nothing slowing down the process of generating relevant results for their users.
24. Boardreader
Want to find a forum or community message board for a particular subject? Boardreader is the answer. The search engine works by taking the keywords in your query and plugging them into their algorithm to find you an array of the most relevant forums and message boards on the web.
Like Ecosia, GiveWater is another search engine that strives to create a positive social impact. GiveWater's motto is to solve the water crisis all over the globe. It uses its resources and revenues to create appropriate sanitation systems and bring clean water to the needy in developing countries.
Based out of Tulsa in Oklahoma, Infinity Search focuses on giving users an easily navigable and perfectly personalized experience. A search engine powered by Innovare Technologies, it works by taking your query and collecting results from its own index and those of other engines to offer you the most accurate results. The cherry on top is that it does it all by not tracking your data or violating your privacy. Your browsing experience can also be taken up a notch using Infinity Search's blacklisting and CSS services. Basically, if you don't want to see results from a certain site, you can blacklist it using Infinity Search. You can also edit your CSS settings to further personalize your experience.
Pick The Right Search Engine For Your Needs
It might seem tempting to just Google everything as a user since we have become so accustomed to it. But there are plenty of options to choose from for search engines, each offering its own unique set of features.. Considering all the elements like privacy, filters, capabilities, accuracy in results, and much more, you can determine which search engine fits your use case the best as a primary driver for searches. All you need to do is go through this list, and make the decision!
Conclusion
Search engines play a key role in not only helping the users in finding what they're looking for but also driving businesses' growth all across the globe.
The existence of different search engines might set a competitive stage for them, but their purpose is the same – to offer results of what the user is looking for. And mostly, users look for products and services. Hence, businesses need to be intact with their search engine domain knowledge, so they can enhance their presence on search engine results to capture more users. A professional SEO company like Infidigit can help businesses not only enhance their presence but also ranking higher on search engines to establish domain dominance
FAQ's:
Which are the Top 5 Search Engines? 
If you own a website, you should be aware of the list of search engines that can assist you with content marketing and search engine optimization (SEO). The top five search engines across the world are Google, Bing, Yahoo!, Ask.com, and Baidu.
Which is the World's Largest Search Engine? 
Google is the largest search engine in the world. It accounts for more than 70% of the total global search share. However, Google is up against fierce competition from Bing in the United States. The latter accounts for approximately 33% of total searches in the United States.
Which Country Uses Google the Most?
Google is extremely popular all over the world. However, when it comes to which country uses it the most, India is the answer. Google has a 94% market share in India and in united states it is 87.7%. Brazil comes in second with 89.11%, followed by Italy with 88.54%. Google's home country is ranked 11th, with a market share of 75.78%.
What's Better, Google or Bing?
Bing and Google both have their algorithms to decide any site or web page ranking. Google prioritizes the quantity and quality of backlinks. On the other hand, Bing places a premium on social signals, on-page optimization, and a few other factors. Google is superior in terms of marketing due to its market share.
How do Search Engines Make Money?
There are two types of search results on the search engine; organic and paid search. When you have a strong SEO strategy and strictly adhere to search engine algorithms, your site earns a spot on search engines through organic search. On the other hand, paid searches are when you pay a set amount for each click on your ad. Such searches quickly rise to the top of search results. In organic search, you may need to work on the site for six to twelve months to gain better visibility. Paid searches are the primary source of revenue for search engines.
How to Remove Bing from the Default Search Engine?
Different web browsers have different methods for removing Bing as the default search engine.
Here's how to proceed on Chrome.
Go to Google Chrome and navigate to the "Options" represented by three vertical lines.

Tap on "Settings" and under "Appearance", delete the Bing web address.

In the new tab, go under the search engine section and click on the drop-down menu. Choose the search engine you intend to use other than Bing. 

After that, click "Manage Search Engine." Then, on the right, click "More Actions" to remove Bing from the list.

Return to Settings and navigate to the "On Startup" section. If you find Bing under "Open a specific page or set of pages," remove it.

When you exit the Settings page, your changes will be saved.
How to Make Google the Default Search Engine?
You can set Google as your default search engine by following these steps:
On Google Chrome:
Open your browser

To the right of the address bar, there are three vertical dots; click on them and select "Settings" from the drop-down menu

Navigate to the search engine section and click on the browser shown in the "Search engine used in the address bar" section and choose Google
On Mozilla Firefox:
Open your browser

Tap on the three horizontal lines visible on the top-right

On the drop-down menu, choose "Settings.

Tap on the "Search" tab available in the sidebar menu

Under the "Default Search Engine" section, change your search engine to Google
On Microsoft Edge:
Open the browser

Navigate to the window's top-right section and tap on the three horizontal dots. After that, select "Settings" available at the bottom

Select "Privacy, search, and services" available on the left of the page in the sidebar menu

Scroll the cursor and select "Address bar and search."

In the "Search engine used in the address bar", change your browser to Google
Popular Searches
List of Search Engines | Top Google Searches | Importance of Digital Marketing | Importance of  Website | Youtube SEO Tools | Types of SEO |Website Structure | Benefits of SEO | Cloaking |Google Sandbox | SEO Friendly Website | Blog Commenting for SEO | Server Side Rendering Vs. Client Side Rendering | Youtube Trends | Types of Sitemaps | Social Bookmarking |Off Page SEO Checklist | HTTP Status Codes | Vanity URL | SEO Vs. PPC | Best SEO Blogs | Benefits of LinkedIn Ads | Keyword Density | How to Use Keywords in Blog Posts | Website Migration | Digital Marketing Types | Search Engine Optimization | Canonical Tags | On Page SEO | What is Off Page SEO | Link Building for SEO | Image Optimization | SEO Company in Boston | Dallas SEO | SEO Company Houston