Google recently revealed Googlebot only uses first 15MB of a page's HTML for crawling and indexing purposes.
Below is the update:
"Googlebot can crawl the first 15MB of an HTML file or supported text-based file. Any resources referenced in the HTML such as images, videos, CSS, and JavaScript are fetched separately. After the first 15MB of the file, Googlebot stops crawling and only considers the first 15MB of the file for indexing. The file size limit is applied on the uncompressed data. Other crawlers may have different limits."
This clearly indicates the threshold of 15 MB only applies to the HTML script, it's not inclusive of other elements such as images or videos.
With the release of this update there has been a lot of commotion as to understand how much is 15MB? In theory, this number sounds worrisome, however, 15MB is a considerably large amount of HTML. Below is a post by Mark Williams-Cook that will help you easily understand how much exactly is 15MB.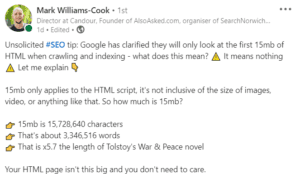 Yes, you read that right! An HTML file with a file size of 15MB is worth 15,728,640 characters that roughly comprises of about 3,346,516 words.
In short, there's nothing for SEO's to worry about unless you've loaded your web page with AI generated content that's fetching from every PAA box summing up your HTML file size to 15MB.
Popular Searches
SEO Services  | SEO Agency | Pay Per Click Services | Ecommerce SEO Services  | Website Audit Services | Local SEO Company | ASO Services | Professional SEO Company | Enterprise SEO Company | Google Penalty Recovery Services |  What is a Blog | What is Sitemap | On Page SEO  |  What is Digital Marketing  |  Types of Digital Marketing | Google Reverse Image Search | What are Breadcrumbs | SERP |  Top Youtube Searches | SEO Tools | Landing Pages |What is Cloaking  |  Types of SEO | SEO Interview Questions  |  Zero Search Volume Keywords