As per Google, there is 40 billion spam detected every day, a 60% increase when compared to the previous year. This spam set includes hacked sites, fake websites, and other different forms of web scams and fraud.
Google has made a prominent advancement in its AI, which will reduce sites with auto-generated and scraped content showing up in its search results by more than 80% compared to a few a couple of years ago. Google also said that they had improved the detection capabilities by more than 50% resulting in the removal of hacked and spam from the search results.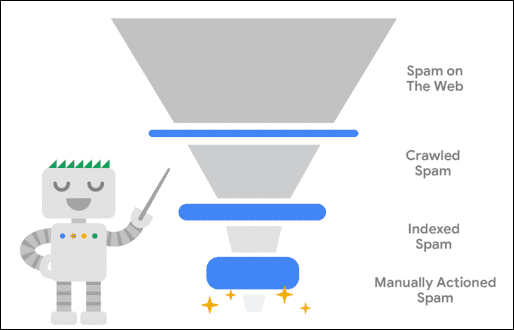 During the pandemic, Google said that they had focused a lot on protecting the searchers from misinformation; they made significant progress in improving the coverage and protecting the users from online frauds and scams.
Due to the same reason, Google continues to grow, and the searchers seem to come back and search for more queries. As search marketers, we are pleased when Google doesn't show spammy, low quality, and harmful websites over the SERPs.
Popular Searches
SEO Company India  |  SEO Company Bangalore  |  SEO Company in Delhi  |  SEO Agency  |  SEO Consultants  |  SEO Services India  |  Ecommerce SEO Services  |  SEO Audits Services  |  Google Penalty Recovery Services  |  Local SEO Services  |  PPC Services  |  App Store Optimization Services  |  Conversion Rate Optimization Services  |  Enterprise SEO Service  |  Organic Traffic  |  Alt Text  |  301 Redirection  |  SEO Mistakes  |  Bounce Rate  |  Sitelinks  |  List of Search Engines  |  What is SEO  |  LSI Keywords  |  Anchor Text  |  How to Find Long Tail Keywords