Google answers questions regarding images that appear for a Google search result and whether we have any control over them.
Images shown in Organic Search results
The Google Search Engine Results Page (SERP) has seen numerous alterations and enhancements throughout the years. One of these additions is Google showing images for organic results in Google Search.
They look something like this: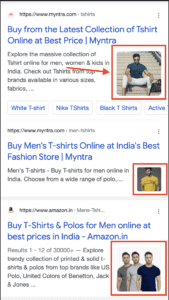 The SEO community has been trying to find information on how we can influence the images shown in search results. In a recent English Google SEO office-hours session help on January 21, 2022, Google's John Mueller addressed this question.
Do we have any control over images shown in search results?
According to Google's John Mueller, there is no way we can control the images shown in search results. The Google Search algorithms select the images as it believes that it is something that would benefit the users.
"It's really just we recognize these images are on these pages. And for whatever reason, our algorithms think that, for users, showing some images or the snippet images would help them to decide which of the results to click on. So from our side, it's something like, yes, we are showing images and snippets. And I think, in the past, we didn't do that so much. But it's not based on anything specific that you can control", said John Mueller – Webmaster Trends Analyst at Google.
Is there any schema markup that can help in this?
When asked whether there is any schema markup that can help in showing images for our search results, John Mueller stated that there is currently no specific markup for this.
"From our side, these are essentially just a kind of snippet. So it's not based on any particular markup that you're doing on the pages. It's not something specific that you define on the pages", said John Mueller.
Need for an official documentation
In the Google Google SEO office-hours session, the user pointed out the randomness of the images shown in search results. 
"But sometimes it picks one, sometimes six, sometimes no images, even though there are images on the landing page. So I don't see the connection why or where this decision happens to show or not to show an image", said Markus – an attendee of the session.
John Mueller recognized this, stating that proper documentation for image snippets displayed in search results is required.
"Yeah, I don't know what we can do to make it a little bit easier to understand. Maybe we should at least document that we do show images in the snippet, and that it's not something that you can easily control. That's a good point."
Key Takeaway
Ever since images have started appearing for search results, there has been a dilemma on whether we can influence it in any way. Some SEO experts claim to know how to influence this, but what works for one person may not necessarily work for another. Until there is no official documentation or schema markup, the best practice would be to optimize images on the page. Use the proper aspect ratios and resolutions, as well as formats like WebP that will help you compress the size without sacrificing quality, and use keyword-rich anchor texts. Focus more on providing the best experience for your users.
You can watch the entire discussion on Image snippets in Google Search Results here:
Related News articles:
Semrush acquires Brian Dean's Backlinko
Page Experience Report for Desktop is now available in Google Search Console
Changes in URL structure can affect your SEO Performance
Google Autocomplete gets a redesign with additional sections
Google is developing a new Core Web Vitals metric, and they want your feedback!
December 2021 Product Reviews Update announced by Google
November 2021 Spam Update announced by Google
November 2021 Broad Core Update announced by Google
Popular Searches
SEO Company | SEO Agency | SEO Consultants | SEO Services | Ecommerce SEO Services | SEO Audit Services | Google Penalty Recovery Services | Local SEO Services | PPC Services | App Store Optimization Services | Conversion Rate Optimization Services | Link Building Services | Content Marketing Services | Enterprise SEO Services | Amazon Advertising Agency | Professional SEO Services | List of Search Engines  | What is SEO  |  Types of Digital Marketing  |  What is Google Tag Manager  | On-page SEO Services  |  Off Page SEO Activities List