In today's digital world, it is important to be in the know about all the ways you can gain more organic traffic on your website. While terms like SEO-friendly website design, technical SEO, image optimization, and more are thrown around by everyone in the industry, they can be quite overwhelming for beginners.
In this article, we will focus on why creating an SEO-friendly website is important, and how you can seamlessly do it.
What is an SEO Friendly Website? 
In simple terms, an SEO-friendly website makes it easy for search engine crawlers to assess the website and get a good understanding of its structure and content.
Let's explore how to make SEO friendly websites and the most important characteristics of one:
1. Unique Title and Descriptions for all Pages
For an SEO-friendly website, all its web pages should have their own unique meta titles and descriptions. The titles usually range between 50-60 characters, and the descriptions can go up to 155 characters. These titles are crucial for search engine indexing, as they precisely tell visitors what the webpage is about.
2. Clean URL Structure 
The URL of your webpage must be clean and follow the best practices for search engine indexing. For permanent links, you must ensure that they are all lower case, descriptive, separated by dashes, and possibly contain keywords organically for more visibility.
3. Fast Loading Webpages 
No one wants to open a webpage that is too slow to load. To make an SEO-friendly website, you must ensure that a thorough SEO audit is conducted on your website to find out what can be done to improve the loading speed of your pages. Activities like image optimization can help you in increasing the page loading speed and give your website an advantage over the slower websites for the ranking algorithms.
4. Unique Content 
You must ensure that the content on all your pages is unique and not plagiarized. Search engines flag websites with plagiarized content and this can significantly reduce your website's SEO friendliness.
5. Optimized Images
Website images with a large size can increase the page loading speed, which is not a good thing for your website. You must ensure that your images are optimized and also add alt text for the search engine crawlers to understand what the image is about.
6. Create Proper Content Structure 
You must ensure that your website has a proper content structure, as it makes it easy to index the website. The general structure of your webpage should have these elements:
Header

H1 Tag or Page Title

Content with Subheadings (H1, H2, H3… tags for well-structured content distribution)

Author Bio/Information, Sharing Options

Footer
7. Responsive Website
Your website's pages should be responsive on any device they are visited on. You must fix any discrepancies if your website or pages are unresponsive on any type of device, to keep its SEO health intact.
8. Internal Linking 
Internal linking creates a well-rounded map of your website for search engine crawlers. It helps crawlers in associating relevant web pages together and creating a strong internal architecture to boost your website's SEO friendliness.
9. Mobile-friendly
The website should be optimized for mobile devices to provide a seamless user experience across all devices. This is also important for search engine rankings, as mobile-friendliness is now a key factor in search engine algorithms.
Why is Having an SEO Friendly Website Important for a Business?
Now that you know about what makes a website search engine friendly, let's dive into how it is beneficial for your business.
1. Helps in Increasing Organic Traffic 
An SEO-friendly website can improve its visibility in search engine results pages, which can lead to increased traffic to the website. This increased traffic can help businesses reach a wider audience and potentially generate more leads and sales.
2. Increases Your Brand Credibility 
If your website ranks on the first page of search engines, users are more likely to trust it over the others options. This is a great way of increasing the brand credibility, not only for users but also for the search engine themselves.
3. Cost-Effective
SEO is a cost-effective marketing strategy compared to other forms of digital marketing. By optimizing their website for search engines, businesses can potentially attract more traffic and generate more leads and sales without spending large amounts of money on advertising.
4. Improves User Experience 
An SEO-friendly website is designed to provide a good user experience, with well-organized content, easy navigation, and fast loading times. This can help keep users engaged with the website and improve the chances of them converting into customers.
An SEO-friendly website is designed to provide a good user experience, with well-organized content, easy navigation, and fast loading times. This can help keep users engaged with the website and improve the chances of them converting into customers.
Tips for Creating an SEO Friendly Website
1. Use Responsive Design to Connect with all Device Users 
In today's digital age, you never know what device users might visit your website on. According to a recent report, over 54% of the searches in 2020 were done from smartphones. Hence, it is imperative that your website has a responsive design. It is an imperative element that can help drive online success for your business. User responsive design is one of the most crucial elements of creating an SEO-friendly website design. 
Responsive design adapts your website to all types of devices and fits in based on user searches. Whether they are opening it on a tablet or a laptop, users will be able to operate the most suitable version of your website.
To understand this even further, consider that all devices have different screen sizes and resolutions. A responsive website design helps your website adjust to the dimensions accordingly based on what device it is being visited on. This ultimately enhances the users' experience and helps them surf through your website without any hassles.
You want your users to stay on your website for as long as possible, as it sends a positive indication to Google about your website's adaptiveness and UX. Users would rather visit an optimized competitor website if they are not able to explore your website on their device smoothly. Moreover, having a responsive design will also help you in attaining higher rankings on Google as the search engine would consider it relevant to the search intent of the users.
2. Include Targeted Keywords in Your Website Content
Creating unique and valuable content is one of the most important parts of any website. It helps your website in driving traffic and generating valuable leads. Website content boosts your domain authority and helps drive high-value leads based on relevant search terms. Targeting relevant keywords in your domain is an absolute necessity to increase the visibility of your content. Targeted keywords help your website in ranking higher on SERPs for the relevant search queries/terms.
Finding these targeted keywords requires comprehensive keyword research, which allows you to find high and low competition keywords in your domain. It also highlights the value of those keywords and how or if they can be used in your content strategy.
For instance, long-tail keywords are usually low-competition keywords that are very targeted. They are generally three or more words and are very specific, which helps in generating more qualified leads. For instance "top-rated insurance company in Bangalore" is a long-tail keyword that can help in generating valuable traffic and qualified leads for websites using it.
The next step after finding targeted keywords is to choose the best format of content that fits your marketing goals. You can pick from multiple types of formats like infographics, videos, blogs, ebooks, etc. After choosing your preferred formats, it is time to create valuable content with the targeted keywords.
You would want to ensure that the content created is not only educational but also easy to understand for your target audience. Organically infusing targeted keywords into this content will help your web pages in appearing on the relevant SERPs.
Smartly use targeted keywords in your content, and make your website more SEO friendly. It will improve the overall performance of your web pages, and be more noticeable in the eyes of search engines.
3. Optimize Header Tags
Header tags are perhaps the most important aspect of creating structured and recognizable content for search engines. Optimizing your header tags can prove to be very beneficial in making a website SEO-friendly.
The headings which describe the beginning of a particular section in content should have a header tag. For instance, this subheading is an H3 tag, while the title of this page is an H1 tag.
While optimizing your headers, you must incorporate the most relevant keywords into them organically. For instance, the title of your content should have the primary keyword in it.
This incorporation helps search engine crawlers get the context of what your content is about and index the page accordingly. It also helps in increasing your ranking for the particular keyword used in titles and subheadings.
You can use secondary, LSI, or even long-tail keywords in the smaller headings like H2 or even H5. This would help the crawlers in understanding how deep your content goes into the main topic, and the diversity it has.
4. Optimize Your Meta Descriptions to Boost Clicks 
The first thing that you see whenever you put a search query on Google is the title of the result pages. What you see underneath it is a small description of the relevant information about the topic, giving you a sneak peek into what the content on the webpage has. This small sneak peek is the meta description of your webpage.
Let's take an example. For the search query "how to build a gaming PC", the meta description of the top-ranking result is "Ever wanted to build your own PC? We have a step-by-step guide & short tutorial videos you can use to build a gaming PC / streaming PC" 
This meta description is precise and tells the users exactly what the webpage has. Before even clicking on the link, the user knows that they will find a step-by-step guide on building a gaming PC on the page.
To make your meta description optimized you must make it relevant, short, and possibly include a targeted keyword to boost the page's ranking. The character limit of a meta description on Google SERPs is 155 characters. You must create a meta description that is below 150 characters or the text above the character limit will be replaced by three dots. This will look a bit odd and might cut off your sentence at a crucial part which might have been helpful for the readers.
5. Focus on Increasing the Readability of Your Content
There are many elements that go into creating an SEO-friendly design and it's easy to forget about how the content itself looks. When performing SEO optimization, ensure that the readability of the content in each webpage is on point. It really won't bring you any value having unappealing content even if your website design is world-class. While the design's job is to set the aesthetic impression, the content determines how the remaining impressions are.
This is the more human element of creating an SEO-friendly website. Google always prefers websites that fulfill the needs of the users and pleases them. This again factors into the whole user experience and significantly impacts your website's SEO-friendliness.
Choose the most fitting font for your content based on your website design and pick the most fitting font size. Also, mix up the font colors with the general text having the most readable color, anchor texts for internal linking or external linking should have a different color to make them distinguishable, headings or subheadings having bigger font size, etc. For instance, a light yellow font color would be almost unreadable on a white background; and having your subheading the same font size as the content might not get the point across to the readers properly.
Usually, seeing a long paragraph can intimidate the reader, and also can prove to be unreadable for users with a short attention span. Try to break the content's format down even further to increase its readability by using bullet lists, points, etc. This technique makes the information easily digestible and keeps the readers engaged.
Another element you can incorporate to increase the readability of your content is infographics. Infographics are a great way of condensing complicated information and presenting it in a simple and digestible format for readers of all kinds.
6. Improve Page Load Time 
This point was discussed previously but is worth bringing up again due to its high importance. Make sure that every way you can optimize your website's loading speed is worked upon, and maintained. A comprehensive SEO audit can help you in finding all the elements you need to work upon to ensure your page load time is as little as possible.
Usually, users wait for 5-6 seconds for a page to load. If it takes any longer, they are likely to close the tab and look for another option. Page load time optimization is of peak importance to reducing the bounce rate, and significantly improves the SEO-friendliness of a website.
Time to Make Your Website SEO-Friendly
Now that you know what goes into creating an SEO-friendly website, it's time to put the work in and take your website to new heights. Since there are many elements that require intrinsic knowledge of the SEO industry, it is always good to have an expert partner like Infidigit to ensure that your website is as SEO-friendly as it can be. Contact us today to learn more about our services and how we can make your website SEO-friendly.
Add-on Tip
With this post, we intend to help you move a step closer to creating an SEO-friendly website. However,  it is equally important to remember that representing data that shows the impact of all the SEO activities performed is crucial.
Here is a detailed article from John Lincoln to further elaborate on this and explain the importance of SEO Reporting. You can expect this article to help you with tips and tricks for creating a detailed report for your brand.
Read More :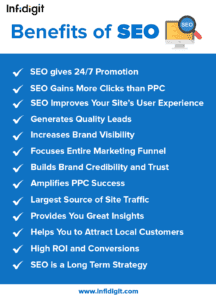 Popular Searches
URL Structure | External Links | What is Sitemap | What is Digital Marketing | Google Ranking Dropped | Sitelinks | Linkbait | Guide to Google Analytics Audience Report | Grey Hat SEO | History of Google | Digital Marketing Blogs | SEO Tools | Reverse Image Search on Google | Black Hat SEO | Googlebot | What is PPC | Blogger Outreach | Local SEO | Link Spam | SEO Chrome Extensions | History of SEO | ASO Ranking Factor | What is Youtube SEO | Organic Traffic in Google Analytics | Technical SEO | Types of Digital Marketing | What is SEO | Canonicalization | What is On Page Optimization | Off Page Activities | Link Building Service | What is Image Optimization | Boston Services | Dallas SEO Company | SEO Agency Houston