On June 18th, a twitter user highlighted that the user-generated comments on the website via Disqus plugin were not getting indexed by Google. In response to this Gary Illyes and Martin Splitt from Google shared their thoughts on the issue and later confirmed that the issue was fixed by Google. Read on for more details about their detailed conversation on Twitter.
What is Disqus?
Disqus is a comment hosting service that you can use on your website to enable commenting functionality for your users. Disqus is mostly used by blogs and publishers as it is easy to moderate comments and maintain it. It offers a bunch of other functionalities as well.
Disqus Comments Not Getting Indexed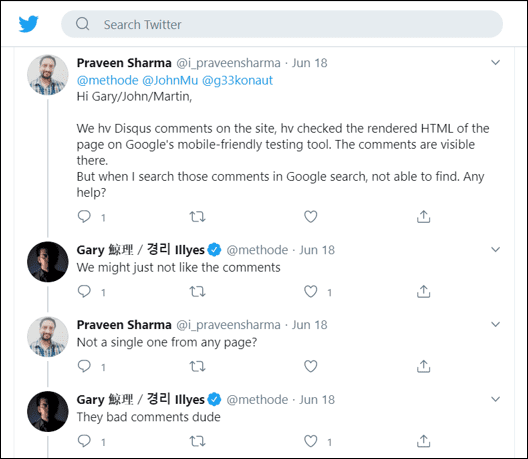 A user on twitter highlighted that Disqus comments on his website were not being indexed by Google. However, on checking the rendered HTML of the website in Google's Mobile-Friendly Testing tool the comments were visible, he added. 
This means that Googlebot is able to render the comments however it didn't index them. The question is Why?
Gary Illyes from Google replied to this stating that the comments must have been irrelevant or spammy which is the reason why Googlebot might have not indexed them. 

However, later he also added that the comments actually aren't getting loaded. The indexed version of the page does not have the comments at all, however, they are visible to Googlebot's limited frame during rendering. Gary stated that the issue has something to do with JavaScript and asked Martin Splitt (Developer Advocate @ Google) to take a look into it.
This is exactly what Illyes tweeted
"They're not loaded indeed. The indexed versions don't have comment tokens at al, but rendering works just fine and has the comments section in its limited frame. @g33konaut, wanna look? I suspect it's javascript related. I pinged you the URL"

Martin spotted the issue and stated that there is an issue on Google's end and it should probably be fixed within a couple of days.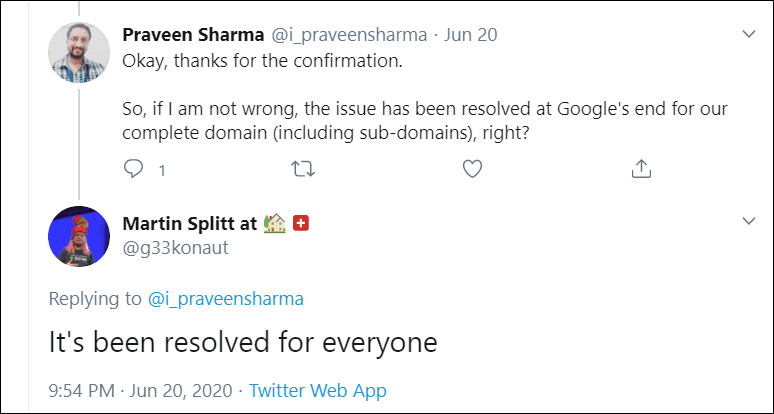 Two days later, on June 20, Martin replied to the same conversation confirming that the issue had been resolved for everyone. This means that Disqus comments will now be indexed by Google.
Conclusion
In case if you are using Disqus comments on your website you should optimise how and which comments are visible to Googlebot. With the comments now getting indexed, it may affect your website rankings either positively or negatively depending on the type of content in the comments.
Are you using Disqus as well? If yes, what impact have you observed on your website after this fix? Do let us know in the comments section below.
Popular Searches
SEO Company in India  |  SEO Consultants in India  |  SEO Company in Bangalore  |  Digital Marketing Services  |  SEO Services  |  Ecommerce SEO Services  |  SEO Audit Services  |  Local SEO Services  |  PPC Services  |  Conversion Rate Optimization Services  |  Website Navigation  |  Google Business Listing  |  Image Optimization  |  Importance of Digital Marketing  |  What is Cloaking  |  What is Google Search Console  |  What is YouTube SEO  |  Importance of Website  |  Google Knowledge Graph  |  Reverse Image Search