Starting June 2020, Google is bringing Fact Check information to image search results worldwide. 
Google stated in their blog
"Photos and videos are an incredible way to help people understand what's going on in the world. But the power of visual media has its pitfalls⁠—especially when there are questions surrounding the origin, authenticity or context of an image."
Hence Google has rolled out this change to help people address questions around validating the authenticity of images and make more informed choices regarding the content that they consume. Below is the Tweet by Google SearchLiaison regarding this change.
Is that image of a shark swimming down a street in Houston real? Google Images now has "Fact Check" labels to help inform you in some cases like this (no, it was not real). Our post today explains more about how & when fact checks appear in Google Images: https://t.co/YisZuOyGEH pic.twitter.com/aRntlIo6qT

— Google SearchLiaison (@searchliaison) June 22, 2020
How it looks
When a user searches for a specific image on Google, they will be able to see a "Fact Check" label below the image thumbnail.

Post clicking on the image thumbnail, a larger preview of the image will open. There Google will show you a summary of the "Fact Check" present on the web page where the image is featured.

Images that come from independent, authoritative sources on the web will show a "Fact Check" label.
Below is an image of how this feature looks like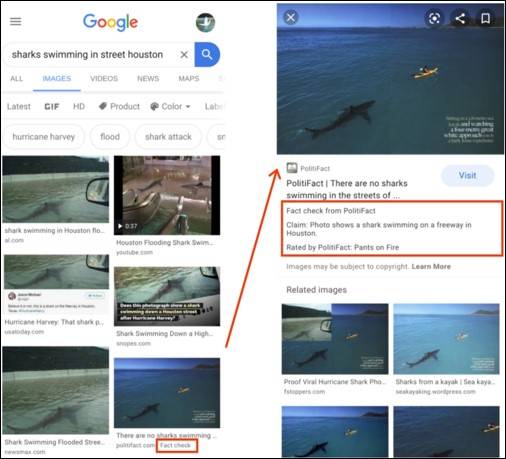 The "Fact Check" sources rely on ClaimReview which is an open method used by publishers to indicate fact check content to search engines. Google has explained in the past, how they highlight fact checks for Google Search and Google News in their blog posted in Dec 2019. Subscribe to our blog for more updates related to Digital Marketing.
Popular Searches
SEO Company in India  |  SEO Company in Bangalore  |  SEO Company in Delhi  |  SEO Company in Mumbai  |  SEO Consultants in India  |  Digital Marketing Services  |  SEO Services  |  SEO Audit Services  |  Local SEO Services  |  PPC Services  |  ASO Services  |  Conversion Rate Optimization Services  |  Link Building Services in India  |  Content Marketing Services India  |  What is SEO  |  What is On Page SEO  |  What is Digital Marketing  |  What is Technical SEO  |  Google Ranking Factors  |  Google Algorithm Updates