A Meta Title tag is a heading to a particular page of a website which is representative of the page's content on SERPs. It's an HTML element that displays on search engine results pages as a clickable heading for the provided result.  The goal of the title is to represent and describe the page content or information to the user's query.
SEO Industry's Recommended Title Tag Length: 
As per industry recommendations, the given Title length should be between 60 to 70 characters. If the title length goes beyond the 70 characters then the full title won't be displayed on the SERPs. That means your title characters beyond 70 characters will be cut off and the user won't be able to read the full title.
Refer to the image where in the first snippet, the title has 64 characters and it's been displayed fully on SERPs. However, in the 3rd snippet, the title characters have been cut off and not been displayed fully, its title contains 81 characters.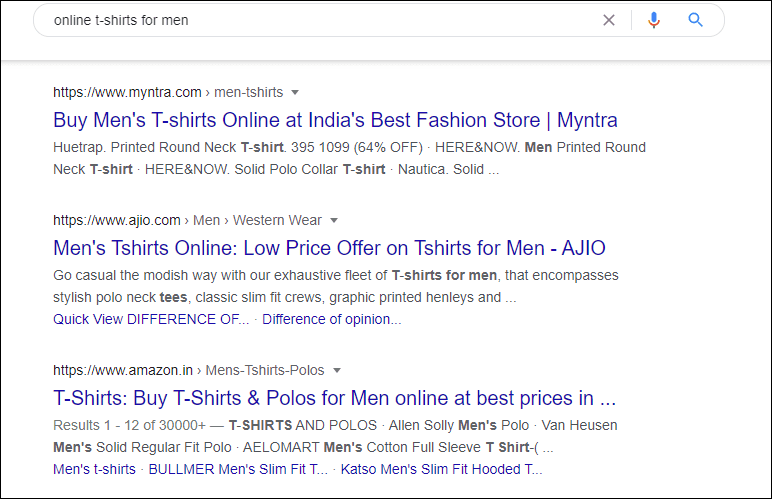 How Long Should a Title Tag Be?
Technically, a page's meta title tag is measured in pixels depending on whether it is a desktop or mobile device, and the recommended title length between 50 to 70 characters are an ideal fit to display them fully. 
As per Gary Illyes, Webmaster trends analyst, the official recommendation from Google for title is to be descriptive and concise.
Hence, the length of title tags is not recommended by Google. Nobody from Google has ever mentioned that the meta tag is limited between 50 to 70 characters in Google ranking algorithms.
Popular Searches
Seo Company in Mumbai  |  Ecommerce SEO Services  |  SEO Audit Services  |  SEO agency  |  Google Penalty Recovery Services  |  Local SEO Services  |  PPC Services  |  ASO Services  |  Conversion Rate Optimization Services  |  Link Building Services in India  |  Content Marketing Services India  |  Enterprise SEO Company  |  Amazon Advertising Agency  |  professional SEO Company  |  What is SEO  |  What is youtube SEO  |  Canonical Tags  |  Search Engines List  |  Youtube Searches  |  What is Digital Marketing  |  Google Reverse Image Search  |  What is PPC  |  On-Page SEO  |  Off-Page SEO  |  Technical SEO