What is a Sitemap?
A sitemap is a file that provides information about pages, URLs, videos and other files that are present on a website. A sitemap also tells the crawler which files are important on a website.
There are two types of sitemaps:
HTML Sitemaps

XML Sitemaps
XML Sitemaps are further divided into the following types:
Image Sitemaps

Video Sitemaps

News Sitemaps

Mobile Sitemaps
1) HTML Sitemap
An HTML Sitemap is for the users. It helps visitors navigate across the website easily.
The following is a screenshot of an HTML Sitemap: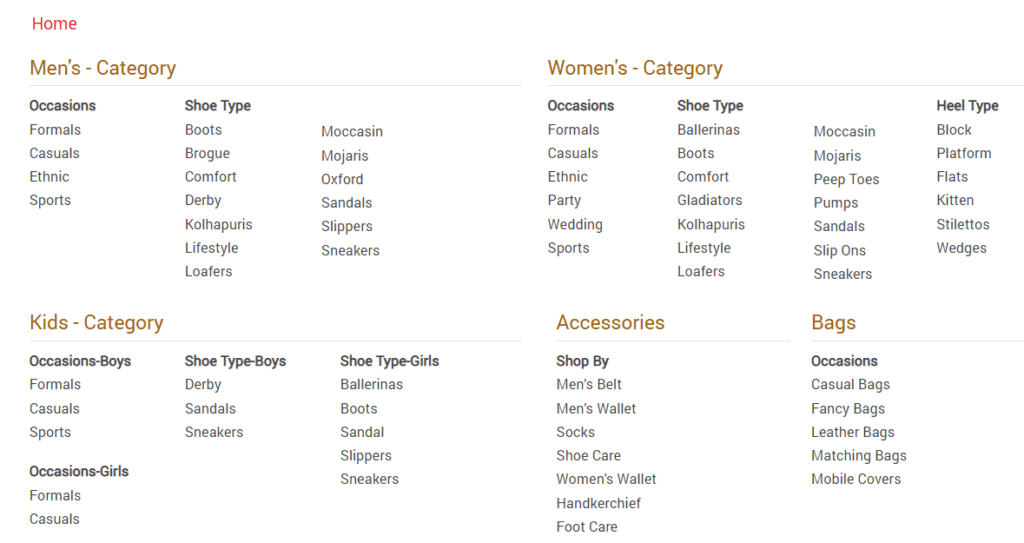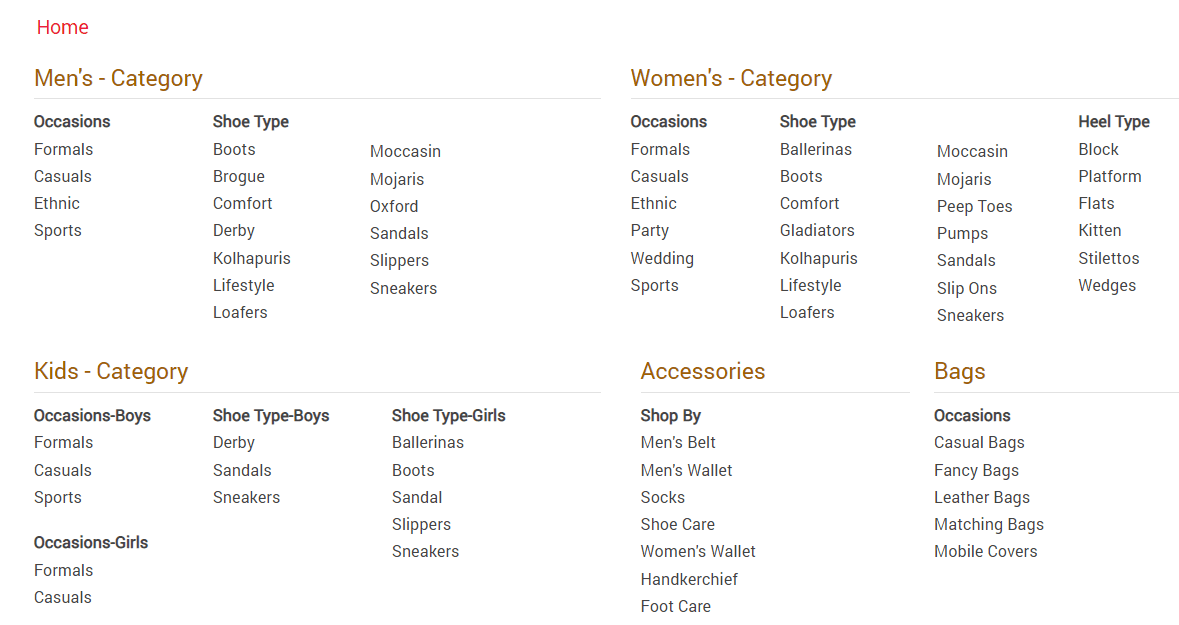 2) XML Sitemap
It helps bots to crawl the website in a better way. It also helps them understand which are the most important URLs in a site.
The following is a screenshot of an XML Sitemap: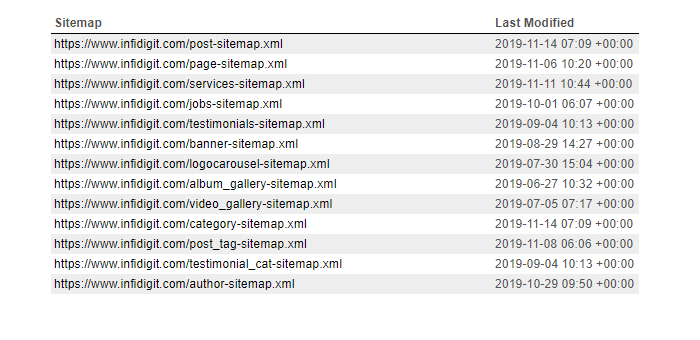 <lastmod>, <changefreq> & <priority> are a few tags which can be included in an XML Sitemap:
The <lastmod> tag carries the date of the last modification of the file. The <lastmod> tag should always be in the format of YYYY-MM-DD



The <changefreq> tag tells the crawler how frequently the page is changing. 
One of these values – always, hourly, daily, weekly, monthly, yearly should be present in <changefreq> tag.
<priority> value can range from 0.0 to 1.0.
The priority tag is used to signal the importance of individual pages to Google & other search engines
In this case, 1 is the highest and 0 is the lowest
If the <priority> value is not set for a particular page then by default the value is 0.5.
Check out this video to know more about sitemaps.
Types of XML Sitemaps
2.1) Image Sitemap:
An image sitemap is for images.

Having an image sitemap helps images get featured in Google Image Search

<image:image> and <image:loc> tags are mandatory tags for an image sitemap

<image:caption>, <image:title>, <image:title> and <image: geo_location > are optional tags for an image sitemap

The following is a screenshot of an image sitemap:

2.2) Video Sitemap:
Similar to the Image Sitemap, a Video Sitemap helps videos get featured in SERPs

It helps bots better understand video content

<url>, <loc>, <video:video>, <video:thumbnail_loc>, <video:title>, <video:description>, <video:content_loc> and <video:player_loc> are mandatory tags for a video sitemap

Here is a screenshot of  Video Sitemap

2.3) News Sitemap:
This sitemap is compulsory for news websites

News Sitemaps cannot contain articles which are published more than 2 days priorly

News Sitemaps cannot contain more than 1000 URLs

If there are more than 1000 URLs, break these URLs into multiple sitemaps and use a

sitemap index file
Having a news sitemap helps articles get featured in the "News Section" of Google SERPs
2.4) Mobile Sitemap:
According to John Muller, there is no need for Mobile Sitemap for a mobile-friendly website

A Mobile Sitemap is only required if you have a specially formatted version designed for mobile devices
Popular Searches
Google Web Stories | Slug | Outbound Links | Toxic Links | Technical SEO Tools |Guest Blogging | What is ROAS | Mobile Marketing | Google Tag Manager | SEO Periodic Table | Bot Traffic | 404 and Soft 404 Errors | SEO tips for Online Grocery Stores | Google Bert Update | Robot.TXT and Meta Robot Tags | 301 Redirects | Mobile First Indexing | Podcast SEO | W3C Validation | Link Building Tools | Local Citation | Google Multisearch | How to Deal with Plagiarized Content | Increase Youtube Views | SEO Job Interviews Questions Answers | What are the Types of Digital Marketing | What is Search Engine Optimization | What is Canonical Tags | On Page Optimization Techniques | Types of Off Page | Link Building Services | What is Image Optimization in SEO | Boston SEO | SEO Company Dallas | Houston SEO Services