Google has revealed that it is working on updates to the Google Search Console API. Google said "The API is backwards compatible and there are currently no changes in scope or functionality, "there are some changes that you should be aware of."
Changes – Google said there might have been "few slight changes already observed, but in general, our aim was to make the migration as invisible as possible." So here are the three changes to remember
1) Cloud Platform dashboard
Google said there are a few updates to the Google Cloud Platform dashboard where you can see a reduction in the old API utilization report and an improvement in the new one. Here's a screenshot of how that would look.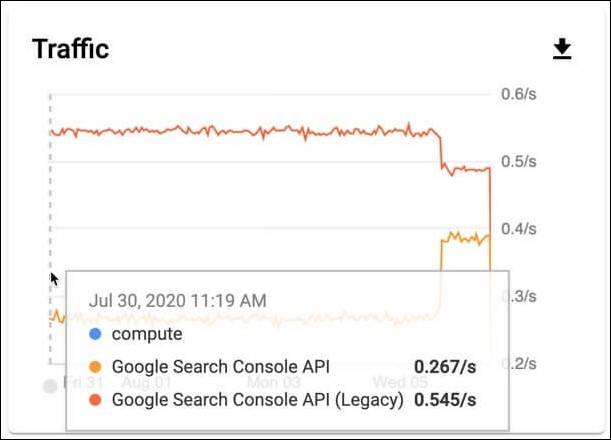 Source: Webmaster Blog
(2) API key restriction changes
If you've previously set API key restrictions, you might need to change them with this update, Google said. You only need to make these changes if you have already set the API key restriction.
To verify that you have an API restriction active on your API key, follow the steps given below in the credentials tab and make sure that the Search Console API is not restricted. If you have added an API restriction to your API keys, you will need to take action by August 31st.
Steps
If your API restrictions are set to "Don't restrict key" you are all set.

If your API restrictions are set to "Restrict key" you need to check the Search Console API as shown in the image below.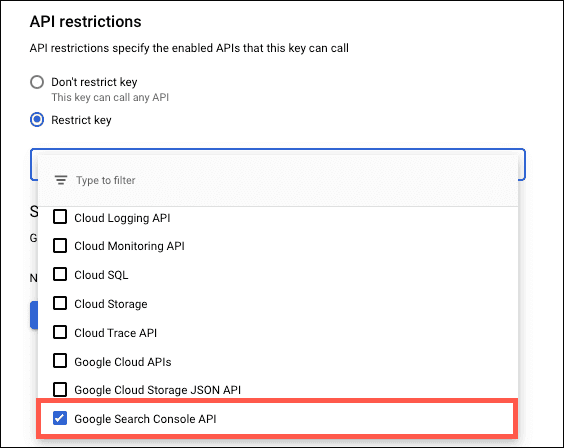 Source: Webmaster Blog
(3) Discovery document changes
If any web application you were using for querying the API utilising a third-party API library or querying the Webmasters Discovery Document directly, Google will need you to update it by the end of the year. This is because Google will be dropping support for the Webmasters Discovery Document. Google said its "initial strategy is to support it until 31 December 2020" but promises to provide further "guidance in the coming months."
Note – You will be aware of these updates if you have created your own apps using the Google Search Console API, either for internal reporting or other purposes or if you are using a software service that uses the Search Console API.
Popular Searches
Best SEO Company  |  Digital Marketing Services  |  Best SEO Services Company  |  Ecommerce SEO Agency  |  Website Audit Services  |  Google Penalty Removal Service  |  Local Search Engine Optimization Services  |  PPC Company Australia  |  App Store Optimisation Services  |  Content Creation Agency  |  SEO Agency Australia  |  Sydney SEO Services  |  Technical SEO Consultant  |  SEO Services in Melbourne  |  SEO Consultant Perth  |  SEO Consultant Brisbane  |  Image Optimization  |  Importance of Digital Marketing  |  What is Cloaking  |  What is YouTube SEO