What are Intrusive Interstitials?
Intrusive interstitials are webpage pop-ups that block most or all of a page's content, creating a frustrating experience for desktop and mobile users. These ads appear immediately after a user arrives on a webpage from the search results or after taking an action on a page.
Google's definition of an intrusive interstitial suggests "pages where content is not easily visible to the user." It is a type of interruption marketing capable of getting higher click-through rates but causing annoyance too. A general exception to these types of ads is legally required notifications like pop-ups for age verification. 
While pop-ups are quite irritating on desktops, screen real estate reduces even further when you are working on mobile devices. As a result, the user experience is completely ruined. 
In January 2017, Google announced that it would not consider pages with intrusive interstitials mobile-friendly. 
People Also Read: How to create an SEO friendly website – Compete guide
Do Intrusive Interstitials really matter?
Intrusive interstitials hamper user experience on a website. Since users cannot view some or all of the page's content, it is likely they will feel annoyed and leave your website. A bad user experience means poor website ranking, which is bad for SEO. 
The rule specifically targets interstitials on mobile where the space to work is a lot lesser. It applies to pages mobile users visit directly from a Google search result. This does not include subsequent pages on the same website. Moreover, Google highlights that intrusive interstitials signals lower site ranking, and great content will dominate as always. 
If a pop-up isn't the first thing users see on your website, a good user experience is guaranteed. Moreover, you must know that having interstitials does not mean that your website will not rank. It only indicates that your website will not rank as high. 
Interstitial Intrusiveness: How to Spot It?
As Google shares that all interstitials negatively impacting user experience will hurt the site's ranking signal, you must evaluate the pop-ups on your website. Check for necessary interstitials like cookie notifications and age-verification pop-ups. Examine all other pop-ups based on the amount of space they consume. If you use a CMS, look for any third-party scripts existing on your website that can trigger pop-ups. WordPress users must check plugins. You must review pop-up messages for promotions, membership offers, coupons, and other types of ads. Moreover, use the plugins' settings to adjust the sizes.
Intrusive Interstitials That Could Get a Site Penalized
If an interstitial reduces content accessibility for the user and does not have a legal or responsible obligation, Google might penalize the website since it hurts a user's page experience. The search engine provides straightforward examples of penalized interstitials. Here are the three types of intrusive interstitials that can cause problems:  
Standard pop-ups or modal windows that block the page's content are penalized. They have a dark semi-transparent background and fade the webpage's content. They are the most common pop-ups and hover over the rest of the page. 

Some interstitials force the user to scroll up before they can read the page's content. These full-screen pop-ups displayed above the website's header are also penalized. 

Google penalizes standalone interstitials, essentially a full-screen modal window, that blocks content. Though similar to a regular pop-up, they do not let users view the content lying below. Compared to the second type of interstitial, this one doesn't look so dry and cut. For instance, a live chat assistant isn't a direct advertisement and appears to help the website visitor. However, it can ruin user experience. 
Intrusive Interstitials That Wouldn't Get a Site Punished
Google does not penalize all interstitials. There are some exceptions, especially based on the Page Experience update. This means, if you add the following intrusive interstitials to your website, you will not have to face any consequences. 
Interstitials in response to a legal obligation must be presented to the user before they continue on your website. This includes notifications on cookie usage and age verification. 

All content on a website is not available for all users. Login pop-ups notifying the users that a webpage's content is for paid users or registered members only are permitted. 

Pop-ups that hover over the screen but are easily dismissible are allowed. App-install banners by Chrome and Safari are perfect examples of pop-ups that use a reasonable amount of screen space. These banners do not aggressively dominate the viewport and, therefore, wouldn't get a site penalized.  
While such interstitials might not let a user access content immediately, they are permitted. If you're using these on your website, do not fret; Google tries to understand the intent of interstitials on every page before penalizing websites. There is no need to stop using interstitials completely because using them responsibly will keep you safe from penalties.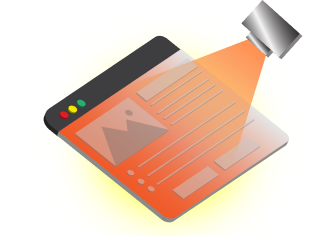 Looking for an extensive SEO Audit for your website?
Unleash your website's potential by harnessing Infidigit's 400+ SEO audit to achieve peak site health & dominance on Google organic search.
Looking for an extensive
SEO Audit for your website?
Unleash your website's potential by harnessing Infidigit's 400+ SEO audit to achieve peak site health & dominance on Google organic search.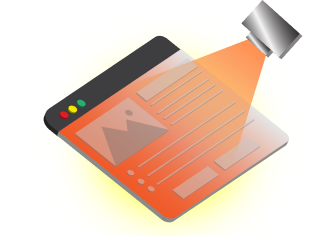 How to Avoid Intrusive Interstitials?
Intrusive interstitials are beneficial for your sales team. They might annoy the users and not come in Google's good books, but they also help. They have the potential to drive more sales or get more useful information if brands use them responsibly without going against Google's guidelines and directions. 
The following mobile-friendly navigation practices can help you achieve your website goals and not make interstitials intrusive:
Mind the size of your pop-up banners. If they are taking up a lot of space, trim the elements or change the placement. Keep the banners on the side or bottom of the page. 

Make sure they stay below Google's radar. It is safe to use

intrusive interstitials

for gated content, cookie usage permissions, age verification, and other legally obligated notifications. 

Let users dismiss the pop-up if they want to. The "X" on top should be visible clearly, and users should not have to scroll up, down, left, or right to click on it. 

Think from the user's perspective. If you have interstitials that do not trigger negative page experience signals and yet annoy your users, you need to think again. Many mobile users will still leave your website.
Conclusion
Interstitials are used in many ways. You can have contact forms, push notifications, newsletters, surveys, and ads. In some cases, they are beneficial to users, but more often than not, they spoil the user's experience on the website. As Google enforces penalties on mobile websites that display large interstitials, we urge you to audit your website and ensure you adhere to Google's latest guidelines. There is a clear distinction between which interstitials can get you punished and which cannot. There are also ways to avoid intrusive interstitials by evaluating their intent, size, placement, and admissibility. 
Popular Searches :
What Is Chatgpt | Pillars of SEO | Video SEO | SEO Challenges | AI in SEO | First Input Delay (FID) by Google will be replaced by INP | SEO Audit Services | Google Penalty Recovery Services in India | ASO Services in India | Internet Marketing Services in India | SEO Agency | SEO Services | SEO Services in USA | Local SEO Services in USA | SEO Company In USA | E-Commerce service in USA | Conversion Rate Optimisation Services | SEO Packages | E-commerce SEO Packages | Ecommerce SEO Audit Packages | Enterprise SEO packages | Infidigit Case Studies | On – Page SEO Services | Link Building Services | SEO Company