All business owners have these questions plaguing their minds: Where are my customers shopping? Do they prefer shopping online or in-store? Which social media platform or devices do they use? "How can I integrate these touchpoints to offer a seamless shopping experience to my customers?"
This is why omnichannel marketing is crucial. As customers engage with businesses through multiple channels, it can seem challenging to keep up with which touchpoints are important. With an omnichannel strategy, marketers can adapt to the ever-changing consumer behavior and offer a frictionless experience across several platforms. Find out how does omnichannel marketing work and how you can build a successful omnichannel experience for your brand. 
What Does Omnichannel Mean? 
Omnichannel is one of the most powerful tools to meet customer needs and preferences in a coherent manner. "Omni" means all, whereas "channel" refers to the ways customers interact or engage with a company. The interaction may happen by surfing the web, visiting physical stores, over emails, checking social media, SMS, and more. Thus, omnichannel refers to a customer engagement approach through which a business makes available its products, services, and support on various platforms such as brick-and-mortar stores, online stores, social media platforms, emails, and more. 
The following are the benefits of omnichannel marketing:
Increased client satisfaction
Clients are the core of omnichannel marketing, which provides customers with a coherent experience across multiple marketing channels and devices. Whether a customer wants to shop online or through a brick-or-mortar store, omnichannel marketing offers a consistent message across multiple channels. It also ensures personalization at every level of a buyer's journey. This leads to increased client satisfaction which results in more sales and revenue. 
More profits
To increase brand awareness and profits, targeting the right audience at the right place is more crucial than ever. And this is what the omnichannel approach does. It helps businesses provide cross-channel consistency to users. When prospects find products or services on multiple platforms, they are better able to recall a brand and find it easier to make a purchase decision. This leads to more sales and profits. Moreover, with an omnichannel strategy, a company can create a favorable brand reputation and increase customer loyalty and, thereby, profits. 
Greater reach
One of the benefits of omnichannel marketing is greater reach. Today, users discover and interact with brands through various platforms- by scrolling Facebook or Instagram, reading an email, or shopping at the store. With the ever-evolving touch points to make a purchase decision, brands must enhance their presence across multiple platforms to stay relevant and attract more customers. This is where omnichannel marketing helps. It allows brands to increase their visibility across multiple channels and target customers wherever they are, thus expanding their reach. 
What is Omnichannel Marketing? 
Omnichannel refers to a marketing strategy that aims to provide a seamless marketing experience across multiple channels, devices, and platforms. Whether it is social media, emails, apps, events, brick-and-mortar stores, or other means, omnichannel marketing allows a company to provide a consistent message to the audience in various places. Through consistent vision, tone, and branding, the omnichannel approach guides customers through their journey, even when they switch devices or platforms. Marketing through this approach is thus an excellent way to gain customer loyalty, enhance brand awareness, provide a personalized user experience, and boost revenue. 
How to Create a Successful Omni-Channel Campaign?
Omnichannel marketing allows marketers to deliver a coherent and impactful brand message to the customers at the right place at the right time. It is an excellent way to strengthen communication on each channel and increase chances of converting prospects into loyal customers. Considering the benefits of omnichannel marketing, it is thus an absolute must to deploy the strategy to reach a greater audience, boost brand recognition and drive more customers. 
Now that you know what is omnichannel marketing, here's how you can create a successful strategy for your brand: 
Start with the fundamentals: Your website and social media platforms
Omnichannel marketing can seem an overwhelming task, but there is nothing to worry about. You don't have to be present everywhere in one go. Establishing an omnichannel presence is a gradual process. You can begin with your website and social media platforms and slowly move on to other channels. But you must ensure that your posts and other customer engagement tactics are consistent on these platforms. Focusing on your website but neglecting your social media presence can harm your brand reputation. To ensure consistent communication on every channel, you can use a shared inbox and put all your emails, chat threads, and messages in one place. 
Every step of the way, try to fix problems for the consumer
While omnichannel presence is great for your business visibility and profits, fixing your customer issues in a robust way can help you retain your audience. So, as you begin adding more channels to your omnichannel approach, make sure that you provide appropriate solutions to your customers at every step. Also, make sure that your aim of serving the customers guides your message in each channel. 
If needed, create an App 
Mobile devices are the new means to explore everything on the web. Hence, creating an app can be a great way to offer 24/7 access to your business which leads to improved customer engagement and relationships. Deciding to have an app may depend on your business industry or the products you offer. Having said that, a website can greatly boost your omnichannel marketing if you deal in consumer products. 
Use consistent messaging across all platforms, but avoid using moderate language
When it comes to omnichannel marketing, creating a consistent message on every platform is essential for a seamless user experience. This means that if you are promoting yourself on several platforms, ensuring uniformity in your brand message is crucial for your reputation. But at the same time, you must avoid using moderate language and the exact content everywhere. This can lead to a penalty by social media channels and search engines. So, instead of just copying the content, ensure your brand voice is consistent across several channels of your strategy. 
Provide users with a CTA that is suitable for their device and platform
Despite the channel a customer is using to engage with your business, always make sure that the engagement concludes with a CTA (Call to Action) which is suitable for the platform and device. But whether the engagement is via an organic post, an email, an SMS, or a phone call, also make sure that the CTA hands over to the customers a map for a frictionless journey. For instance, when promoting on social media, the ad should lead to your mobile website and not the desktop version, as customers usually scroll through social media on mobile phones. 
People Also Read : Types Of Content Marketing
How to Make the Most of Omnichannel Marketing?
Omnichannel marketing is not just about expanding the channels of marketing but enhancing the customer experience as a whole.  So, before creating an omnichannel experience, keeping a few things in mind can help you make the most of this approach: 
Data Collection
Before implementing an omnichannel strategy, it is crucial to first understand your target audience and collect accurate data about them. The data can help you understand how your prospects interact with brands, through which devices, and what types of products they are looking for. Keeping track of customer behavior and collecting appropriate data across offline and online channels can immensely boost your omnichannel strategy. One of the ways to do this is an attribution model known as Unified Marketing Measurement (UMM). It helps to know individual preferences along with the historical trends that affect your customer engagement and conversions. 
Data Analysis
Collecting data about customers is the first step toward a successful omnichannel marketing campaign. The next crucial step is analyzing the collected data to establish an omnichannel experience for all buyers. Having a team and a platform to analyze detailed profiles of buyers based on their demographics and buying behavior can help target the audience segments in a better manner. Hence, deploying an analytics platform that translates data in real-time can help optimize your marketing campaign and meet customer needs at the right time. 
Customer Journey Mapping
Before implementing an omnichannel campaign, creating customer journey maps of your audience can help significantly. Through a customer journey map, you can track the steps taken by your prospects, from discovering your brand and researching it to making a purchase and beyond. With these maps in place, you can analyze the whole process and find ways to strengthen the relationship with your prospects and increase conversion rates. 
Brand Guidelines
Once you know what your audience needs and which devices or platforms they often use, the next step is to establish your brand identity. From top-level decision-makers and account representatives to marketers and customer service staff, ensure that the same company message is delivered across all levels. For this, having a set of clear brand guidelines and adhering to them is important. 
Testing / Optimization
Implementing an omnichannel strategy is great. However, one of the most critical steps is the continuous testing and optimization of the strategy to evaluate its impact. Through regular testing of your omnichannel approach, you can find loopholes and appropriately optimize them at the right time.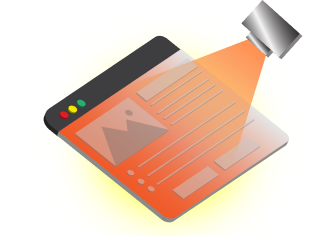 Looking for an extensive SEO Audit for your website?
Unleash your website's potential by harnessing Infidigit's 400+ SEO audit to achieve peak site health & dominance on Google organic search.
Looking for an extensive
SEO Audit for your website?
Unleash your website's potential by harnessing Infidigit's 400+ SEO audit to achieve peak site health & dominance on Google organic search.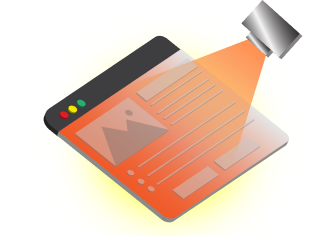 Examples of Omnichannel Marketing 
Here are some of the popular brands that provide an incredible omnichannel experience to their customers: 
Pepperfry 
A home furnishings company based in India, Pepperfry offers a delightful omnichannel experience through the combination of online store and in-store experience. The company allows its customers to shop or explore furniture online and visit "Studio Pepperfry" to see the actual products in person. After exploring the Pepperfry Studio with a design consultant, customers can find the products that suit their needs and choose to buy them in-store or online. 
Why does it work?
Pairing online and in-store experiences helps in making the right product choice, as the customers don't feel pressured to make an in-store purchase.
Disney 
Disney's omnichannel experience is one-of-a-kind that goes down to granular details. With its mobile-friendly website, users can plan their entire trip through the My Disney Experience tool. They can also locate the attractions in the park and know the wait time for each through the mobile app. Not only this, the Magic Band is a one-in-all tool that serves as a hotel room key, a food ordering tool as well as a storage device for pictures. 
Why does it work?
Disney's omnichannel experience consists of several amazing features and tools that enhance customer satisfaction.
Starbucks
The Starbucks rewards app is one of the best omnichannel experiences available. By paying through the app, users get free reward cards that can be used whenever they wish to buy something. An interesting feature of this app is that customers can check and reload the cards through mobile phones, in-store, website, or through the app. Also, customers can order in advance to avoid standing in queues. 
Why does it work? 
Through the rewards app, Starbucks integrates the mobile experience with the in-store experience to put customers' convenience at the forefront. 
Walgreens 
Walgreens omnichannel experience works on a mobile app which is the primary source of customer engagement and communication. The pharmaceutical brand's custom app makes it easier for customers to check and refill prescriptions that can be picked from the store. The customers can also set reminders that remind them about the renewal of prescriptions. The app also shows store-specific inventory that helps customers know which store location they should visit. 
Why does it work?
The basic tools of the Walgreens app offer convenience to customers and enhance their overall buying experience.
Spotify
Spotify's omnichannel experience is offered at the product level. The company has a mobile app, a desktop app, and a web app that are synced once a user opens them at the same time. This implies that if a user is listening to Spotify on a mobile phone, the same thing will be displayed on the web app or the desktop app.
Why does it work?
With its omnichannel presence across various platforms and devices, Spotify offers a consistent user experience.
Apple 
Apple's incredible omnichannel experience involves seamless communication between devices through the user's iCloud account. Be it photos, messages, or connected devices, once a user signs in to a new Apple device through their iCloud account, all the data and information is downloaded to the new device. This ensures that the customers have a smooth experience across various devices and platforms. 
Why does it work? 
The seamless connection between accounts and devices allows customers to switch between devices easily without repeating the same information.
Oasis
Oasis is a U.K. brand that retails in fashion. By integrating its mobile app, e-commerce website, and brick-and-mortar stores, Oasis offers one a unique shopping experience. Customers can access accurate and up-to-date information about products through the iPads handled by the sales staff. Moreover, if the items that customers like are out of stock, the staff places an online order, and the product is delivered to them. 
Why does it work? 
Oasis integrates in-store and online shopping experiences to simplify the purchase decisions of customers. 
Timberland 
Timberland combines online and in-store shopping experiences through NFC (Near Field Communication) technology in its stores. Customers are not required to reach out to the sales staff to gain information about products. Instead, they can press a tablet against the products and extract information about them in a matter of seconds. Customers can then purchase the items in-store or online. Timberland also uses personalization software that makes product suggestions to customers based on their shopping history. 
Why does it work? 
Timberland offers a personalized experience to each customer and also allows them to explore products that are often overlooked. 
Omni-Channel Marketing Platforms
When it comes to omnichannel marketing, choosing the right platform is essential for long-lasting gains. Some of the platforms created for omnichannel marketing that can establish your business across various channels include: 
Shopify 
While Shopify is an e-commerce-based platform, it is an amazing omnichannel marketing tool. Besides allowing you to sell products, Shopify also helps you to build impactful social media ad campaigns and emails. It helps you track customer engagement with your brand so that you can create a personalized experience for your customers, increase your sales and revenue and measure the effectiveness of your marketing efforts. 
Why does it work?
Shopify uses proven marketing strategies such as emails and paid social media ads to generate more leads and sales, thus helping you bring increased revenue in the long run.
HubSpot CRM
The CRM platform offered by HubSpot is a one-spot solution for marketing automation tools. The platform includes five hubs – Service Hub, Marketing Hub, CMS Hub, Operations Hub, and Sales Hub each having excellent features that can boost your business growth. The flexibility of this omnichannel marketing platform makes it suitable for your business needs. Be it creating a website, increasing leads or sales, or improving customer experience, HubSpot CRM can help you achieve various business goals. 
Why does it work? 
The various hubs in the HubSpot CRM platform simplify the entire sales funnel, from driving the audience to converting them into sales.
Active Campaign
Active Campaign is a combination of various tools like marketing, automation, and CRM that help in providing a great experience to your audience and improving your brand reputation. The characteristics of the platform are divided into four goals that depend on your engagement with the customers – Reach, Nurture, Convert and Grow. 
Why does it work?
ActiveCampaign allows you to combine different tools, channels, and applications to create the most suitable omnichannel strategy for your business. 
Conclusion
Gone are the days when customers engaged with businesses through one or two channels. With the ever-growing platforms and devices in today's digital world, customers are finding their needs through various means. Omnichannel marketing is a perfect approach to meet your audience wherever they are and target them with the right message. With omnichannel marketing, you can not only enhance your brand awareness but also ensure that the customers get a unified experience on multiple platforms and enjoy a frictionless journey leading to improved engagement, enhanced customer loyalty, and increased ROI and sales. 
Popular Searches:
SEO Jobs | What Is Breadcrumbs | Website Speed | Link Building | Anchor Text | Best Blogging Platforms | Website Performance Optimization | Knowledge Graph | Types Of SEO | Blogs For Businesses | Long Tail Keywords | How Search Engines Work | SEO Blogs | Utm Parameters | Permalink | Black Hat SEO | Keyword Density | People Also Ask | Creating Sitemap | Local SEO | Meta Description | What Is Subdomain | Google Image Search Mobile | Dwell Time | What is Sitemap | Googlebots | What is Cornerstone Content | SEO News | Sitelink Extensions | Server Side Rendering