Across the world, people use online videos as a means to share information across various topics, be it politics, technology, food, books, education, and so on. YouTube was among the earliest platforms to allow common people to post videos and share them for free. It was a game changer. So much so that marketers turned to YouTube to build brand awareness, generate leads, and augment business engagement. Videos have been leveraged as an effective marketing resource. Here are some major YouTube trends that most brands have adopted to improve customer engagement and traffic. 
1. YouTube Shorts 
As much as Instagram Reels, YouTube trends introduced Shorts to market content, products and services. Most of the population like watching short videos, especially something which is not verbose and length driven. YouTube shorts is a major YouTube trend that attracts attention from large audiences since it is usually to the point and does not pull the video long. It is important that your business incorporates YouTube shorts to promote interesting content that hooks attention from the audience, as much as converts leads. Prior to it, analyze the base audience you have for producing desired content that people will like, and similarly take actions for.
2. How-to Videos 
How-to videos play a major role in gaining maximum audience engagement. It can drive traffic even more than other methods several brands use. It is an integral part because it allows people to follow preferred content. After the pandemic hit, many bloggers routinely produced content people wanted. Beginning from yoga sessions to food recipes, YouTube trends like this have kept up in the race. How-to videos have consumed more than half the internet, especially YouTube – especially because people love watching videos that help them learn little to big things. Unlike decades back, how-to videos have changed and added unreal benefits for marketers. Ensure including instructional videos for the audience on YouTube, because this YouTube trend is most likely to grow as times pass.
3. Live Streaming 
Live streaming is one of the YouTube trends that draws unnaturally high traffic to businesses. It is no secret that most people like watching live streaming videos that promote or show services that might help a wide range of audience. People attend live videos almost every time they are streamed. They reach a broader audience on YouTube and invite more views than normal videos. On YouTube Live, you can host product or service launches, interviews with market specialists, live discussions on key topics, and so much more.
4. Live Shopping Game 
YouTube first launched the livestream shopping feature for about a week, and might go with it full-time in the coming months. The Live Shopping feature will allow users to purchase items from YouTube itself. Most creators attach a link that redirects users to the product or company website where they can purchase the product. Simultaneously, they mention upcoming live shopping streaming events that consumers can attend. It is after Instagram that most other social media platforms are trying to incorporate a feature similar to this one. This trend can take markets by storm since it promotes content and products simultaneously.
5. Audience-decided Content
Until recently, YouTube creators put out content which the audience either connected with and watched, or gave a miss. This was difficult for content creators as there was no saying which content the audience would consume. There was no formula for creating viral content. Something either just clicked with the audience or did not. To tackle the uncertainty, content creators decided to ask the audience what type of content they would prefer to consume and created content based on those preferences. This is one of the trends soaring in 2022 in which content creators interact with audiences prior to putting out content. These interactions are in the form of reviews, polls, comments and more.
6. Current Events 
Current events are one of the major top searches on YouTube, which propels it to become an integral area of marketing, promoting products and services. One of the major YouTube trends is current events. People desperately need updates on what's happening around them, which generates leads when posting similar content. Content built around current events can magnify exposure and boost video visibility on the Explore page. However, brands that want to capitalize on current events need to be extremely quick on the move. Many marketers keep audiences hooked by notifying them about current events.
7. Youtube Challenges
YouTube challenges are a major trend that cannot be ignored. Most bloggers and brands try different challenges to keep their core audience entertained. YouTube challenges keep audience engagement alive, which also contributes to YouTube SEO by driving high traffic. From "one color t-shirt for the next 24 hours" to "who can lose the most weight", different brands use different tactics to keep their audiences engaged. For instance, health channels often showcase which competitor can do the most repetitions of a certain fitness challenge.
8. Video Chapters 
Video chapters, recently introduced by YouTube, are videos where chapters, which are literally just timestamps on a video, permit you to skip to a particular part or a segment of the whole video. So, if you are listening to a recorded show or a TV show, it allows you to skip to the section of your choice. This has tremendously driven traffic due to effective and well structured long-form videos with divided and well-segregated sections. Video chapters have taken YouTube trends beyond the line because it helps users navigate through videos the way they want.
9. Routine Videos 
Routine videos have attracted unusually high traffic for a while now. Routine videos typically show YouTubers sharing their morning or night routine, which might include getting ready for bed, dressing for different occasions, and such other activities. Beauty tutorials have acquired over 50% views in the year of 2020 which makes many marketers believe that routine videos are the new go-to as far as YouTube trends are concerned. Moreover, many creators have attracted sponsorship deals over the last couple years only because of their routine videos on YouTube and other social media platforms.
10. Gaming 
Gaming is another YouTube trend that most people are adopting. With the popularity of gaming increasing, consoles and PC rigs are now more easily available. Half of the world is into gaming, and it's hard to believe that its popularity can ever dip. Gaming isn't limited to playing alone. ame streaming, commentary, and walk-throughs are extremely popular too. Surprisingly, more than 9 lakh YouTube channels were streaming live, and attracting unusually high traffic. As the number of gamers increase rapidly , a major YouTube trend is visible.
11. ASMR
Autonomous Sensory Meridian Response (ASMR) is a technical term for the sensations that people get when watching something stimulating. These sensations have been variously described as "tingles" that run down the spine to feelings that are so deeply relaxing that they induce sleep. The term ASMR sounds very technical but there is no research to provide insight on how it works. Yet, the content of ASMR videos ranges from mundane tasks like crumpling paper to elaborate role plays about time travel and dinosaurs. With literally millions of videos on ASMR, its reach and impact can be described as phenomenal. Some businesses use ASMR because it is relevant while some use it to attract new customers or expand the existing customer base.
12. Docuseries
Docuseries differ from documentaries in one crucial aspect. Documentaries are single films that deal with a topic or event; docuseries, on the other hand, do the same over a series of episodes released by the creator in installments. Docuseries have taken YouTube by storm. YouTube series not only attract more eyeballs but also have higher viewer retention because they are often personal. Some examples include behind-the-scenes footage of popular personalities, investigative material and so on. It is a  YouTube trend that most influencers, bloggers and marketers are adapting to stay ahead of competition.
13. 360 Degree Videos  
360 degree videos are immersive, or surround, videos that offer a view from every direction. In the context of a product, it means a complete and thorough examination of the product. 360 degree videos brought about a lasting change in the marketing sector, assisting the growth of some brands. 
YouTube trends have great impact. Over the years, numerous brands have obtained recognition from different areas of the world. As the years pass, newer changes in content creation are inevitable. Brands and businesses should take advantage of YouTube trends and align their strategy with the demands of their target audience.
Read More :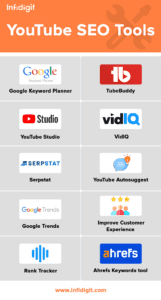 Popular Searches
List of Search Engines | Top Google Searches | Importance of Digital Marketing | Importance of  Website | Youtube SEO Tools | Types of SEO |Website Structure | Benefits of SEO | Cloaking |Google Sandbox | SEO Friendly Website | Blog Commenting for SEO | Server Side Rendering Vs. Client Side Rendering | Youtube Trends | Types of Sitemaps | Social Bookmarking |Off Page SEO Checklist | HTTP Status Codes | Vanity URL | SEO Vs. PPC | Best SEO Blogs | Benefits of LinkedIn Ads | Keyword Density | How to Use Keywords in Blog Posts | Website Migration | Digital Marketing Types | Search Engine Optimization | Canonical Tags | On Page SEO | What is Off Page SEO | Link Building for SEO | Image Optimization | SEO Company in Boston | Dallas SEO | SEO Company Houston