In a recent auction, Google declared DuckDuckGo as its default search engine for citizens using Android devices in the EU. Duckduckgo will be the preferred choice alongside Google in 31 EU territories. Apart from Duckduckgo, other options across the EU include info.com, Yandex, Qwant, GMX, PrivacyWall, Givero and Seznam.
Google was accepting bids by search providers who were willing to list their search engine as the default option on Android on a pay-per-use basis. The search source selected will appear as the default option for four months until 30th June, when quarterly auctions occur again.  
Citizens from the EU will be provided with four choices of search engines that they can use as their default provider while setting up their Android devices.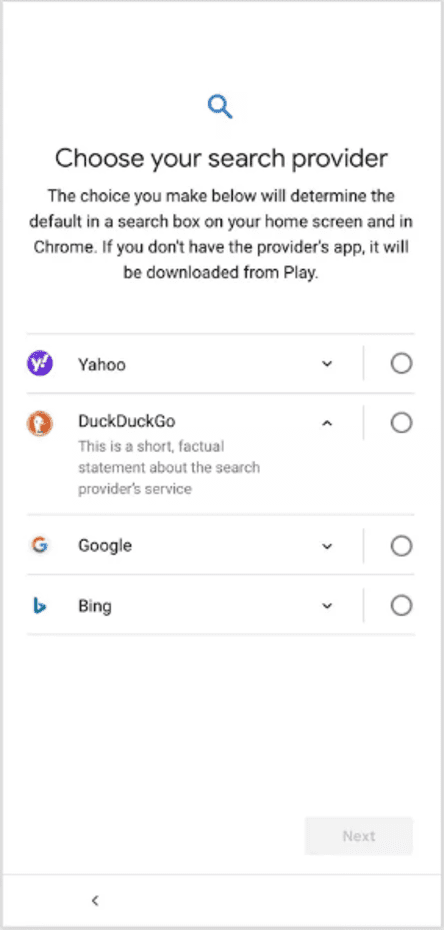 While setting up a new Android device in the EU region, a choice screen, with the above four options, will appear. Whichever option the user picks becomes the default search option on the Android and Chrome home screens. Google was imposed with an Antitrust Penalty by the EU for the Android case — a fine of $5 billion was imposed on Google by EU regulators for illegally tying its search engine to its Mobile OS. Post this, the search giant introduced the choice-screen concept.
When the auction system was introduced by Google, rival search providers were unhappy. Qwant CEO,  Eric Leandri said it is a "total abuse of [Google's] dominant position" to "ask for cash just for showing a proposal of alternatives." Gabriel Weinberg, CEO of DuckDuckGo, shared his views about the auction system and said it was a "pay-to-play auction" that meant "Google will profit at the expense of the competition."
 The CEO of Ecosia abstained from the auction and in a press statement, said that Google's decision was "at odds with the spirit of the July 2018 EU Commission ruling." He expressed unhappiness "over Google's monopolistic behavior with European Union legislators."
Subscribe to our blog to stay updated on everything search marketing.
Popular Searches
Digital Marketing Services in India  |  SEO Agency in India  |  SEO Services in India  |  Local SEO Services in India  |  PPC Services in India  |  SEO Guide  |  On Page  |  Types of Digital Marketing  |  Technical SEO Checklist  |  Latest Google Algorithms  |  Reverse Image Search Google  |  SEO Ranking Factors  |  SEO Periodic Table 2019  |  Structured Data SEO  |  Cloaking in SEO  |  SEO Types  |  Benefits of SEO for Website  |  EAT SEO  |  What is Black Hat SEO  |  What is Website Structure