Google, on 13th January 2020, at 8:01 AM IST, officially announced the release of a broad core algorithm update. Google announced the January 2020 Core Update after a lot of rumors and chatters surfaced with regards to fluctuations in ranking signals. 
 Google SearchLiason broadcasted the news via its Twitter handle. 

Google announced this update an hour before the official rollout commenced.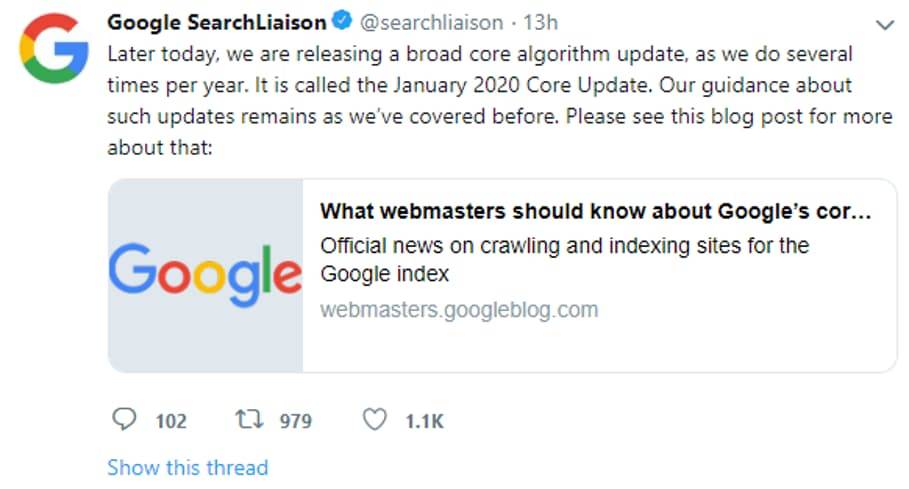 As it is a broad core algorithm update, the impact will be seen across all search results worldwide. Google did mention that the update is not related to any specific targets that webmasters can improve upon, unlike the "Speed Update" or "Local Update". It also put out a guide regarding the January 2020 Core Update in the form of the article about "what webmasters should know about Google's core update."
The article spells out that "content is king"; the more frequent and fresh the content is, the better the chances of ranking higher on SERPs.
For e.g.: You have content regarding all the "top 10 young entrepreneurs in 2015"; years later, in 2020, naturally, the list needs to be updated as new entrepreneurs will qualify as candidates for inclusion.
If you lose your ranking on the SERP, it does not mean that your page is poor, or your content is not according to the best practices; it is just that Google is reassessing the content that was published since the last update.
If you notice a drop in keyword ranking, try to do a competitor analysis to find out which websites are ranking higher on the SERP and create content to serve the best comprehensive solutions to users.
There is no official news yet related to the websites affected by the January 2020 Core Update. We will keep you posted as we learn more about how this update impacts search results.