Google Launches New Removals Tool For Search Console
The Google Search Console gets yet another update that has introduced a new "Removals" section.
The "Removals" section is present under the "Index" tab and shows three important metrics:
Temporary Removals
Outdated Content
Safesearch Filtering
Let us go through each metric in some detail.
Temporary Removals
The 'Temporary Removals' feature, which was present in the old version of the Search Console, now comes back in a new avatar in the latest version of the Google Search Console tool.
Using Temporary Removals, you can restrict a URL from showing up in the Google Search Results.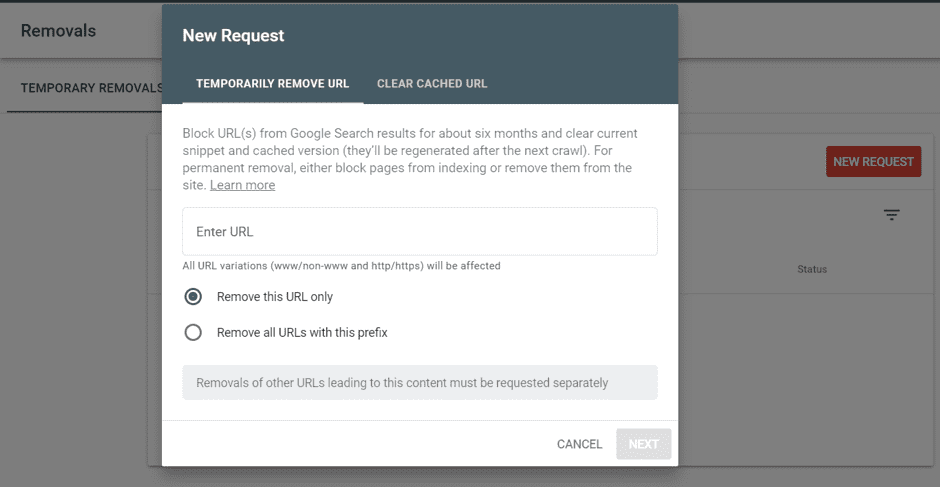 Once inside the "Temporary Removals" tab, click on "New Request" and enter the URL that you want to block and prevent from showing up in the search results.
Note that the URL is not actually removed from Google's site index; rather, the respective URL is blocked from Google search results for six months.
If you wish to permanently block the URL and remove it from Google's index list, you will have to block the URLs via the robots.txt file.
Outdated Content
The 'Outdated Content' tab provides information about removal requests made through the Remove Outdated Content tool.
The "Remove Outdated Content" tool is a tool by Google to help its users point out a particular page that seems outdated or contains misleading information.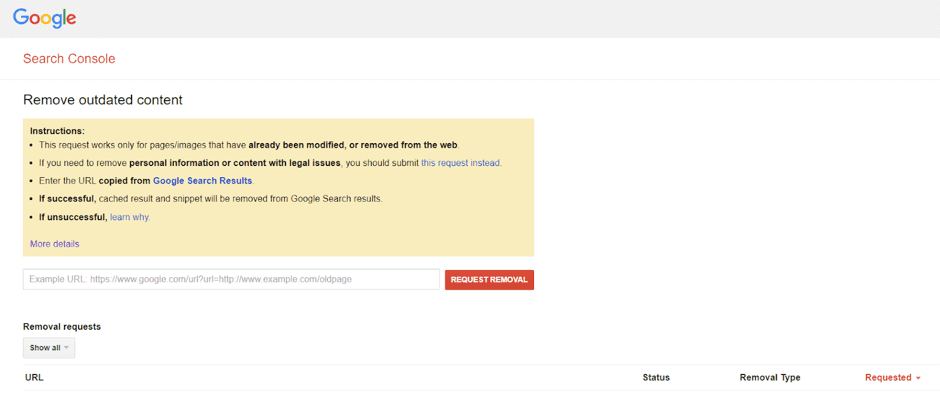 This tool can be used by anyone (not restricted to site owners) to inform Google to remove certain search results that show information that is no longer present on a page or is outdated.
The "Outdated Content" will show you the URLs that have been requested to be removed from the Google search results due to various reasons, such as:
The page is outdated
The information on the page is illegal, bad or wrong
The page no longer exists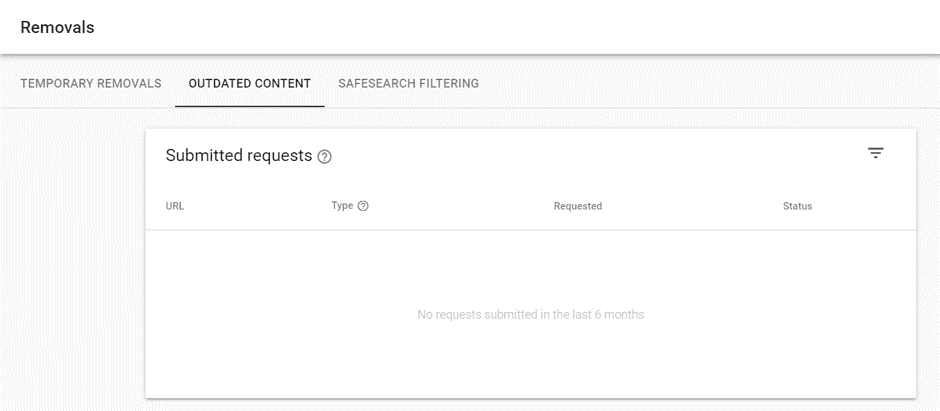 Luckily, we do not have any such requests registered (thanks to regularly updating content on our pages.)
Safesearch Filtering
The 'Safesearch Filtering' tab displays URLs that have been flagged by users as "Adult Content".
Google provides the Safesearch Filtering tool for users to report content that is suitable for viewing only by Adults.

If there are certain URLs that Google feels are rightly flagged by users as adult content, then those URLs will be displayed in the Safesearch Filtering tab.
Key Learnings:
The new features being added in the Google Search Console have been helpful for Webmasters and site owners.
Using the new "Removals" feature, site owners will have a sense of control and understanding of their URLs that have content on it.
The update is very useful for site owners to know which of their sites have been removed from search results due to various problems with content, like it being outdated, resembling adult content or having incorrect information.
SEO professionals and site owners can collectively work towards improving such pages(in the Removals section) by providing content that is fresh and not flagged inappropriately.
Want more such helpful search marketing news updates? Subscribe to our blog now!