If we open the Google Search Console, then on the left side under "Enhancements Section", we can see a new report option, i.e. the 'Speed (Experimental)' Report, which Google has been testing for the past six months before launch.
There are two sections to this report: one deals with mobile stats and the other, those of the desktop
The following are screenshots of both reports: 


As we can see above, the reports help us know which URLs of a website are 'Slow', 'Moderate' and 'Fast'.
By clicking on 'Open Report', you can see the following details: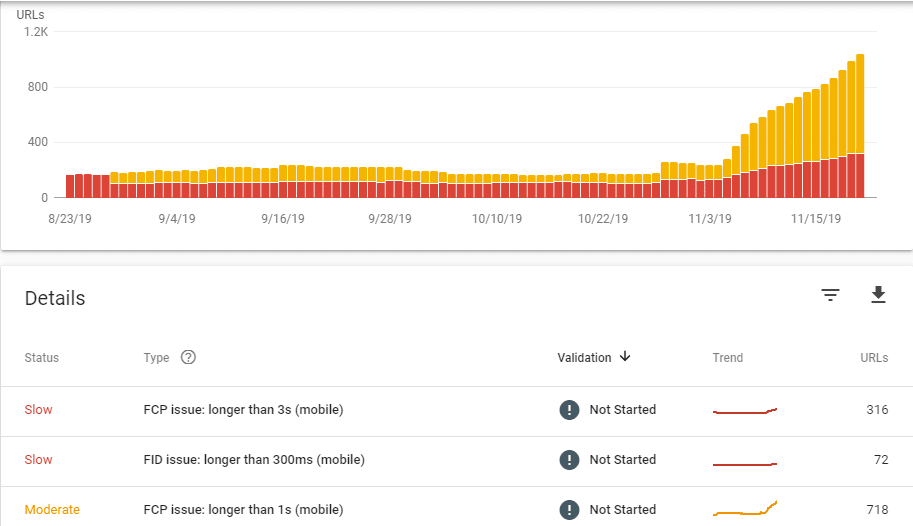 In the above example, 316 URLs are shown as slow as their FCP (First Contentful Paint, i.e. the time taken by the browser to render the first bit of content) is longer than 3 seconds. 718 URLs are shown as being of moderate speed as their FCP is longer than 1 second but less than 3 seconds. For URLs to come under the fast category their FCP should be less than 1 second.
According to Google
:
This report will help us in monitoring page speed and determining which URLs we need to work on. It is important because page speed is not just a Google ranking factor — visitors just do not like to wait for a long time for a website to load. If the website is slow then visitors will click the back button. So it is important to optimize the page speed. However, we must not forget that this report is in the experimental stage and Google will make improvements to it going forward.
Love reading our posts? Subscribe to our blog now!
Popular Searches
SEO Company In Mumbai | SEO Services | PPC Services | What is SEO | Technical SEO | Types of Digital Marketing | Types of Sitemaps in SEO | Website Structure | Google Site Kit Plugin | SEO for Dark Mode Websites |