The GMB team has added three new attributes to the GMB profiles on the platform. This will lead businesses to showcase more types of service offerings.
All these attributes give consumers an idea of what the place has to offer, which can help them make proper decisions about where to visit. 
Consumers who search for a business in the Maps or Google Search can see these attributes. Below is a screenshot of the current attributes as shown in the listing.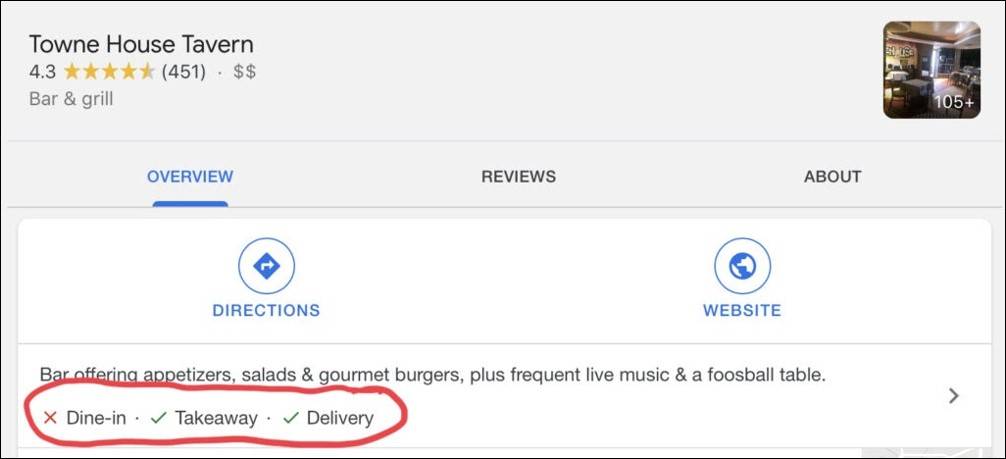 Few of the attributes are highlighted in the screenshot above, and other few are related to Offerings, Dining options, Amenities, and more. 
With the current things happening in the world, many consumers are now interested in knowing if the business has a curbside pickup rather than an outdoor setting. Keeping this in mind, the GMB team has added the below attributes.
The Latest Google My Business Attributes
"Curbside pickup"

"No contact delivery"

"Dine-in"
Google Stated
"Since March, more than 3 million restaurants have added or edited their dining attributes. Some restaurateurs are even ditching dining areas for good.

To support all types of food merchants, virtual kitchens can now verify their businesses on Google My Business."
The steps for businesses to add these attributes are as follows
Sign in to Google My Business.

Open the location you would like to manage.

From the menu, click Info.

Find "Add Attributes" and click Edit.

You can search for the attribute you want to add or scroll through all the available options for your business.

When you're finished updating your attributes, click Apply.
With time, Google's focus on improving user experience has only increased. Stay tuned on our blog for more such updates.
Popular Searches
Best SEO Company  |  Search Engine Optimization in Bangalore  |  Search Engine Optimization in Delhi  |  SEO Company in Mumbai  |  Best SEO Agency  |  SEO Consultants Services  |  Internet Marketing Services  |  Ecommerce SEO Services India  |  Website Audit Services  |  SEO Penalty Recovery Services  |  Local SEO Services in India  |  PPC Services in India  |  ASO Services in India  |  Conversion Rate Optimization Company  |  Link Building Services  |  Content Marketing Agency  |  On Page SEO Factors  |  Digital Marketing Overview  |  What is Google Algorithms  |  Reverse Image Search