Google has released a report highlighting five key trends showcasing the changes in consumer behaviour brought by COVID-19. This report will help marketers to better react to these changes, understand the impact on their business, and develop a strategy to overcome issues quickly.
Google stated
Over four billion people are staying home worldwide as of this week which has majorly led to changes in online behaviour. Most of these changes are seen in consumers interests, expectations & purchasing behaviour.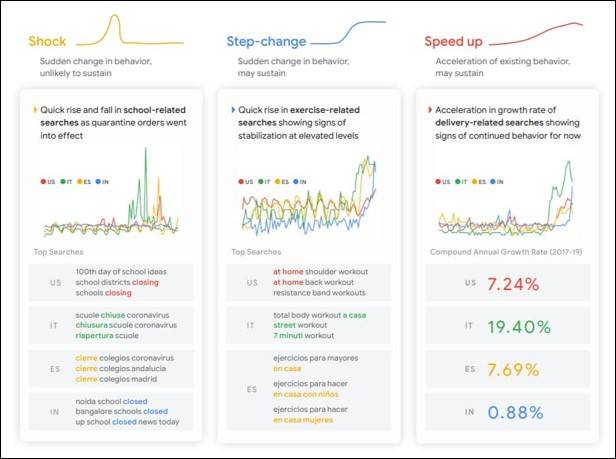 Here are the five key trends listed in Google's report
Various devices being used by consumers
Staying connected with the world has become more important than ever now. Home-media consumption has been increasing dramatically.

According to Nielsen data, staying home in the US has led to a 60% increase in the amount of content viewed online.

According to App Annie, consumers across the globe are spending 20% more time on apps as compared to they did a year ago.
More relied on Google
Search interest in "online grocery shopping" and "grocery delivery" grew 23% year over year in the US.

Americans are watching videos related to recipes and cooking at a rate of 31% higher than they did in March 2019.

We've seen search interest in telemedicine increase 150% week-over-week in the US

.
People creating relationships virtually
Due to self-quarantine, the distance between people has led them to heavily depend upon technology as a way to connect.
50% of US consumers said they used video to communicate with family and friends in March. And search interest for "virtual happy hour" is rising, especially in the US.

On YouTube, we've seen a rise in "with me" videos, where people film themselves going about ordinary tasks like cleaning, shopping, or cooking. In the US, views of videos containing "study with me" in the title are 54% higher compared to the same time last year.
People are adjusting routines to be at-home-first
Search interest for "telecommuting" in the US reached an all-time high on Google and YouTube11 in mid-March and continues to grow with no sign of slowing down.

Workout routines are getting an overhaul all over the world. There is a growing search interest for "stationary bicycles" worldwide, especially in Spain and France, and "dumbbell sets" in the UK, for example.
Self-care has gained more importance
People are turning to online video for help in coping with anxiety and stress. So far in the US this year, views of meditation-related videos are 51% higher than the same period in 2019.

People are searching for things to do when they're bored. Searches for "bored" have spiked significantly in the month of March, and searches for "games," "puzzles," and "colouring books" increased considerably during the same period.
For more insights regarding the changes in consumer behaviour, you may check the complete Google report here.
Popular Searches
SEO Company  |  Internet Marketing Services  |  SEO Agency  |  SEO Services  |  Ecommerce SEO Firm  |  SEO Audit Services  |  Google Penalty Recovery Services  |  Local SEO Services  |  PPC Services  |  ASO Services  |  SEO Consultants  |  What is Digital Marketing  |  What is Technical SEO  |  Google Algorithm Updates  |  Google Reverse Image Search  |  Google Ranking Factors  |  List of HTTP Status Codes  |  Schema Markup  |  Types of SEO  |  What is Featured Snippet