Launched last December, the Google Search Status Dashboard is now getting an update with the addition of a new ranking section. The earlier dashboard offered data about active and historical Google algorithm updates, and what changed with Google Search in relation to crawling, indexing, and serving. With the addition of the ranking section, you will be able to view what changed with Google Search in relation to rankings.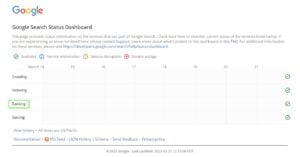 Google Search Central (a platform that offers news and resources from Google Search to help people make great sites) via their Twitter handle, said that they are working on integrating the ranking updates page with http://status.search.google.com and that the 'ranking' section will soon display the recent March 2023 core update in addition to the Google Algorithm update history upto 2020. Below is the tweet for your reference:
Here's a link to the previous Google Algorithm Updates, if you wish to refresh your memory.
Related News :
Universal Analytics 360 deadline Extended to 2024 |  Google Search Console Update | W3C Announces Major Change | YouTube launches new Live Redirect feature | Google Tests New Featured Snippets | Google to End Support for Universal Analytics in 2023 | Google Introduces Favicons, Sitename, and Sponsored Labels on Desktop | Google March Broad core update 2023 
Popular Searches :
SEO Company | SEO Agency | SEO Consultants | SEO Services | Ecommerce SEO Services | SEO Audit Services | Google Penalty Recovery Services | Local SEO Services | PPC Services | App Store Optimization Services | Conversion Rate Optimization Services | Link Building Services | Content Marketing Services | Enterprise SEO Services | Professional SEO Services | List of Search Engines  | What is SEO  |  Types of Digital Marketing  |  What is Google Tag Manager  | On-page SEO Services  |  Off Page SEO Activities List  |  Technical SEO Checklist  |  What is YouTube SEO  | History of Google  |  Types of SEO  |  Benefits of SEO  |  Cloaking  |  What is Sitemap  |  Bounce Rate |  Off Page SEO Checklist