Google will auto-translate titles, meta descriptions, snippets, and content on pages in Indian languages
This is good news for people in India who use Google Search to find information across the web. In a recent announcement from Google for India 2021, search results will be auto-translated in the preferred language set by Indians. 
There are currently five Indian languages supported: 
Hindi

Kannada

Tamil

Telugu

Malayalam
In the following releases, more languages are planned to be included.
Here's the official announcement:
"When people across India access the web, not surprisingly, they prefer to find content in the languages they use in their daily lives. However, the local language web ecosystem is still growing, and most information on the web is in English. This often leads to people being unable to find useful information in their own language online.
…today we are announcing a feature in Search that will give users the option to access web pages originally written in other languages, and see it in their preferred language."
Google India also went on to explain how this new feature will work and showcased it using an example: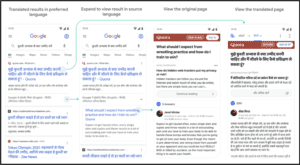 Source: Google India Blog
You'll also be able to hear the search results in Indian languages, which is a neat feature added to Google Search for India. This new feature will be available in Hinglish, Hindi, Bengali, Marathi, Telugu, and Tamil. Google India intends to support additional Indian languages in the future.
Here's the announcement:
"We are also expanding voice driven experiences in Indian languages by introducing the ability to hear search results out loud, for users who find it easier to consume information by listening."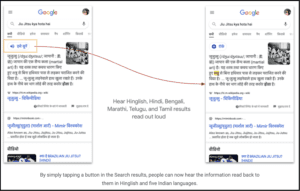 Source: Google India Blog
This Google initiative will immensely assist Indian people who seek and find useful information on the web in their native languages. We believe that this will encourage more users from different parts of India to adopt Google Search, leading to an increase in searches.
Popular Searches
SEO Company | SEO Services in USA | SEO Agency in USA | Ecommerce SEO services | SEO Audit Company | Google Penalty Recovery Services | Local SEO Service | App Store Optimization Services | Conversion Rate Optimization Agency | Professional SEO Company | Pay Per Click Services | Enterprise SEO Service | On page SEO Services  |  What is Digital Marketing  |  Canonical Tags  |  Google Business Listing  |  Image Optimization  |  Reciprocal Links  |  What is Google Analytics  |  Google Sandbox  |  Orphan Pages  |  Ad Groups  |  SEO Metrics  |  Display Ads  |  Pillar Page  |  Increase YouTube Views  |  Importance of Digital Marketing  |  List of Search Engines  |  What is Sitemap  |  URL Structure