Google confirmed it would allow every business to list Google Shopping items for free. Google revealed that it would extend its Google Shopping Service to include the entire Google.com search results, and no longer just Google Shopping.
Bill Ready, the President of Commerce at Google, said that "that the company has been working on implementing this free service through Google Shopping for "some time," but the pandemic outbreak and the potential good the company could do pushed it to accelerate the launch."
Google Stated
"Now, we're bringing free listings to the main Google Search results page in the U.S., helping shoppers choose the products and sellers that will serve them best, from the widest variety of options."

"Shopping ads continue to be a great tool for merchants to engage with consumers and will appear separately at the top of the page, clearly marked like Google's other ad units. Merchants can choose how to show up and shoppers can choose where to click."

In the summer, Google will introduce this first in the US, on a mobile, and then on a desktop in the knowledge panels, but it will be further extended.
Here's how free shopping ads look in the product knowledge panels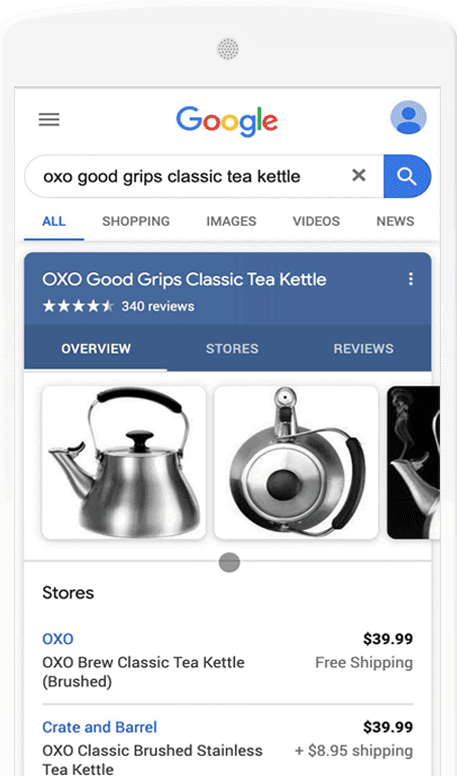 Google's support report on this topic is here. 
Popular Searches
SEO Company in India  |  SEO Agency  |  SEO Company in Mumbai  |  Digital Marketing Services  |  SEO Services  |  Ecommerce SEO Services  |  SEO Audit Services  |  Local SEO Services  |  PPC Services  |  ASO Services  |  What is SEO  |  What is Digital Marketing  |  Canonical Tags  |  Website Navigation  |  Google Business Listing  |  Image Optimization  |  Importance of Digital Marketing  |  What is Featured Snippet  |  Schema Markup  |  What is YouTube SEO