Recently, it was spotted that Google has been running a test trial of showing organic listings for web pages in YouTube search results.
It was noticed that when people search for topics on YouTube, Google was showing links to web pages on YouTube search results.
A Reddit user discovered the test initially and later posted the following screenshot: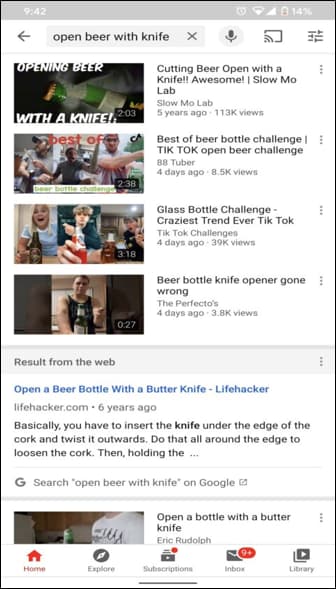 The web page result can be seen showing links as well as videos that are full of only videos otherwise.It is the user's choice to either click the YouTube Page, which is displayed or click on any of the links to perform a search directly on Google.
Google is taking it upon itself to show the results to assist the users, as it can be seen there is no indication that the website results shown by Google are sponsored.
It seems that Google is taking it upon itself to assist users with search results, as there's no indication that the web site result is sponsored.
In case, if comments in the r/Google subreddit are any signal, then this test feature by Google might not be liked by users as many comments seem to be negative.
Following are few of the examples of what are people's opinion on web search results on YouTube:
"That's really annoying. If I want a google search, I'd go to google. They should not treat users like tech illiterate people."

"That's just bad. Who would want such a feature? I hope it's optional."

"That would just ruin the YouTube experience. Haven't they done enough with moving the comments."

"If it only comes up when there are not many results, it's okay I guess. But if I search something with millions of results I wanna scroll down infinitely :D"
What are the chances of this Feature being Helpful?
To understand opinions from people on both sides, here are some of the arguments from people who think that this feature might be a useful one and consider it not to be as bad and annoying as others are saying.
"I don't know man, sometimes I'm looking for a tutorial but I want a video explaining it, and if it doesn't exists now I have the option to do a quick Google search in the app."

"The problem is when I need an answer to a question, and I don't want to watch someone's 7 minutes of filler before they answer it, and then ask us to like and subscribe in every way possible for 3 minutes."

"I might like this. I often do a back to back search like that."
There are valid points for and against this feature. However, it has been noted that there are more people against it.
However, it's not clear how widely this test has been rolled out. The screenshot which was published by the Reddit user spotted this test appearing in the YouTube app for Android.
There are few people who are running into it, and Google might work upon its testing as time goes on.
Popular Searches
SEO Company | Best SEO Company in Bangalore | Best SEO Company in Delhi | Best SEO Company in Mumbai | Best SEO Agency | SEO Consultants | Internet Marketing Services in India | SEO Service Provider | Ecommerce SEO Services India | Website Audit Services | SEO Penalty Recovery Services | Local SEO Services | PPC Company in India | ASO Services in India | Conversion Rate Optimization Agency | Link Building India | What is YouTube SEO | What is On page SEO | Digital Marketing Overview | Technical SEO Factors