Corrections are approaching Google's phrase match and broad match modifier keyword match types. This was announced by the organization in the initial days of February 2021.
Now, phrase match will cover most of the functionalities of broad match modifier and assistance for broad match modifier will stop soon. This development will begin to roll out in the next two weeks.
From mid-February, both phrase match and broad match modifier keyword match types will start transitioning to their latest matching behavior.
As this function will be implemented to both match types, you don't have to take any quick action—you can keep your performance data and there's no need to migrate your keywords.  
Why is Google Removing Broad Match Modifier?
As we all know that broad match and phrase modifier mostly delivers the same use cases, we can reach more target audiences through the mixture of both.
That's the reason, within a few weeks, Google is rolling out reforms to phrase match and broad match modifiers that make it more comfortable for you to reach your target customers, irrespective of how they're searching.
How Does This New Phrase Match Modifier Will Work?
As per Google's example, let's assume you're a moving firm that needs to reach consumers interested in going out of New York City. With the refreshed phrase match, you can reach customers looking to travel from NYC to Boston, for instance, without showing up for users seeming to go from Boston to NYC.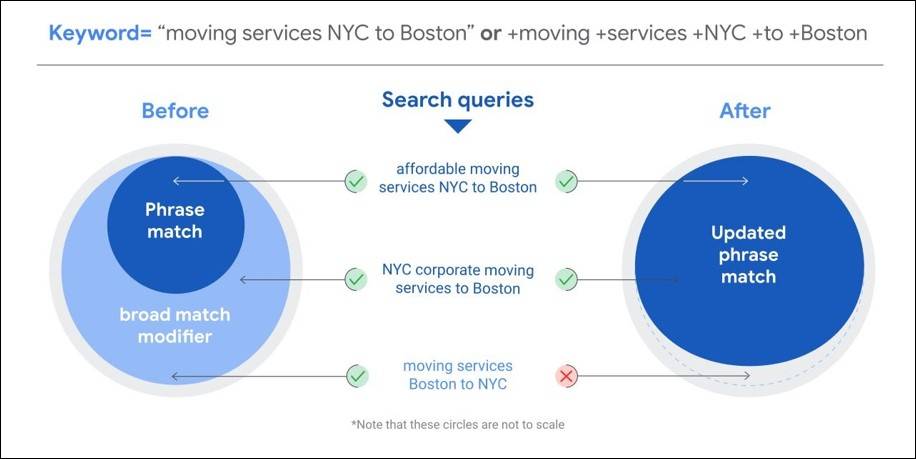 Image Source: Google Ads Help
Below are some more examples given by Google to explain how matching behavior will improve after this update: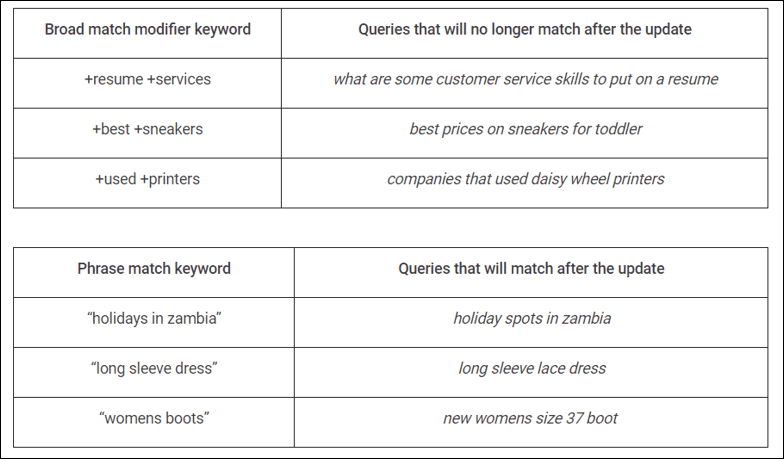 Image Source: Google Ads Help
How Should Advertisers Need to Prepare For These Upcoming Changes?
To assist advertisers in these upcoming changes, Google suggested the following best practices:
There are chances that traffic can fluctuate because of these changes so it is recommended to observe performance and shift budgets where required.

Regularly keep an eye on the Recommendation section of your account

Try to use broad match with Smart Bidding

If required, you can exclude matches you don't want with negative keywords
To know more, you can read Google's Announcement here.
Popular Searches
SEO Services in USA  |  SEO Audit Services  |  Google Penalty Recovery Services  |  Local SEO Services USA  |  SEO Agency in USA  |  Best SEO Consultants  |  Amazon PPC Services  |  Enterprise SEO Expert  |  Ecommerce SEO Company  |  ASO Service Provider   |  PPC Company in USA  |  Content Marketing Services  |  Link Building Services  |  Digital Marketing Services  |  Conversion Rate Optimization Services  |  Importance of Digital Marketing  |  Importance of Website  |  What is SEO  |  What is a Digital Marketing  |  What is YouTube SEO  |  YouTube Searches 2021  |  Types of SEO  |  Off Page SEO  |  On Page SEO  |  What is Canonical Tags