Infidigit makes yet another addition to its list of accolades, this time winning it for Zivame.  Team Zivame and Infidigit's campaign 'Garnering Top Google Search Results for Zivame With a Unique SEO Strategy' cinched the Bronze Prize in the midst of prominent entries at CIDCA (Campaign India Digital Crest Awards) 2019.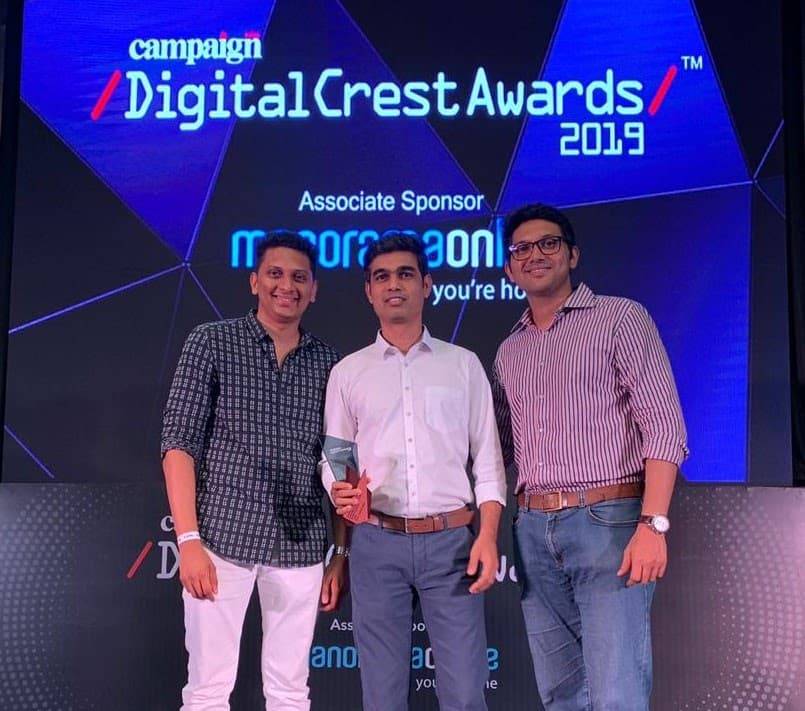 The credit of this prestigious award goes to the hours of co-ordinated efforts and analysis put in by teams at both Infidigit and Zivame. As a result of these efforts, the annual target for Zivame was met in just ten months, which in turn, doubled its web traffic. Also, the increased brand visibility and market share for targeted keywords was the cherry on the cake.
Speaking about CIDCA awards, this is not the first time Infidigit has left a mark at this platform (Click here to see more awards). Just like the previous year, we were humbled to be one of the prominent entries in the SEO/Paid category at the awards.
This year, Infidigit stood with pride alongside Silver winners such as Liqvd Asia and Madison Media. However, no Gold Prizes were announced for the category in this year's edition. Listed below are the details of the winning entries in the SEO/Paid Category at the Digital Crest Awards 2019.
| | | | |
| --- | --- | --- | --- |
| Award | Agency Name | Brand | Campaign Name |
| Bronze | Infidigit | Zivame | Garnering Top Google Search Results for Zivame With a Unique SEO Strategy |
| Silver | Liqvd Asia | VoxPop | How Google Helped Us Sell T-Shirts For Free! |
| Silver | Madison Media | Piramal Healthcare | Khul Ke Khao |
Expressing his happiness on winning the award, Kiran Washindkar, VP – Digital, Infidigit said, "As an SEO consulting agency, we crafted a growth hacking solution that was targeted at strengthening Zivame's presence in Google SERPs. Behind this solution was a young and dynamic team of analysts and content writers who were a pleasure to work with. Focussed and driven in their efforts, they formed a strong groundwork that ensured our solutions hit the bullseye. But, at the same time, team Zivame's efforts need to be appreciated as they implemented our recommendations in a systematic, time-bound manner. That's because ideation is only the half-way mark to success; it is an efficient implementation that helps reach the finish line."
With this award, team Infidigit's spirit is further emboldened to push the envelope in terms of SEO strategies. The ever-evolving Google Search continues to put forth engaging challenges for the team to tackle. Moving forward, founder Kaushal Thakkar and the team shall continue to push for data-driven innovation, creating a difference in the world of SEO.
Popular Searches
SEO Blogs | SEO News | SEO Guidelines | Technical SEO | How to Optimize your Website | On Page SEO Techniques | SEO History | Ecommerce SEO Tips | Digital Marketing | What is PPC | SEO Services | SEO Audit for Ecommerce Site | Ecommerce SEO Company India | SEO Penalty Recovery Services | Local SEO Services in India | ASO Services | Search Engine Marketing Company in India | Conversion Rate Optimization Consultant | Content Agency | Link Building India | SEO Company in Mumbai | Infidigit Proven Results | Infidigit Clients | Client's Testimonials | SEO Jobs | Structured Data Warning | How to Improve Google Search Ranking | Movie Carousel Schema | Sitelink Search Box | Types of SEO in Digital Marketing |