As part of a larger initiative to counter bullying on the platform, Instagram is planning on testing the 'Pin Comment' feature on the posts shared by users. This feature will help Instagram users to pin comments they feel are appropriate, uplifting and promote positivity on their account. Instagram will soon roll out pin comments feature as a test and then make it available to all its users.
Below is a snapshot of how the 'Pin Comment' feature will look in the Instagram IOS App.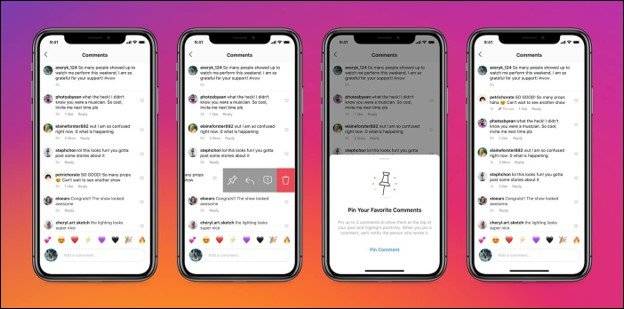 The feature of pinning comments will be helpful for users who wish to pin positive comments on their post. The positive comments can be pinned to the top of the comment section, automatically pushing down negative or inappropriate comments, if any. 
As per Instagram
This feature gives people a way to set the tone for their account and engage with their community by pinning a select number of comments to the top of their comments thread.

Other Benefits of Pin Comment
Let's say you use Instagram as an influencer to promote handbags for a particular brand. Someone who purchases and uses the handbags after seeing your post may leave positive comments about their experience. You can pin that feedback comment on the top to help other users learn more about the product. The positive feedback may also encourage other users to buy the handbags for themselves.
Removing Negative Comments
Another feature that Instagram is rolling out is the option to delete comments in bulk. This will make it easier for users to delete negative or inappropriate comments in one go.
Instagram shared
We know it can feel overwhelming to manage a rush of negative comments, so we've been testing the ability to delete comments in bulk, as well as block or restrict multiple accounts that post negative comments.
For users who have a large following and high engagement, this feature can be useful for them. There are times when fake accounts or users leave inappropriate comments on your posts. As of now, the only option to manage such comments is by deleting them individually. However, the latest bulk deletion option will be quick and helpful in removing such unwanted comments in bulk and maintain a positive environment on your account.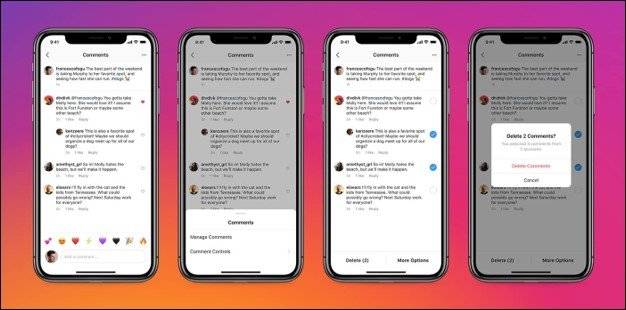 To enable this feature on iOS:
Tap on a comment and then hit the dotted icon in the top right corner.

Select Manage Comments and choose up to 25 comments to delete at once.

Tap More Options to block or restrict accounts in bulk.



To block or restrict accounts on Android:
Press and hold a comment to select it.

Tap the dotted icon and select Block or Restrict.
Choose Who Can Tag You Feature
This feature will allow users to select who on Instagram can choose to tag and mention you on comments, captions & stories.
Instagram stated
We've seen that tags and mentions can be used to target or bully others, so we're rolling out new controls that allow you to manage who can tag or mention you on Instagram.
You can choose from the following options:
Everyone can tag/mention you.

Only people you follow can tag/mention you.

No one can tag/mention you.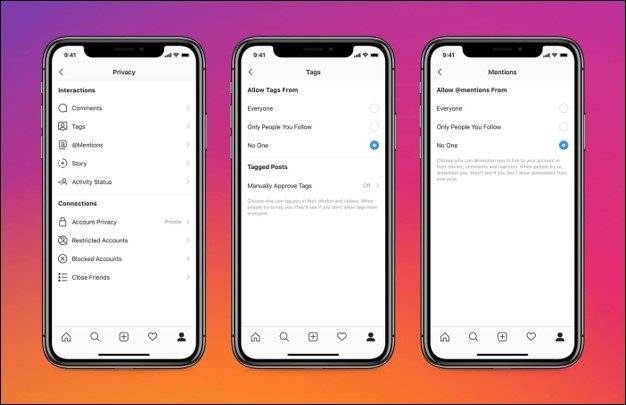 By the addition of these features, we are noticing Instagram's increased focus on the mental health and well-being of its users. 
For more such news, stay tuned to our blog.
Popular Searches
Best SEO Company in India | Internet Marketing Services | Best SEO Agency | SEO Services | Ecommerce SEO Services | SEO in Digital Marketing | On-page SEO Factors | Types of Digital Marketing | SEO Ranking Factors | What is Cloaking | Off-page SEO Factors | E.A.T SEO | Black Hat SEO Techniques | What is Website Structure | WordPress SEO Plugin | Types of Sitemaps | SEO Optimization Tools | ASO Ranking Factors | Mixed Content | Content Marketing Trends