Google's John Mueller said that keyword stuffing alone would not make a page be deemed unhelpful. In addition, he also said that it likely won't be the reason for ranking issues in Google Search, and Google is good at ignoring methods like keyword stuffing.
On Mastodon, someone highlighted a page that ranked well in the SERP but they thought that the page had keyword stuffing in it. John replied saying, "we tend not to evaluate the quality of other people's pages — it's not that useful if you can't change something there."
According to the SEO, "those people aren't like others." That's my client. We are trying to figure out if there is any chance a Google bot identifies unhelpful content on our website. Because we were hit by the helpful content update. Due to the amount of content on one page, I think it might come across as unhelpful. Any input from your end will be appreciated."
The above tweet by John Mueller stated that Keyword stuffing is not the only factor that necessarily makes a page unhelpful. Search engines easily ignore the keyword stuffing factors. Back in the 90s, keyword stuffing was primarily used to manipulate search results. 
Back in 2018, John Mueller also said that keyword stuffing won't affect and get a penalty and last year he stated the same about keyword-stuffed URLs that don't lead to a penalty either.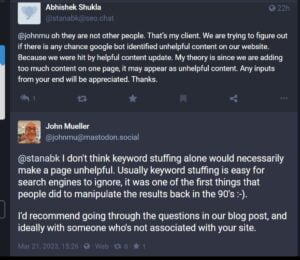 Related News :
Universal Analytics 360 deadline Extended to 2024 |  Google Search Console Update | W3C Announces Major Change | YouTube launches new Live Redirect feature | Google Tests New Featured Snippets | Google to End Support for Universal Analytics in 2023 | Google Introduces Favicons, Sitename, and Sponsored Labels on Desktop | Google March Broad core update 2023 
Popular Searches :
SEO Company | SEO Agency | SEO Consultants | SEO Services | Ecommerce SEO Services | SEO Audit Services | Google Penalty Recovery Services | Local SEO Services | PPC Services | App Store Optimization Services | Conversion Rate Optimization Services | Link Building Services | Content Marketing Services | Enterprise SEO Services | Professional SEO Services | List of Search Engines  | What is SEO  |  Types of Digital Marketing  |  What is Google Tag Manager  | On-page SEO Services  |  Off Page SEO Activities List  |  Technical SEO Checklist  |  What is YouTube SEO  | History of Google  |  Types of SEO  |  Benefits of SEO  |  Cloaking  |  What is Sitemap  |  Bounce Rate |  Off Page SEO Checklist