Facebook has declared this week that henceforth new advertisers can promote an Instagram post even if they do not have a Facebook page. This feature applies only to advertisers in the US and Turkey as of now.
"You can now create Instagram ads without having a presence on Facebook. If you are promoting a post from your Instagram business account for the first time, you won't have to connect to a Facebook ad account or Facebook Page."
Instagram Ads Help Page"
How Does It Work?
Users interested in promoting a post can visit their Instagram profile and click on the post they want to run as an ad. The next step is just to click the 'Promote' button that appears under the post's image. Other features like audience targeting, budget, length of the campaign, and ad destination can also be added. However, this enhancement has not affected the review processes of any ads. The procedure will remain the same as usual.
The real catch to this new feature is that it can be used only by accounts interested in promoting their post for the first time, too, with a legit business account. Advertisers who have been promoting their posts in the past might have already linked their Instagram and Facebook accounts. For them, this feature will not be helpful.
Will This Affect Anything for Existing Advertisers?
No, it won't. If you have run Instagram ads via your Facebook ads account in the past, you will realize that there is no change in the appearance and operation of the ad. It will remain just the way it was earlier. 
How To Check If My Instagram account is connected to a Business Account?
You can ensure this by visiting your profile and selecting the three-bar symbol that appears in the upper right. The next step is to click "Settings".
In the list of Settings tab, you can see the Payment option button, click on it.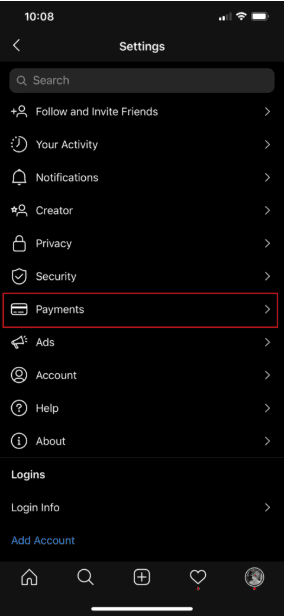 Select the first button of 'Promotion Payments'.

If a number appears on your screen then it's confirmed that your Instagram account is not connected to your Facebook account. 

If there's a name appearing on the screen, that means your account is connected.
Is this something of a big deal?
On the surface, one may feel like "What's the big deal ?"
But if you backtrack a bit and observe the ad ecosystem, then it may come across as a more promising prospect than the first impression because of the following reasons:
It is resulting in a small breach between Facebook and Instagram.
Conventionally, Instagram ads share a parent/child relationship on the Facebook ads platform. It is present there, like a secondary option where the boxes are checked.
Even if the ads are rub only on Instagram, the basic parent/child type setup will still remain attached to your Facebook page. As of now, it looks like a difficult task to separate these two within Facebook's ad account setup, but small steps may be taken in the direction in the near future, which may change the whole norm of the game.
Instagram's popularity is increasing tremendously, which cannot be ignored. More so, it has even gained the attention of users who fall into the over-35 category that was pretty loyal to Facebook as compared to the younger generation who have moved on to other apps.
It separates Instagram Ad dollars from Facebook.
While Facebook maintains that this has no connection with the recent criticism it suffered over taking a stand on politics and questionable content, the timing was somewhat wrong. Many popular brands are contemplating the idea of boycotting. 
The controversy is something you can of late associate with Facebook so much that in the coming month of July, six civil rights groups are going to totally boycott it under the banner #StopHateForProfit. 
Even though both the apps are owned by the same company, the anger is mostly directed at the umbrella of Facebook because of the popular belief that Instagram is a separate entity.
This may be because now, Instagram is viewed as the company's last hope for keeping up with ad revenue growth in recent times, and the same must be safeguarded. This change is not achieving that goal, but it gives a clear indication that this is something that might have caught the attention of Facebook revenue strategists.
Popular Searches
SEO Company in India  |  SEO Consultants in India  |  SEO Company in Bangalore  |  Digital Marketing Services  |  SEO Services  |  Ecommerce SEO Services  |  SEO Audit Services  |  Local SEO Services  |  PPC Services  |  Conversion Rate Optimization Services  |  Website Navigation  |  Google Business Listing  |  Image Optimization  |  Importance of Digital Marketing  |  What is Cloaking  |  What is Google Search Console  |  What is YouTube SEO  |  Importance of Website  |  Google Knowledge Graph  |  Hreflang