Google also provided new documentation to the search platform for organised data meant for home activities. Home activities structured data is specifically meant to be used for things that you can do at home, such as viewing videos and online events. It appears as unique rich results in Google Search results.
Rich results will give you more information about the video or online class you are providing, including more specifics such as a description of the activity, how to register or watch.
Here's what Google Search looks like as a rich result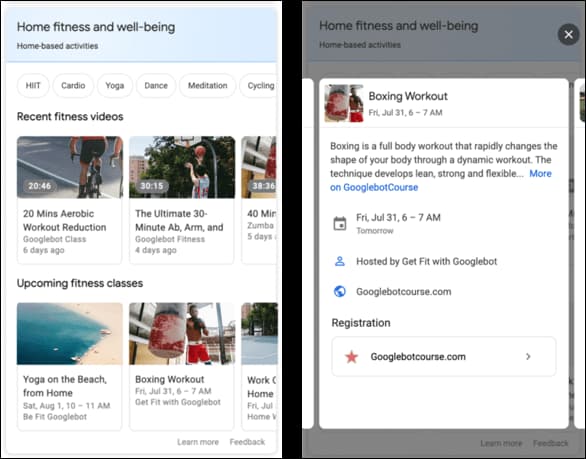 Image source: Search Engine Land
Google said that home activity-rich results are "currently only available in English in the U.S." and are currently only operating for smartphone searches. Currently, this only exists for fitness-related searches such as "online workout" or "yoga at home."
Types of material. Here are some examples of the content forms of home activity that Google supports
Upcoming video Livestream

Already recorded video

An online event
Rich Google Search results will give you greater exposure and visibility. But even if you can't switch from position three to position one in Google Search, for example, with a richer result, the user can look at your richer result in position three
If you have videos or events in this section, then it's definitely worth testing out structured data home activities.
Popular Searches
Best SEO Company  |  Digital Marketing Services  |  Best SEO Services Company  |  Ecommerce SEO Agency  |  Website Audit Services  |  Google Penalty Removal Service  |  Local Search Engine Optimization Services  |  PPC Company Australia  |  App Store Optimisation Services  |  Content Creation Agency  |  SEO Agency Australia  |  Sydney SEO Services  |  Technical SEO Consultant  |  SEO Services in Melbourne  |  SEO Consultant Perth  |  SEO Consultant Brisbane  |  What is Digital Marketing  |  Importance of Digital Marketing  |  What is Cloaking  |  Google Reverse Image Search