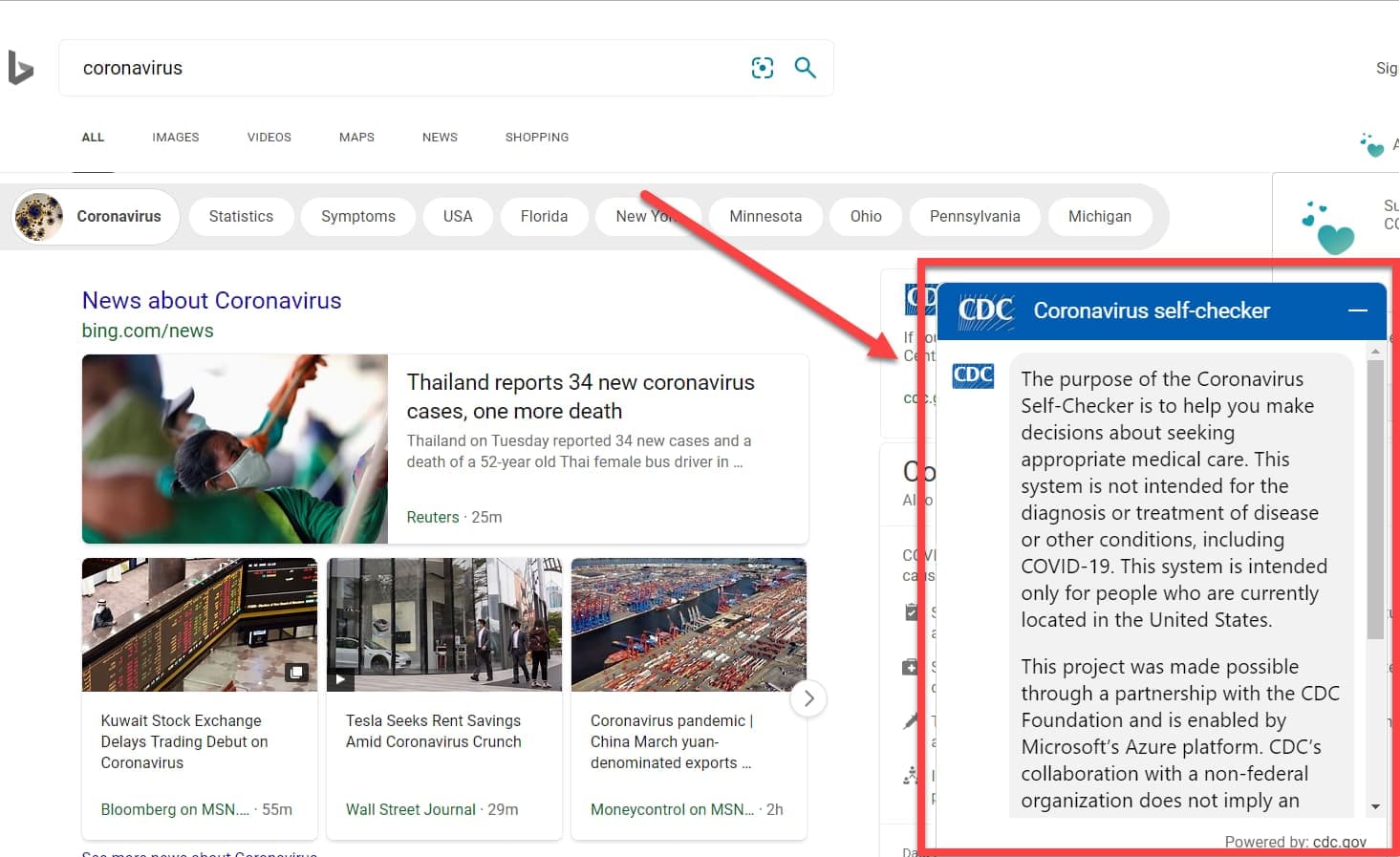 The Centers for Disease Control and Prevention (CDC) has introduced a risk assessment tool for people who are showing symptoms of the coronavirus.
The tool comes in the form of a chatbot that is displayed on the Bing search results page. 
The chatbot appears when someone searches for terms like 'corona', 'coronavirus', 'coronavirus symptoms'. Or in other words, any such term related to coronavirus.
CDC Chatbot Features
We've been using this chatbox for a while now, and here is how's the interface looks like:
First, it asks you for your location. 

Then it asks you whether you're feeling ill or taking care of someone sick. For this, if you respond with a 'No', it will tell you that you are ok and don't need to worry.

If yes, it will ask you what age group you fall under and then proceed to ask your gender.

Next, the chatbot asks you whether you are experiencing any life-threatening symptoms. (There are around eight serious symptoms listed)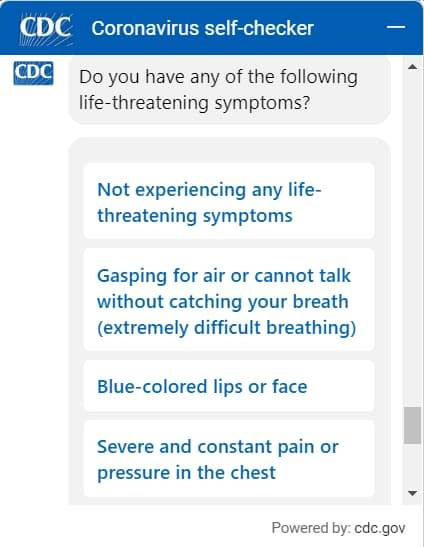 Depending on what symptoms you select, you'd be advised to either visit a doctor immediately or self-quarantine at home.
Key Learnings:
Bing is taking essential measures to keep people informed during this coronavirus pandemic. Previously, Bing had also added support for new schema markup for coronavirus which was launched by Schema.org

The CDC self-checker chatbot can help people access their condition based on their symptoms. This will also help avoid panic among people. With the United States being a hotspot for the COVID-19, it is crucial that people understand their symptoms and take appropriate measures.

The CDC chatbot is only available for the people of the United States at the moment. If you are having symptoms and do wish to access the chatbot, you can change your country in Bing settings to "United States".
Interact with the chatbot and let us know in the comments section what you feel about this initiative by Bing.
Popular Searches
Best SEO Company in India  |  Best Digital Marketing Services  |  SEO Service Provider  |  Ecommerce SEO Agency  |  SEO Audit India  |  What is Search Engine Optimization  |  On Page SEO Techniques  |  Digital Marketing Guide  |  Technical SEO Factors  |  Google Algorithm History  |  Google Reverse Image  |  Top Google Ranking Factors  |  Periodic Table for SEO Success  |  What is Structured Data for SEO  |  Types of Cloaking  |  Different Types of SEO  |  Types of Featured Snippets  |  HTTP Codes List  |  Off Page  |  Benefits of seo in digital marketing