Bing can now display a simple "Yes" or "No" result for the queries/questions you ask. Bing officially announced this new feature on May 19, 2020. The "Yes" or "No" response will be followed by a carousel displaying results from valuable resources.
The new update in action
We entered the query "can I feed eggs to my dog". Bing displayed a "Yes" followed by a carousel containing information from seven valuable sources.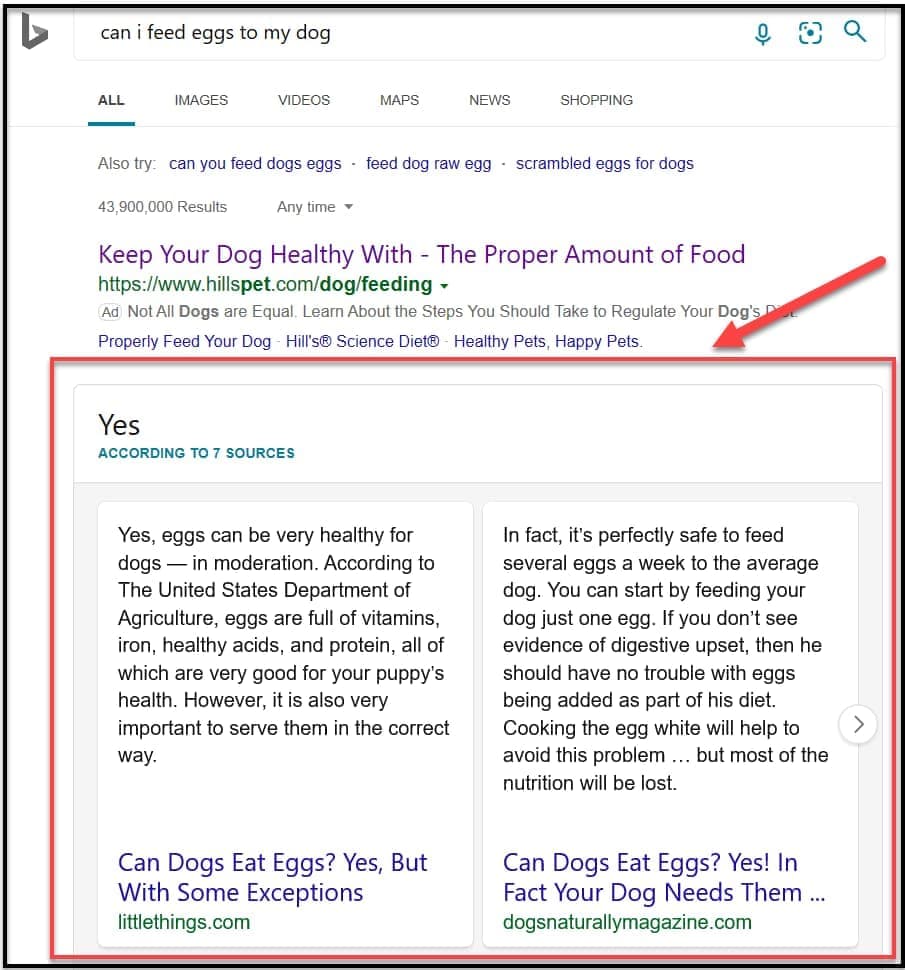 For certain queries, Bing also suggests a more refined search for a more precise answer.
Here's an example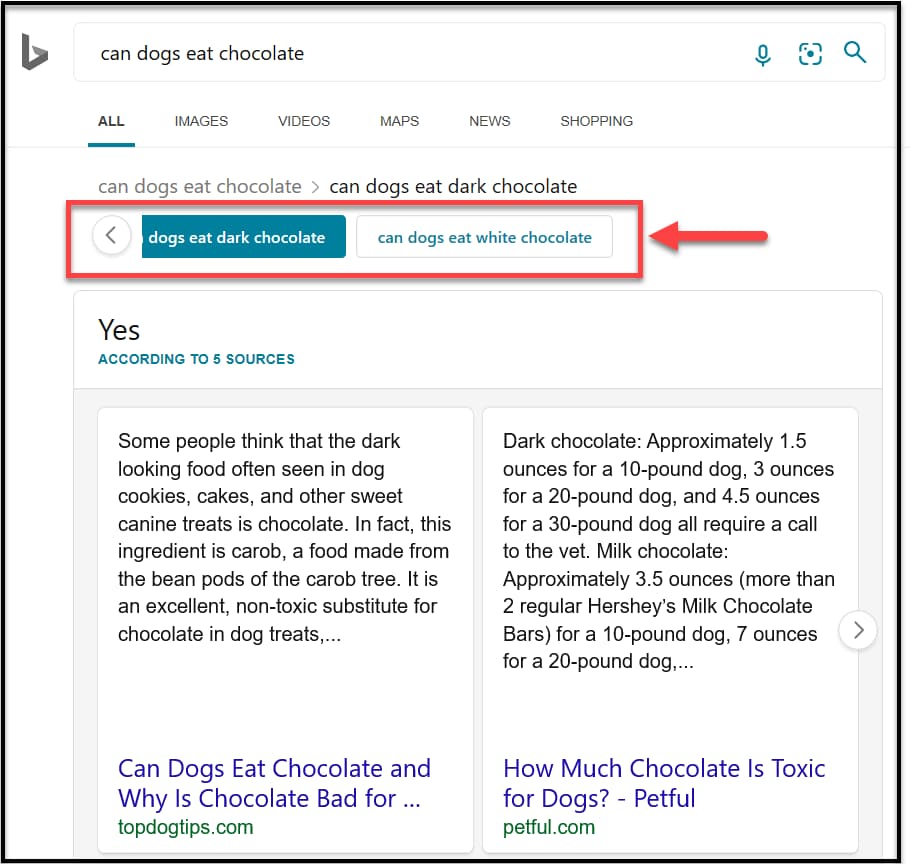 We searched for the query "can dogs eat chocolate". Bing suggested two more elaborate queries – "can dogs eat dark chocolate" and "can dogs eat white chocolate". This will help users to get answers for a more specific question.
How is Bing able to do this?
Microsoft has been working on "AI at Scale" to bring AI capabilities to it's Bing search engine. It is driven by its powerful "Natural Language Representation" (NLR) model. This model has been built by combining various Neural Networks like UniLM, MT-DNN, and Unicoder.
In simple terms, this AI used in the Bing search engine studies all the queries that have been entered by users. These queries are then fed to their Neural Network models. 
The model then runs through various reputable sources on the web and comes up with a "Yes" or a "No". It also stores a summary of the best results/answers in its memory while doing this. This summary list is what is displayed in the carousel.
Key Learnings
Microsoft has been adding new features to its Bing search engine. The smart "Yes" or " No" feature is a demonstration of their AI capabilities that they have been working on.

As an SEO agency, you need to look out for such queries. And do a proper analysis of how your Impressions, Clicks, and CTR would be affected by this feature. You can even optimize your pages for such question-based queries to feature in the Carousel. (which is under the "Yes" or "No" result.)
Let us know in the comments section whether you are impressed by this new Bing feature. Also, follow our blog for the latest updates in the area of Digital Marketing.
Popular Searches
SEO Company in India  |  SEO Company in Bangalore  |  SEO Company in Delhi  |  SEO Company in Mumbai  |  SEO Consultants in India  |  Digital Marketing Services  |  SEO Services  |  SEO Audit Services  |  Local SEO Services  |  PPC Services  |  ASO Services  |  Conversion Rate Optimization Services  |  Link Building Services in India  |  Content Marketing Services India  |  What is SEO  |  What is On Page SEO  |  What is Digital Marketing  |  What is Technical SEO  |  Google Ranking Factors  |  Google Algorithm Updates