Bing mentioned that it is using a large transformer model to deliver quality search content to the user from April of this year, which is roughly half a year before Google introduced its BERT search update. Google is also experimenting with BERT, but the update is only affecting 10% of its search results in the US.
Bing also admitted to the challenges that it is facing while implementing the BERT-like model, stating how costly it is to apply a deep learning module like BERT to all Bing searches worldwide. 
Implementing the BERT-like model on Bing search results became possible because of the Microsoft Azure cloud computing service.
Here's the tweet from Frederic Dubut, Senior Program Manager Lead at Bing: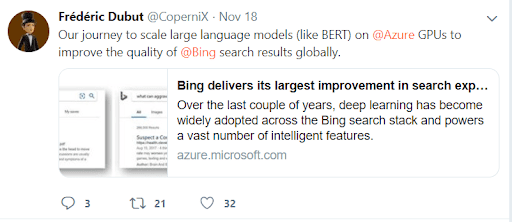 To optimize the BERT algorithm, Bing switched from a CPU model to a GPU model, which led to 800x times throughput improvement. And this improvement made to Bing search was witnessed globally.
Want more search marketing news updates? Tell us in the comments section. 
Popular Searches
SEO Company in India | SEO Audit Services | ASO Services | History of Google | Local SEO | What is Technical SEO | Is SEO Dead | History of SEO | SEO Spider Update Version 12.0 | New Link Attributes |