The mission of Google's health awareness team:
"Make health information universally accessible and useful. Allow anyone in the world to receive key, top-quality health info in a fluid and intuitive fashion."
Let's understand what Google has to say about searching for medical information online while checking out the Specialists tab update in Google's health condition cards.
Google says that the information you search for on Google as given below is reviewed by doctors:
Symptoms, treatments & medical conditions

Prevention, safety & concerns
Where does the medical Information come from? 
It comes from highly trusted websites backed by information from medical professionals 

Google finds and analyzes health-related information from trustworthy websites across the web

Teams of doctors carefully review and refine the information, and licensed medical illustrators to create visuals.
If you search for a symptom, you see a section called "Health conditions related to this search." This section comes from the Google search results and Knowledge Graph.
Addition of the Specialists tab in the Health Condition Card
Google provides us with answers to our many health-queries, whether you are trying to self-diagnose a medical condition or are just curious about a specific disease you have recently heard of. If you search for any of the above, Google shows you a Health Condition Card which contains the following details:
Overview:

A short summary of what the disease is, how it occurs, the effects and other facts like symptoms, treatability and more.

Symptoms: Shows a list of medical issues associated with a disease.
Treatments: List of remedies in order to effectively cure the disease.
Specialist: Recently added for users on Mobile and Desktop; it provides a simple way to locate the doctors who specialize in treating the health issue they are looking to cure.
Any patient who doesn't know what type of doctor they should seek for certain health issues, this tab in Google's health condition cards will help them locate the contact details of the right doctor for treatment.
Here's What it Looks like on a Mobile Device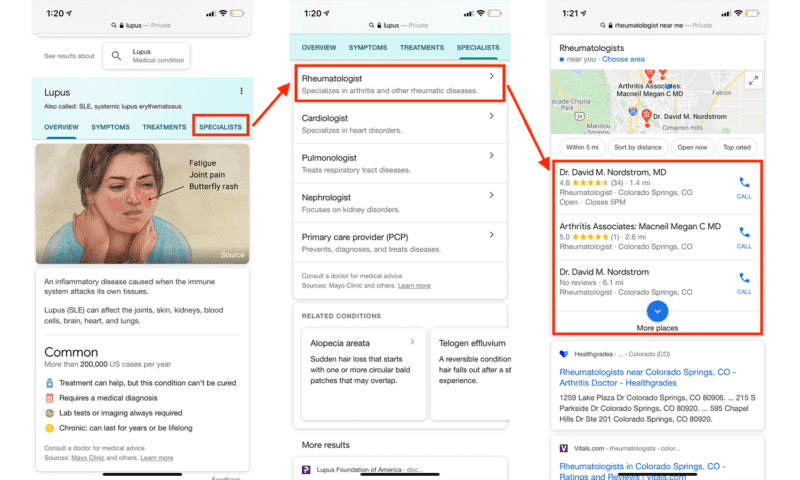 How it looks on Desktop:


With this new update, Google along with Overview, Symptoms, Treatments will show the Specialist tab. When the user clicks on the specialist tab, they will be shown the type of doctor they should go to for treatment. Then click on the specialist tab is redirected to Local Pack search results with a list of doctors near them. This feature will be of help to a lot of people who are looking to find details about a particular health condition and getting in touch with doctors who treat them well. Stay tuned to our blog for more such news updates.
Popular Searches
SEO Guide  |  On Page SEO Techniques  |  Types of Digital Marketing  |  Technical SEO Checklist  |  Google Algorithm Updates  |  Google Ranking Factors  |  Google Reverse Image Search  |  SEO Periodic Table  |  Cloaking  |  Types of SEO  |  WordPress SEO Plugins  |  What is Featured Snippet  |  List of HTTP Status Codes  |  What is Internal Linking  |  Off Page SEO Factors  |  Website Structure  |  What is PPC  |  What is an External Link  |  Benefits of SEO  |  EAT SEO