This year, the Google Business Profile has evolved much more than ever before, from empowering customer connections to efficient communication and from seamless functionality to enhancing engagement.
Recently, Google Business Profile introduced a new feature called "Automatic FAQs". This feature will help to create automated FAQs based on the business profile and website.
What is the New Automated GBP FAQ Feature?
Google Business Profile has been working on an automated feature for frequently asked questions. Recently, the feature has been introduced to the chat settings in the messages section. This feature will let Google create and decide which questions and answers to showcase to customers or visitors with respect to the business profile or the website.
What sort of automated FAQs are there in GBP?
There are different types of FAQs that can be created in the GBP section by the business owner. The automated FAQs that Google might pick up are based on the following business information contact information, location, business opening hours, payment options, appointments, delivery of goods and services, and website.
What benefits would the GBP Automated FAQ feature offer?
The advantages of including automated FAQs in your Google Business Profile are numerous. Following are the most beneficial features that automated FAQs offer, which may or may not be known by the Google engineers themselves.
Competitive Advantage:
The automated FAQ feature will only be relevant if the information provided by the business owner is equally reflected in the business profile. Adding the rightful information will further create a competitive advantage for the business owner with respect to the visibility of the GBP and the access to the information for a number of visitors or users.
Accurate Information:
By including or providing accurate information on your business profile and website, you will help Google gather relevant information and create FAQs based on the information you provide. Furthermore, Google will actively use the information and start creating questions and answers for your business profile.
Enhancing Interactions:
By enhancing personal interactions with your business, you will give people or visitors the opportunity to be connected with it for a long period of time. Executing automated FAQs for your business profile effectively will definitely boost your business profile's visibility and engagement. And again, this will also help users or visitors by not wasting their time in the People Also Ask listings.
Additional Search Results:
Google uses the information you provide in your business profile to match your profile with relevant and exact keywords. By doing so, your business profile information will enable you to appear in more search results.
For Instance, if your business offers coaching lessons, you should include a query in your profile asking about coaching lessons relevant to your industry. And then Google will look into your profile and suggest relevant FAQs related to the user's query.
User Experience(UX):
If you have information that people want to know about in fewer clicks, it will definitely make the user happy. Regardless of what you want to add to your Google Business Profile that answers your user's queries, it gives them a great experience and further leads them to think of you as an authority on the topic.
Steps to Set Up Automated FAQs on GBP
It is super important that your website and business profile information match exactly. Because if the information is mismatched, then after automating the FAQs, there will be no coming back and no help for the visitors or users. Considering consciousness, one should follow these steps to set up his/her Automated FAQs:
In the Google Search bar, search for your business or "my business.
Then click on Messages.

          3. Click on the top right-hand side three dots (menu)

           4. Select Chat Settings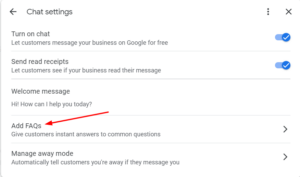 5. After clicking on chat settings, click on Add FAQs.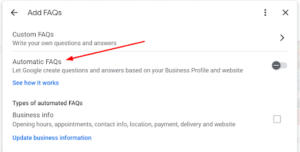 Conclusion: 
Thus, since the feature "Automatic FAQs" is newly added to the Google Business Profile, it is hard to tell about the long-term benefits of the tool. As it is totally dependent upon the business profile owner and the niche of the business, how effective it will be for the users and for the business. According to many SEO experts, one should wait for the result rather than the outcome.
Popular Searches
URL Structure | External Links | What is Sitemap | What is Digital Marketing | Google Ranking Dropped | Sitelinks | Linkbait | Guide to Google Analytics Audience Report | Grey Hat SEO | History of Google | Digital Marketing Blogs | SEO Tools | Reverse Image Search on Google | Black Hat SEO | Googlebot | What is PPC | Blogger Outreach | Local SEO | Link Spam | SEO Chrome Extensions | History of SEO | ASO Ranking Factor | What is Youtube SEO | Organic Traffic in Google Analytics | Technical SEO | Types of Digital Marketing | What is SEO | Canonicalization | What is On Page Optimization | Off Page Activities | Link Building Service | What is Image Optimization | Boston Services | Dallas SEO Company | SEO Agency Houston