Now retailers can control how their items appear in Google Search Results using robot meta tags and an HTML attribute. Such new methods of marking up product pages allow retailers to tailor-search snippets to their preferences. Retailers may also use the schema.org markup or the Google Merchant Center to decide how they want the search results to display their product.
Google can, however, choose to view others on page-content that it finds by daily crawling.
With this reason, certain retailers may want more influence over how their product information appears.
Display No Snippet For Products
Retailers will now use the "nosnippet" robots on product pages. It avoids any snippet appearing in search results for the website. With the tag all text, photographs and rich excerpts are removed for the page on Google. This effectively deletes the page from every free listing.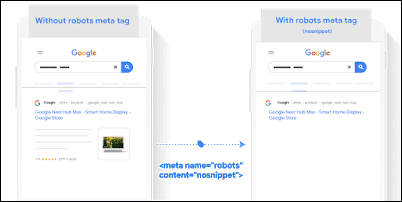 Specify maximum length of the snippet
In the case of a "max-snippet:[number]" robots, retailers are able to assign a maximum snippet length, in characters.
The page will be removed from any free listing experience if the standardised data are greater than the permissible length of the snippet.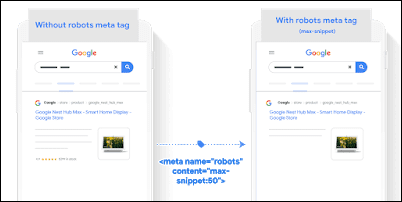 Set Maximum Size of Image
Retailers can customise the product image with the meta tag robots "max-image-preview:[setting]" that appears in their snippets.
This meta tag allows retailers to define a maximum preview size for images displayed on the website, using either "none," "standard," or "large".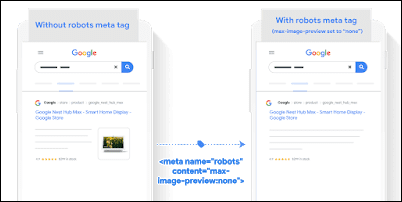 Prevent Specific Content Out of Snippet
Using the HTML attribute "data-nosnippet" retailers which specify a section of content that is not to be included in a search snippet.
Be informed that if this attribute applies to price, availability, ratings or product image details, it will exclude the page from any free listing experiences.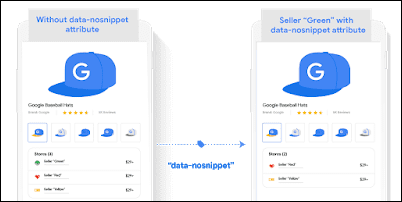 Additional Notes
Such guidelines do not apply to information given through the markup schema.org or to product details submitted through the Google Merchant Center. Retailers must first remove any schema.org markup before adding any of these guidelines before the opt-out directives can become active.
Google says 'show limits' in search results do not impact the page rankings. However, the removal of such data from the display will prevent the product from being displayed on Google in rich results and other product results.
Popular Searches
Best SEO Company in India  |  Top SEO Company in Bangalore  |  Top SEO Company in Delhi  |  SEO Company in Mumbai  |  SEO Agency in Mumbai  |  SEO Consultants  |  Best Digital Marketing Services  |  SEO Service Provider  |  Ecommerce SEO Agency  |  SEO Audit Services  |  Google Penalty Recovery Services  |  Local SEO Company  |  PPC Company in India  |  App Store Optimization Services  |  Conversion Rate Optimization Agency  |  Link Building Services  |  Google Reverse Image Search  |  What is SEO  |  What is Digital Marketing  |  What is Schema Markup