Google's Image search has been ever-evolving since it came into existence. From image captions to Google Lens, there have been tonnes of features added to Image search. Google just announced a new feature for image search that will be effective from this week, read on to learn more about it.
Information From Knowledge Graph In Image Search Results
Through a post on Google's Search blog, it was announced on 8 July 2020 that a new feature was coming to Image search. When a user searches for an image, the result that the user clicks on will show additional information related to the result. The additional information will be picked up from the Knowledge Graph available on Google for that listing. However, the feature is currently working only on mobile devices and for the U.S. region. As of now, there's no word on when this feature will be available for other regions or on desktop.
How does This Feature look Like?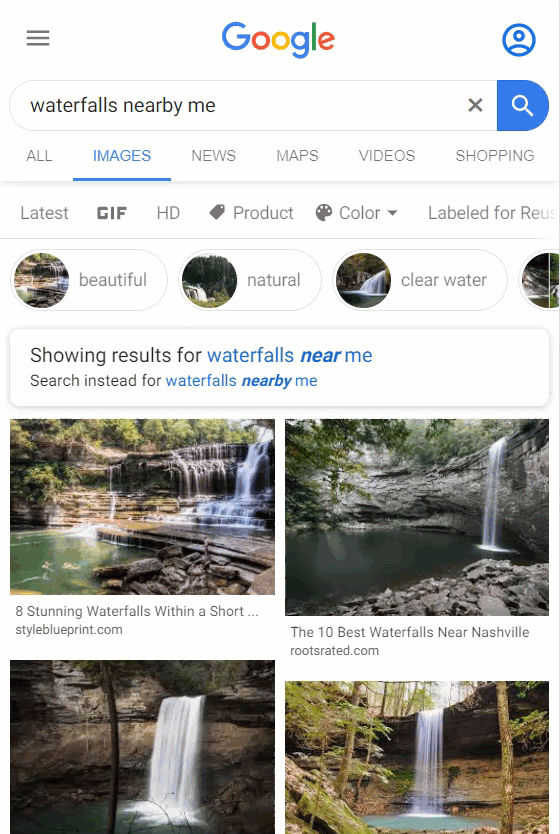 The above GIF will give you a clear picture of this new feature. We searched for the query "waterfalls nearby me" in image search with the location selected as the United States in the settings. On clicking the first result of the image search, along with the ranking image, we can see information about the Cummins waterfall and which state it lies in. On tapping the listings, you can find a short description fetched from the Knowledge Graph and a link to the website that has claimed it.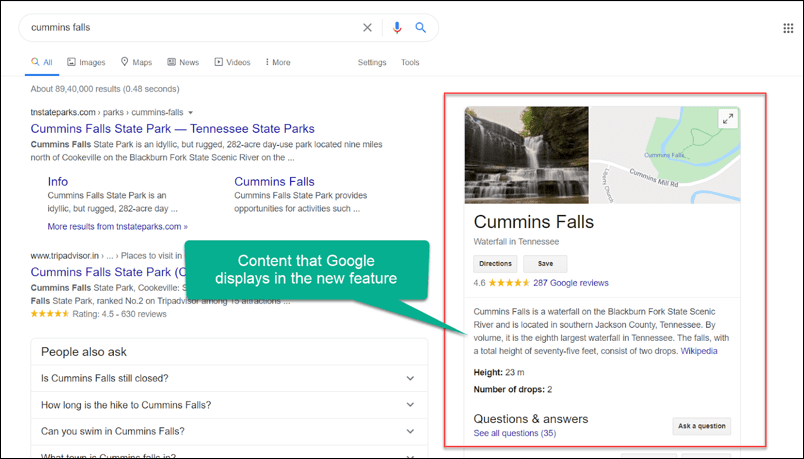 If you check the knowledge panel of Cummins waterfalls, the same content is present, which is displayed in the image search feature. Since Wikipedia claims the Knowledge Panel for this place, you can see a link to the page in the GIF above. Google says that it uses "Deep Learning" to generate these listings of various Knowledge Graph entities. 
This is how Deep Learning works as stated by Google
"It evaluates an image's visual and text signals, and combines it with Google's understanding of the text on the image's web page. This information helps us determine the most likely people, places or things relevant to a specific image. We match this with existing topics in the Knowledge Graph, and then surface them in Google Images when we're confident we've found a match."
Google has specified that currently, this feature will start to appear for images of places, people and things in Google images and it is set to expand to more types of images, languages, etc. over a period of time.
Key Takeaways
This feature gives an excellent opportunity to drive more traffic to websites for businesses and entities that have already claimed a Knowledge Panel. In case if you haven't claimed it yet, it's highly recommended to do so as local businesses can make the most out of this update, especially the ones that publish a lot of images. However, do remember that not everyone can claim a Knowledge Panel; you must be an entity to do so. This feature is rolled out for Mobile devices in the United States.
What are your views on this new feature? Do let us know in the comments section below.
Popular Searches
SEO Company in India  |  SEO Agency in India  |  SEO Consultants in India  |  SEO Company in Bangalore  |  Digital Marketing Services  |  SEO Services in India  |  Ecommerce SEO Services  |  SEO Audit Services  |  Local SEO Services  |  PPC Services  |  Conversion Rate Optimization Services  |  Website Navigation  |  Google Business Listing  |  Image Optimization  |  Importance of Digital Marketing  |  What is Cloaking  |  What is Google Search Console  |  What is YouTube SEO  |  Importance of Website  |  Google Knowledge Graph  |